Does your horse look like this when you put the saddle on?
When you try to tighten the girth, does your horse air snap, or reach around and try to bite you?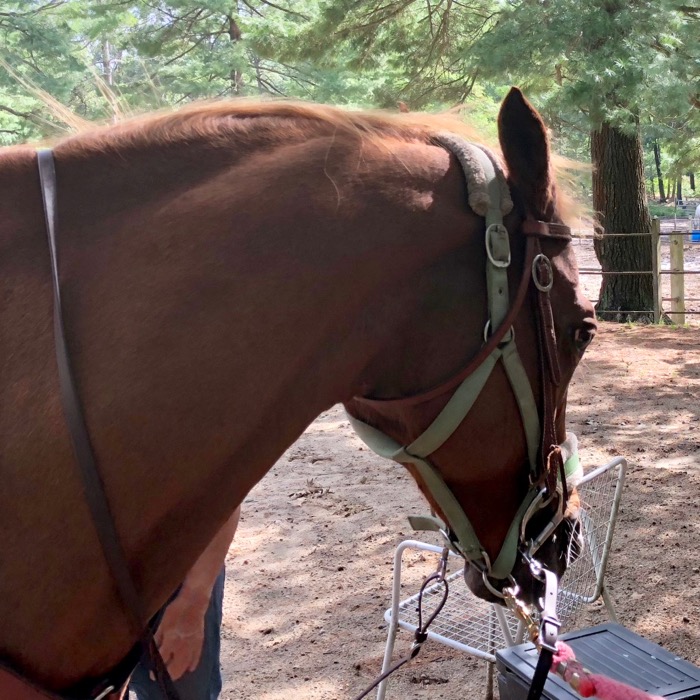 This behavior is often called being girthy (or cinchy if you use western tack). I don't like that term, because it refers to the strap that holds the saddle on, and the issue for the horse usually entails far more than that one piece of equipment.
If your horse always presents you with a grumpy face, and gets especially annoyed when being groomed, it could be that there's an underlying medical issue. Ulcers are the most common instigator of this behavior. Under a veterinarian's supervision, you can use medication which alleviates the condition. The change in your horse will be quick and seem miraculous.
It could be something else. I know a horse that was considered the classic b*tchy mare. She was put on a course of hormones because the vet and her owner guessed that her estrus cycle was causing pain. They were right, and now she's the sweetest thing on the ground and so willing under saddle.
If it's not a medical condition, then being girthy could be due to ill-fitting tack. Tonka, when I purchased him, had excellent manners at the mounting block. Several months into ownership, he got antsy before I got on, moving away from me. I tried retraining him, with no success. It took me a couple of days before it dawned on me that the new, super-comfy, fleece girth that I'd bought for him had stretchy elastics that I was pulling too tight. When I loosened the girth the "bad" behavior went away. I apologized profusely to my horse for how long it took me to figure this out! I'm not an expert in western gear, but I have a few students who ride western, and they've all had cinchy horses. I've noticed that in order to attach the cinch, they have to pull it upwards and tight, then ease up a bit as they loop the strap. None of the horses like this. If anyone can advise me on how to tighten a cinch without doing that, please leave a comment!
The saddle itself is often a cause of pain. I've written about the saga of finding a saddle for Tonka here.
Sometimes it's not the fit of the saddle, but how you put it on that matters. Slapping a heavy saddle onto a horse's back is never a nice thing to do. When I was in Iceland, I noticed how gently the saddle was set down on my mount's back. It helped that the owner was tall, the horse short, and the saddle was light. If it's awkward for you to get the saddle on, consider using a step stool.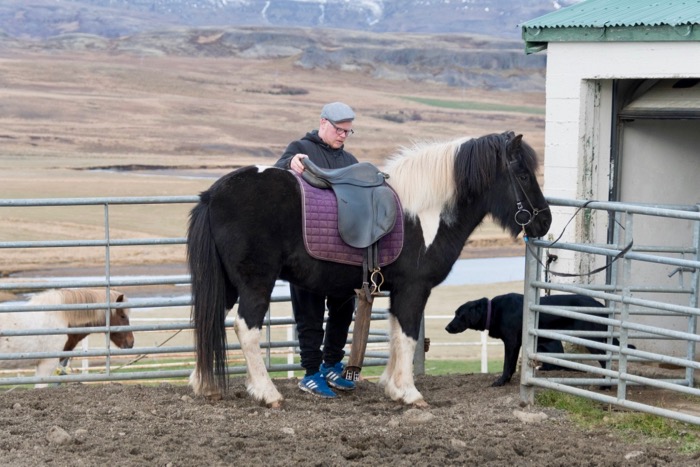 It's okay if a horse glances back at you when tacking up.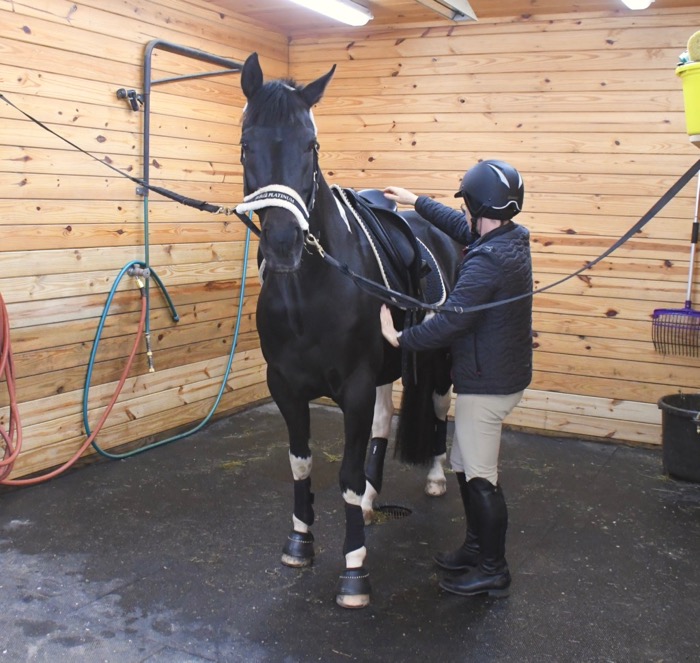 But they shouldn't move around trying to evade the tack, and once saddled, they should look relaxed about what comes next. (Notice Tonka's hanging lower lip. A sure sign that he thinks all is right with his world.)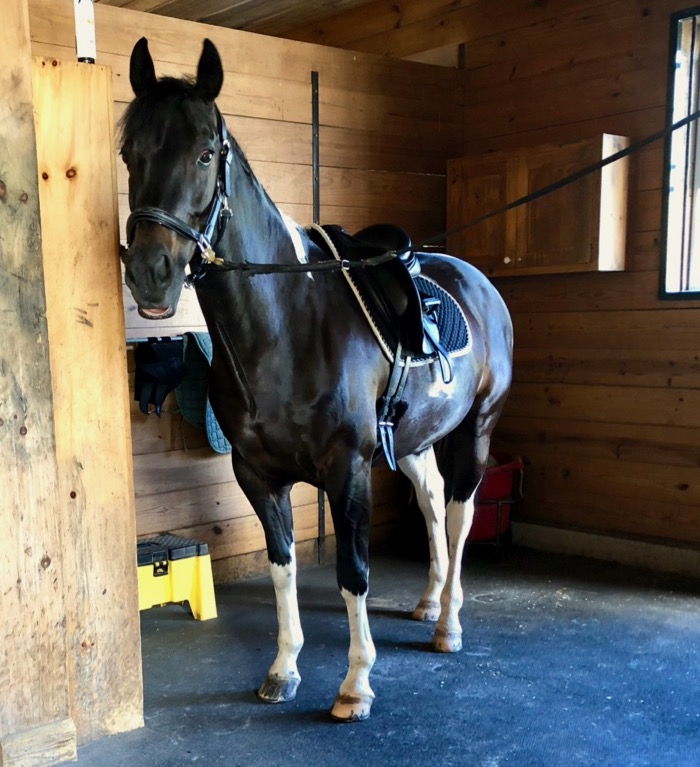 Once medical conditions and poorly fitting tack are ruled out, you still might have issues. Horses that have experienced pain will be wary that it will happen again. You'll have to convince your horse that things have changed for the better. To do this, I rely on counter-conditioning. (I've written about that here.)
Each horse has a different thing that triggers their cinchyness.
I worked with a horse who pinned his ears when the saddle was put on, but I knew that wasn't the whole story. I noticed that his angry expression would start when he heard the sound of the double bridle jingling in the tack room. It turned out that he'd been pushed too hard as a dressage horse, and the double bridle was the trigger for all of the memories of pain and harsh demands. He now goes in a bitless bridle, and the tacking up is easy.
Recently, Tonka got girthy when his sacroiliac joint pain flared up. He was letting me know that he knew that if I got on, it'd hurt. Yes, a horse is capable of making that intelligent connection! For a couple of weeks, while waiting for his medical appointment, I didn't ride him. During that time, I wanted to disconnect Tonka's association of the saddle with pain. So, I tacked him up, with a loose girth, and took him out to hand-graze. In this way, saddling became linked with good things.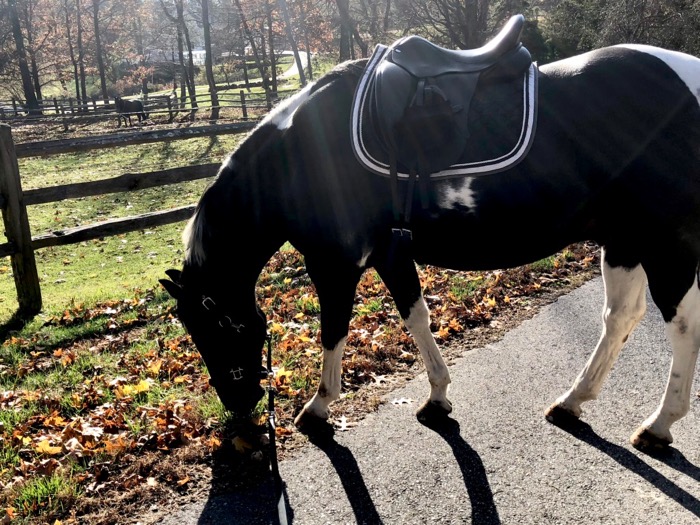 If you have a cinchy horse, first eliminate disease, pain and ill fitting tack. If he's still cinchy, ask him some questions.
Are you okay with the saddle pad being put on?
What about when you see the saddle?
How about when it's on your back?
Does the girth hanging down worry you?
When it's brought around your belly?
When I buckle it up? 
If your horse answers any of these questions with signs of discomfort, then that's the place to start counter-conditioning. I did this with Tonka. My horse relaxes when he chews, and he especially likes to crunch carrot chunks, so I used that knowledge to my advantage. Tonka's trigger began with the saddle pad (he'd give me a look and narrow his nostrils) so he got a carrot when I walked up to him with the pad, and another when I put it on his back. Then, a carrot when I stood near him with the saddle. Another carrot when I set the saddle on his back, another when I reached around his belly for the girth, and another as I buckled it. If he had gotten tense at any point I would have backed up to the previous step, and worked my way back through the saddling procedure. But I didn't have to. In fact, in each subsequent tacking up session, I was able to lump the steps together, until the whole process was done for just one reward when the girth was tightened up.
Tonka is back to letting me tack him up without worry (old photos for illustration purposes.)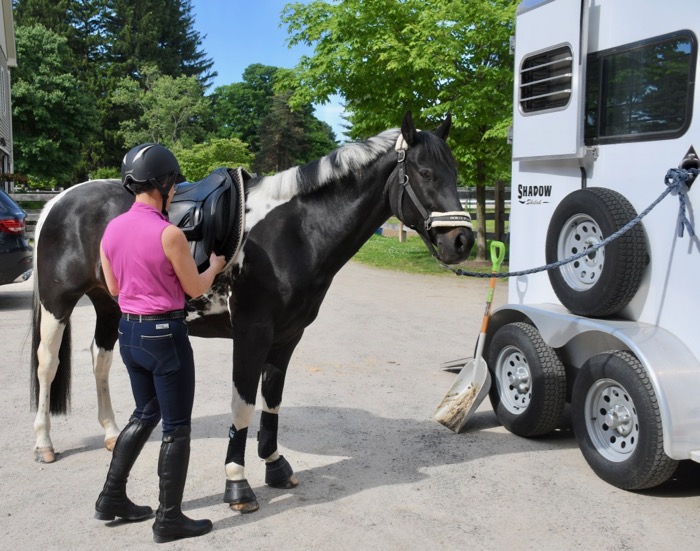 Once again, he has perfect mounting behavior.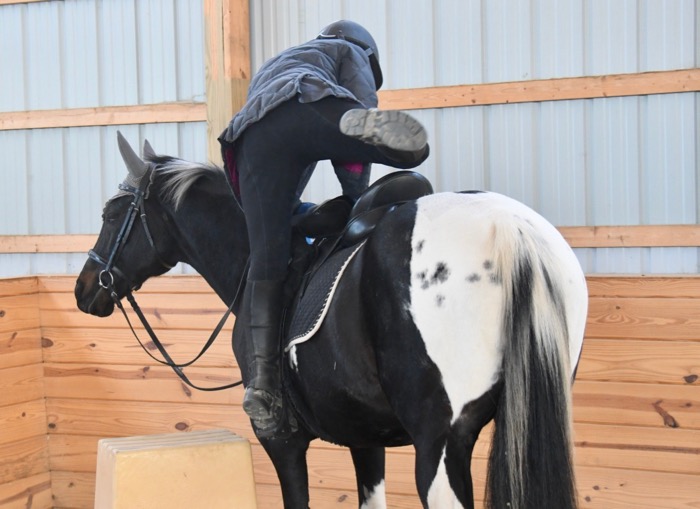 Have you had a cinchy horse? Do you currently have issues when tacking up? Tell me about it in the comments.