I can't remember not being horse crazy, but I grew up in suburban New Jersey where opportunities to be around horses were few. However, there was a local stable and my parents acquiesced to letting me take weekly riding lessons. In my teens, I went to summer riding camps, where I learned dressage and eventing. At the age of 16, I attended the Talland School of Equitation in England, where I discovered the satisfaction that comes from a perfectly groomed horse. Also while there I was exposed to the pinnacle of dressage – the owner of the stable was a Grand Prix dressage rider and international judge. While at the school I passed the B Pony Club exam.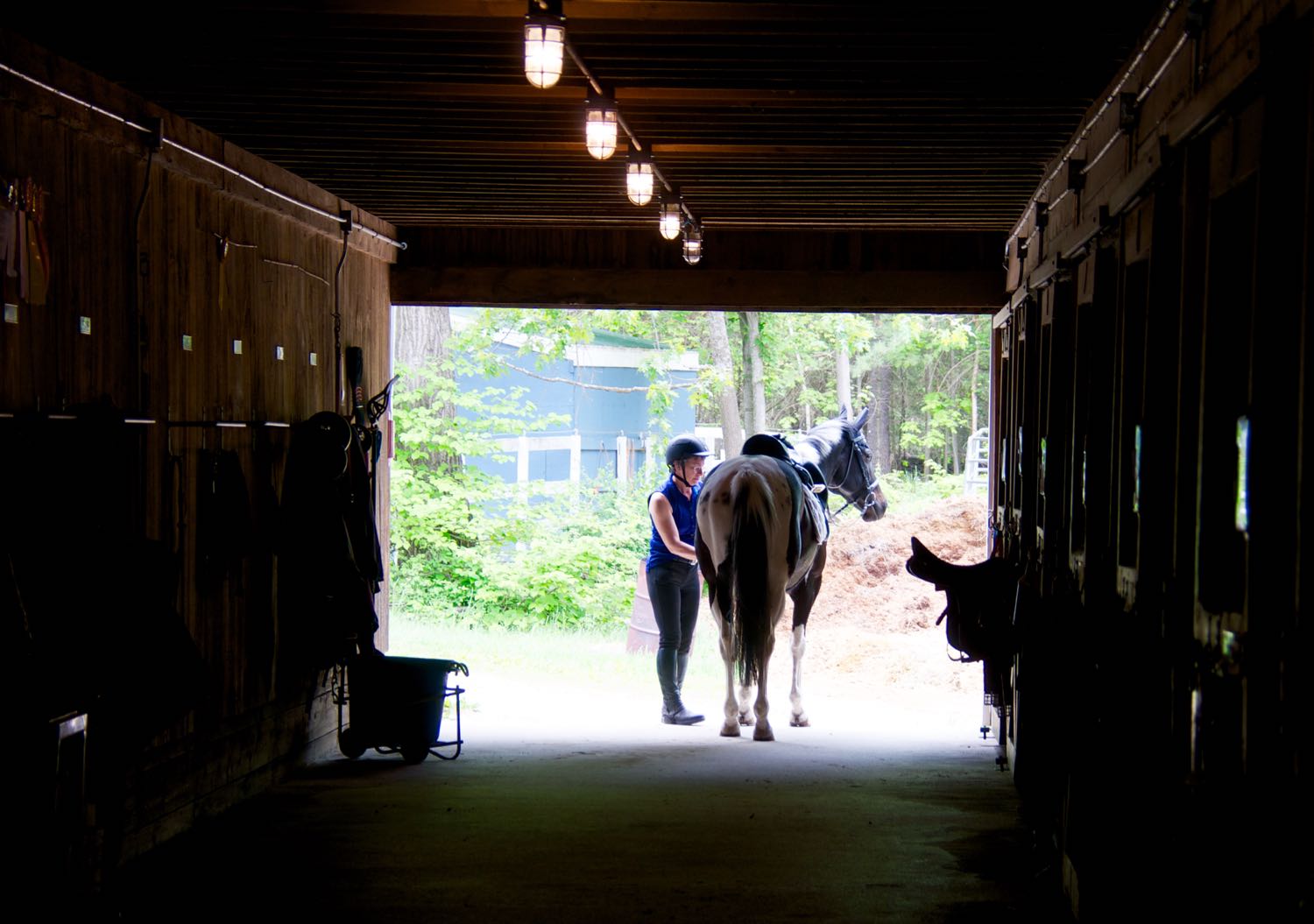 Back in the States, I bought a young gelding, worked on horse farms in the summers, and attended UNH from which I graduated with a degree in animal science. After college I had jobs in the horse industry, bought a mare that I brought up to second level, and lessoned with Louise Nathhorst (who would later get a bronze in the Olympics) and Jessica Ransehousen (also an Olympian).
By my thirties I had changed careers, became a food writer, married and had children. When I could, I would lease a horse. In the meanwhile, I had a dog that needed to stay busy and so got into agility. Through that I found my way to clicker training. Fifteen years ago, my path crossed with that of Karen Pryor (the scientist and writer who brought positive reinforcement into the public consciousness) and we have been firm friends ever since. Karen and I  have had many conversations about training theory. How I work with animals has been informed by her wisdom, and she always keeps me true to the science behind the methodology. I also have taken formal course work. In 2015 I graduated from the KPA Professional Training course, with distinction.
In 2013 I was able to return to horse ownership, and bought a 14.3 hh American Paint gelding named Tonka. I selected him for his kind eye, not his dressage ability! He and I lesson with Grand Prix rider Kim Litwinczak. My goal with Tonka is to reach second level in a happy frame of mind and body. To do this, I use my thorough understanding of classical training, but always with an the overarching perspective of positive reinforcement. My training methods are already paying off – in our first year of showing we came in first or second in each of our ten classes. We closed out our second season ranked first in the country in the USDF Vintage Cup All-Breeds Awards for Paint Horses. However, it's not all about ring work. Tonka and I spend much time out on the trails.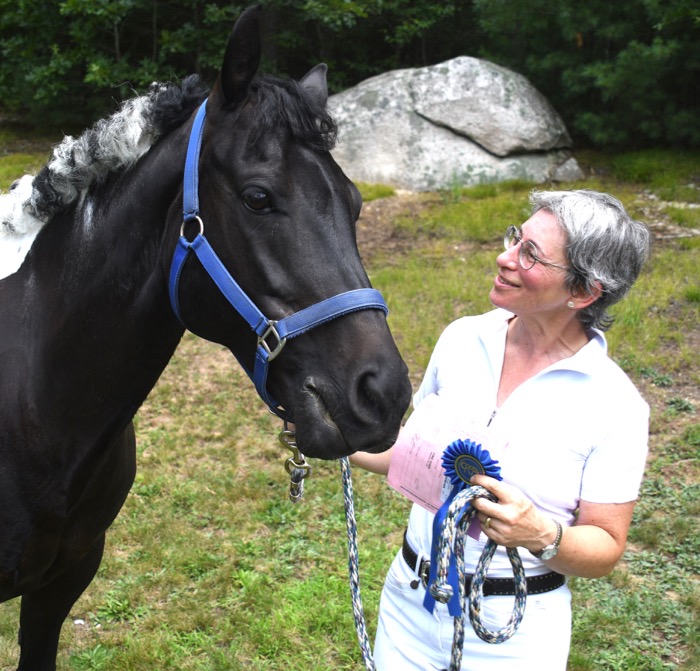 I am back to being a horse professional. My forte is dressage, but I work with all disciplines. Tonka and I are having fun jumping! I bring a problem-solving, non-confrontational approach to reaching your goal, whether it's a flowing dressage test, or a horse that is a pleasure to ride on the trails.  I also do behavioral consultations and can help with such issues as needle phobia and refusing to load into a trailer. I am based in southern Maine and drive throughout New England to meet with clients at their barns. I am available for Skype and email consults, and I'll travel further afield to teach clinics.
Ridden Under
Over the years I've trained with many top riders, including
Barend Heilbron
Laura Mitchell
Stephanie Plaisted
Brittany Murphy
Lucy MacLennan
Debbie Baldelli
Lectures and Presentations Given
Equine Affaire, 2017, 2019, Mass.
Progressive Equine Forum, 2018, 2019
Cummings School of Veterinary Medicine at Tufts University
Equine Affaire, 2018, Ohio
Dover Sherborn Community Education, Mass.
Concord-Carlisle Community Education, Mass.
Bedford Recreation Dept, Mass.
Acton-Boxborough Community Education, Mass.
Dressage Seminars Attended
Audited Axel Steiner 1-day clinic, 2018, Bear Spot Farm, Mass.
Audited Freestyle Clinic by Karen Robinson, 2017
Audited Carl Hester Symposium, 2017, Maine
Audited USDF L Program, 2016, Mass.
Audited Mary Wanless clinic, 2014, Mass.
Conferences Attended
Progressive Equine Forum, 2019, Orlando, Florida
IAABC, 2019, Houston, Texas
IAABC, 2018, Burlington, Mass.
Progressive Equine Forum, 2018, Orlando, Florida
ClickerExpo, 2017, Stamford, Connecticut
Art and Science of Animal Training, 2017, Dallas
Art and Science of Animal Training, 2016, Dallas
ClickerExpo, 2016, Cincinnati
Teaching Skills Using Positive Reinforcement: The Journey From the Skinner Box to the Operating Room, Montefiore Einstein Center For Innovation In Simulation Symposium, 2016
CAMELIDynamics (llama and alpaca training with Marty Bennett) 2-day workshop, and The Technology of Behavior Change & Ethical Application with Dr. Susan Friedman, 1-day workshop, 2016, Florida
ClickerExpo, 2015, Michigan
TAGTeach World Summit, 2015, Verona, Italy (traveled with Karen Pryor)
Ken Ramiez 2-day Seminar, 2014, Connecticut
ClickerExpo 2009, Providence, Rhode Island
Bob Bailey 2-day Chicken Camp, 1999, Mass.
Writing Retreats with Karen Pryor
My good friend Karen Pryor and I have taken a number of multi-day writing retreats together:
April 2017
February 2017
April 2016
April 2015
April 2014
December 2013