Remember Nate?
When I first met him, he sent out signals loud and clear: DO NOT TOUCH. All horses will pin ears and wrinkle their lips when they want you to go away. But Nate had taken it a step further. He bit. He bit when feeling threatened. He bit when worried that he was in a situation that might be threatening. He bit when being led from here to there. He bit when he thought that a person had food on them. He bit to stop someone from touching him. It's normal for horses to use body language to threaten. Watch horses in a paddock and you'll see postures that range from ear flicks to bared teeth. However, it's rare that horses connect, this body language is communication, and it's usually short-lived and subtle. Nate, though, had come to believe that no-one was paying attention to his ears and that escalation was necessary.
Nate especially did not want  to be touched on his face.
Look at him now.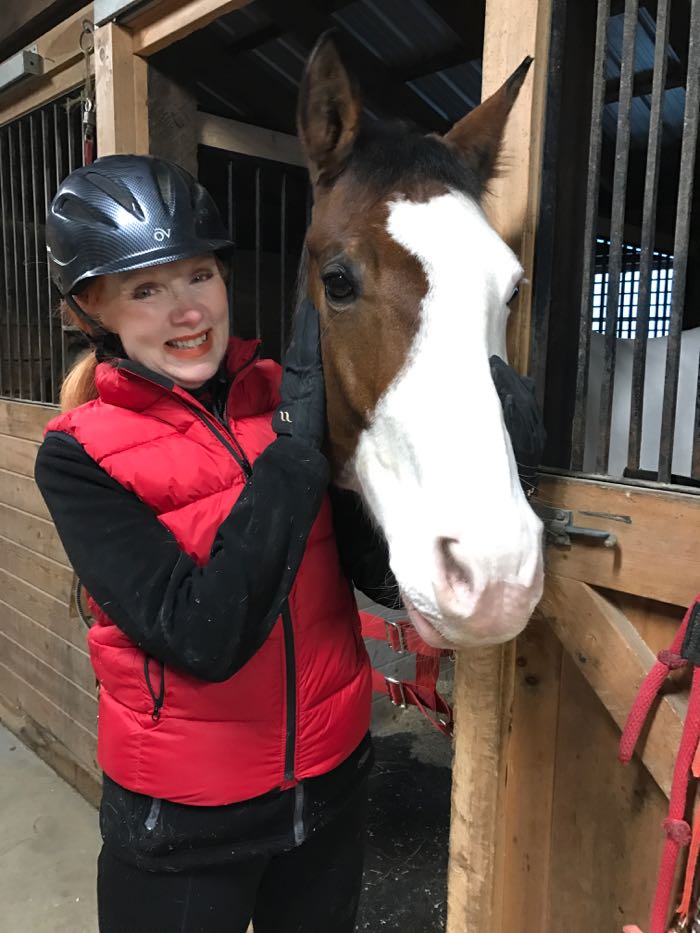 This was accomplished with small steps, patience, and observation. I taught Nate's owner, Eileen, how to read Nate's body language. We reassured Nate that we'd listen to him. We touched him and let him tell us what he liked. We taught him self-control around food.
However, we're still having biting issues in the indoor arena. Nate is extremely mouthy. When walking in the ring, he grabs Eileen's arm when he wants her to walk slower or when he's not sure what to do. Ignore him to talk to each other and he body blocks, reaches around and bites.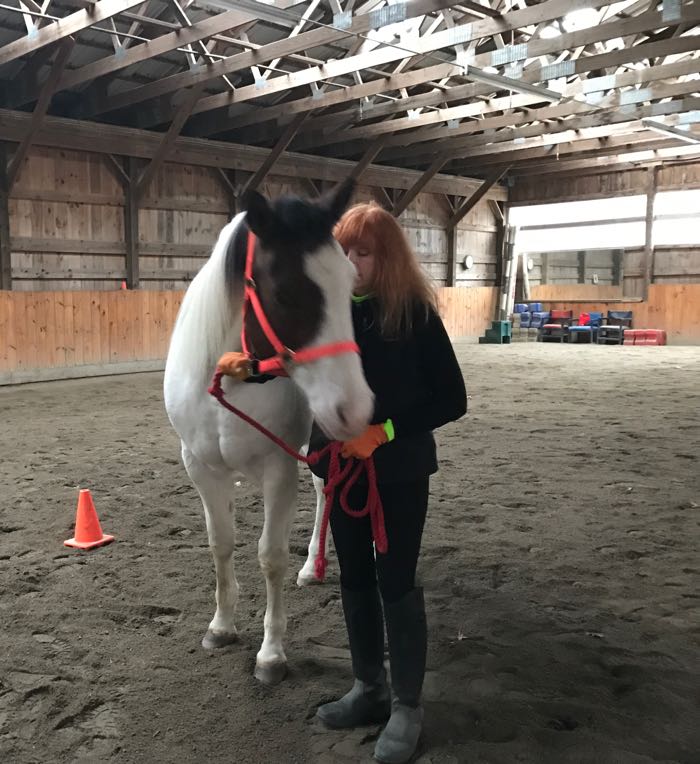 I had Eileen work on walking through cones.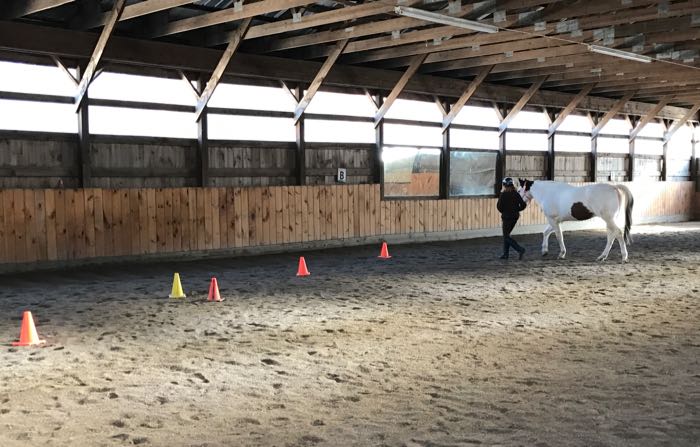 Nate had his own idea.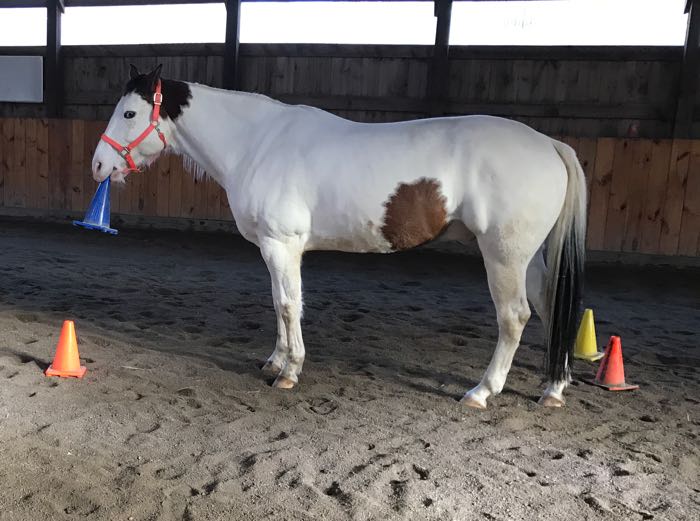 Besides being hilarious (he happily weaved through the cones while carrying one in his mouth) this got me to thinking. Not all of Nate's biting is triggered by aggression. Some of it is caused by insecurity. Having something in his mouth (even it is Eileen's arm) is self-calming. Do you think that I could get a horse-sized pacifier? In all seriousness, I need to teach Nate not to bite.
With this odd behavior of carrying a cone (not normal for a horse!) one more piece of the puzzle fell into place. Although working in the indoor seemed like a sensible thing to do (it's winter in New England and cold and icy outside,) Nate feels stressed there. In behavior science terms, the indoor had become a conditioned punisher. A good trainer works from a place of security. Where was that place for Nate? I asked him. When I first met Nate, I wouldn't have understood his answer because he pinned his ears whenever I was near him. But  we'd make progress. Now I would be able to hear his answer.
We went back to his stall. He was fine there. He also now stood happily in cross-ties. Nate was secure walking down the aisle and didn't reach around to bite Eileen. We headed outside. He didn't bite on the way to his paddock, but turn right toward the indoor and his eyes tensed. Nate's overall demeanor is placid. You really have to look to see what he's saying. We took a few more steps and his lips curled. Another step and his ears pinned. The message was clear. Nate did not want to go into the indoor ring. My job now is to change how he feels about that place. We will be working to expand Nate's comfort zone. Before we step foot back in the ring, we'll be working to make the path to it a relaxed place. Then the doorway, then the ring itself. The slower you go, the faster you'll get there.
Nate is happy to be on this journey.