This was my first impression of Nate.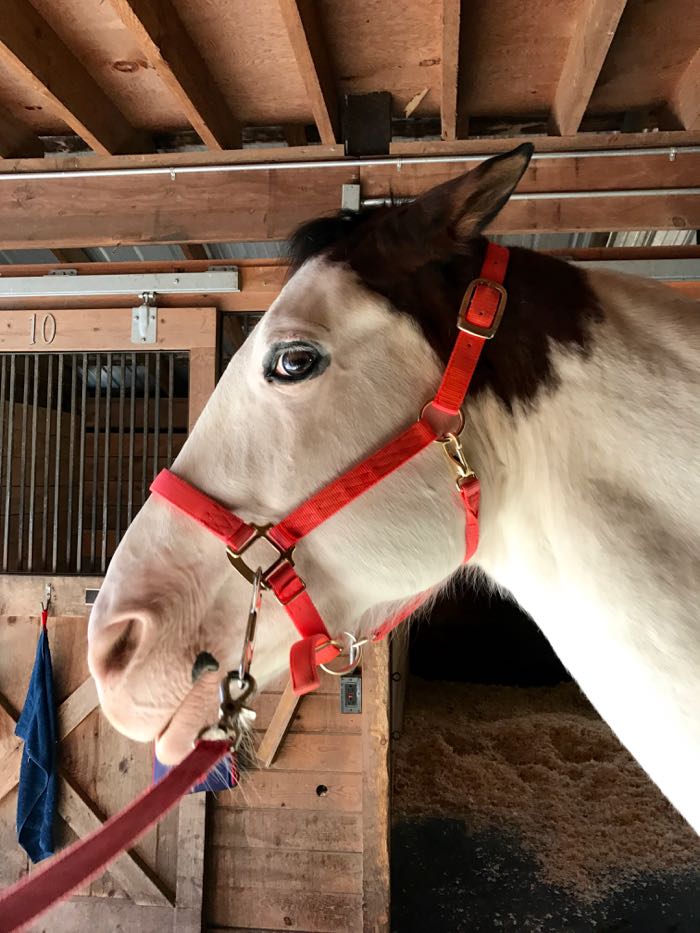 Note the pinned ear, tense eye, wrinkles around the narrow nose and the clenched corners of the mouth. This is a horse with a message. He couldn't be saying it any louder. DO. NOT. TOUCH. ME.
If you did approach, more likely than not, he'd swing his head and show some teeth.
But, we need to touch him. To lead him. To ride him. To care for him.
And Nate's owner, Eileen, adores him. All she wants to do is love on him.
So I asked Nate what exactly he was objecting to, and I had Eileen do that, as well.
Nate told us that if you scratch him back here: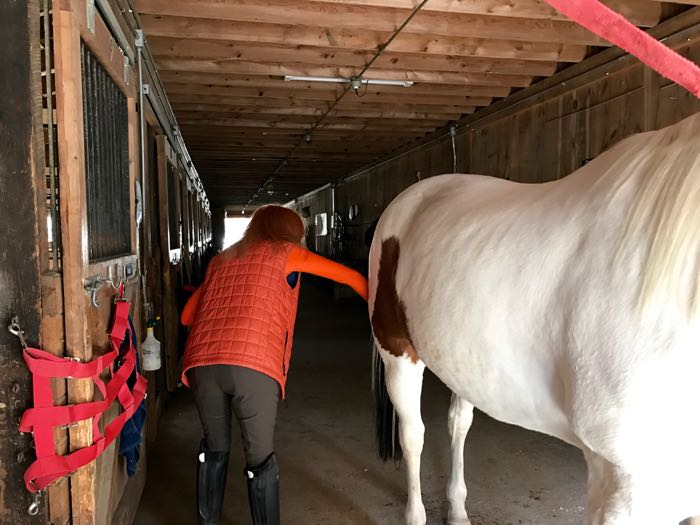 That his expression will change to this happy one: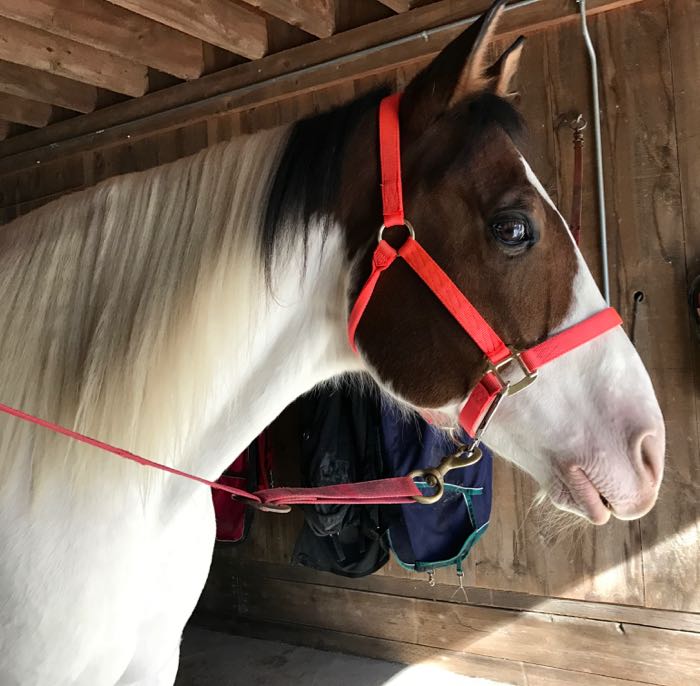 Do you see how his upper lip is stuck out a little? That's a horse saying, More please!
Kelsie, the woman who cares for all of our horses, has found another place that Nate loves to be scratched with gusto. Nate clearly showed his appreciation. We all adore Kelsie!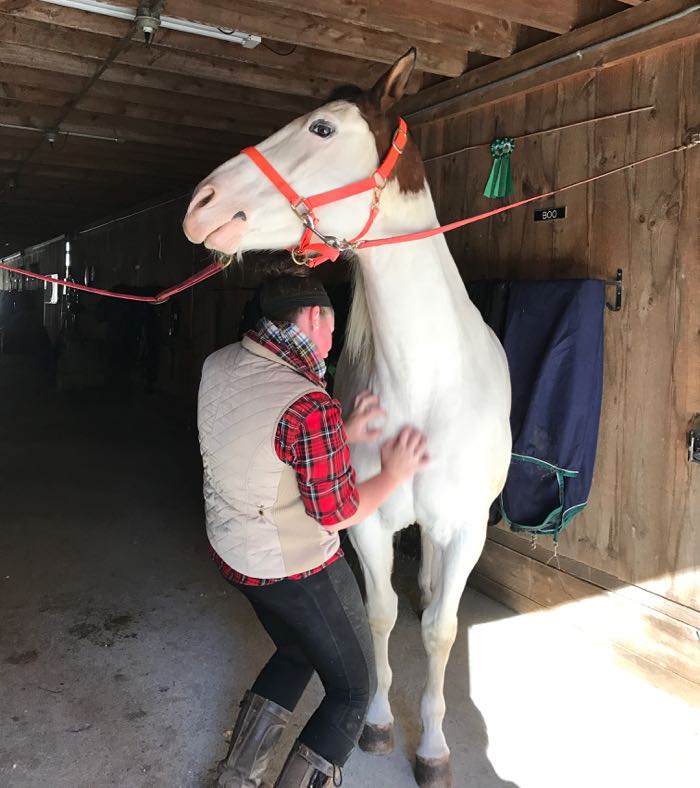 So, if Nate loved this loving, what was it that set off that snarly face? I asked him. I moved around, stood sideways, stood frontal, raised my hands, leant in and leant out. I watched Eileen groom Nate. If she started brushing him near his face, he pinned his ears and threatened. He also moved away from the rubber curry comb that she started the grooming session with. So I gave her a softer

Auto Amazon Links: No products found.

and had her start from the shoulder and work up. This Nate not only accepted, but thoroughly enjoyed.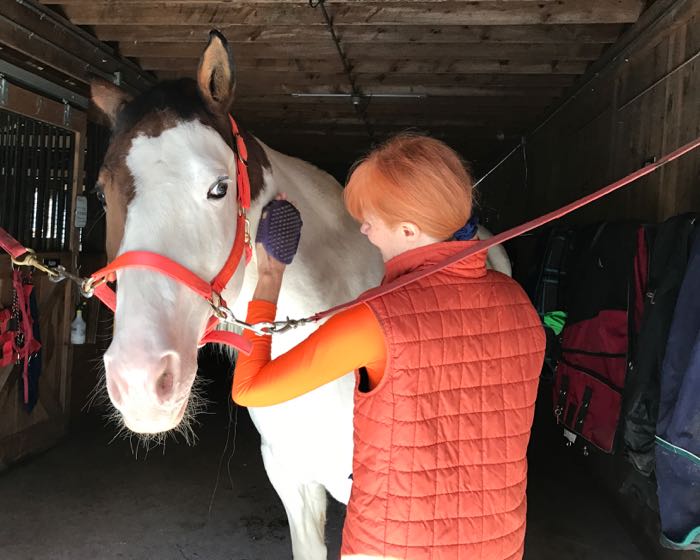 Nate let us know that touching him was fine, but we are never, ever, to start by reaching towards his face. Eileen loves Nate's Medicine Hat head. All she wants to do is hug it. Nate requests that she doesn't. So, rather than training Nate, I am training Eileen.
For now, she gets to love on his shoulder.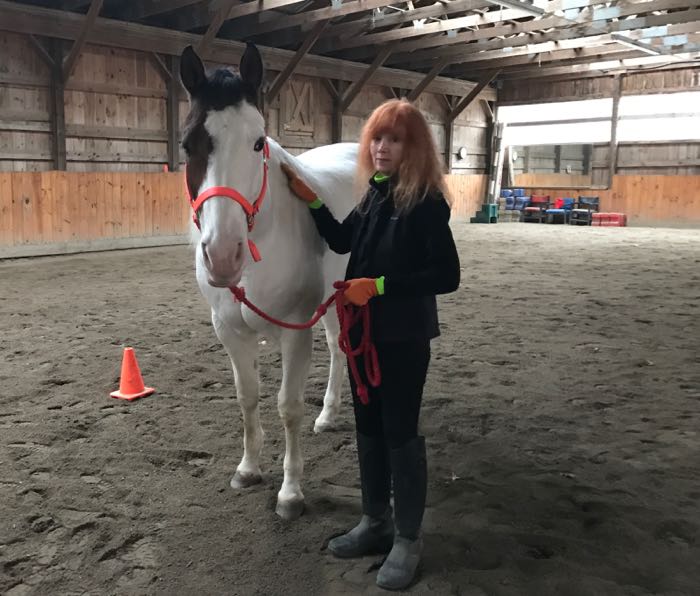 We have no way of knowing what in Nate's past history makes him wary of hands coming towards his head, and it doesn't really matter. What does is that Nate now trusts that his concerns are being listened to. He doesn't have to escalate his body language to let us know. He can relax. His handlers can relax. Soon enough, I think that Eileen will be able to love on Nate's head and he'll be asking for more.