Weather forecasters were predicting a snowstorm, so Michele and I decided to have some fun.
With horse girls*, "fun" is often synonymous with work.
There's a half-mile loop through the woods behind the barn where I board Tonka. We had trail maintenance to do before the snow fell.
There was a widow maker branch that needed to come down when we wanted it to, not on it's own (and possibly on us and our horses!) Michele took care of that while I stayed out of the way.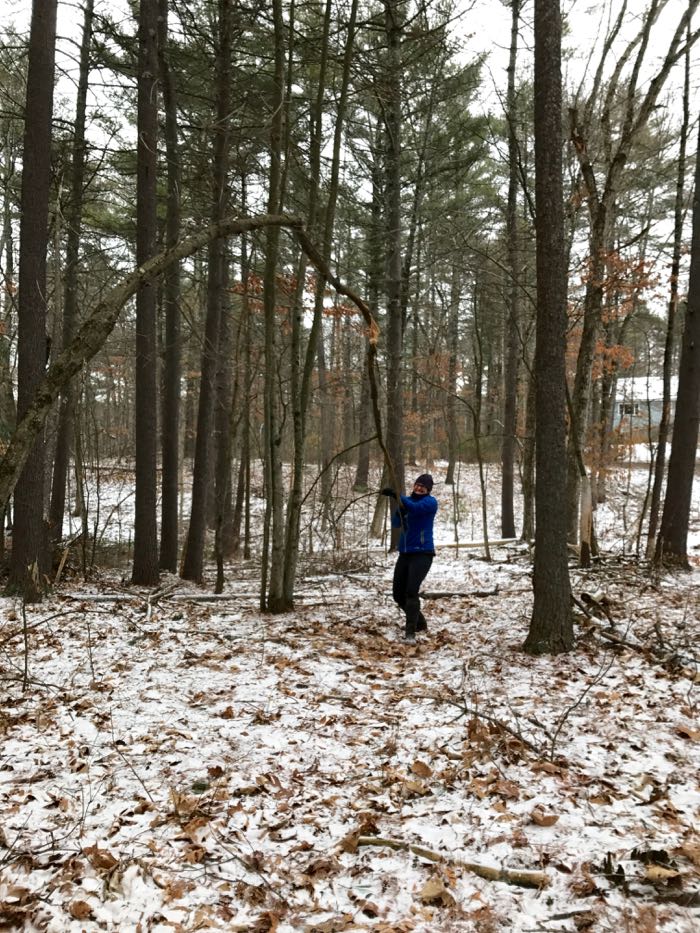 We cleared fallen saplings off of the trail. The logs that were too big to move were tidied up. We pruned off all of the sharp remnants of branches – if left and hidden by snow, our horses' legs could be injured.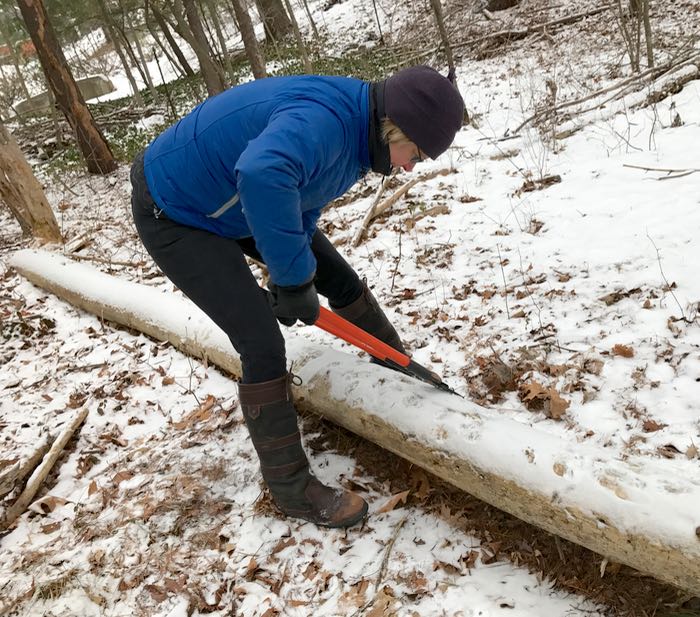 (By the way, notice the paw prints on that log? Not sure what made them, but seeing wildlife trails is one of the side-benefits of working in the woods in winter.)
There's something immensely satisfying about doing hard labor in the cold, and then immediately reaping the benefits. Michele, on her lovely grey Maggie, and I on Tonka, had time to ride before the storm. Brenda, on Reggie, joined us.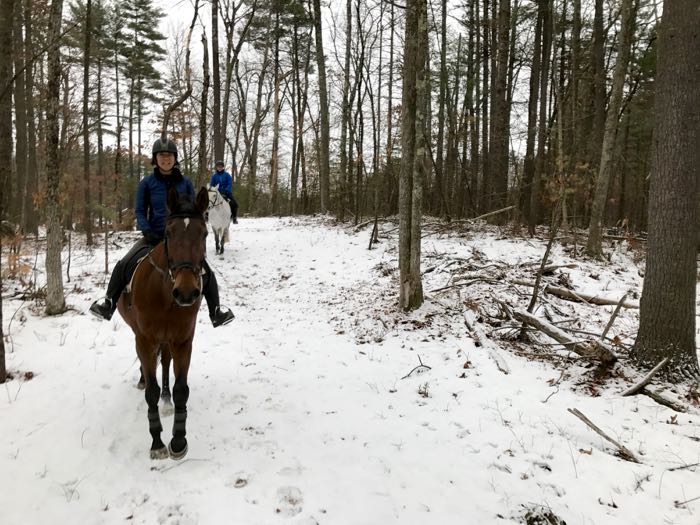 The next day our work was blanketed, but I knew that the trail was safe underneath the snow. It was very cold, but Tonka and I went out. Our friends, Eileen and her horse Nate, joined us for awhile, then they went back to the barn but Tonka and I continued on.  I don't have a GoPro, so I had to drop the reins and take off my gloves to take this video with my phone. Frozen hands were worth it to share the joy of a good trot through snow.  (It's hard to tell from the video, but we're going uphill.) Listen for Tonka's snort when we stop.
This blog is meant to be a place for training theory and practical help, so I'll inject a little here 🙂
I love the dressage work that I do in the ring, but going around and around in a flat, confined space is limiting, physically and emotionally, for horse and rider.  It's all too easy to get fixated on an exercise, and repeat it until your horse is resentful and you are frustrated. It's impossible to work all of the horse's muscles on even ground. It's hard to stretch out when a wall stops you.
When on the trail, I let Tonka look around and move how he wants to. I work on finding my center of balance over my horse, instead of adjusting his to mine. I pay attention to his breathing, his swiveling ears, the swing of his rib cage. I pay attention to him, and he pays attention to me. In this video (again, my hands are frozen on the camera, so apologies for the quality), Tonka looks off to the woods. Deer? I don't know, but he takes off at a trot. I'm centered, and I go with him. A word from me and a relaxed seat and back, and he returns to the walk. No tension. (Missed the end bit in the video, sorry!)
Tonka wasn't so relaxed when we came to the part of the trail that borders some backyards. Someone was doing their own tidying up and tossing branches into the woods. I could feel the energy bubbling under me. Despite now having a clean trail, this wasn't a day (really there's no day) that I wanted to ride a panicked horse in a mad dash back to the barn. There's no hard and fast rule about when to teach a horse to work through his fears, or when to head in another direction. On this day, I knew that Tonka had started with a lot of excess energy. His paddock is icy, so he's been standing around more than usual. Added to that, we stayed in the woods when his companion went back to the barn. Tonka doesn't have separation anxiety, but being left alone when you've started with a friend is hard for all horses. And, it was nearing dinner time.
I could have insisted that he go down the trail where the man was working, and I could have worked through Tonka's anxiety. Instead, we went towards home. But we didn't rush. This was a good opportunity to work on "ho." Tonka got mints for stopping calmly.
Tonka still had energy to spare, so we had a good, loose canter in the indoor, and then did some dressage.
Your horse pays attention to you, all the time, whether he's on the bit in the ring, or heading down a path in the woods. When you have that joyous trot in the snow, ask yourself what you're saying, and what he's listening to, then bring that mental and physical state to your rides in the ring.
Have fun!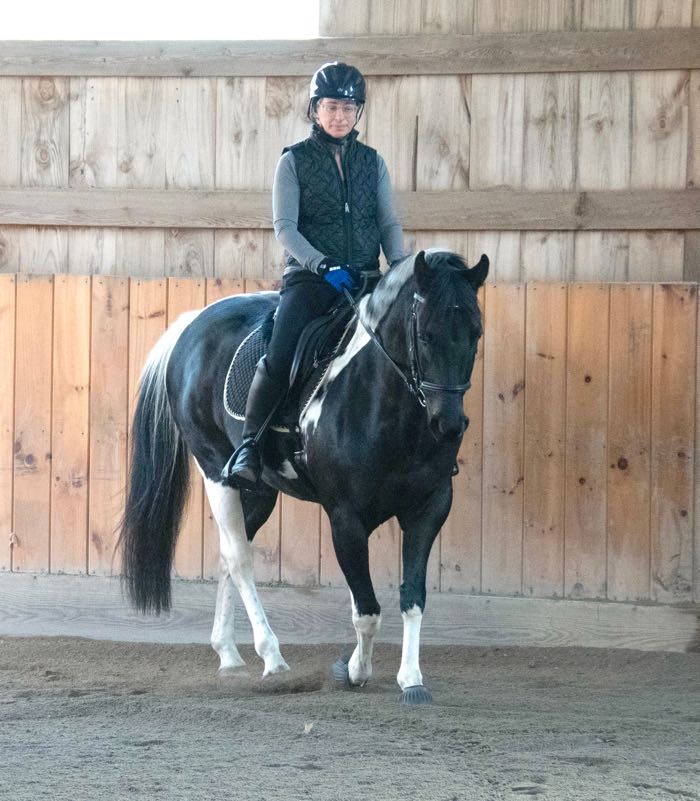 Are you a horse girl? What hard work have you done recently?
*I say horse "girl" not as a pejorative, but because that's how I feel. When I walk into a barn, I still feel elated like that eight-year old girl that I was fifty years ago, when my mother would drop me off for a weekly riding lesson.