Years ago there was a nasty person in my life. She would call to harangue my husband and leave vitriolic messages for me. This was in the days before iPhones, when the telephone was mounted on the wall of the kitchen. I'd hear the ring, or pass by and see that little red light indicating that a message was waiting, and I'd get a pit in my stomach and tightness in my chest. That beige phone became the harbinger of bad things. Even if I knew that a friend was calling, the sound of that phone made me ill. Behavioral scientists call objects (or words) that are associated with bad events conditioned punishers. By definition, a punisher stops a behavior. I stopped answering the telephone. Places can become punishers as well. A child who has been bullied in a classroom will not want to step foot in the school building.
I finally managed to make that nasty person stop calling. If she couldn't be civil, we didn't engage. Angry people need anger to feed on. She faded away. But that phone remained. I didn't realize how much it affected me until we moved. The phone in my new kitchen wasn't a conditioned punisher. My heart didn't seize up when it rang. After a few weeks my entire body relaxed. I hadn't recognized the tension I carried until it was no longer there.
I tell you this because for many horses, the ring is the equivalent of my telephone, and like the telephone, no one realizes the effect until it's gone.
Schooling your horse, day in and day out, in the same confined place is boring. It's physically demanding. What you're doing might cause discomfort, or worse. The horse lags. Whips and spurs are used to get forward movement.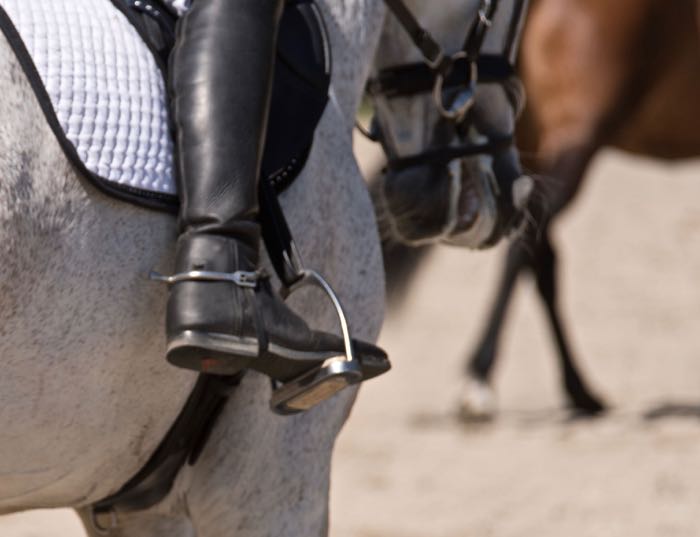 If this is what the horse associates with being in the ring, then not only will the bridle, whip and spurs cause pain, but the ring itself will trigger anxiety.
This doesn't mean that you stop riding in a ring, or training, or challenging your horse, or developing them to be the athletic animals that they are designed to be. But, think about this: punishers decrease the likelihood of the occurrence of a behavior. We've been taught that whips and spurs are aids to move our horses on. (I've written more about whips here.) But if your horse requires ever-increasing pressure, if he lacks enthusiasm for the riding, then a punisher is at work. Perhaps the punisher has morphed beyond the physical things that you are doing. Perhaps it is the ring itself. Ask yourself, do you want to put your horse in an environment that he perceives of as bad so that you start your ride from a negative place?
The solution, of course, is not cut and dried. Conditioned punishers are hard to train away. You could begin by changing the way that you ride, so that you focus on rewards and not threats. But even if you toss out the spurs and crank noseband, no rider is perfect. As sensitive as I try to be, there are moments when Tonka resists doing what I ask; perhaps it is physically difficult, perhaps I'm off-balance myself. Athletic pursuits don't come without pushing oneself. Sometimes what we do is not pretty. (In this photo he's rushing, hollow through his back and bracing against my hands. My heels are up, tipping me forward, my forearms are tense and the joint in my elbow lacks elasticity. )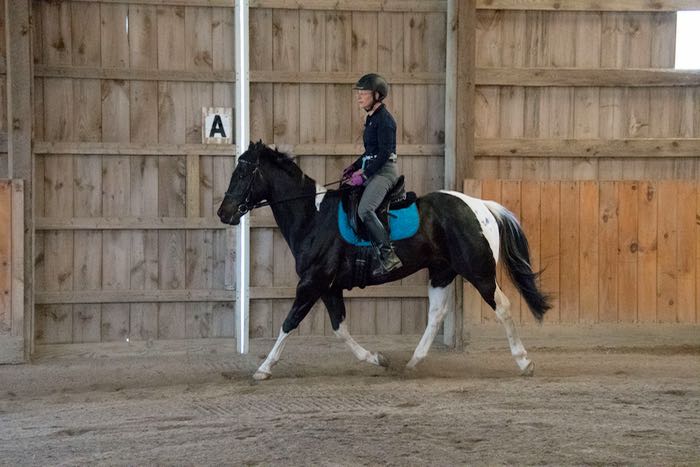 However, I am aware of these moments and do my best to keep them at a minimum. They're moments within an overall picture that is based on small increments done right, that are rewarded generously.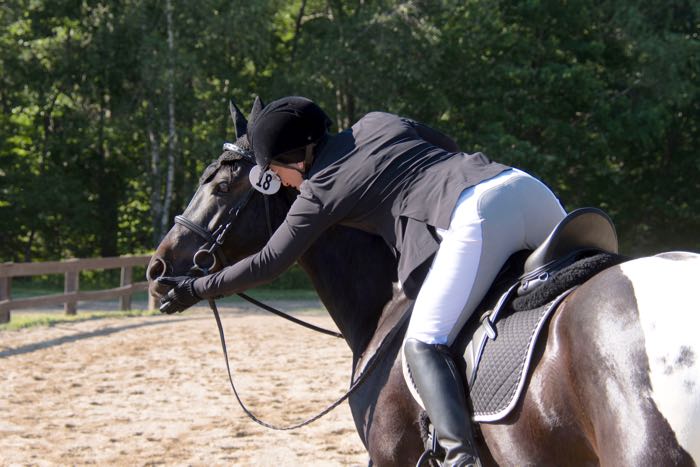 But even if I was a perfect rider, and Tonka and I were always 100% in sync, traveling only within the confines of a ring would become punishing to him. Horses are animals of the steppes. Their bodies need to move. If they don't, their joints hurt, their legs swell, their bellies sag, and their muscles ache. They're also curious, intelligent animals that need to look ahead and discover new vistas. No wonder the lesson horse that carts children around and around becomes duller and duller. No wonder the dressage horse loses her sparkle. There's an answer to this. Get out. Go exploring as often as you school in the ring. Allow your horse to swing his head, look around and to pick his way over uneven ground.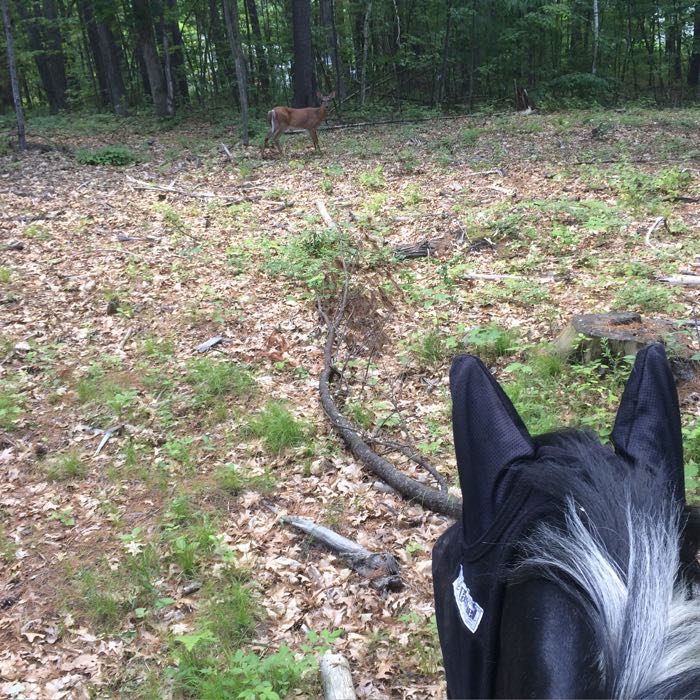 Go alone. Go with a friend. Get out.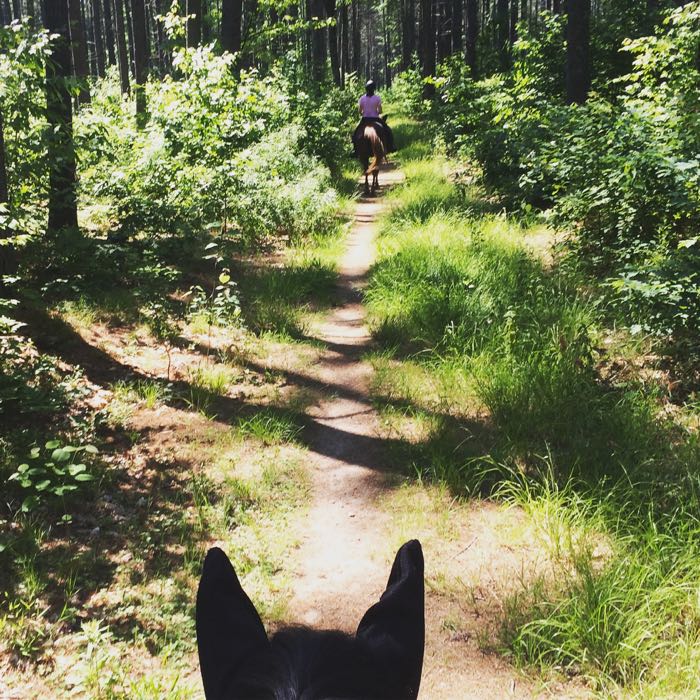 In the woods you'll rediscover relaxation, forward, swinging strides and being companionable with your horse. Which is what it's about, really.
Then, when you get back into the ring, it's just one more place to do something interesting, together.