Lately, I've been thinking about dogs and dog training. I love my ancient little Scooter, but I miss interacting with an active dog. About 2 months ago I saw a piece in the local paper about how Guiding Eyes for the Blind (GEB) was looking for volunteer puppy raisers here in Maine. Before these dogs begin their formal service dog training, they live in the homes of volunteers. These good people get training so that they can raise the dogs in such a way that at just under two years of age, their puppies will be able to progress right into the guide dog training.  It's a huge commitment. The puppies are not left to themselves for more than a few hours at a time. I can't take a puppy myself, (it'd be too much for Scooter) but I could be a pet sitter. I could help the puppy raisers when they got into a time pinch. GEB uses training techniques that I'm already fluent in. There's been a transformation in the way that service dogs are trained. GEB, and another group, Guide Dogs for the Blind, are now using positive reinforcement protocols. It turns out that being kind to dogs leads to a much higher success rate! Six years ago I became a certified dog trainer through KPA. I've helped some friends with their dogs, but mostly I've used my skills with horses. Volunteering for GEB seemed like a good way to have dog time.
Although I'm a skilled trainer, there are specific techniques, cues and behaviors taught to guide dogs that I'm not familiar with, so I've started attending GEB puppy raiser classes so that I can learn them. This week I got to help train this dog.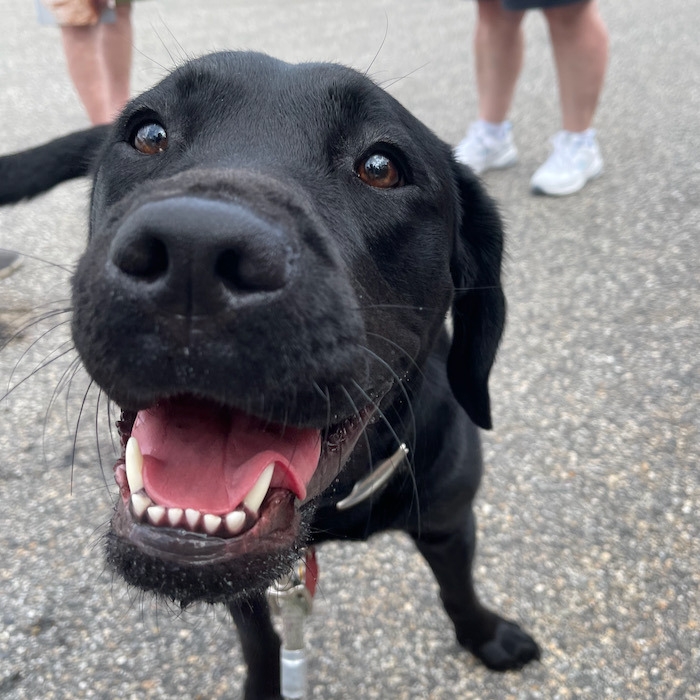 And cuddle this brand new puppy.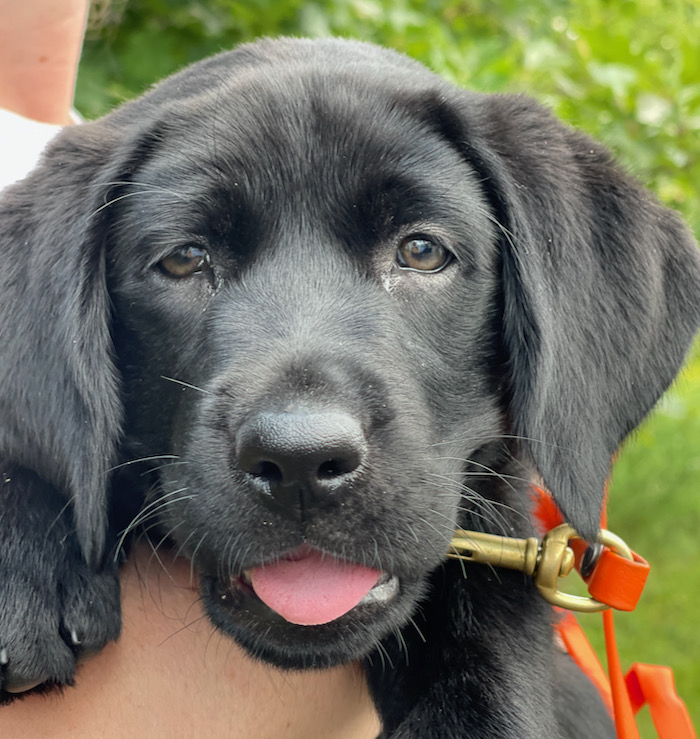 I've decided, though, that the puppy sitting isn't all that I want to be doing with dogs. Lately I've had numerous conversations with friends about how the pandemic has affected their lives. These are people who work in veterinary clinics, are dog trainers, and in dog rescue. They all talk about the same things. They're stressed out because the dogs that they're seeing are stressed. Behavior issues abound (dogs and owners both!) There are rescue dogs who were never socialized as puppies, and then found homes with people who love them, but don't have the training knowledge to know how to improve the lives of their reactive dogs. There are people who weren't able to go to dog training classes because of the shutdown, so they are now living with out-of-control dogs. There are dogs who have never been out of their owner's sight, who are now dealing with separation anxiety because their owners are going back to work. These are all challenges that can help with, so I'm now taking dog training clients. I do in-home visits. I'm based in southern Maine. If you have a dog that you'd like help with, let's talk! More information is at my website here.