One of the things that has held Tonka and I back from going up the levels in dressage has been the recurrent comment from the judges on our tests: needs more energy. He does the patterns correctly, precisely and with a willing fluidity. But my horse just hasn't had that engaged energy that he needs to be a successful competitor beyond First Level.
When we moved to Maine last summer, I ended up in a hunter/jumper barn. Going over poles is good for a dressage horse, so I started taking lessons. Mostly we trot and canter ground poles. I had no intention of actually jumping, but Tonka had other ideas. You could tell that he was eager to do more than poles on the ground, so in a lesson in October we tried cross-rails. In November we went back to only doing poles, with a focus on being able to canter a course of them. I had one lesson in December, in which we did five cross-rails. Tonka jumped BIG and it was decided that if were to keep this up, I'd need to ride in something other than my dressage saddle.  At the beginning of January I borrowed a jumping saddle, did the requisite poles, and then we went over five little cross-rails. Yesterday we had a lesson, again in a borrowed saddle. We started out over those ground poles but Tonka knew what was coming.
From the get-go he was full of beans. Tonka was impatient for the real jumping to start, so he leapt over the ground poles.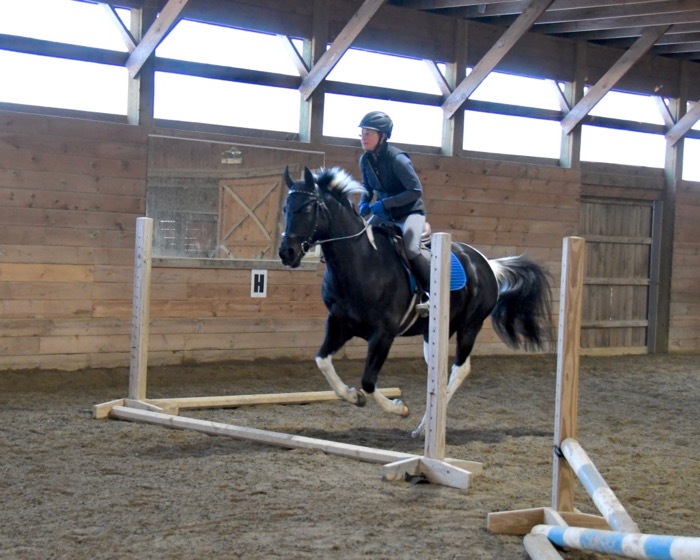 When I tried to explain to him that jumping wasn't yet the thing to do, he disagreed.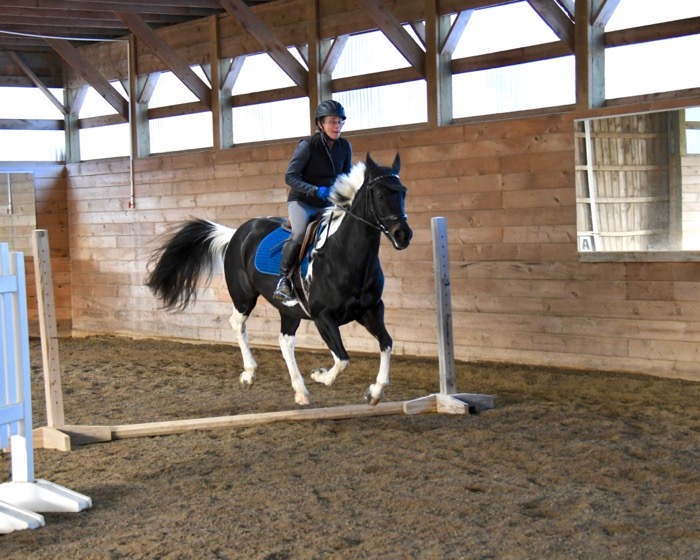 I eventually did convince him to canter over the pole without leaping.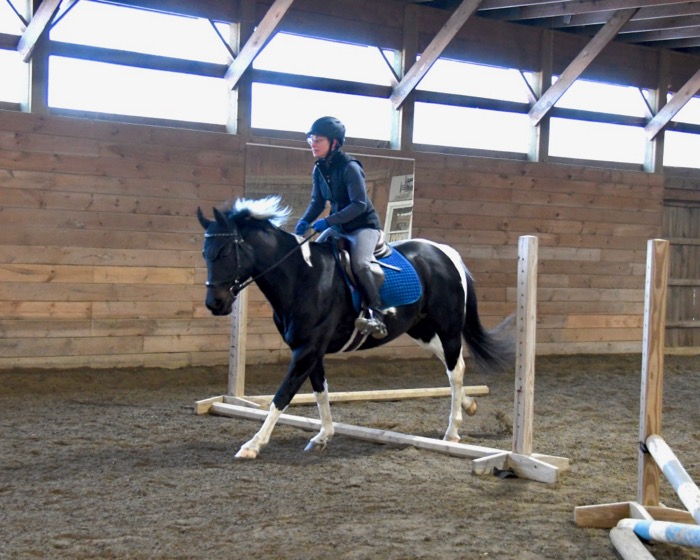 But this seemed to rev his engine. Doesn't he look light on his toes?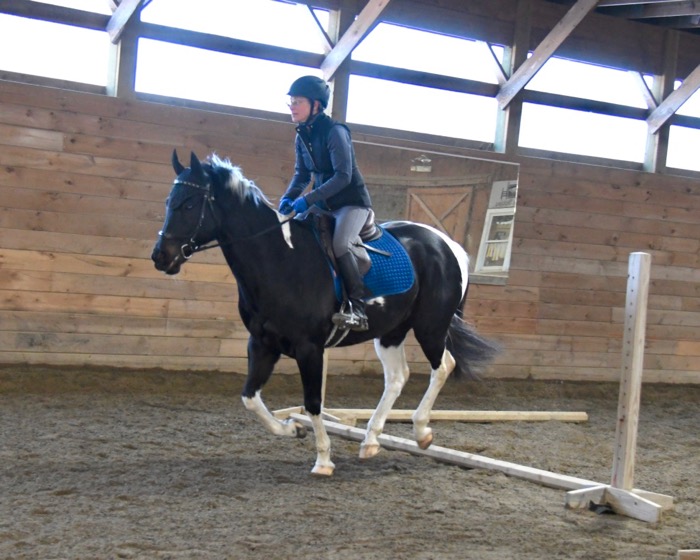 When I finally pointed Tonka at a "real" jump, I swear I could hear him say Yay!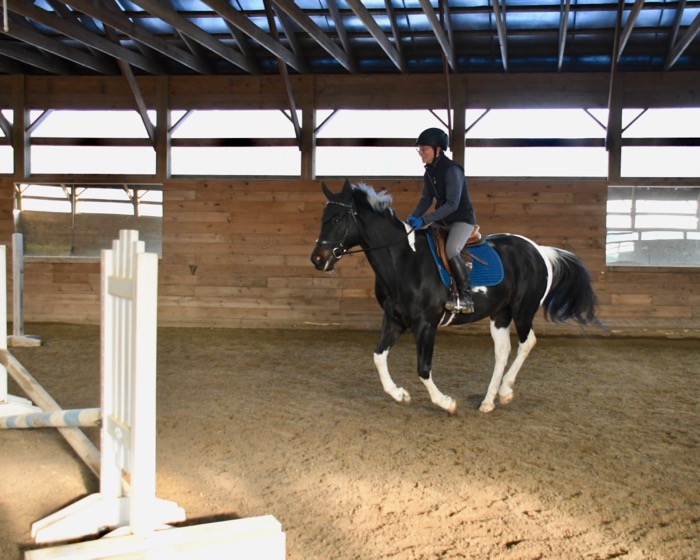 He was, perhaps, a tad too enthusiastic, but I managed to stay balanced on him!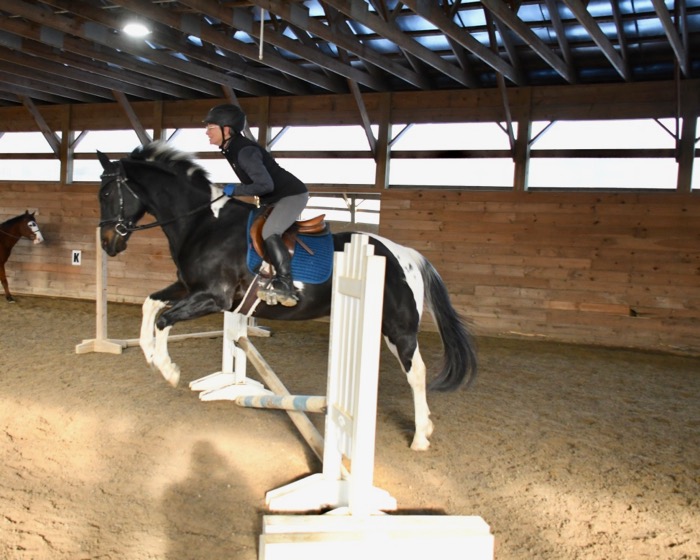 When I pointed him at the jump again, Tonka was a bundle of controlled energy.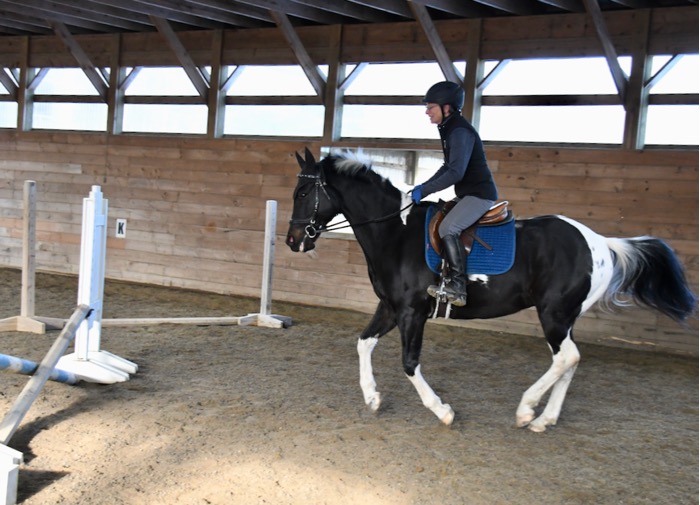 My trainer says that he's a natural. Without much guidance from me, Tonka heads to the center of the jump and places his hooves perfectly for take-off. I'm trying to stay out of his way and off of his mouth. Tonka would appreciate that.
His enthusiasm makes us laugh.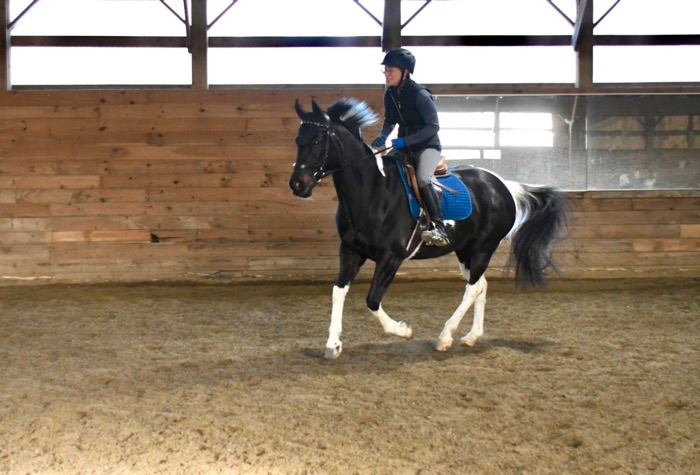 I've been a dressage rider for forty years, but riding is a sport that involves two. Right now, my partner is telling me that he wants to jump. Honestly, I didn't see this coming and I'm a bit out of my comfort zone. But, as I said, Tonka's jumping seems to make everyone happy. Including him. And me. So, we'll jump!
Has your horse led you to activities you hadn't planned on? Tell me in the comments!