It was bound to happen. You know we'd have to jump. Tonka is a dressage and trail horse. But we're now at a hunter/jumper barn. There are always jumps in the ring. We've been using the poles for gymnastic work. Tonka enjoys it.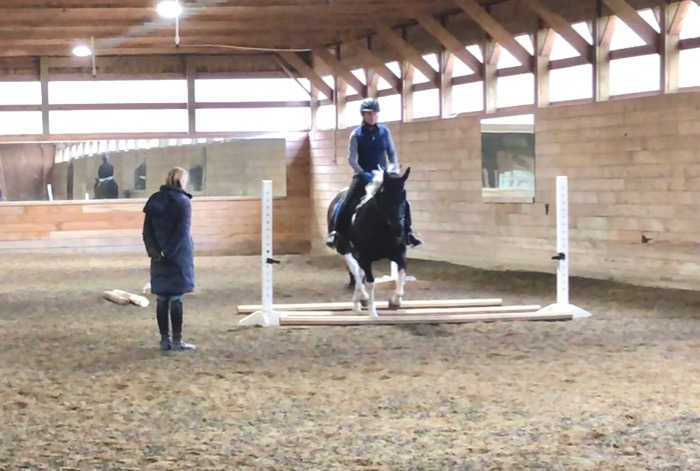 A couple of times a month, the resident trainer, Stephanie Plaisted, gives us a lesson. She has an experienced eye for the right distances to place the poles, and she knows how to incrementally increase the difficulty of the exercises.
The pole work is exactly the sort of cross-training that Tonka needs to develop muscles so that his back and joints stay sound. We didn't have to take it to the next step, but we've been watching the girls canter around over fences. It looked like a lot of fun. I asked Stephanie for a jumping lesson. She said we were ready.
After a few reps over the trotting poles to loosen up, she set up a small cross rail. Tonka, being a good boy, who has been trained to trot over any poles put in front of him, trotted over it.
Stephanie raised the jump, but Tonka still trotted it. Then she put a pole down on the ground so that he had to actually jump.
Tonka still trotted over, but this time he rattled the rail.
He knew that wasn't right. The next time we approached the line to the jump, I could feel a difference in Tonka's body. This was a determined horse.
He was a bit of an overachiever!
Look at that clearance! And the perfectly tucked knees.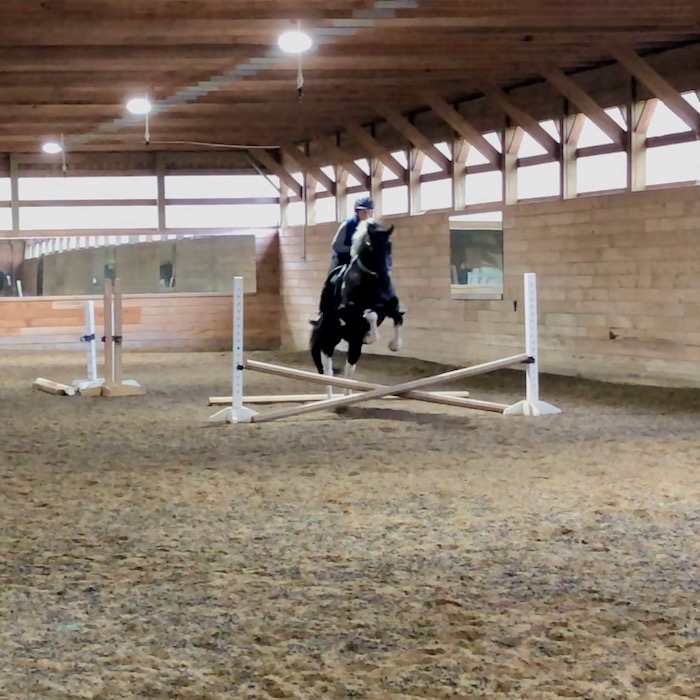 Stephanie said to stop and give the horse a cookie.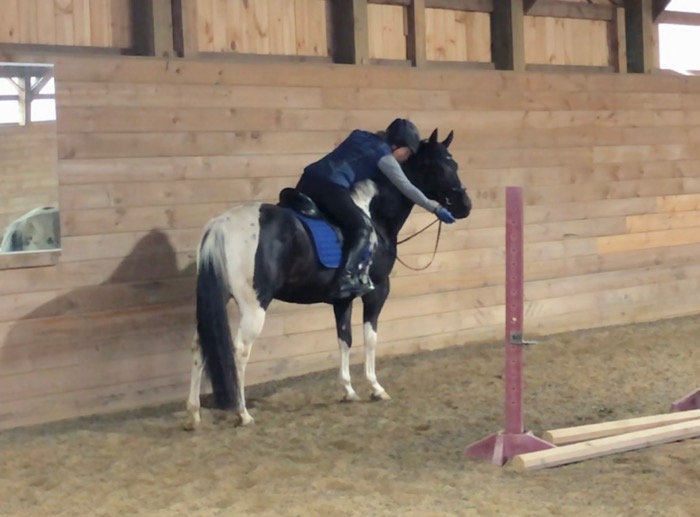 Then we started up again. We jumped – truly jumped – only three times.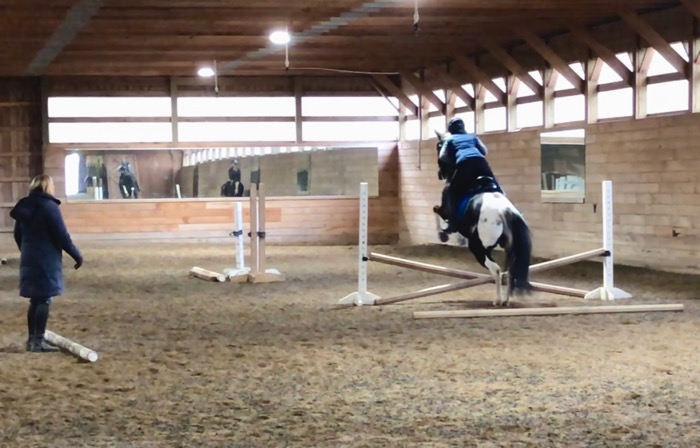 It was enough for both of us to get a taste of the sport. Tonka put out a big effort and used some muscles he doesn't normally use. We didn't want to over-exert my overachiever.
After the last jump, I trotted and cantered him around to loosen out any kinks he might have gotten from the jumping. Tonka felt great. And happy. Stephanie said he was "wagging his tail."
Yes, there will be more jumping lessons in our future. My goal is to do a two-phase (dressage and stadium jumping) next springtime. In the tadpole (18-inch) division. Nothing too lofty! My horse takes those cross rails quite big enough!