I recently had a master fitter come out to look at Tonka's saddle. Saddles are stuffed (flocked) with wool, and even the perfect saddle needs to be checked yearly because the wool compacts, your horse changes shape, things happen. Nancy Shedrick pronounced my saddle to be exactly the right one for Tonka, and in fact not to even think about changing it (which I was.)  He's very fussy about what goes on his back, so it was good to have this definitive and positive evaluation. Nancy reflocked it just a tad, but when I got on I could feel the balance much-improved! I thought that I was all set with not having to spend money on another saddle.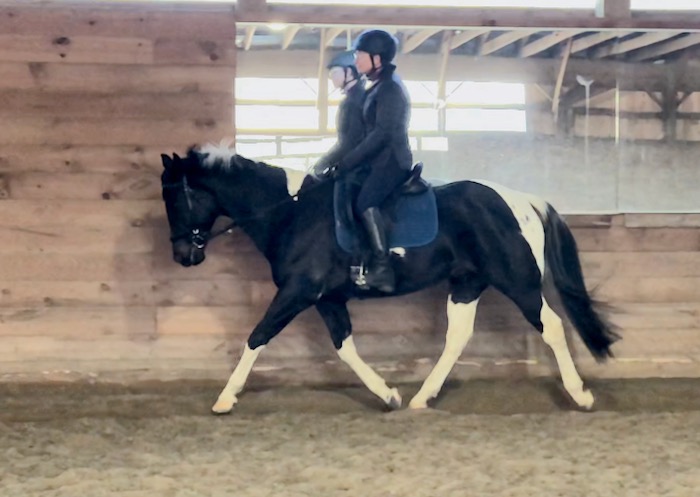 Except.
Dressage saddles are specific for dressage. The rider drapes long legs along the horse's sides. The angle of the hip and knee is relaxed and open. You don't  hold on with any tightness in your muscles. It's all balance. The saddle helps to put you in that place. Perfect for dressage. Not so much for jumping.
I've had a couple of lessons over fences. My trainer, Stephanie Plaisted, figured that it wasn't too big a deal that I was going over jumps in a dressage saddle. These were small jumps. But it turns out that Tonka has a natural aptitude for this sport. Some horses put in a big effort because they're afraid of hitting the rails, or they can't judge where their feet are. Tonka tucks his knees and arcs his back because he loves it. My job is to stay out of his way. It's been about 40 years since I've done any serious jumping (I used to event.) My body remembers what to do, but it's doing it with the muscle training of a dressage rider.
My style is rather like my favorite role models when I was growing up – the Thelwell children. Who else loved Thelwell's Horse Box: Containing - Angels on Horseback, Thelwell Country, A Leg at Each Corner, Riding Academy by Norman Thelwell (1971-10-03)?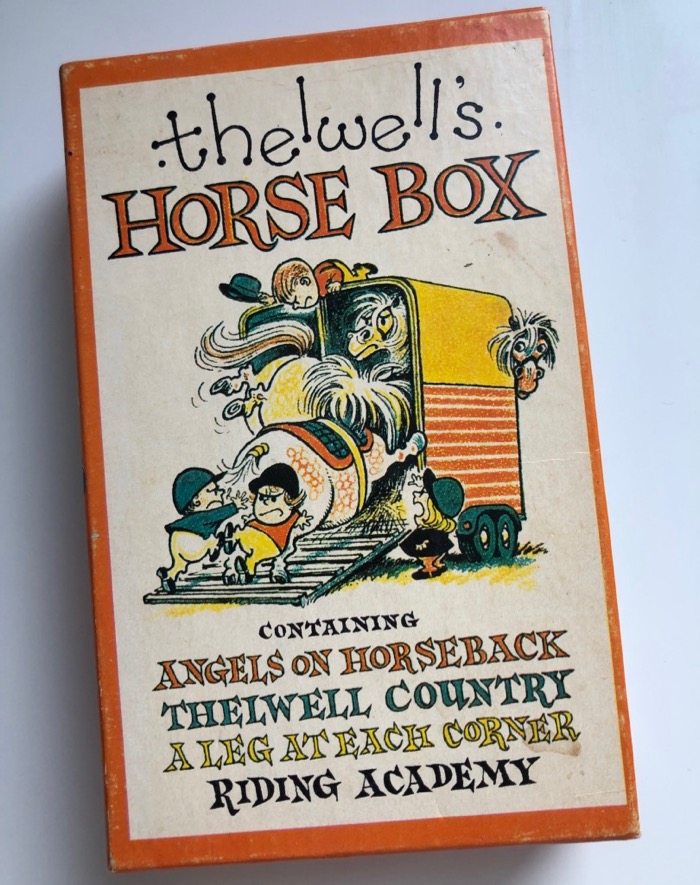 Here's how they did it – lots of air between you and the pony. Of course, I knew then that it wasn't the right way to ride, but oh! what fun they had.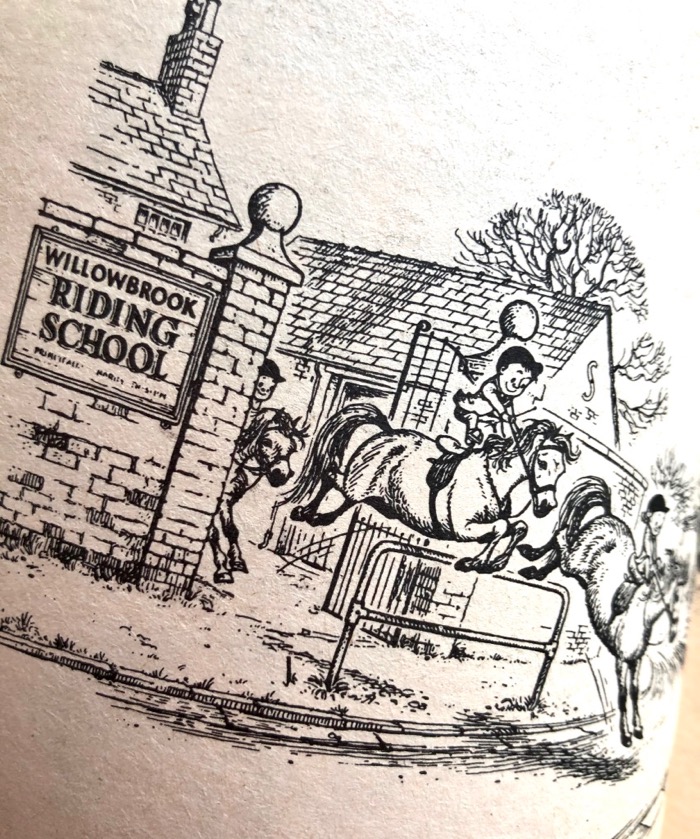 I'm having fun, now, too. Unfortunately, my style is closer to the Thelwell kids than to what Steph (and my horse!) would like to see.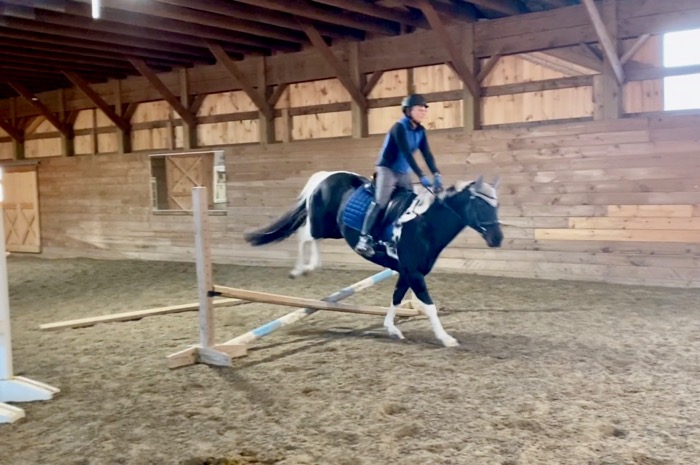 Steph kindly didn't put all of the blame on me. My dressage saddle was getting in the way. Steph offered to let me ride in her saddle. She could barely conceal her glee when we changed Tonka's tack.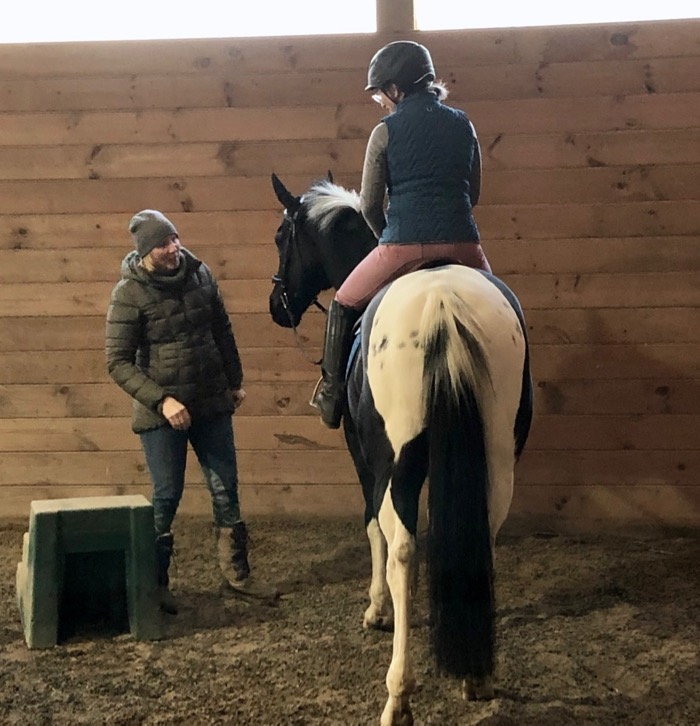 Did I mention that Steph is a successful trainer whose students compete on the hunter/jumper show circuit? She is convinced that she can convince me to switch to her sport. It's all good-natured, but I think that underneath she is quite serious about this.
In any event, it's always best to use the right tool for the job, and in this case, the right saddle. Steph's jump saddle made an immediate difference. My knees stayed next to the horse.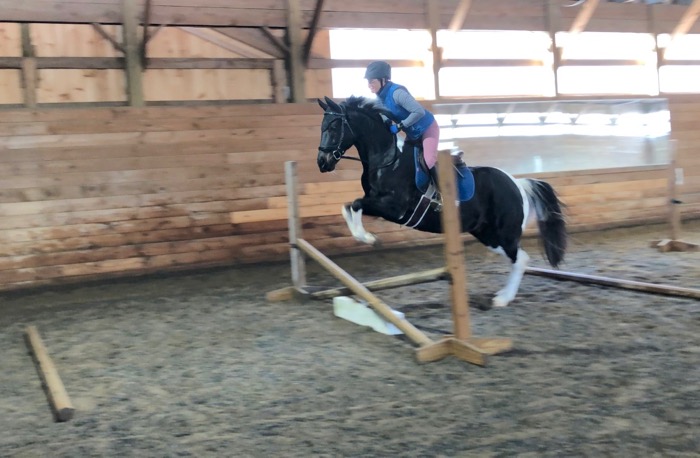 I could fold over Tonka, but not look like I was about to fly off.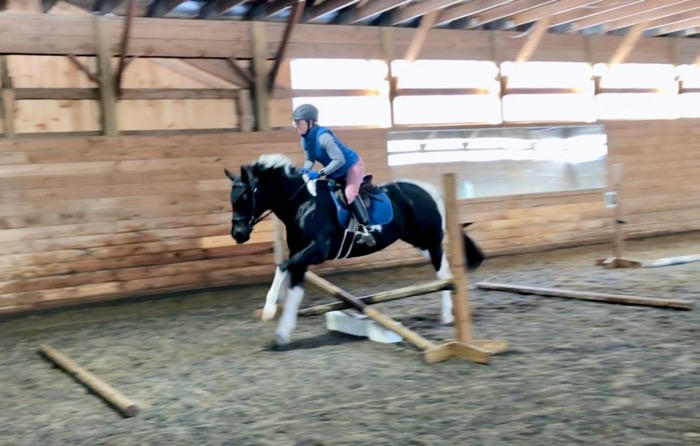 I could stay balanced on the landing.
Both Tonka and I had smiles on our faces.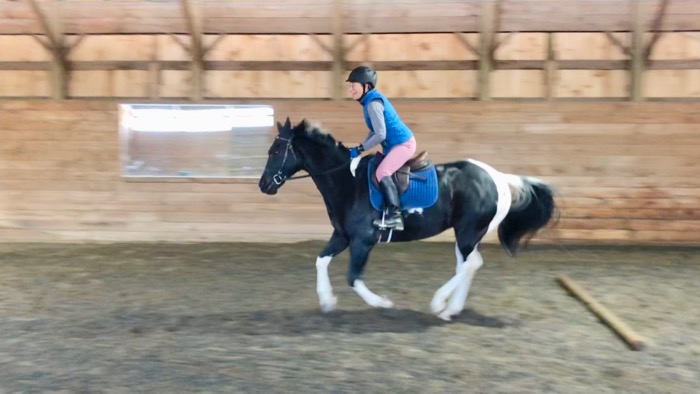 I've told Steph that I'm not doing the hunter/jumper shows, (she is still sure she can change my mind!) but that I will try a 2-phase (dressage test and stadium jumping) this springtime. I'm in the market for a used jump saddle.
Have you had a saddle that changed your riding? Tell me about it in the comments!