On Sunday, after riding the jumper course (which for us was a series of poles on the ground) in the indoor arena at Coyote Spring Farm, Tonka and I went for a hack around the property.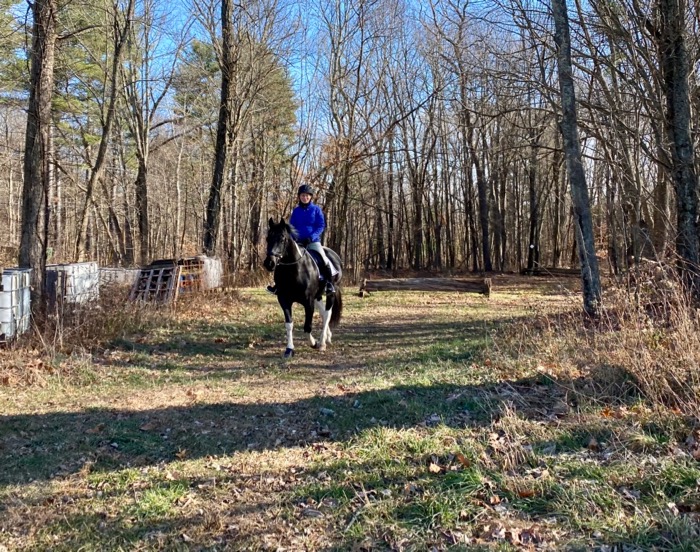 We were approached by a woman on her nice young grey mare. She said that she'd watch Tonka go. She liked her horse, she said, but Tonka… well Tonka was so steady and clearly sensible and moved so nicely and… was he for sale? My answer, of course, was no.
Later, when I was walking through the barn, another woman introduced herself. She asked if there was any chance that Tonka was for sale. She owns a very nice German riding pony, but Tonka was… well Tonka looked like just what she wished she had under her. My answer, of course, was that my horse is not for sale.
I was flattered. They were looking for eventing horses – horses that will jump boldly over obstacles in a field. All Tonka and I did was trot and canter over a few poles. In my mind Tonka had gone a tad on the forehand and there were moments of stiffness. I'd noticed some expressions of annoyance,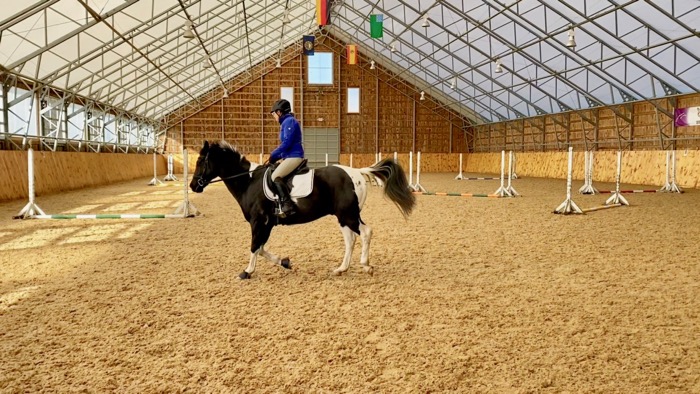 a stride when there was a hitch in a hind leg, and a hesitance to pick up the left canter lead. They hadn't seen that. Neither had the course judge who said that we were a lovely team, and when I asked, said that Tonka looked totally sound to her.
So what was it that they did see? They saw a horse go in an effortless way and that looks so easy to ride.
What they didn't see was the thought, work and time that makes Tonka look like the perfect horse. Which is good!
It starts well before I get in the saddle. I do whatever I can to minimize Tonka's frustration, so that when I am riding, he's in a calm place. Simply arranging things at the trailer so that he has hay in front of him when tacking up changes how he feels about the transition from hanging out to work. I try not to rush. Even when at a show, if running late, I consciously slow my approach. Tonka hates static, so twice a week I spray the inside of his blanket with Downy Wrinkle Releaser Fabric Spray, Light Fresh Scent,33.8 Fl Oz (Pack of 2) so that when I take it off he isn't shocked. It's little things like this that impact the big picture.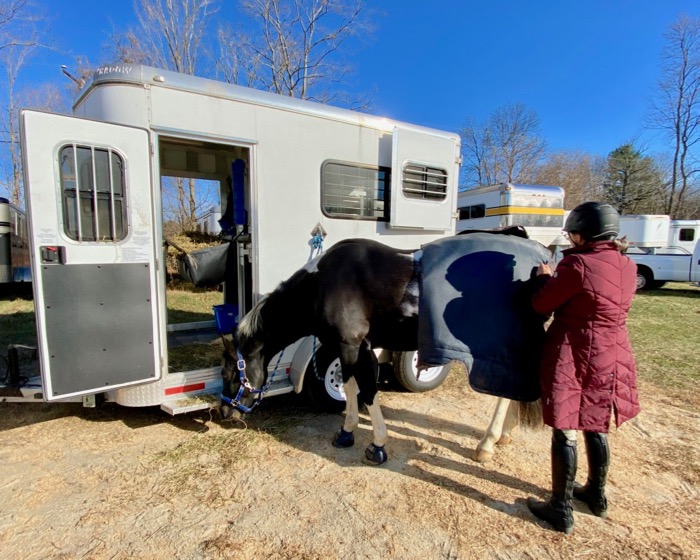 What these women saw in Tonka was a horse that was confident, willing and sane. They didn't see the moment that morning when we were coming back from a walk around this field and Tonka panicked.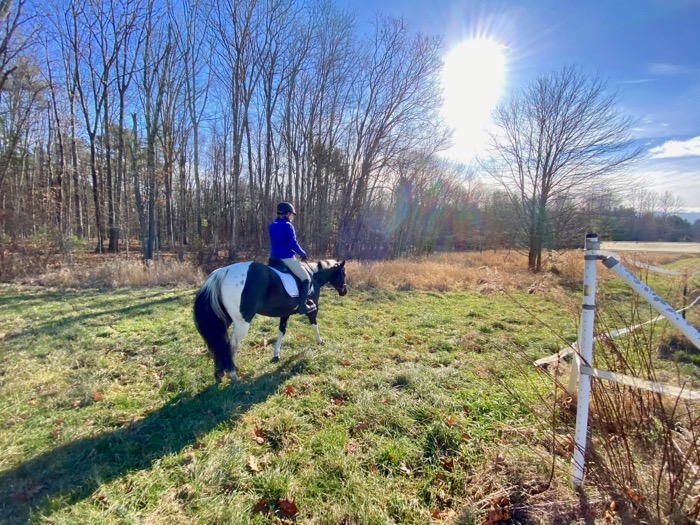 We were on a path between two electric-fenced paddocks. Tonka suddenly stopped. His head went high. His muscles tensed. It was that feeling you get right before a bolt, but instead of tightening up on Tonka, I dropped the reins and let him stand while we both looked around. Aha! We located the source of his fear. The electric fence charger was on our left and was making the click-click sound when it's turned on. A strand of the wire went over our heads to connect one field with the other. A clicking wire overhead was new and rightly scary to Tonka. How was he to know if it would zap him or not? I told him it was ok, but he didn't believe me and started to back up. I stopped that with leg pressure, and then willed myself to relax, which got him to take a breath. We've been in enough situations that when I sit deep and breathe, that he stops quivering and starts thinking. When we come to a place like this I figure out a way to achieve how to go forward while de-escalating the situation. I thought about getting off and walking Tonka under the wire, but had another option because Steve was nearby. I asked Steve to come over. Tonka watched him walk up to us without getting shocked. Then, with two people that Tonka trusted, my horse confidently strode under the wire.
Actually, the woman on the grey horse did see all of this. She just never knew that Tonka was on the verge of bolting. If I do my job right as a trainer, it looks like I'm not doing a thing.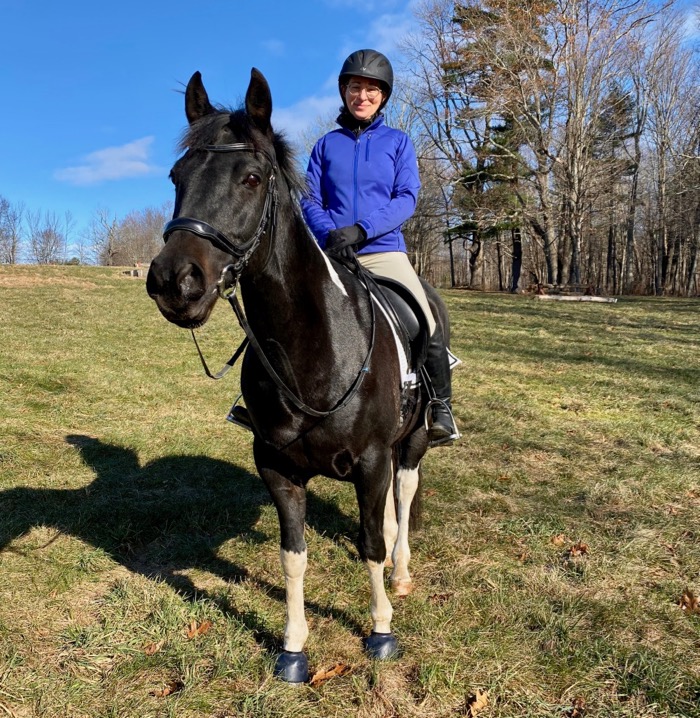 (For a blogpost about when it's smart to get off, read this.)