I have a friend who lives a good distance away. We both have what we consider to be "perfect" trail horses. For months now, we've been trying to meet at a halfway point to ride together. We were finally able to find a date, on a day when the weather (sort of) cooperated.
It was only a few degrees above freezing. The wind was going at a steady 9+ mph, with gusts much higher. But this is New England. There wasn't snow or ice on the trail, and we, and our horses, were game for the adventure.
Michelle picked the perfect place – miles of dirt roads in and around a state park.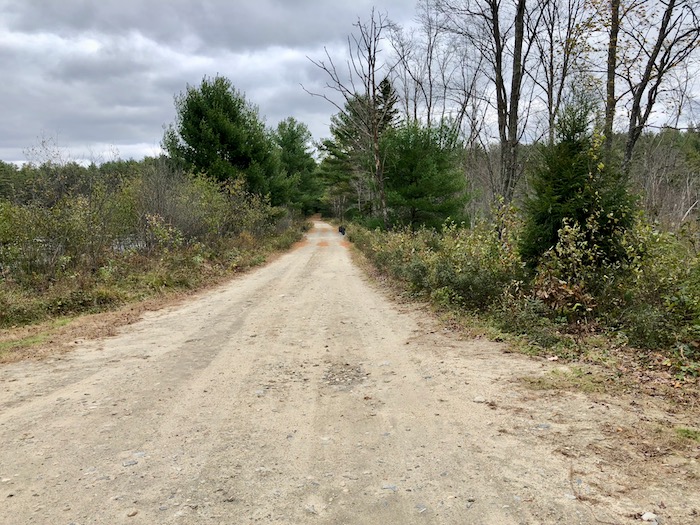 The horses immediately took a liking to each other. It didn't matter who was in front, in back, or if we were side-by-side. There were no pinned ears or drama. Just two seasoned trail horses going for a walk.
Michelle's mount, Sunny, is a retired racehorse. She's had him since he was 9 years old, he's now in his early 20s. She knows him well. She's always ridden him bitless. Michelle has learned that the less fussing she does in the saddle the better. If she lets Sunny go in his own frame, he takes care of her.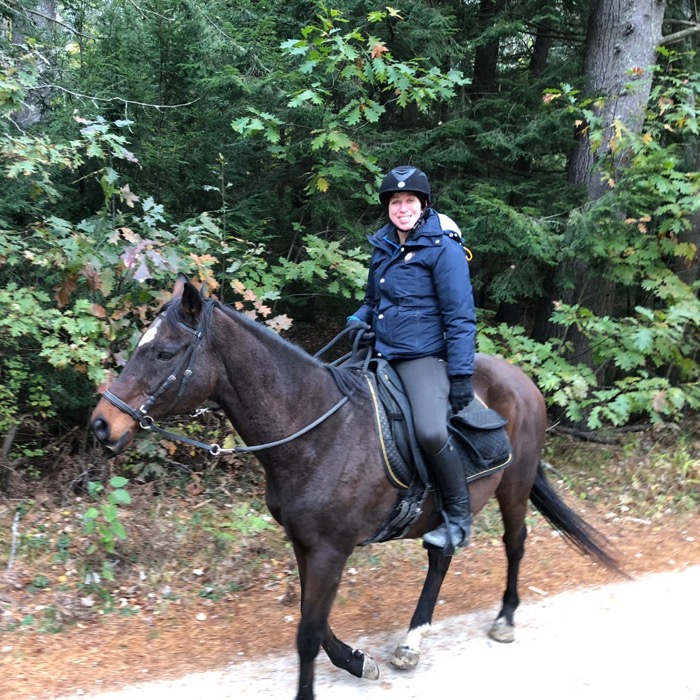 Although I ride Tonka a bit differently, we have a similar agreement, but that doesn't mean that I can be complacent. This was a new place for Tonka. On either side of the road were wetlands. Tonka is always wary around water. To make this trail more challenging, on this day, the usually still ponds were roiled up by the wind. There were waves! The wind also kept all of the leaves and grasses blowing back and forth. Horses detect danger by seeing minute changes in motion, so when everything is moving, it can be quite scary for them.
Tonka headed out eager to see what was down the road, but also on high alert.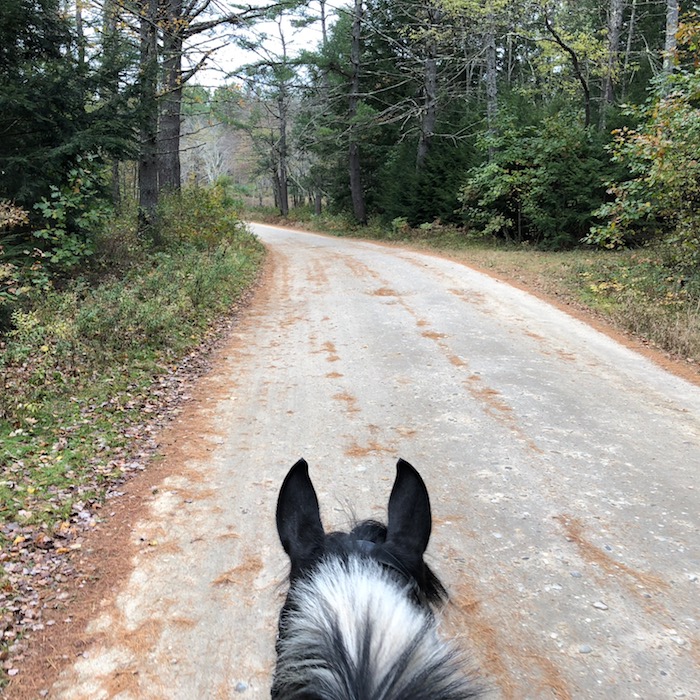 Having steady Sunny nearby helped to keep Tonka level-headed. I'm responsible for my horse's attitude, too. Despite the fact that Michelle and I hadn't seen each other in ages, and we were gabbing away, I made of point of staying in tune to Tonka's breathing and tension. I also stayed aware of my environment, which is why when we got to this stretch of trail, I knew that Michelle and I would have to leave off the conversation, and pay full attention to our horses.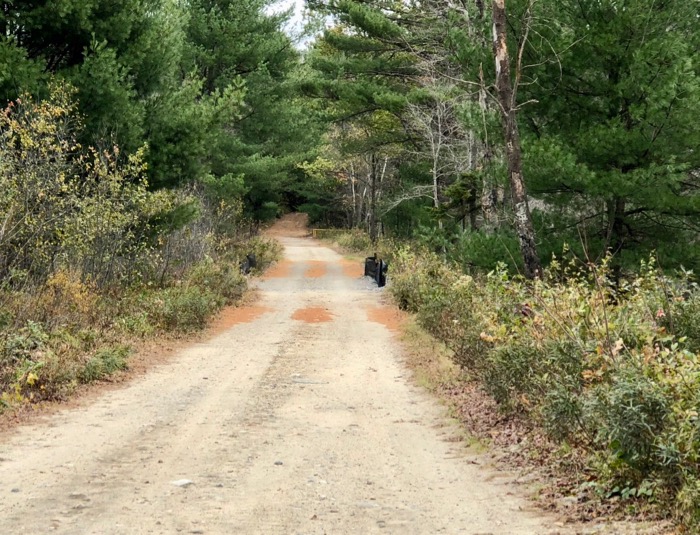 Up ahead was a (1) bridge, (2) over moving water, with (3) guard rails that were wrapped in (4) shiny, (5) billowing, black plastic. I number this description, because each of those items are challenges. Together, it's called "trigger stacking." Each one isn't a big deal, but added together and you have that proverbial "straw that breaks the camel's back."
Approaching this, I didn't know if there'd be one too many for Tonka or for Sunny.
What I see is not what my horse sees.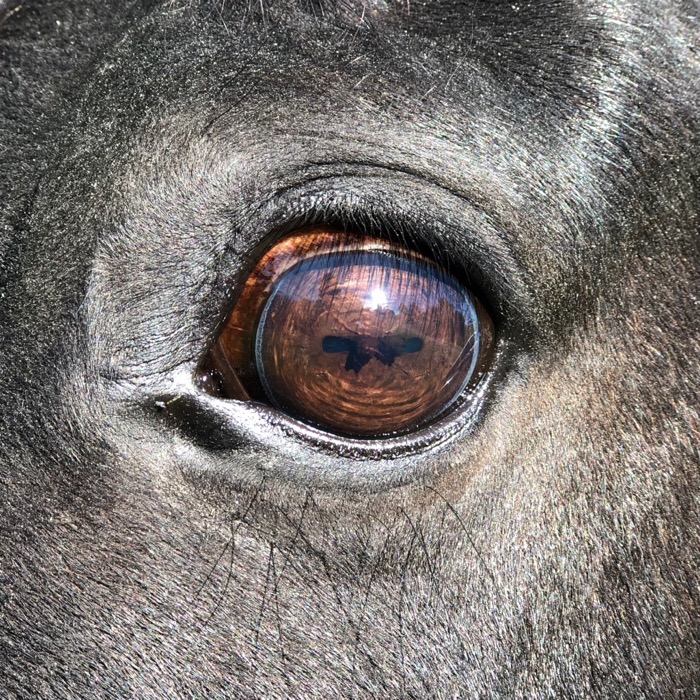 His field of vision is wider, the contrast more defined, the colors more muted. His senses of hearing and smell are far sharper than mine. Telling a horse, "it's only" this or that, negates his reality. Better, is to agree with your horse that there's something to be alert to, but that you have additional information which informs you that it's safe to pass. Michelle and I sat a bit deeper in our saddles and rode with more conviction. Both horses took confidence from us, and they kept walking. But as we neared the bridge, I swear that Tonka got a few inches taller and his sides became hard. He hesitated. I could have insisted, kicking with my legs, making me scarier than the trail.  When I first got Tonka, when faced with something scary, he wouldn't go forward from my legs. Instead, he'd say NO! by backing up. He backed me into stone walls and into trees. He would have backed over a cliff in his refusal to go near what frightened him. I trained him to no longer do that. (Read this.) On this day, at the bridge, I could feel that he wasn't going to move off of my leg. More pressure was going to lead to something else, maybe wheeling around, or bucking. Or rearing. If that happened, I would have had to escalate the conflict until I "won" and got him past the plastic. But then I'd be riding a riled-up horse, and the next time we came across something worrisome, Tonka would be thinking not only about how to stay away from the scary thing, but how to avoid me, as well. Worse, I think, is that conflict interactions cause me to become a tad scared of my horse. A horse pushed into fear mode is dangerous, and once they do those behaviors, they're more likely to repeat them. When faced with a balk from Tonka, I'd be anticipating escalating bad behavior and my riding would be tighter and less tactful, which would increase the likelihood that he'd act up. I didn't want that cycle to start. It was time to get off.
There's something about having a person leading from the ground that is reassuring to a horse – far more so than from the saddle. I don't want to have to jump on and off all of the time, but once in awhile it's the right thing to do. Michelle was thinking the same thing. We both got off and walked our horses over the causeway. As I led Tonka, he looked around. I could see him thinking, This isn't so bad. Plastic. I know plastic. Streams. I know streams. The horses stood still on the other side while we remounted, and we were on our way.
Later, we came across another obstacle. There was a metal gate spanning the road, with a lake on one side and a steep hill on the other. Usually, riders can walk between the gate post and a stanchion, but the water level was high, so you had to walk into the pond to do that. Tonka hesitated. I squeezed with my legs. I looked right where I wanted to go. He softened, I softened. He balked, I pressed. It was a conversation. I could feel him gather his courage and step into the water. This shows that dismounting in one situation doesn't teach your horse that if they balk, the rider gets off. Instead, I think it teaches confidence because your horse learns that you'll never force them into a dangerous situation, and that what you ask for is reasonable and that nothing bad happens when they comply.
Sunny was not as sure about this obstacle, and his conversation with Michelle went another way. She got off and led him through.
Our decisions were correct for the situation and our horses. Sunny and Tonka remained eager to see what was around the bend. The companionship, the physical activity, the new places to explore, all rewarded our horses for keeping on. Altogether, we rode almost six miles.
Back at the trailer we untacked the horses. Neither had been stressed, either mentally or physically. I could tell this because they weren't a tad damp, not even with their winter fur coats already in. (Horses sweat when nervous.)
Michelle and I stepped back to take photos, and Sunny and Tonka looked at us with soft eyes and relaxed bodies that said, Hey! What's next?