I've been thinking about horse stall design.
Not all horses have to live in stalls. When I found Tonka, he was living in a huge grass pasture with another horse. They had a shed for shelter and could come and go as they pleased. I like the idea of a horse moving where he wants, at will. When I brought Tonka home, I tried to get as close to that as I could. I boarded Tonka at a farm where he lived in a large paddock, with a shed. Plenty of space. Good fencing. However. The hay that was fed in the morning was long gone before the late afternoon feed. Although manure was controlled weekly by dragging, whenever it rained, the paddock turned into a deep mud mire. There was serious resource guarding.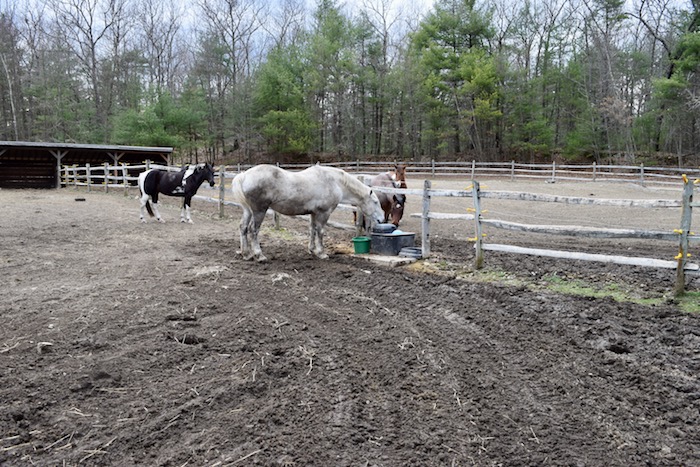 It was not a good situation for Tonka, so I looked at barns with stalls.
Stalls have their benefits. During inclement weather (which we have plenty of in New England), your horse is in a comfortable and safe place that you can easily access. For someone like me who rides daily, a barn with stalls, a secure and dry place for gear, an aisle to groom my horse in, and an indoor ring so that we can stay active, is even better than a shed that one can't get to in a snowstorm or downpour, or see their way to in the dark of night.
I moved Tonka to this stall. There was a window, and a view of the other horses, daily turnout, and an indoor ring. The stalls were clean, deeply bedded, and the hay was plentiful. But Tonka had to eat his grain with that face looking at him (and often that horse's rear end as he kicked the wall.)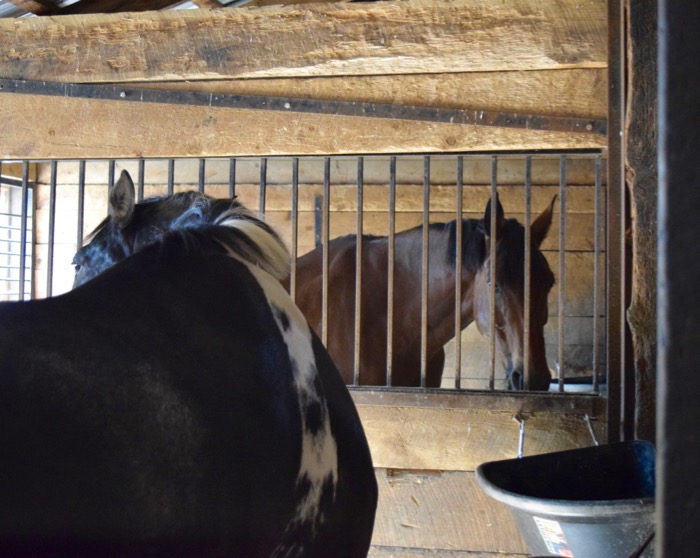 An easy fix was made by putting up boards so the two didn't have to look at each other.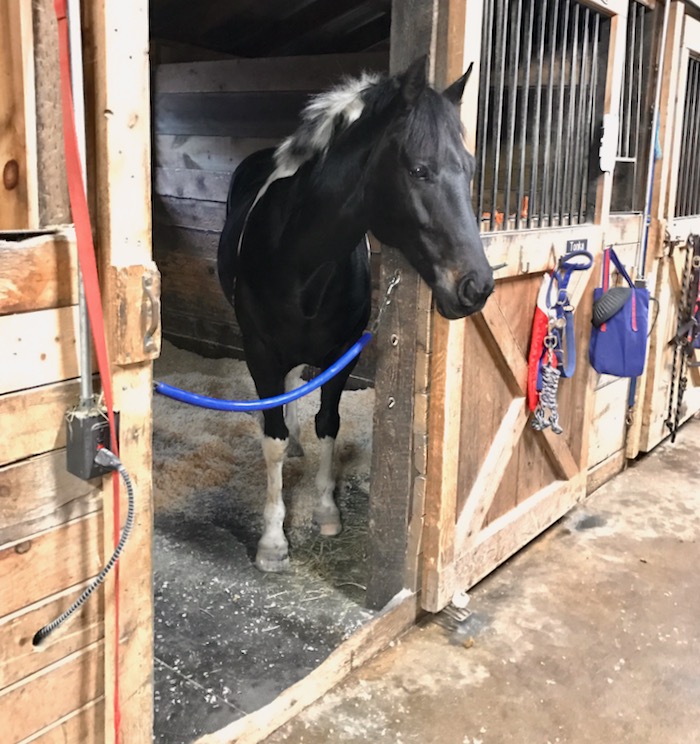 After almost two years at that barn, we moved to another so that Tonka could have solo turnout. (Not all horses play well with others.) At this stable, Tonka had a Dutch door. Which he absolutely loved.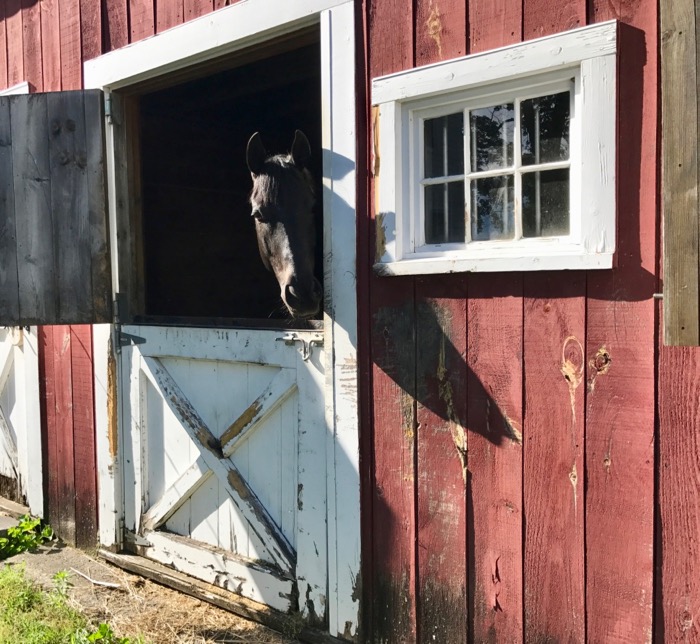 But in the winter, to keep the barn snug and to keep the water from freezing, the door was closed. Tonka still had a window. But he was in the end stall, and could see only one other horse through the front bars. Tonka tolerated the situation.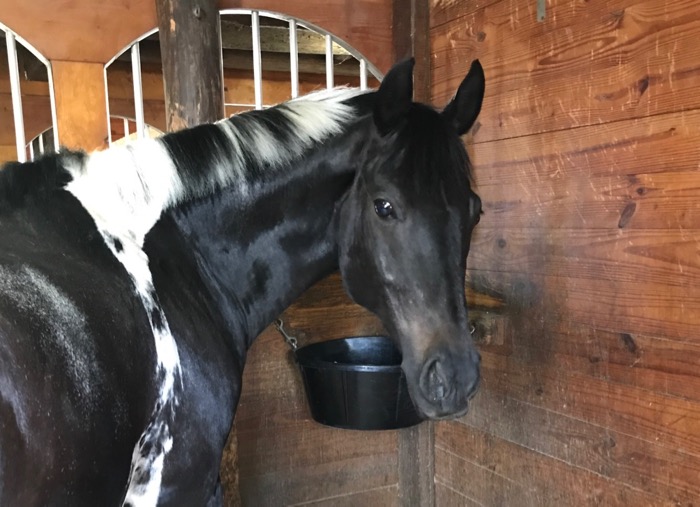 Then an ideal stall became available at the perfect barn.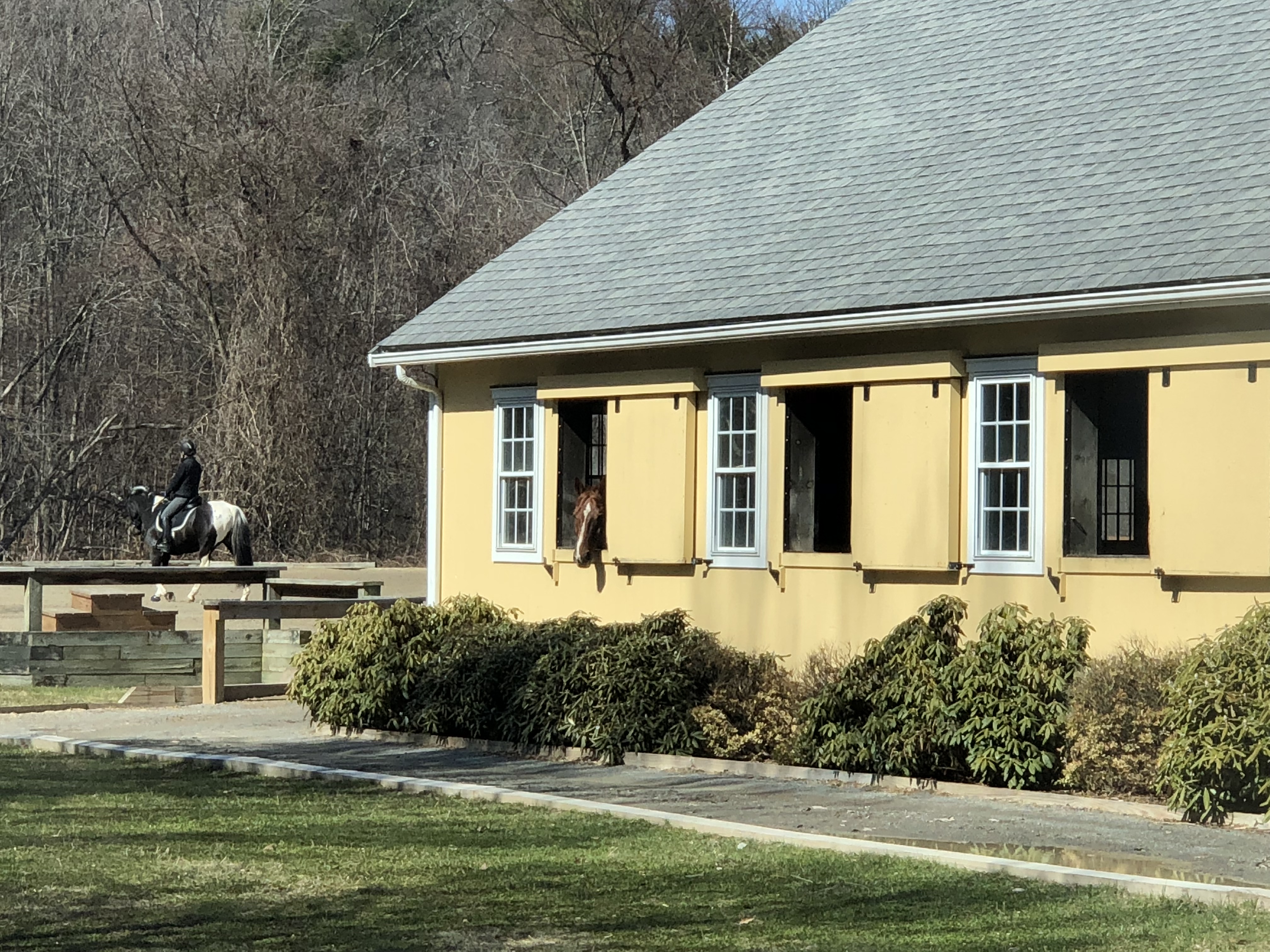 Here, Tonka has huge opening, which is kept open all winter. On the few occasions that it's slid closed (for howling wind or such) there's still a large regular window that lets in light and allows Tonka to keep tabs on the goings on outside.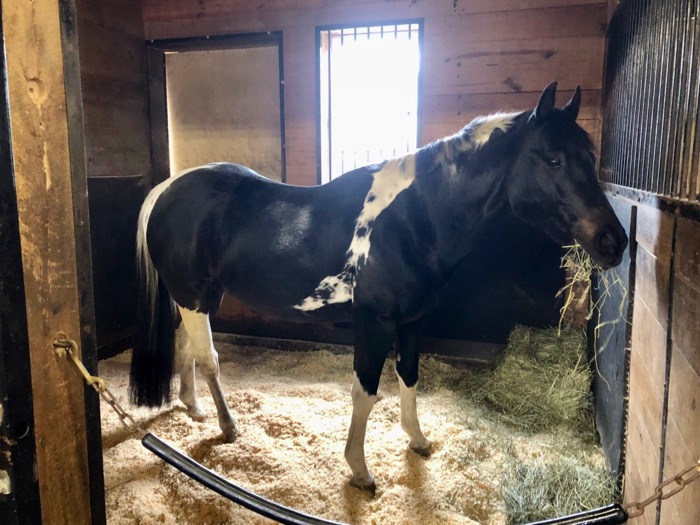 There is also this open half of his stall door, from which he can see and chat with all of the horses and humans inside. Notice how clever the design of the stall doors are, with those shelves. He can look out, but not reach the horses in the aisle. He also can't toss his blankets about (Tonka has been known to throw things, just for fun.)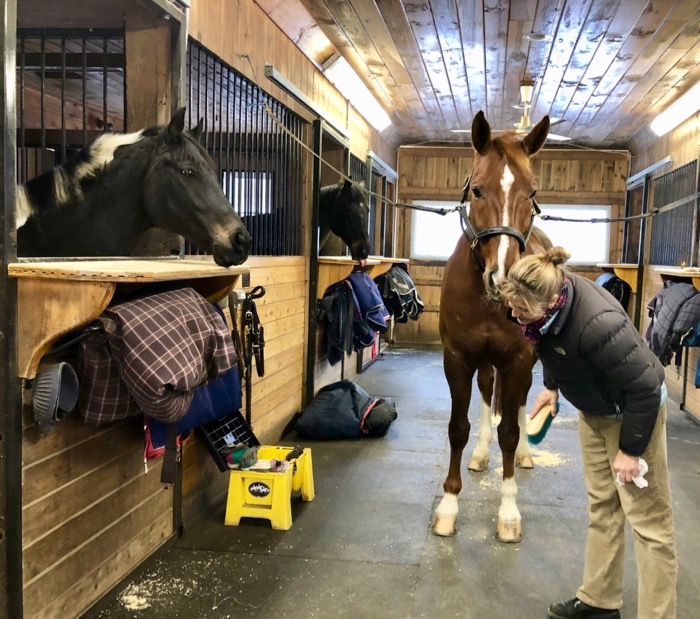 Light in this barn abounds. Even when the end doors are closed, windows in them keep the barn bright. At night, well-placed electric lights allow you to see into all corners.
This barn is closing (I've talked about that here) AND I'm moving to Maine, so, lately I've been looking at a lot of stalls.
Although I'm going only an hour further north, I'm seeing regional differences in the stall design.
I expect to see that on my travels further afield. I recently visited a friend in Houston. Down there, they have to contend with humid heat in the triple digits. What's important in Texas is shade and ventilation.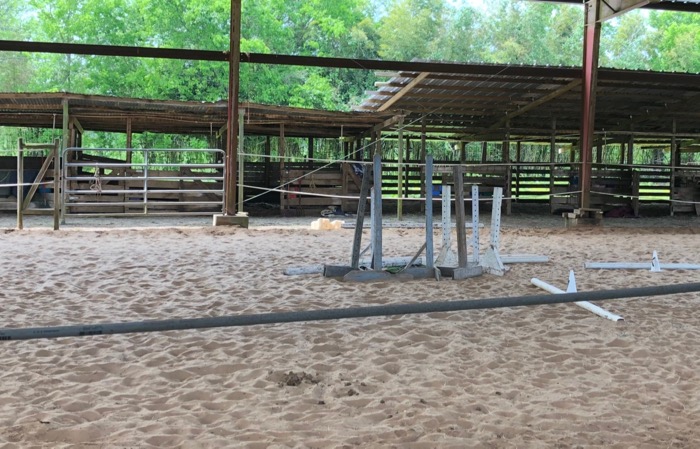 In Maine and New Hampshire, people worry about the opposite: frigid temperatures, biting cold wind and deep snow.
Still, I don't think that the weather is enough of an excuse to house a horse in a box without windows. There are bars at the front of this stall,  but regardless, this seems sad and isolating to me.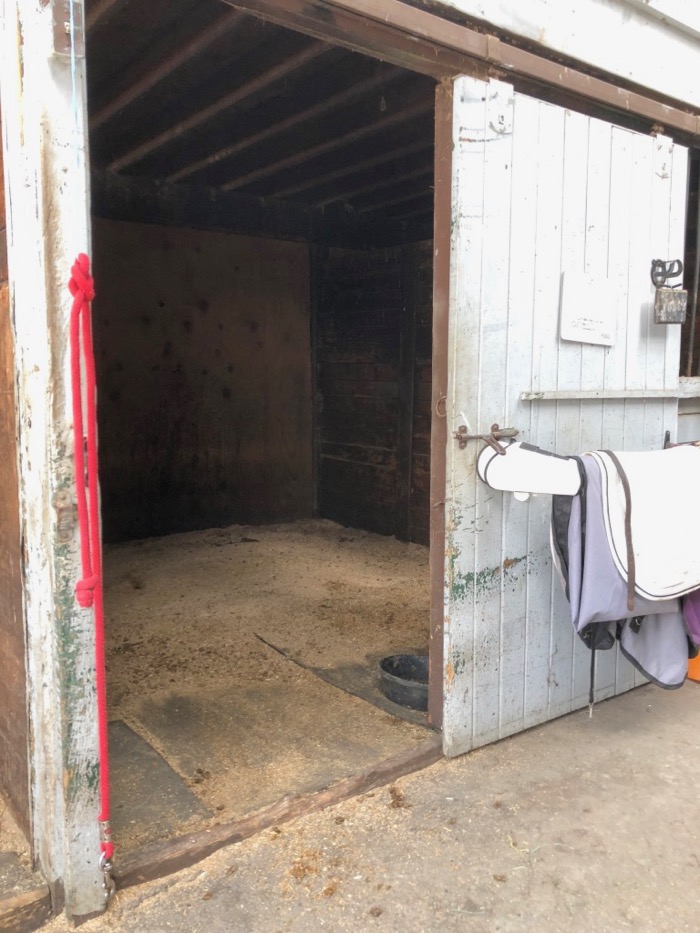 I was surprised that even the high-end barns don't have the sort of windows that I'm used to. I toured a fancy dressage barn, where board is $1,450 monthly. There I saw a block of stalls without any windows. The stalls were walled up so that the horses could only see the patch of aisle in front of them.
I did find barns that had Dutch doors, but none of them also had windows. So, when the door is closed, the stalls are quite dark. In New England in the winter, night falls early in the afternoon. A horse might stand in that gloom for twelve hours, or if a storm is raging, for days.
Finally, I found a compromise at a barn north of where I'll be moving. Each stall's interior door has a panel that can be dropped so that a horse can put their head out of the stall and look down the aisle.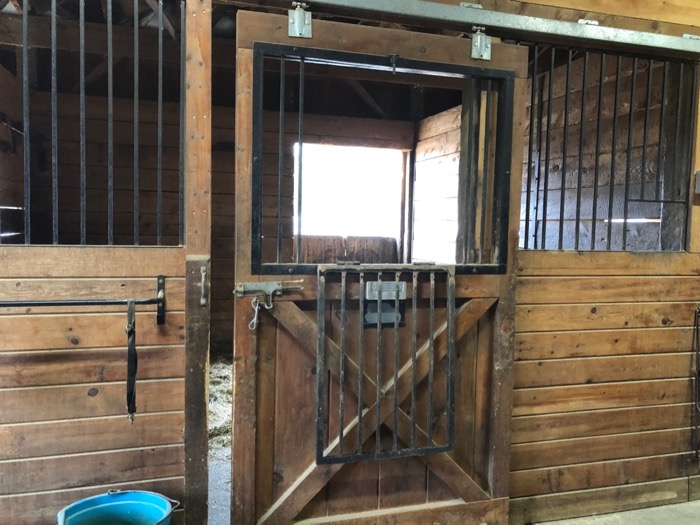 Some of the stalls have windows, so natural light does come into the barn. A few of the stalls have Dutch doors. Those stalls don't have windows, but they do open up to small fenced areas. During the day, all of the horses are turned out in large paddocks, but when they come in at 4 pm, the horses in these stalls can wander in and out at will.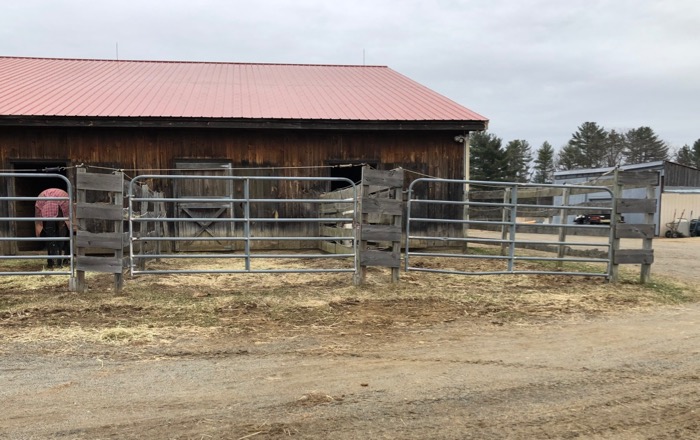 I've been told that the doors stay open, even in winter, unless the weather is really awful. So, there's no window, but the trade-off is an open door and more space to move.
I didn't know that I'd have to make this compromise over light, windows, and sight lines, when I started looking for Tonka's new home. But, after visits to fancy dressage barns, a few competitive eventing stables, and even a saddle seat barn, I've learned what's typical in this region, and snugness is valued over windows. Within that context, this barn looks excellent. Other details matter, too. Water buckets are clean. Stalls are mucked out and are bedded with pine shavings.There's fresh water and hay in the paddocks. The staff are calm.
I've lucked out, and the second stall from the end is available. Tonka will be moving sometime at the end of May.
What are stalls in your region like? Tell me in the comments!