Five years ago, I brought Tonka into my life. Since then, he's lived at four stables. The one he's currently at is perfect, and yet we're looking for a new home.
I'm not a difficult boarder and my horse is easy to take care of. So why all of the changes?
When I purchased Tonka, I thought all we'd be doing was trail riding. I lucked into a farm with a shed/turnout, access to trails, and only two miles from home. It looked ideal, but I soon found out that Tonka would be standing in mud in three seasons, and in dangerous ice during the fourth. Feedings were spaced too far apart, Tonka lived with other horses, and he was getting kicked and bitten. We had to leave.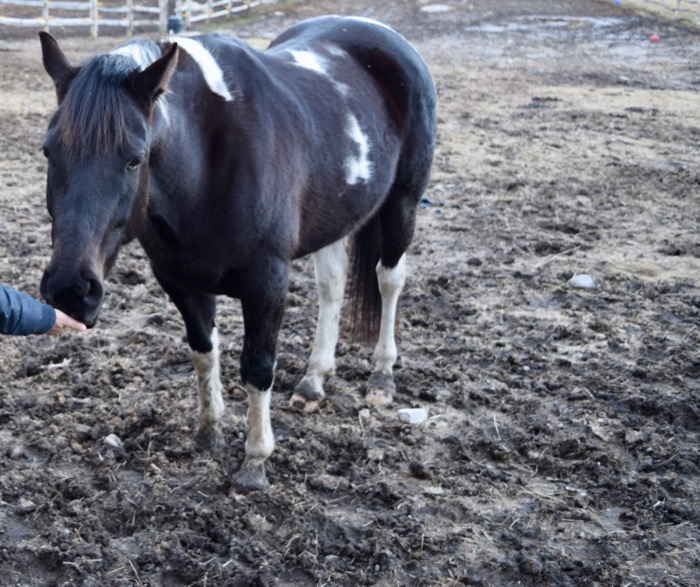 The next barn provided excellent care. Clean water, frequent hay feedings and deeply bedded stalls. There was an indoor (which mattered now that I was doing dressage along with trails) and I enjoyed the company of the other boarders. But Tonka didn't get along with any of the horses and the hay nets were too high.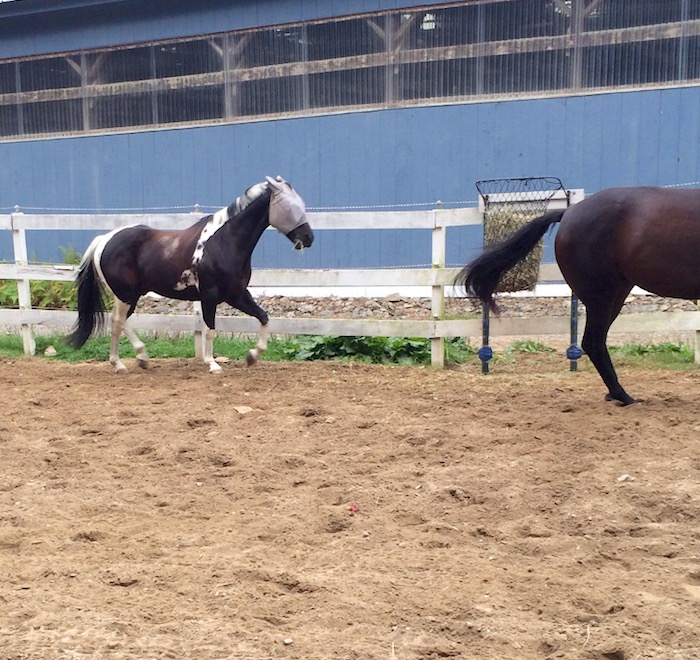 Sometimes he was the one who chased the paddock-mate away from the food, sometimes he was the one who was chased. Tonka was, again, getting hurt. There was no solo turnout. We had to leave.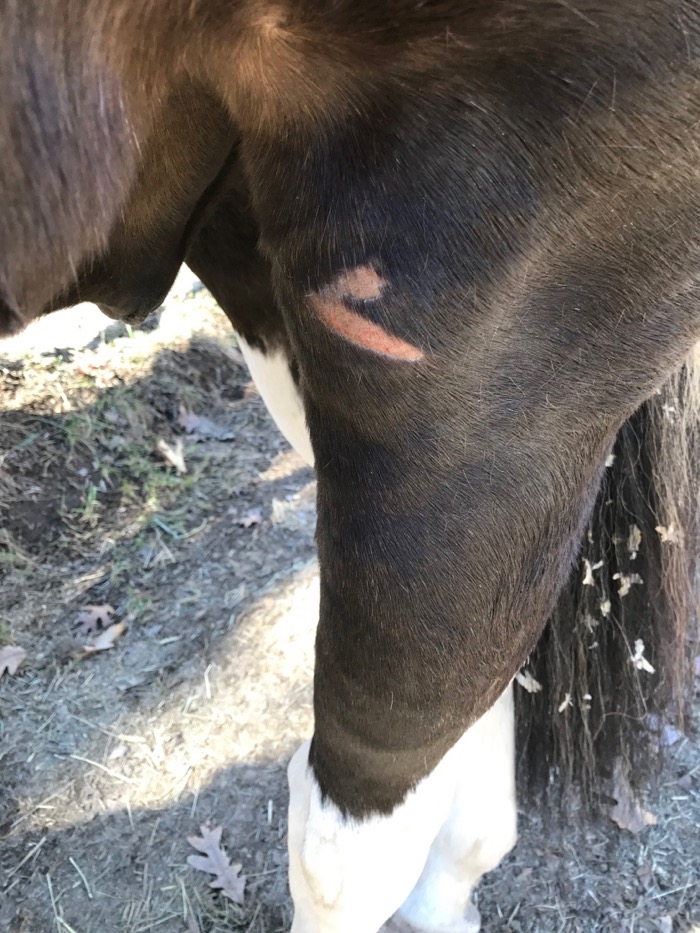 The next barn was a long drive from home, but it had individual turnout, a gorgeous indoor ring, and excellent feed and hay. However, there were no trails, and Tonka and I went stir-crazy. When I heard about an opening at a small barn, closer to home, I jumped at the chance to bring Tonka there.
It has proven to be the perfect place, and it's taught me so much about my horse and I – what makes us happy individually and together. Sometimes you don't know what you're missing until you find it.
This barn has all of the essentials, done in a superlative way. Crystal clear water. High quality hay, fed four times daily (at least), immaculately clean stalls, knowledgeable and plentiful staff, indoor and outdoor rings with perfect footing, and trails right off of the property. There's a heated, clean, and charming bathroom for the boarders. A tack room with a sink (and heat!), a coffee maker, refrigerator, and always fresh muffins on the counter. An indoor wash stall with hot and cold water and a heat lamp. They even do the horse laundry – pads and such. The list goes on.
From the first day there, Tonka settled right into the individual turnout. The paddocks are spacious and are grass (not rocks, which is unheard of here in New England.) Tonka spends his days with his head down, nibbling. The other horses are within sight, and so he's never lonely, but he doesn't have them in his personal space.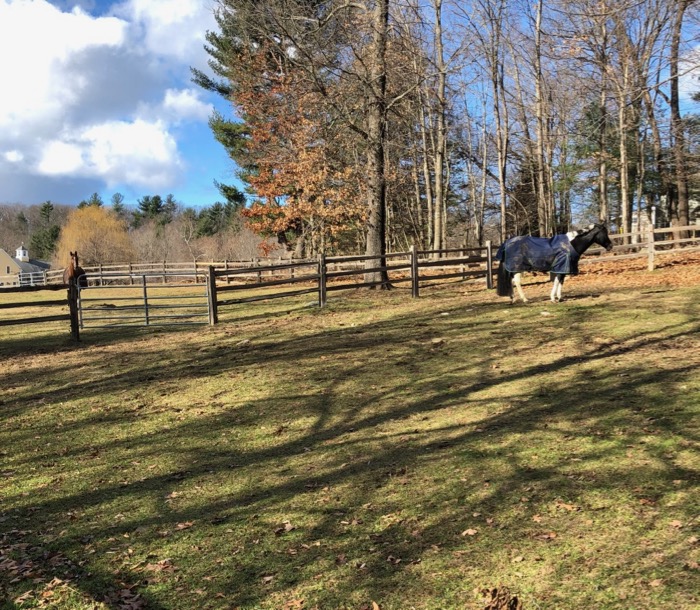 However, there's more to it than the appropriate turnout that makes this place special. There are only seven horses. They all know each other and get along. They chat over their stall doors at night. It turns out that this is highly important to Tonka.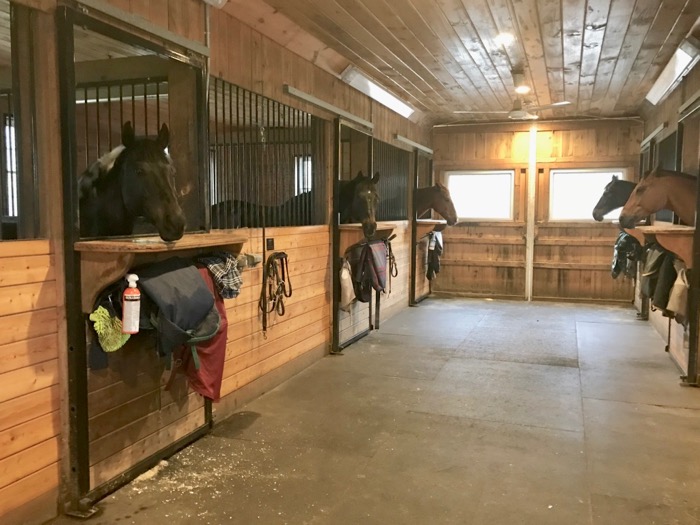 Tonka's previous barn had three times as many horses. At night they were out of sight in their stalls, and during the day most were in paddocks out of his view. We rode in the ring with them, or were in the aisle when others walked by, but he didn't know the other residents well. I didn't realize how on edge it made Tonka to not be familiar with everyone on the property, until I moved to a place where he was. Tonka's attitude in cross-ties has changed. He is no longer wary when horses are led past him. He is nonchalant when a horse comes into the ring while we are schooling.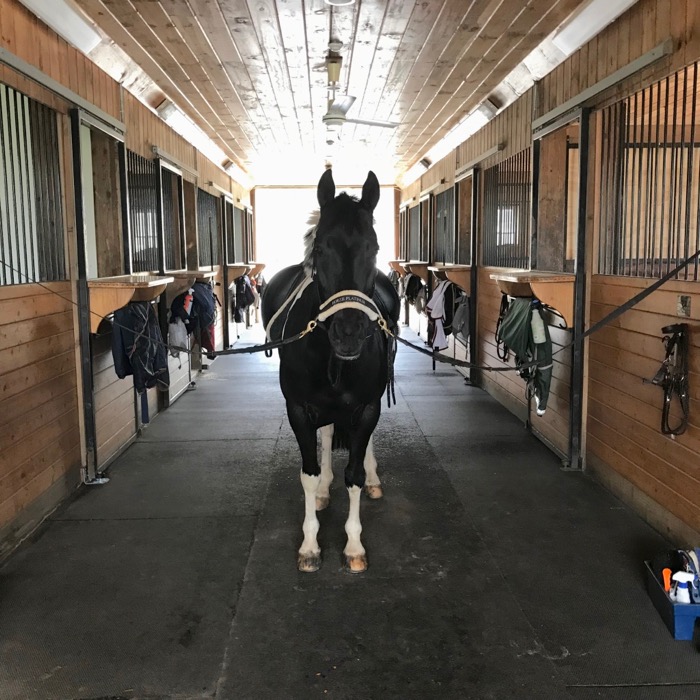 Tonka is a horse who is always paying attention, and the barn's design allows him to do this. Not only can he keep tabs on the other horses, but he has a Dutch door so that he can see who's coming and going down the driveway and up the road.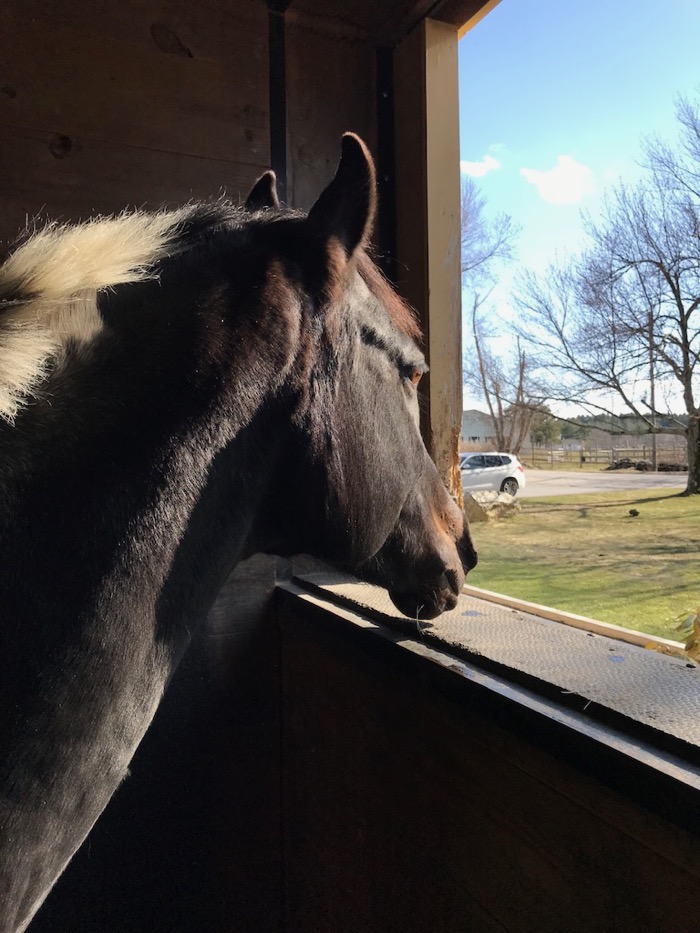 At this stable the information that Tonka craves about his world is accessible to him. The more Tonka knows, the more content he is.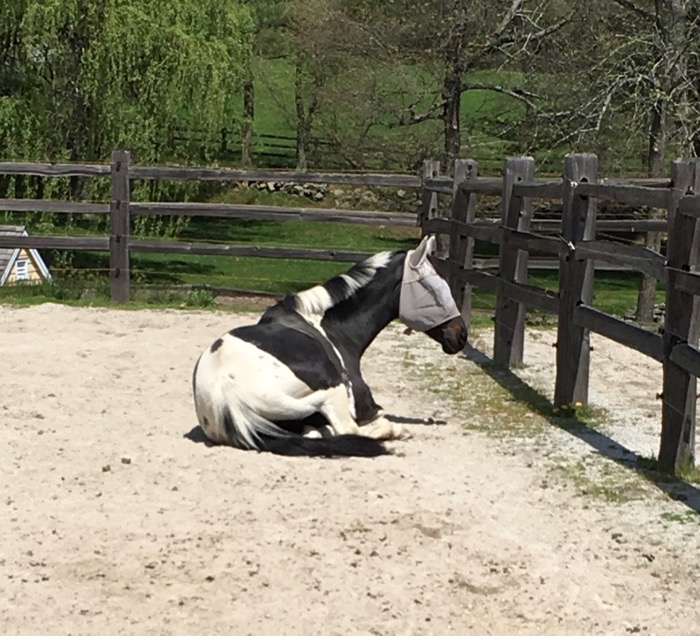 I found that I'm more relaxed, too. Like Tonka, I know and like everyone. There's an easy camaraderie, but it's never busy. I can get my quiet horse time that I find restorative. It's become as necessary to my well-being as breathing. Because of the positive reinforcement and behaviorist lens through which I see the world, I can find it upsetting to watch horses trained in traditional ways. This small barn, with calm owners and kind staff has made me realize how tense, and how much self-control I had to have, at other places.
We boarders have recently been told that the farm is changing hands and that the facilities will become private in the spring. We have to leave at the end of May. They've generously given us plenty of notice, but we all know that we are at a place that can't be replicated. Having been at the perfect barn, and having listened to what Tonka finds important, I have criteria that I can't compromise on. Tonka requires individual turnout, plenty of hay on the ground, and stalls where he can both look out, and visit with his neighbors. We both need good footing in the rings, trails to explore, and a place where we can have quiet time together.
I know that's already quite the list. I am willing to compromise on other things. Currently, I drive 25 minutes to the barn, I'd double that for the right place. I could do without the laundry service, the coffee maker, and even the fresh muffins. I hate to say it, but I'd be willing to use a porta-potty instead of a charming bathroom.
Do tell me about barns you love, and what you've had to compromise on. I'm curious about what's out there in different parts of the world. That said, perhaps there's someone reading this who knows the perfect place for us. I truly could use some help finding our next home. I live in the 01741 zip code, so if you know of something in my area, please email me: terry@terrygolson.com.
UPDATE: I've written more about this search here. Also, I was interviewed on the Stall and Stable podcast (a wonderful new show about horse barns and equine care.)  Listen here.