Our second outing of the season was another schooling show. A recognized show is under the auspices of the United States Dressage Association, and people vie for points and regional and national championships. Schooling shows are run by clubs or venues, are more relaxed, and are a place to try out strategies, settle in a new horse, or simply have the fun of competition for less stress – and less money!
The weather was perfect – sunny and cool – but the rings weren't watered. Dust squalls had us squinting and dry-mouthed.* I felt for the judges who sat in gritty wind all day.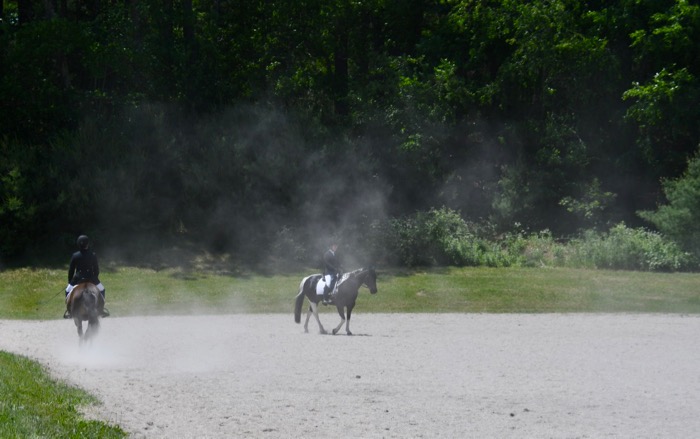 After last week's show, I had a few things that I wanted to tweak and improvements to make. A schooling show allows you to take risks and see what works.
I had to do something about how out of breath I got in front of the judge. You can't ride tactfully if you're gasping for air! So, for this competition, I mapped out where during the test I'd breathe. I planned on a relaxed inhale and exhale as we entered the ring, and I visualized letting Tonka carry me in (instead of gripping him with my legs.)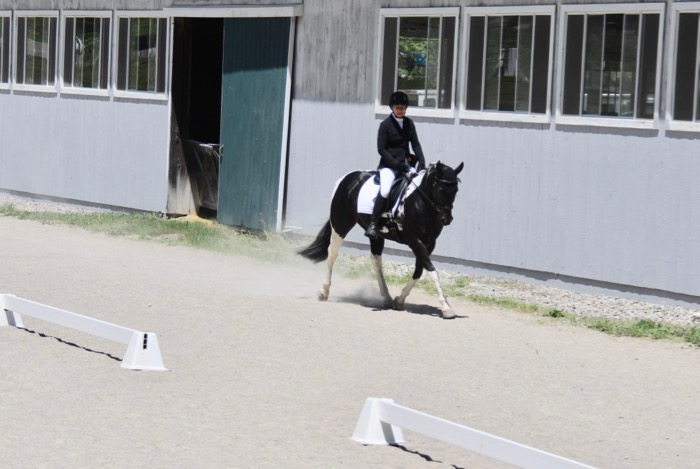 It worked! Once again, we got an 8 on our halt, and even better, I was set up for a less tense ride.
Tonka moved willingly and relaxed. What a great attitude!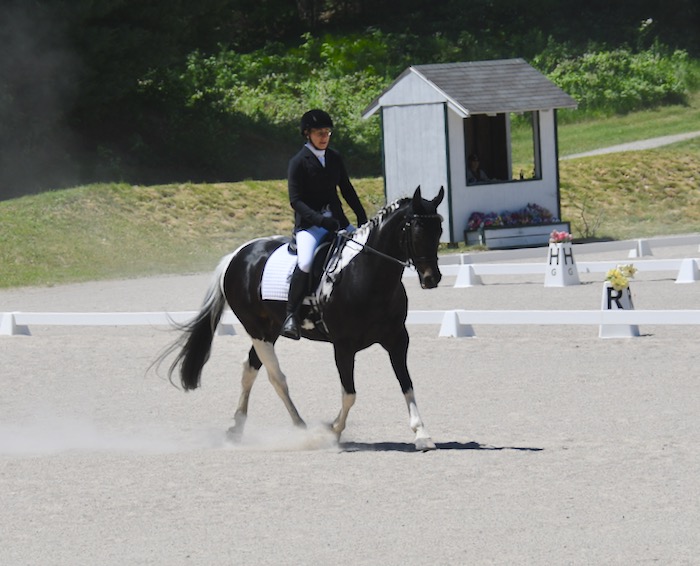 I'd planned out how to balance him before the canter transitions, and that paid off, too. He's not as much on his forehand here as he's been in previous tests (see this past post for a comparison.)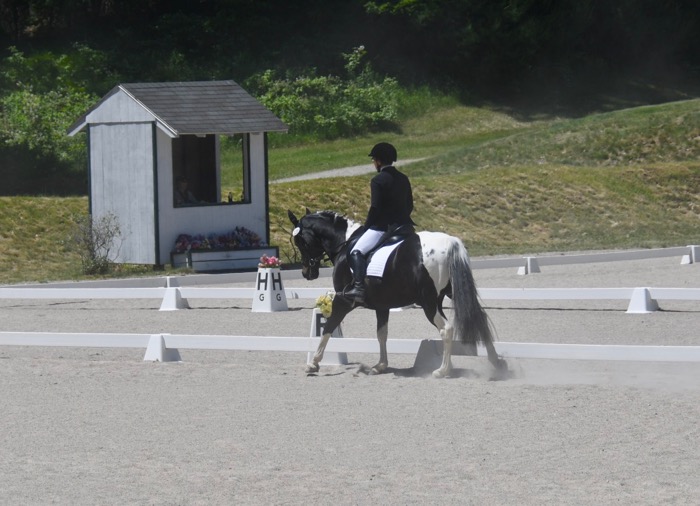 But the judge's comment was a little on forehand. Dang. (At least she put the qualifier "little" in.) I recently took a lesson with a master of dressage – Barend Heilbron. He said that what with Tonka's markings and build, watching him go is an optical illusion. To counter that, and to get better scores, I need to send Tonka more forward at the canter. To do that, Tonka and I have to get even fitter. We'll be cantering big loops and circles in a friend's sloping grass field in the coming weeks!
Still, we're both in better shape than in the past. We looked fresh at the end of the test. (No huffing and puffing on my part!)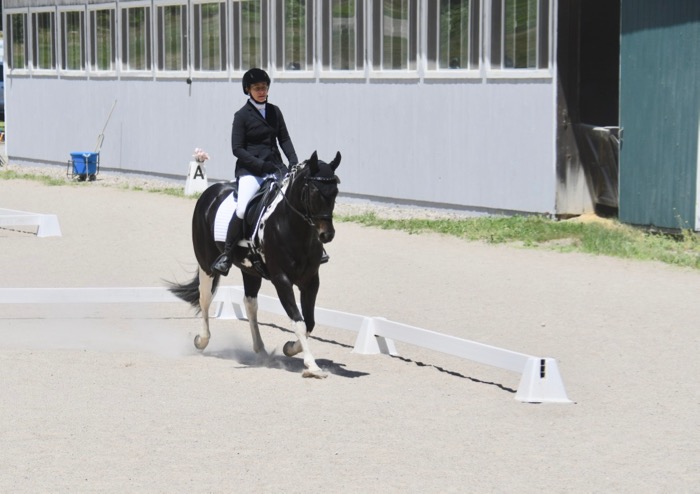 Here we are coming out of the ring. Tonka looks satisfied and like he knows where he's going, doesn't he? He's heading straight for Steve – who has a peppermint waiting.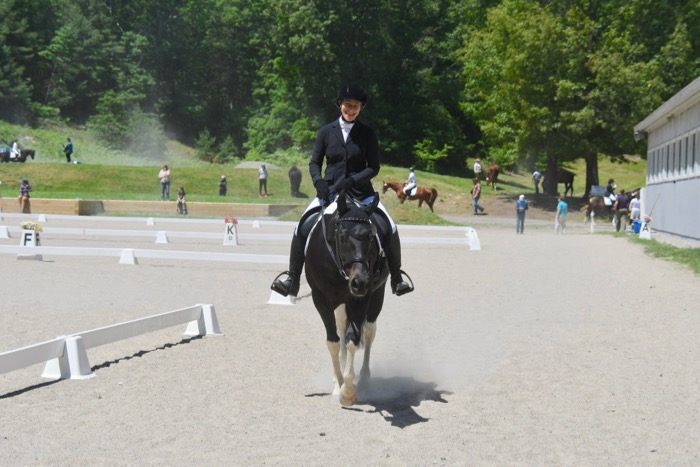 It was a class of 14 entries, and we missed first place by a scant .4 points. Tonka looks best in blue, but he looks rather handsome in red, too.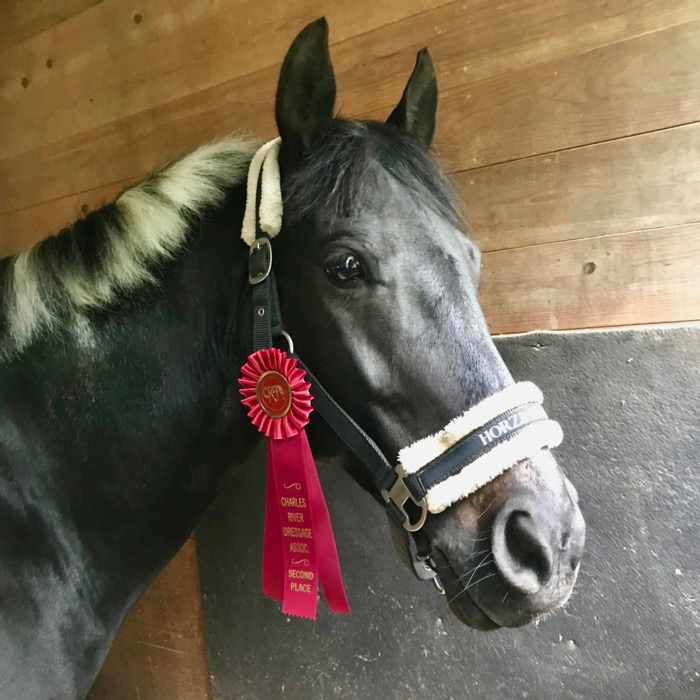 *With all of that dust, it was a good thing that I'd taught Tonka to drink away from home. (Learn how I did that in this post.) I was pleased to see him put his nose right into the bucket of water we had waiting for him at the trailer!