I met Tonka three and a half years ago. He had a kind eye and was adorable. But he didn't have much of a canter. After a few strides he'd get strung out, too long in front and short behind, and he'd fall back into the trot. This is what he looked like when I tried him out.
It didn't much matter to me. I bought Tonka to be a trail horse – I figured we'd be mostly walking and trotting. That's exactly what we did for the first year. But, that canter was like that because Tonka lacked balance and fitness, and this I noticed even when moseying down the trail. I also felt that our communication could be finessed. So we started our dressage training. After about a year of adding ring work to our trail riding, I achieved my goal – we both become stronger and more in tune to each other. Along the way, the dressage itself became a pursuit.
We started competing and did rather well. But that canter… it's still problematic. Tonka is naturally built downhill, which means his rump is higher than his shoulder. Dressage is all about powering from behind, so the horses that succeed in this sport are the big, fancy warmbloods, who are built uphill. My little Paint horse is at a disadvantage. This is how Tonka goes: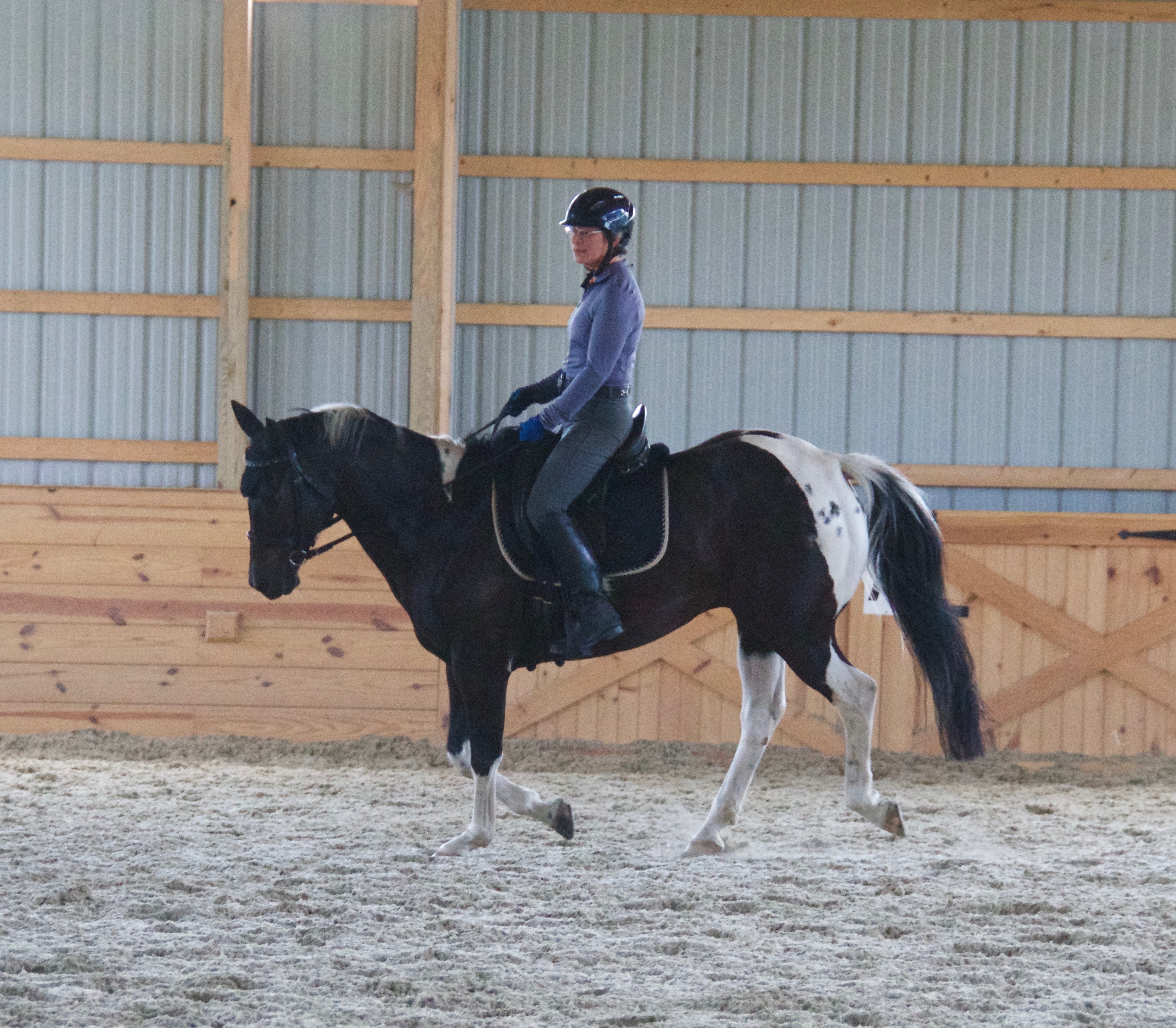 Judges look for canter "jump." Last winter, Kim, my trainer, and I started to work on this. (I detail what we did, including how I use rewards in this training, here.) But right after I wrote that, Tonka had his neck injury. He's sound again, but we lost ground in the training. At the show last weekend we were rightly marked down for this canter:
At the show, if Tonka could have physically done what I wanted, he would have. Although he isn't one of those horses that is born with floating gaits, Tonka is capable of moving very nicely, it just requires more gymnastic work to get there. Because of his sane temperament and the way that I build rewards into the work, he's willing to do what it takes.
I'll continue with the ring work, but I have a plan to improve the canter without repetitive and demanding exercises. There's a seven-acre field at Tonka's new barn. It's been mowed and we're allowed to ride through it. There are flat areas, modest slopes and a bit of a hill.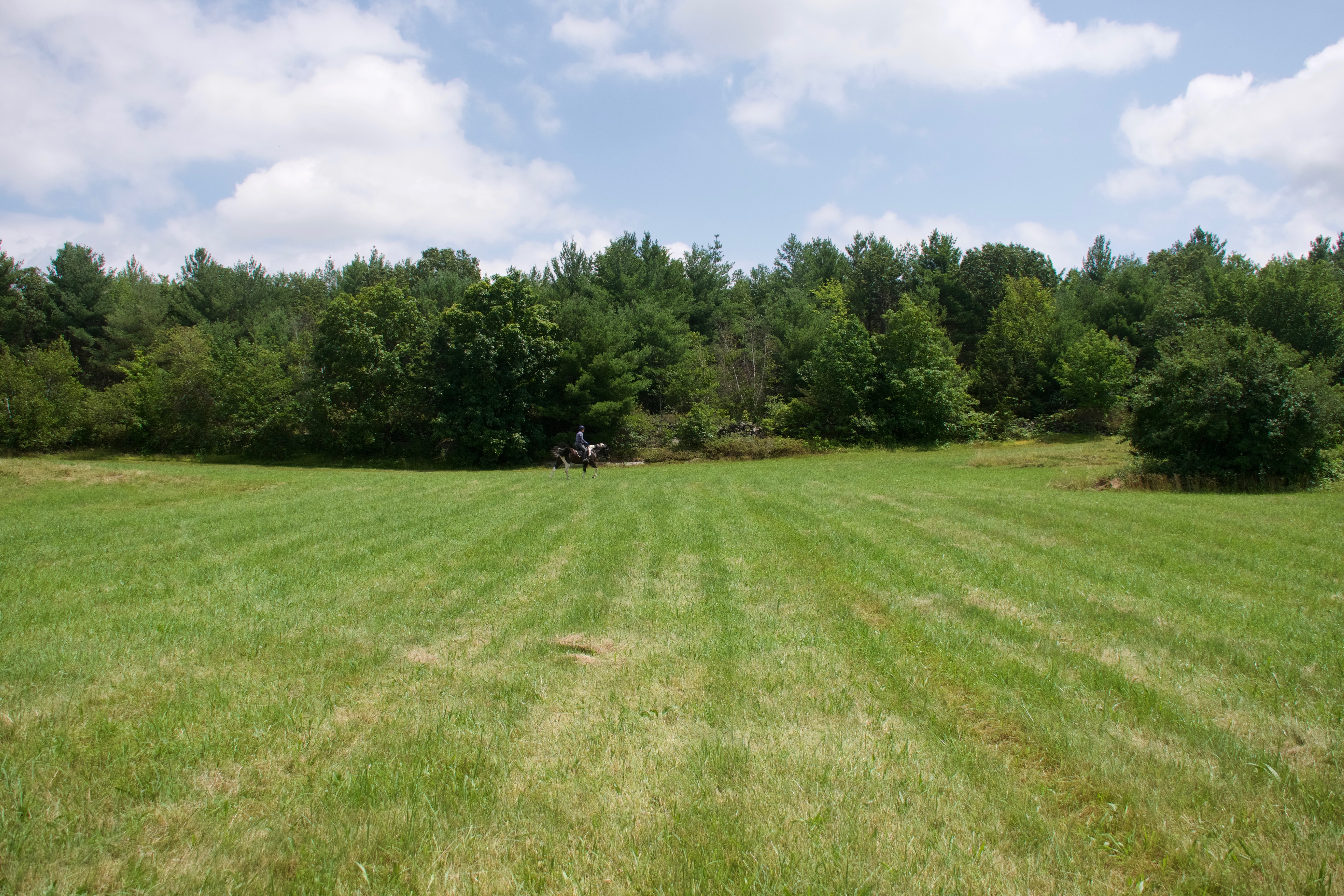 Tonka goes easily around the field at a trot.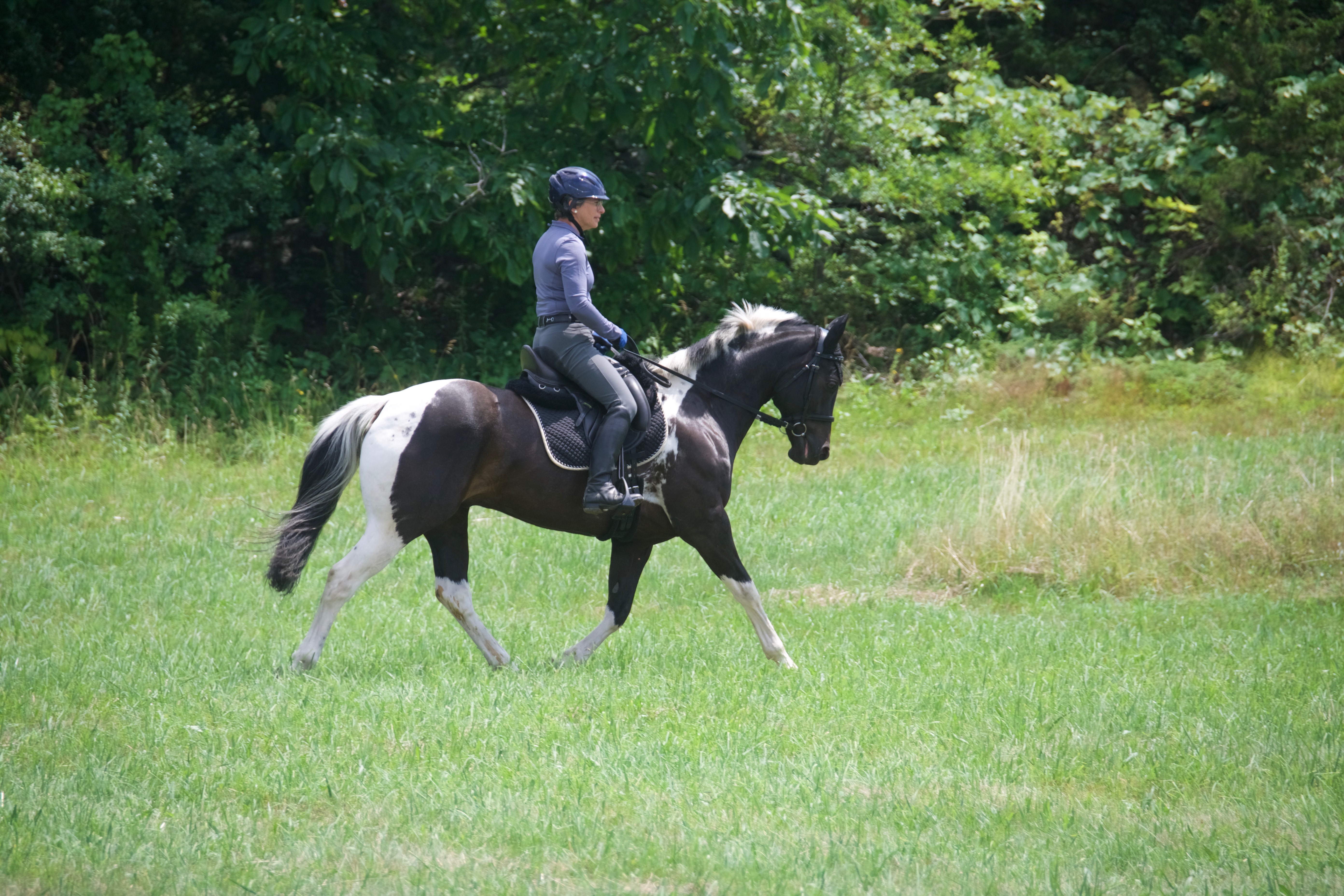 But at the canter, he peters out on the uphills and can't canter at all downhill.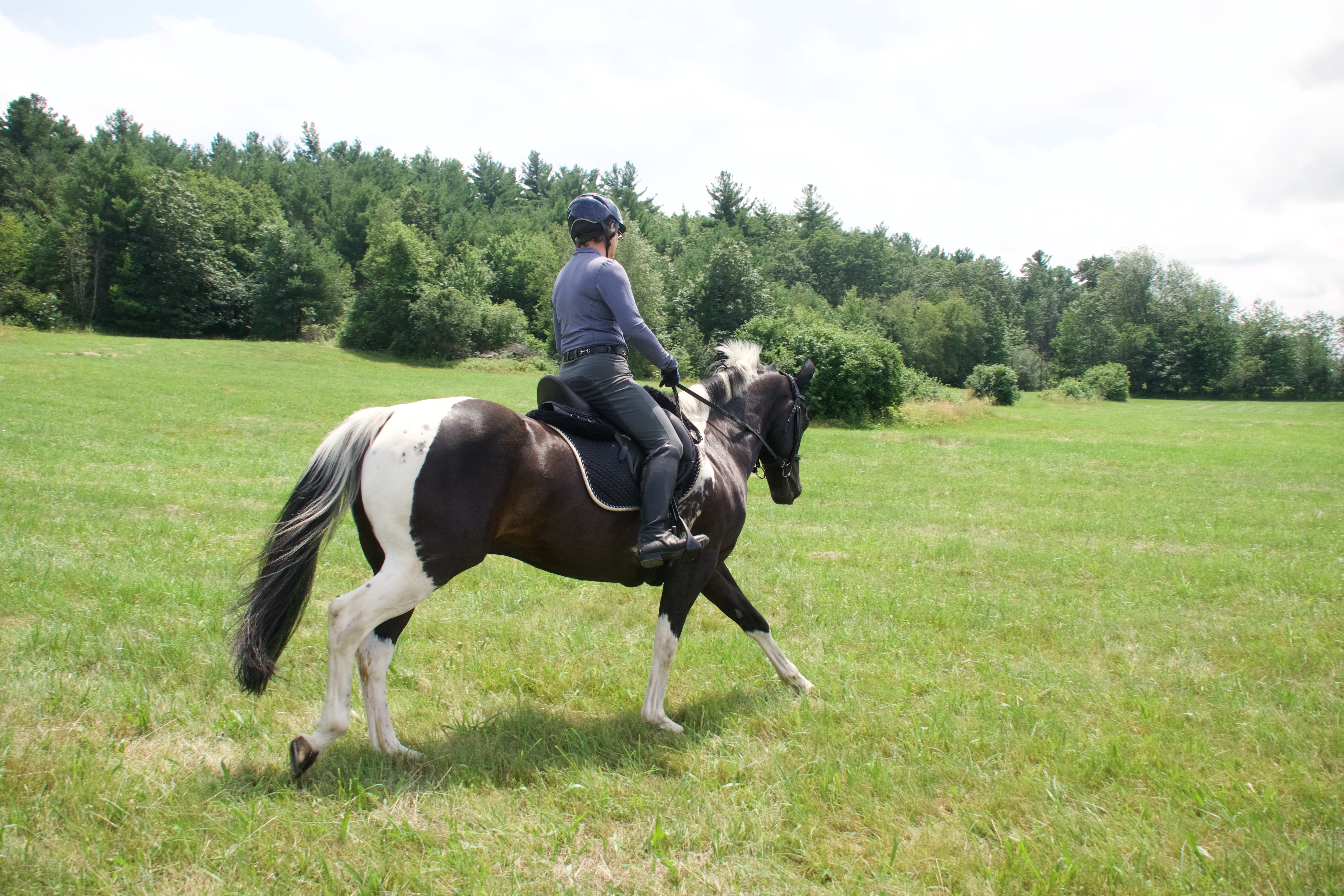 So, with a bit of guidance from me, I'm going to let him sort out his own balance. Uphill and down. Faster and slower.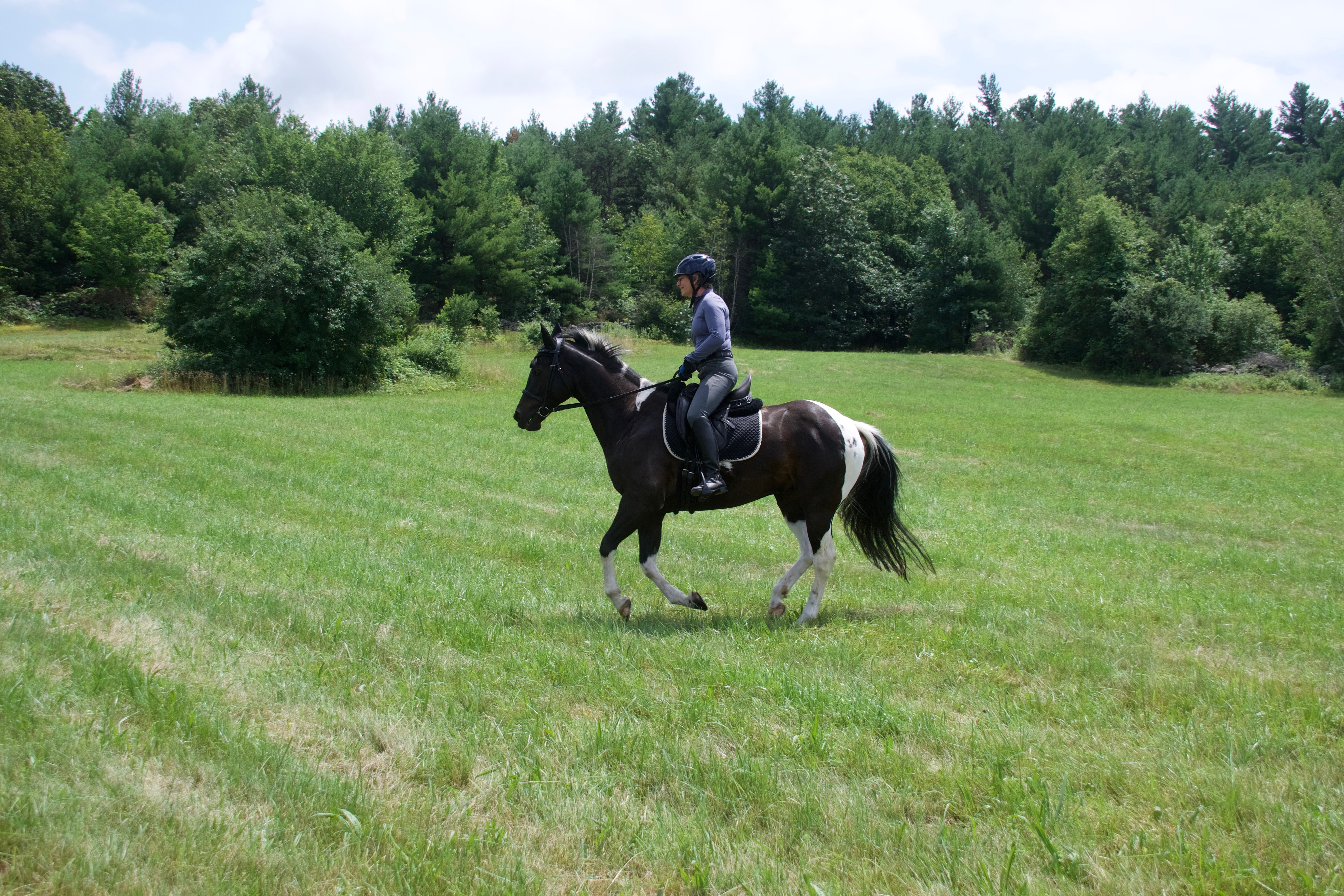 It's going to fun. Our next competition is mid-August. I think that our canter will be ready to show off by then.