This post goes on and on about small details that we dressage riders obsess over, like angles of the hock and suspension of a stride. But I hope that those of you not into such geeky horse things will stay with it, because this blogpost is actually about noticing the moment that you've asked for, letting the horse know Yes! That's it! and rewarding him for it. Gratitude for the minutiae of life can transform how you see and live (and ride) the big picture.
Okay, enough pop-psychology – let's talk riding.
This photo was taken  2 1/2 years ago.  I had owned Tonka for only a few months, and had not yet ridden him much (the winter had been an icy deep freeze and there was no indoor ring) but I already knew that this was my forever heart horse.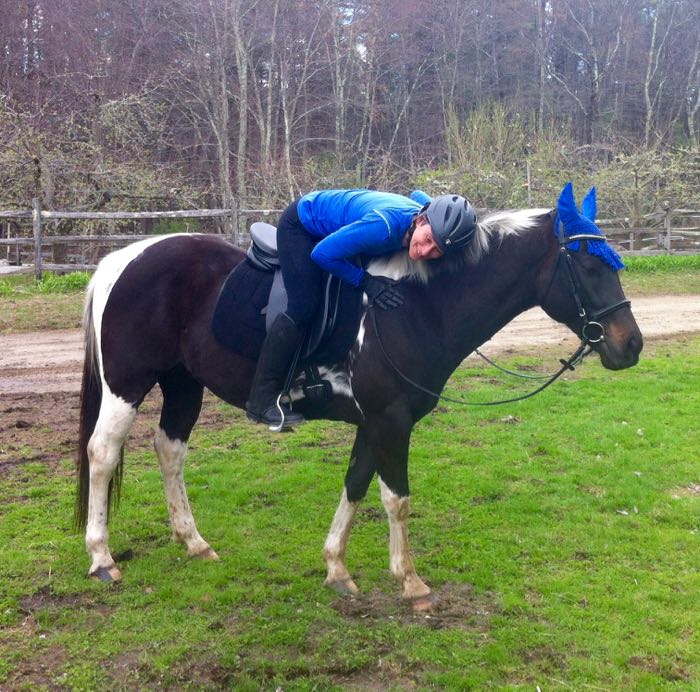 I also knew that although he had a pleasant walk and a comfortable trot, that he didn't have much of a canter. A canter is a three-beat gait, with one front leg that leads, and a moment of suspension when all legs are off of the ground. Tonka could not canter with the left leg leading, and to the right he'd peter out after about 5 strides. One reason that I started dressage with Tonka was to get him fit and balanced enough to carry himself so that he could canter with ease.
Tonka is built, my trainer (affectionately) says, like a hot dog. He's also croup high, which means that at the canter he tends to head "downhill." When I first started to address his canter issues, it was ok for him to heavy on the forehand, as long as he kept going! By last summer, Tonka was able to do a relaxed canter. Here we are warming up at a show. All around us were large fancy horses that naturally floated uphill. As we rode among them, I could have been frustrated that my little horse looked like he was going to dive headlong into the grass. But I remember that canter, how fluid and relaxed it felt, and I was grateful for our partnership and the work that it took to get to that point. I took that gratitude into the dressage ring.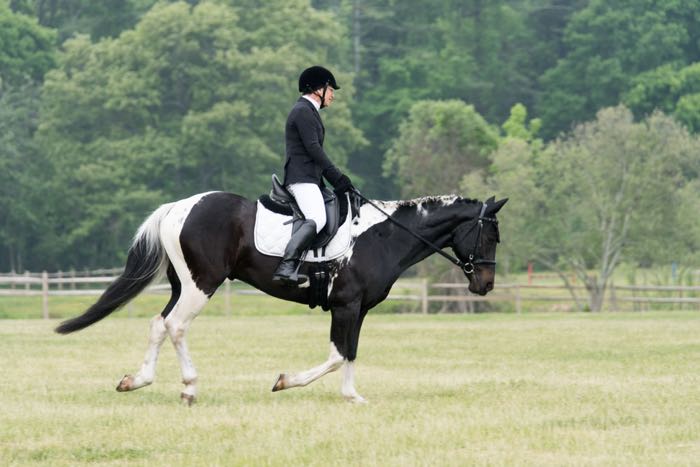 Here we are riding the test. On this canter, the judge rightly gives us a mediocre 6.0 with the comment "too much on forehand." I agree. But I was super-pleased with it because Tonka managed to canter all the way around, with a willing mindset and without breaking. That positive focus allowed me to ride the other figures of the test in a way that enabled Tonka to shine when he could.  Our final score was 72.6, which placed us 2nd in a very competitive class.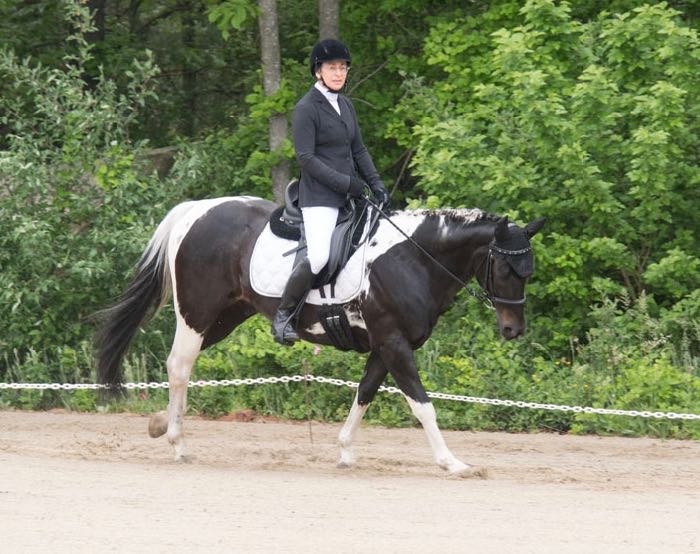 As the summer progressed the canter scores increased to 6.5s and 7.0s. This came about because Tonka got stronger. I asked for the canter with classic seat and leg aids, but I added my own positive reinforcement spin to the training. I never drill. When Tonka offered a balanced canter stride, I'd mark the moment with a verbal "Dee!" bring him to a square halt and give him a cookie. In this way he knew exactly what we were striving for. Throughout the show season, our canter scores were good but not brilliant. To be brilliant, and to succeed at first level (which we aim for this spring,) Tonka needs jump.
We're working on that now.
This photo was taken a couple of weeks ago. He's more level than the photo from last summer, but there's room for improvement. You can see how the left front hoof is flat on the ground, while the leg angles to the rear. That makes him spend too much time on his forehand. His right hind leg is pushing off from a straight stance and the left hind hock has little angulation. This is a canter that needs more jump.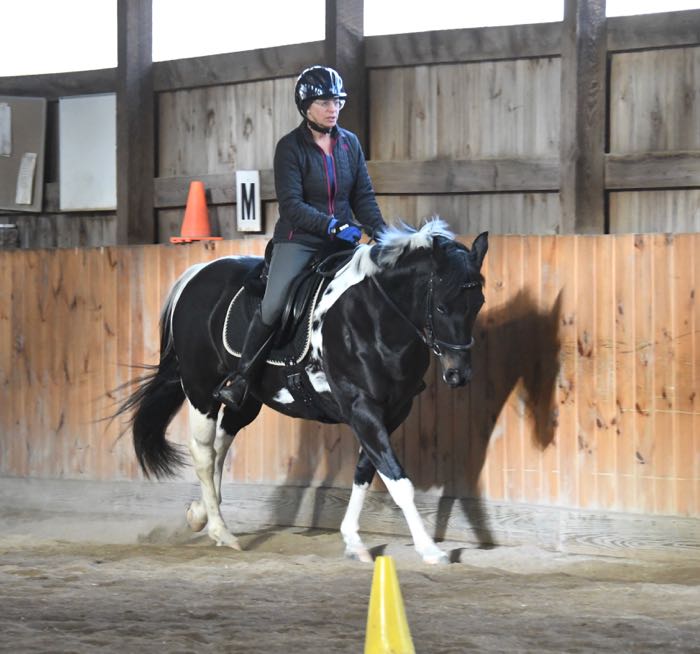 I ask for it with a deep seat, closed legs and a more upright body. (Read my blog post about my own asymmetry. Tonka's not the only one who has to get stronger!) Tonka tries harder.  He pushes off the front leg more quickly, and bends his hocks. You can see me saying Good boy!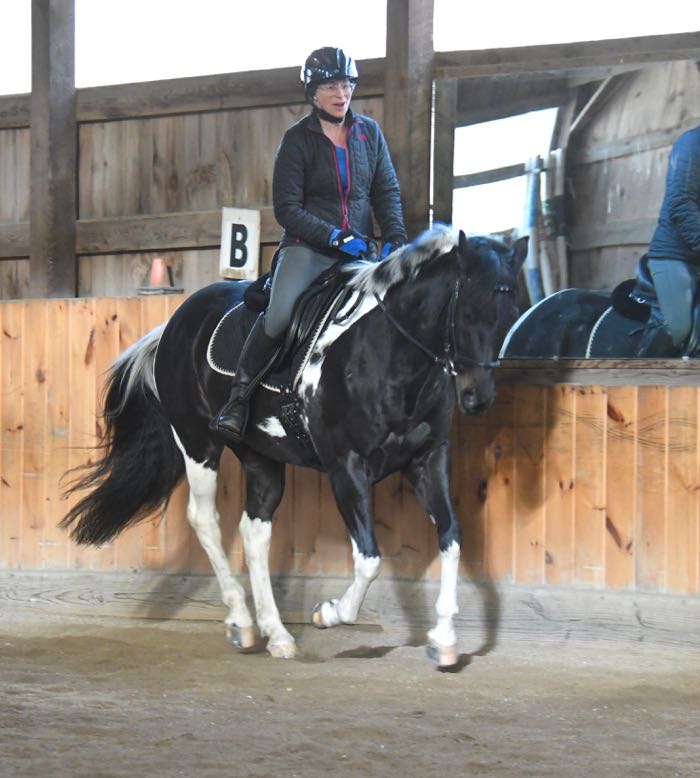 He knows he's done well. He knows why. He keeps cantering. He gives me this.
There it is. His forehand is up. Tonka's canter has jump.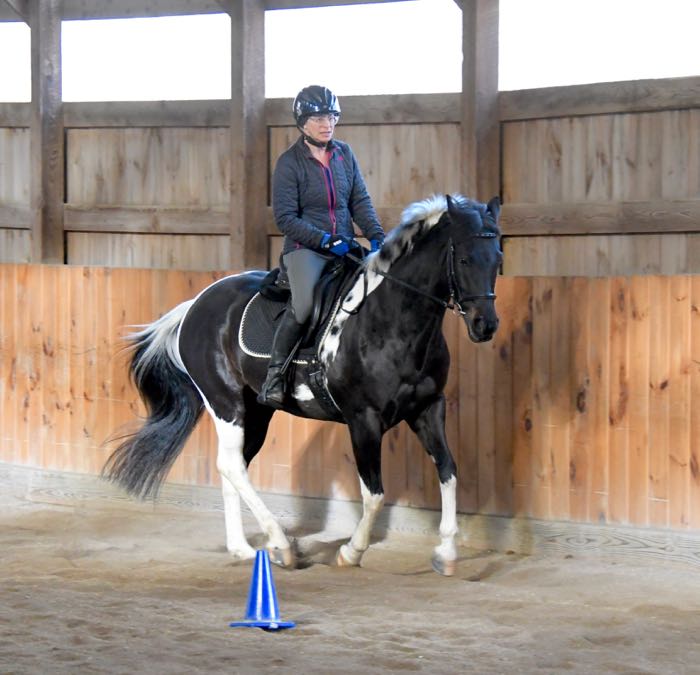 I say Dee! and Tonka gets the promised reward. Look closely. He's worked that hard for a tiny dinner mint.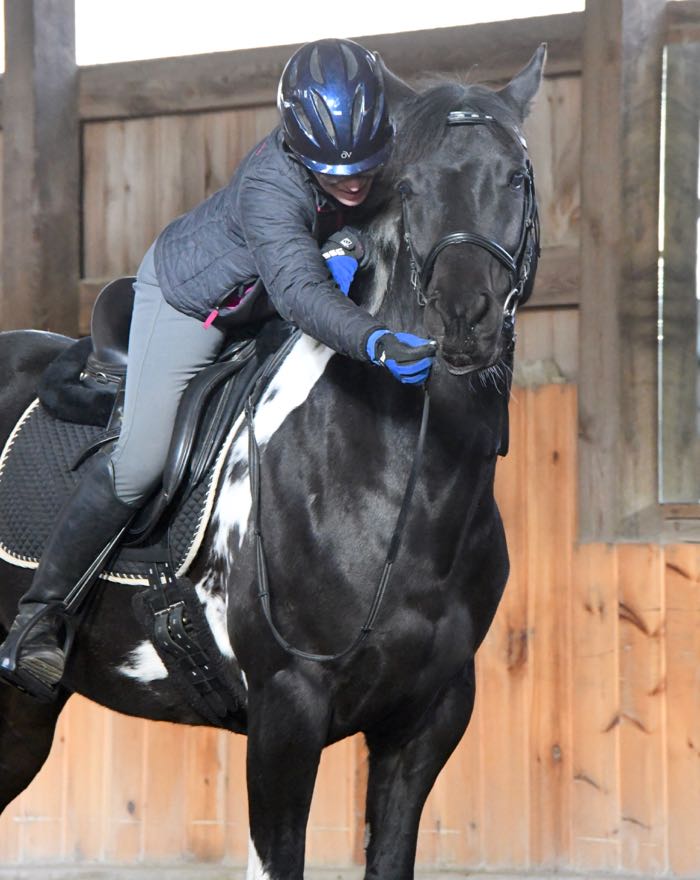 Tonka is fine with that.
Actually, I believe that horses get a sense of satisfaction from feeling strong and fit, and from mastery of a skill. So, it's not all about the peppermints, but treats do help me to communicate to Tonka, and cookies make him happy. I keep my pockets filled and I keep my eyes open for the moments that I can give them to him.