This is how a horse should get onto a trailer. Blasé.
Easier said than done.
A horse has good reason to be wary of getting onto a trailer. Here's a partial list:
The ramp and floor sound hollow. Horses like solid ground.
Simply walking on causes it to move slightly.
It's an enclosed space.
There are noises – chains rattling, hinges squeaking.
There are unknown smells.
But horses are amenable, curious animals. Introduce a horse that trusts you to a trailer, and use carrots and patience, and the horse will learn to walk on and off with ease.
But what happens when that trust is broken? This horse (let's call him Dee) used to self-load (what Tonka did in that video – walk on by himself.) The trailering itself wasn't scary – but it took him someplace that was. He was trailered to a clinic where the "trainer" "taught" him "respect" (the quotation marks tells you what I think about that!) When I met Dee, just looking at the trailer made him tense, and if you pressured him anywhere near it, he'd react suddenly and dangerously.
Whenever I meet a nervous horse, I think of the game of dominoes. Which is the first one that tips the rest into motion? Training should start from before that domino. I can, using treats and pressure, get a horse to do what I want even if they are tense. But training that creates a thinking horse that is trusting in new situations can only start from relaxation. (This is true, too, of the best dressage training. Forward energy doesn't come from being hyper, but from a state of calm!)
I asked Dee where he was comfortable. It turned out that the anxiety started well before he was out the barn door. In fact, standing in the barn aisle, facing away from the paddock where his horse friends were, was that first domino. Leaving the barn had bad associations, and not just for Dee. This is a massive gelding. He's learned how to plow past his handler to get back to safety. If you try to hold him in place, you have 1,500 pounds of explosive energy on the end of your lead rope. Once a handler anticipates that, the tension on the line starts even before the first jigging step. Things snowball.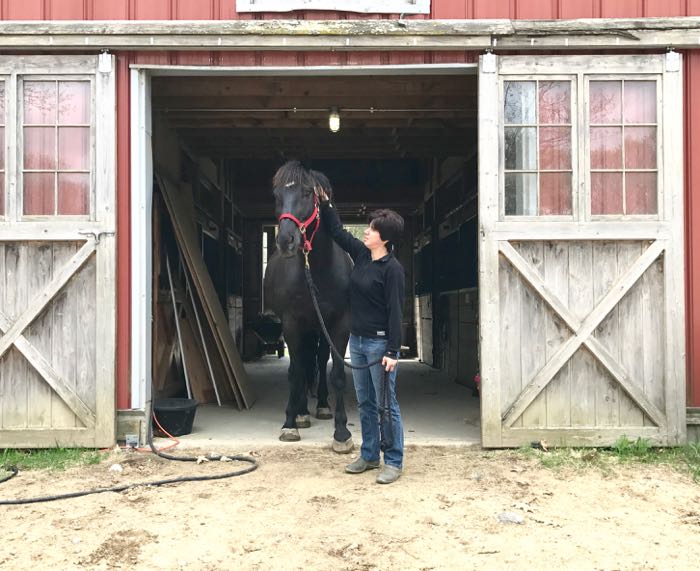 Dee lives in a well-kept barn in the backyard of his owner's home. She interacts with him daily, and is a kind and experienced horsewoman, and yet I noticed that when he became nervous he did not look to her for reassurance. There was a disconnect. My goal is to have an on-going dialog with my horse. There will always be something out there in the wide world that worries your horse. I want the horse to look to me and ask Is that okay? What should we do? For that to happen, the horse has to trust that you will listen to his questions and provide good answers.
I gave the owner homework. For two weeks all I wanted her to do was to groom Dee for five minutes daily. She was to do this in the part of the barn where he felt comfortable. She was to ask him questions. Do you like this? and More here? Dee is a love bug, and I knew that they'd both enjoy this exercise. I also taught her to ask Dee to touch the palm of her outstretched hand. The reward for this was a carrot piece. Dee would learn that if he followed that hand, that good things would come his way.
For about a month, the grooming sessions continued, and Dee became willing to follow that hand out the barn. These simple exercises caused a basic change in everyone's interactions. The owner told me that she was enjoying all of her horses more. The farrier noticed that Dee stood more calmly. The woman who helped with barn chores said there was an intangible improvement.
We continued with the trailering work. I continued to pay attention to what was Dee's safety zone, and to include the trailer in that. Dee was asked to approach the trailer, where there was a nice pile of hay to eat.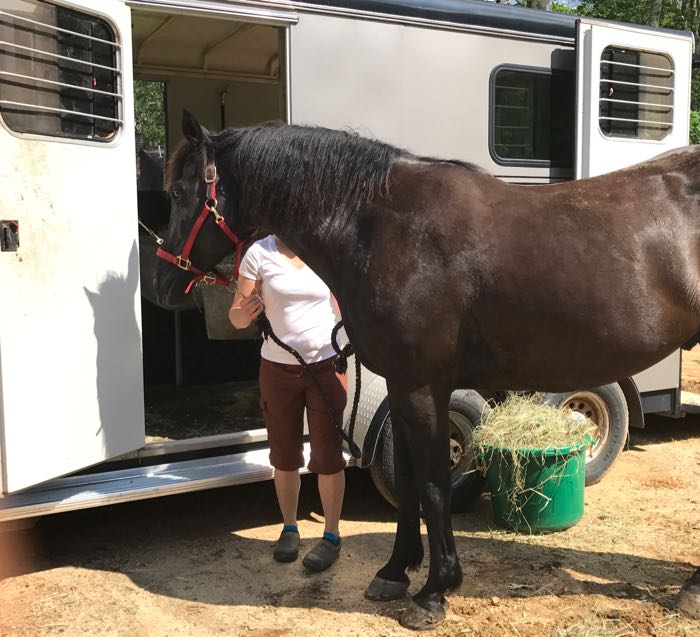 We retreated if he became nervous. The ramp was put down. Would he walk across it? Step up it? At one point I was able to lead him on, but then I made the mistake of pulling lightly on the lead rope, which triggered some memory, and he came flying out, eyes rolling and all four hooves off the ground.
He needed a security blanket. So we brought Lyle out. (I have to say here that I adore Lyle. Look at that face!)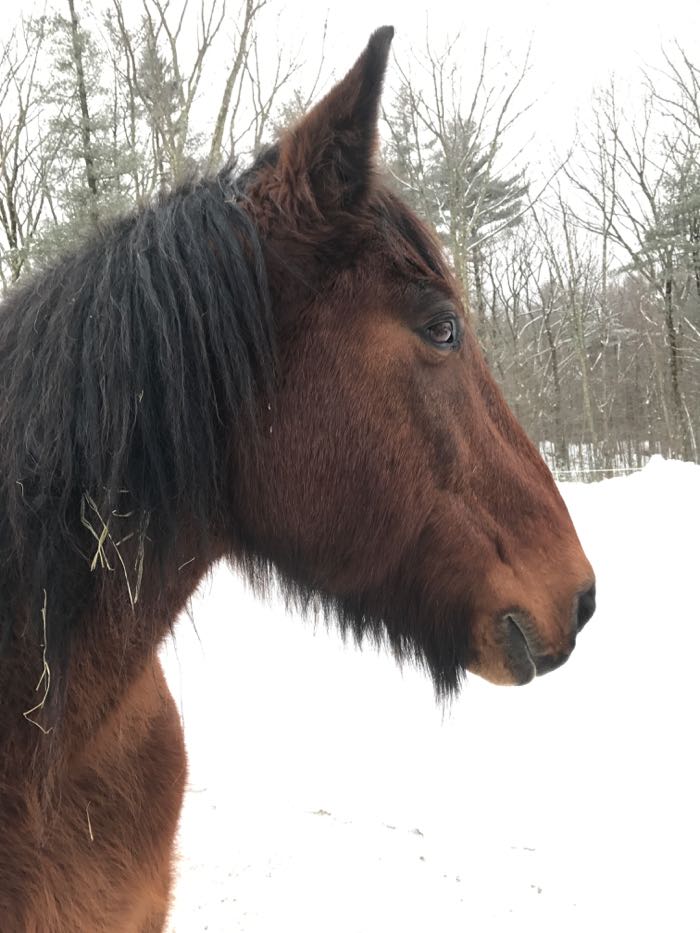 Lyle was just what Dee needed. But we didn't go right to the trailer loading. First we let Dee see that Lyle liked being outside of the barn. We asked if he'd like to join him.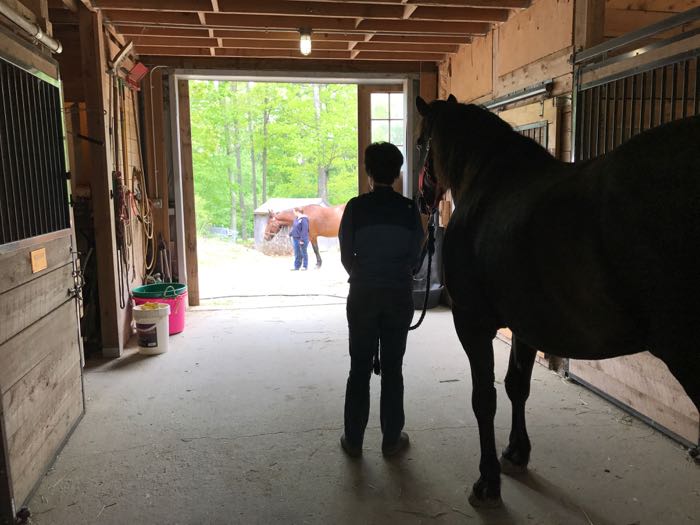 He did. We continued to ask Dee what he felt comfortable with. We continued to reward him for answering I can do that. We put Lyle on the trailer. Dee agreed to get on, too.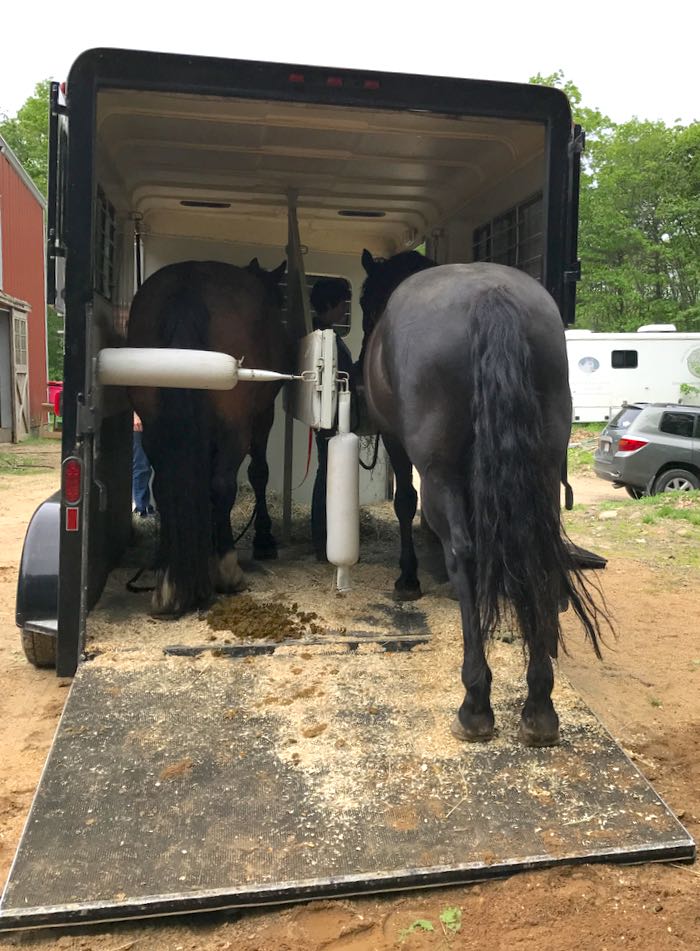 In between my visits, the owner did her homework. They both gained confidence. They listened to each other. He was associating the trailer with good things. We slowly increased the criteria. We could tie Lyle to the outside of the trailer and load Dee.
But the goal was to trailer Dee solo. He's an awesome trail horse, and the owner likes to meet friends down the road and go for rides. She can't take Lyle, too. Dee had to go on his own.
Going on his own is just what we did. On my last visit, Lyle not only walked right on – but self-loaded! We took him for a short drive, unloaded, then loaded up again and came home. Dee and his owner can now do what they both enjoy – meandering along trails with friends.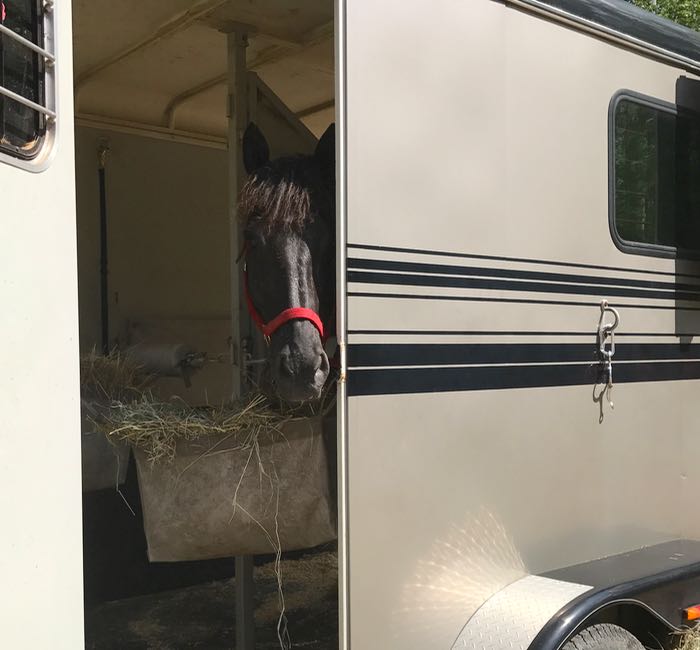 In order to achieve this, I did six training sessions, and the owner did her homework. This blog skips a lot of the details, but it's not meant to be a trailering tutorial. Teaching Dee to get over his fear of the trailer needed doing after that first domino fell. Finding that first domino was what was important. Before you begin training any behavior, ask your horse Are you relaxed? If not, Why? It's about paying attention to what your horse is telling you, and then finding a way to communicate with them so that they trust that you're listening. Only from there can training happen so that everyone's behavior is safe and fulfilling.