In January I noticed that something wasn't quite right with Tonka. In December he'd been offering a lofty, energetic trot, something he hadn't been capable of before. We both felt strong and buoyant. We'd worked hard to get to this point. We'd been doing cross-training – hills in the woods and suppling exercises in the ring. I'd increased contact, asked for more, and got it, with enthusiasm. But in January something didn't feel as fun. There wasn't anything overt to point to, but something was off.
Then Tonka started twitching his head as if flies were bothering him. At first, this head twitching happened maybe twice in a ride, usually when I picked up the reins, which requires him to arch his neck a bit and bring his nose slightly in and down. It was as if Tonka was trying to shake off the contact. It can seem like a disobedience. I confess that I sharply said, hey! to him. I even slapped him on the neck. Stop that! Which I knew wasn't going to help at all. I'm human, which means I get annoyed and I blame others.
But I know my horse and I knew that this had nothing to do with him being lazy or wanting to "blow me off." The question was, what was bothering him? When animals don't do as asked, it's because they see their avoidance behaviors as the best options. With Tonka, such ear twitching is sometimes a tell – there's something annoying him, and it didn't actually have to do with the ears. Why was he annoyed at the work that we were doing? The answer wasn't obvious.
Tonka would twitch his head like this. Watch for it.
Not a big deal. Under saddle he was sound, and we were still working on our dressage moves, with success. But I know my horse. What was he saying? My trainer, Kim Litwinczak, watched him go and thought that perhaps the bridle was bothering him. Tonka has short, squat (and adorably pointed) Paint horse ears. I got a crown piece that is cutaway to give his ears more room.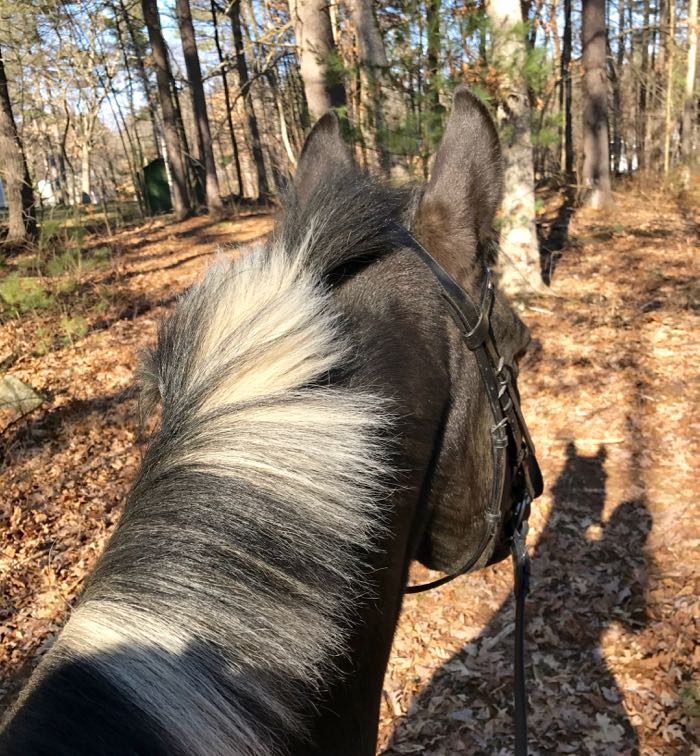 I think that Tonka appreciated that change, but the head shakes continued, and became more frequent.
Then I noticed a swelling near his poll. One day in the barn aisle the light shone on him in such a way as to highlight it. Subtle, but there. Perhaps this time the ear twitching wasn't an emancipated behavior. Perhaps his ears really did bother him!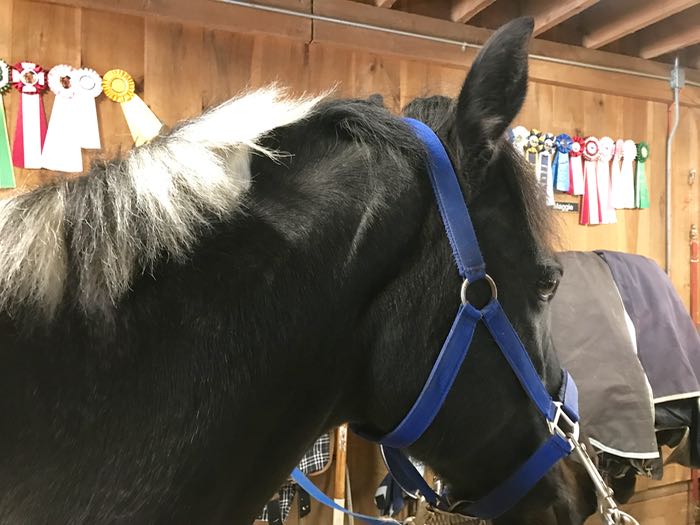 Once I looked, I could see asymmetry.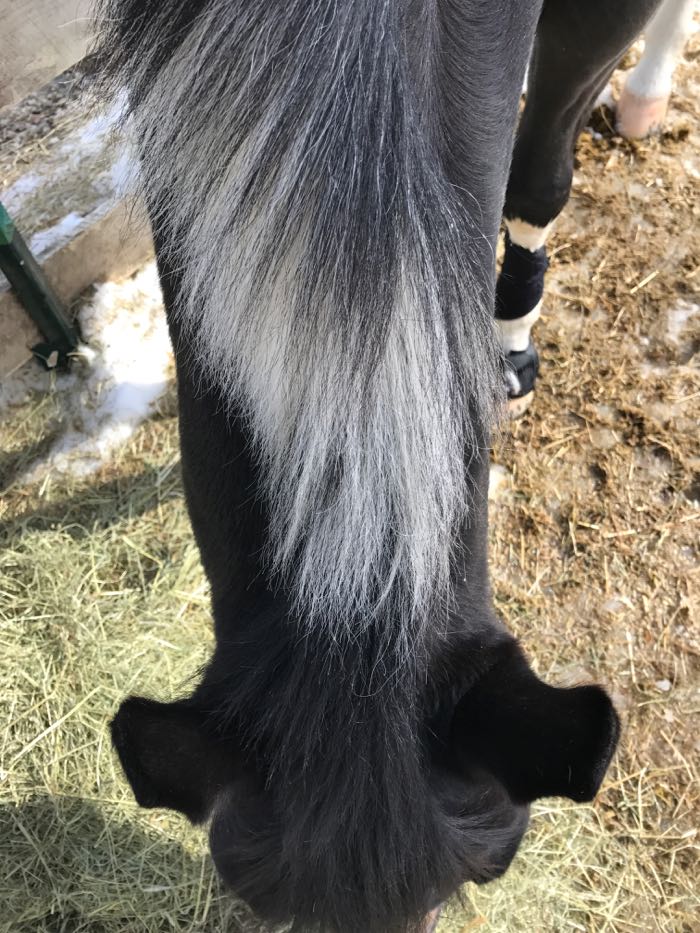 Correct dressage work develops the horse's top-line. The muscles along the mane form a beautiful arc. By December, with steady and correct exercises we'd achieved this.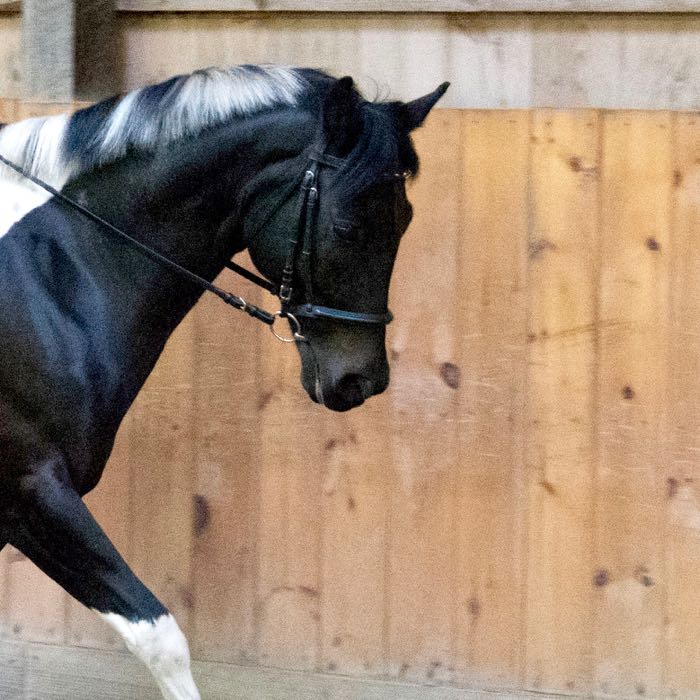 But by February, Tonka's neck was developing distinct muscles along the bottom, looking more like what is called a ewe neck.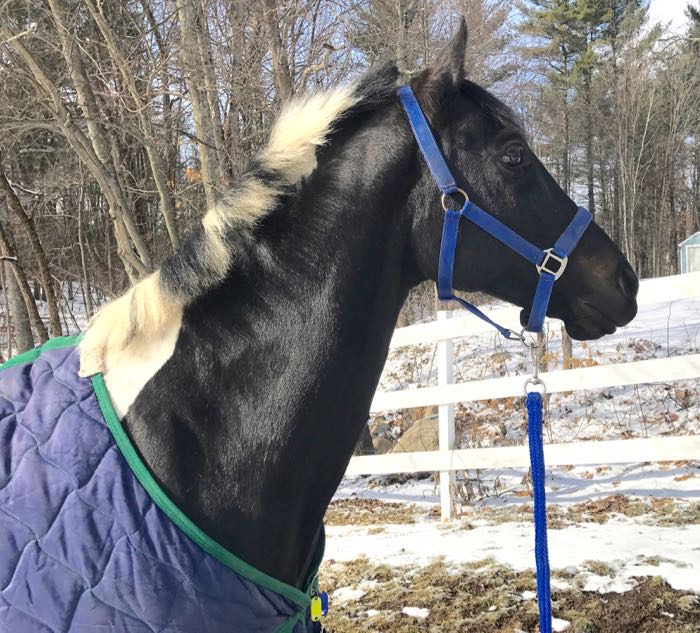 I called the vet. She was surprised that I had her in for such mild symptoms. A horse that twitches his ears three times in an hour ride is not usually a candidate for a farm call. She examined Tonka. His teeth were fine (horses can develop sharp points on their molars which cause pain.) Although Tonka's back was a tad sore on the left side, that wasn't the problem. (I contacted my saddle fitter and we adjusted the pad for that issue.) The vet thought that perhaps Tonka had taken a spill on the ice and wrenched his neck. She felt distinct soreness and swelling near the poll. He was prescribed pain killers (rather like our ibuprofen) for ten days, and I was advised to ride him long and low, and to have him do neck stretches to the right and left until the kinks were worked out. I did, but after two weeks there wasn't much improvement.
That's when a friend at the barn (thanks, Trina!) pointed out that because of the snow, Tonka was now tall enough to eat out of his hay net like this:
Tonka was delighted to have easy access to the hay, but this isn't the way that nature intended horses to eat! This could certainly cause pain in his jaw and neck.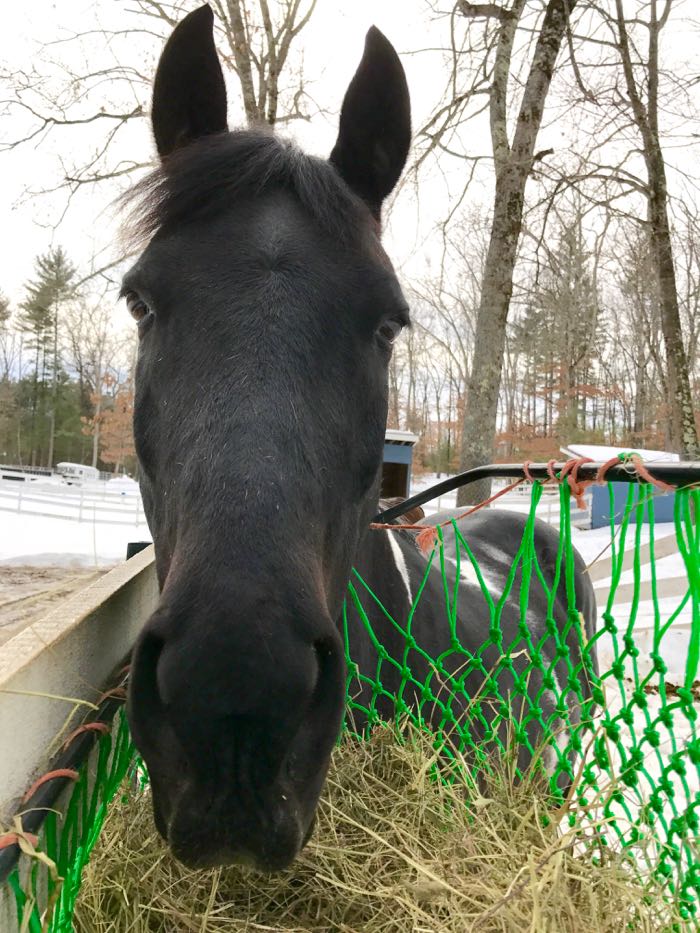 Tonka was put into a paddock with a taller hay net, but that didn't solve the problem, as my horse has decided that eating like a giraffe is his preferred stance.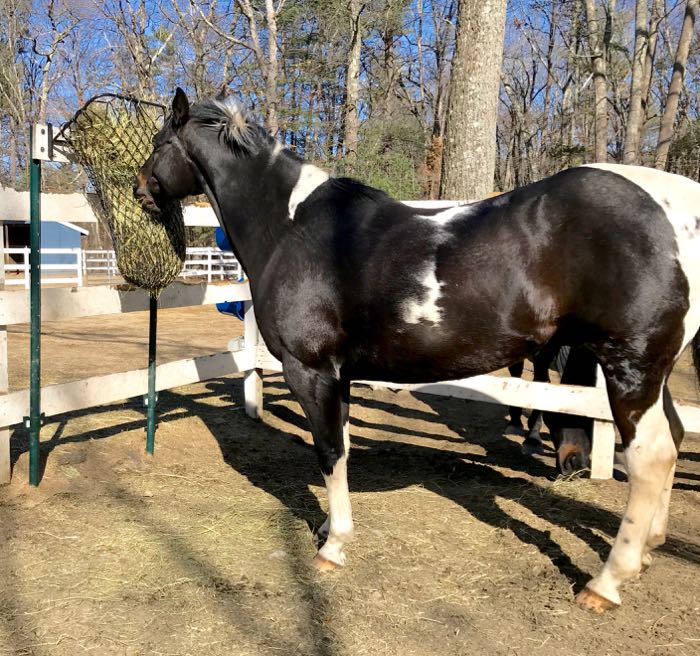 Note what this does to his back. Tonka's back is now tight and sore.
There are many reasons to feed from hay nets. When hay is placed on the ground, the horse ingests dirt, which can cause sand colic; they trample on the hay, which is wasteful; and they eat quickly, which means that they don't have anything in their bellies for long stretches of time to buffer stomach acids, which can cause ulcers. Slow feed hay nets are a good idea. But this style isn't right for Tonka. He's now getting his hay on the ground.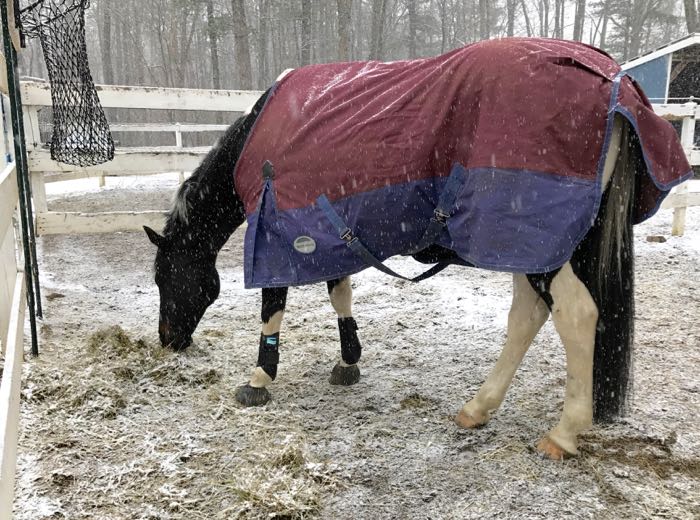 There are various options other than nets to feed hay slowly and without waste. I'll be discussing them with the farm owner. We should be able to come up with something that works for her, the staff, the facilities, and Tonka.
So, back in January, Tonka did have something to say to me, but it took some sleuthing to figure out what it was. In the meanwhile, it's back to taking it slow, building up the correct muscles, and stretching out the tight ones.
Do you have a slow hay feeder for your horse? Tell me about it in the comments.