As much as I enjoy working Tonka in a ring (click on the dressage category to the right to read posts about that), I believe in balancing that schooling with time on the trail. Not only is it good cross-training, but it makes both of us happy. Even when there's snow on the ground, we walk in the woods.

But all too often, between November and April, winter weather keeps us indoors. Sometimes the snow isn't deep, but the footing is too dangerous. Although what you see in this photograph is beautiful, the horses are standing on slippery ice. Even with studs on their shoes, it's not safe on the trails.

This is why I appreciate being able to board at a barn with an indoor arena. But that has it's own winter dangers – snow on the roof, which slides off with a loud crack, a sudden shadow past the skylights, and a boom as it hits the ground.
A horse can go from being this relaxed,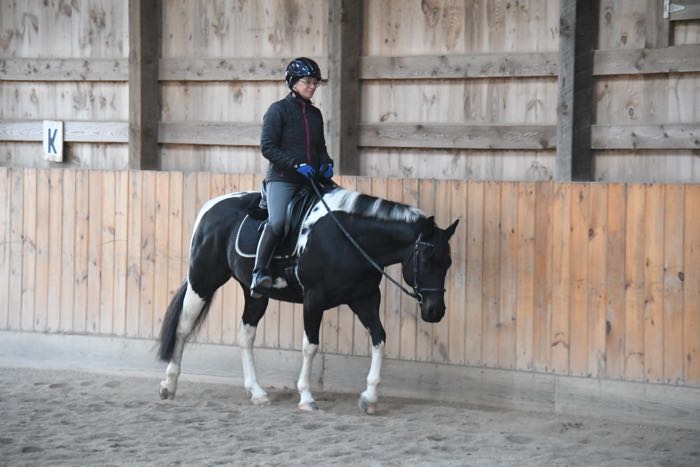 To this: (I don't have a photo of a Tonka bolting under saddle, but this gives you an idea of what he's capable of when excited.)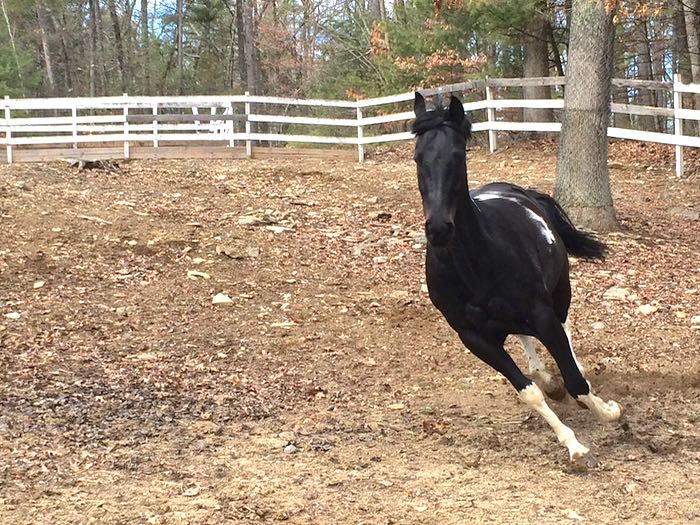 Some riders, prudently, don't ride when snow is sheeting off of the roof. Tonka is not what's called a spooky horse, but I've gotten off of him when it sounds like we're inside of an avalanche. However, for anything less than that, I've taught him to be calm.
Because of how I train, Tonka understands cause and effect. Unlike some other modes of training, it's not do this or get punished, it's offer a behavior and get rewarded. He's allowed to look at things, react (in a safe way) and check in with me for my opinion. This makes Tonka a thinking horse. The first time that we were in the arena and the snow flew off of the roof with a thud, he rightly reacted with fear. I got off and led him outside. He looked at the snow on the ground. He looked at the roof. He saw the snow slide.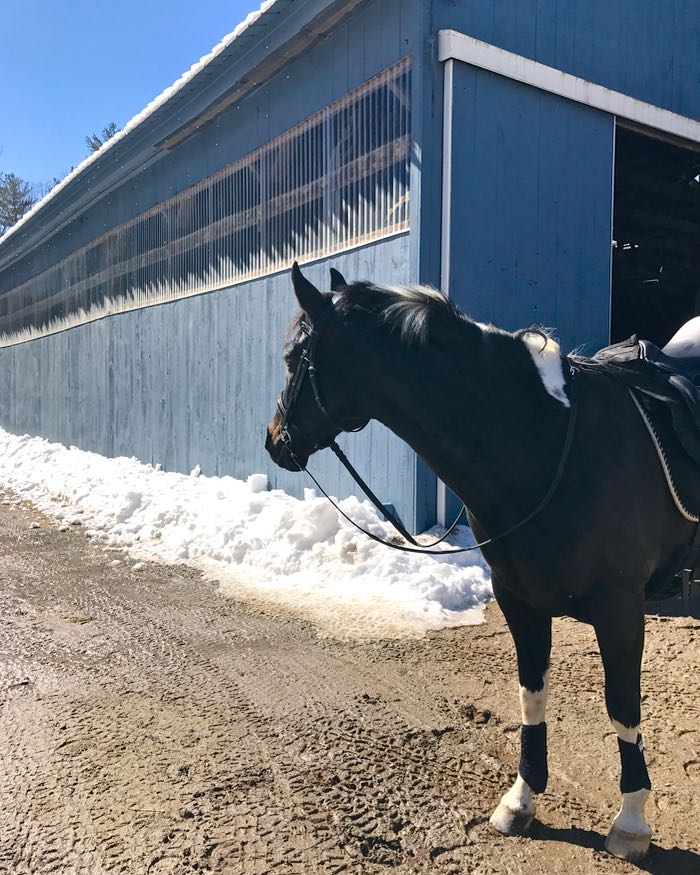 He got that what was making that noise was not a danger to him.
Of course the sound of snow hitting the ground is startling and we both jump. But because Tonka understands what the noise is, we can get on with our ride. The other day though, instead of snow, it was something new – icicles. These chimed as they shattered. That was different! All of a sudden Tonka felt about a foot taller and he vibrated with tension. Once again we went outside to look at the cause of the noise. Oh, that's nothing, said Tonka, and we went back in.
To reduce the fear factor even more, I've made the sound of snow falling into a predictor of something good. When the snow thuds, Tonka gets a cookie.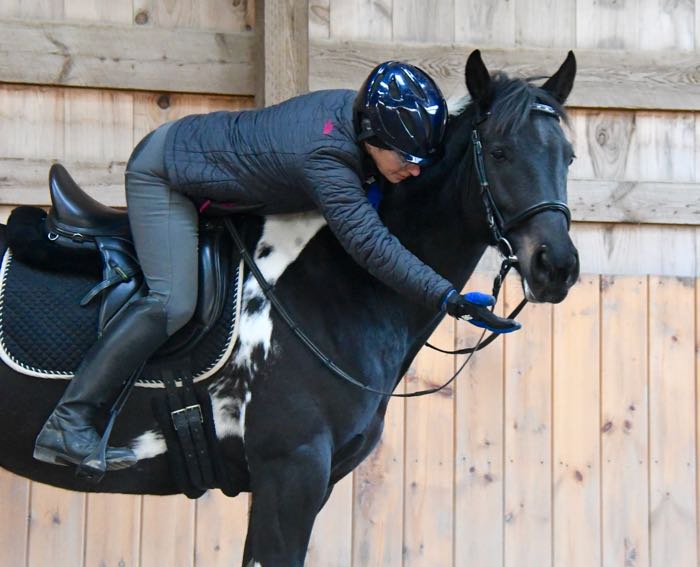 So now when he hears the snow thump down, he tenses for a moment (so do I, one can't help oneself) and then he focuses on me. Hey, do I get something yummy now?
I've used this same technique with deer in the woods. Spotting a deer means that he can stop and get a mint. He likes deer.
What frightens your horse? Have you trained him to see it as a good thing?