I'm pulling out a behavior science term today because it explains a lot about what horses do that can drive you a bit crazy. The science can give you a different and more generous way to view their behavior. So geek out with me here.
Emancipated Behavior: behaviors that are performed independent of the original causation. Sometimes these are described as emancipated signals because the horse is using body language to express a need that was once directly linked to a specific situation, but is now no longer linked. The emotion remains, but not the original trigger.
Here's an example:
It's winter. It's boring in the paddock.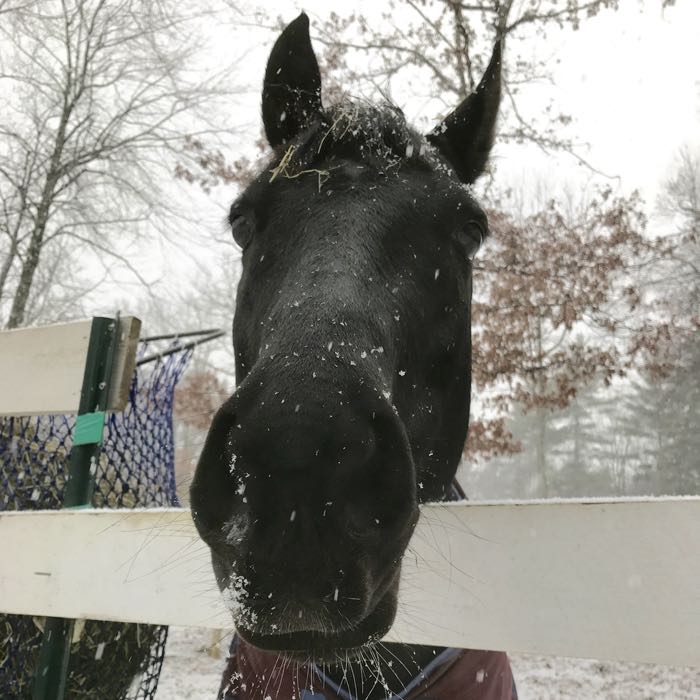 Tonka enjoys a change of scenery so we take a walk in the woods.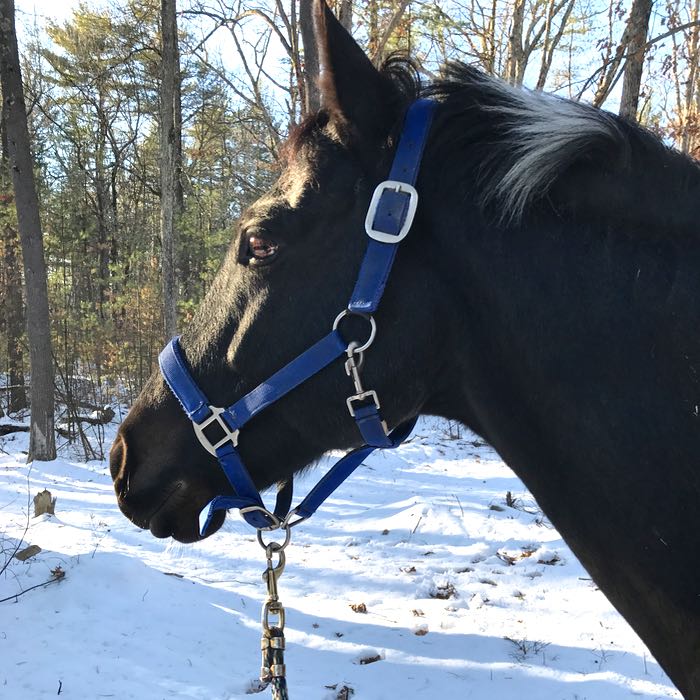 Tonka finds some grass showing above the snow.
But it's hard to get to, so he paws.
Inaccessible food → frustration → pawing → access to food and frustration alleviated!
It's not a big leap from this to a horse that paws when he wants something that is delayed in coming or difficult to get to. Horses paw by their feed buckets when waiting for grain to be delivered. Of course the pawing doesn't uncover food (as this behavior does in the snow) but to the horse, it does seem to work. Paw long enough, and that person delivers food into the tub! Tonka doesn't paw at mealtime, but he does in other situations. If he thinks it's time to come in from his paddock, and no-one is coming to get him, he will express frustration by pawing at the gate.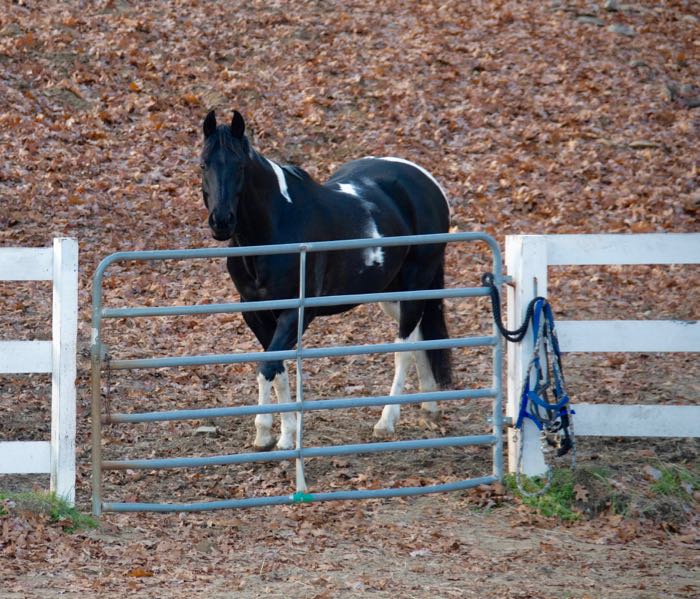 We've all had horses that have cut in front of us when leading them. In fact, when I first started clicker training Tonka, it was something that I inadvertently rewarded, and was then quite difficult to untrain. It's not safe to have a 1,000 pound horse block your way, but this isn't a sign of disrespect! Rather it is another emancipated behavior. When foals want their mothers to stop so that they can nurse, they walk in front of their dams' chests. So, when Tonka wanted me to stop and feed him, he crossed in front of my path.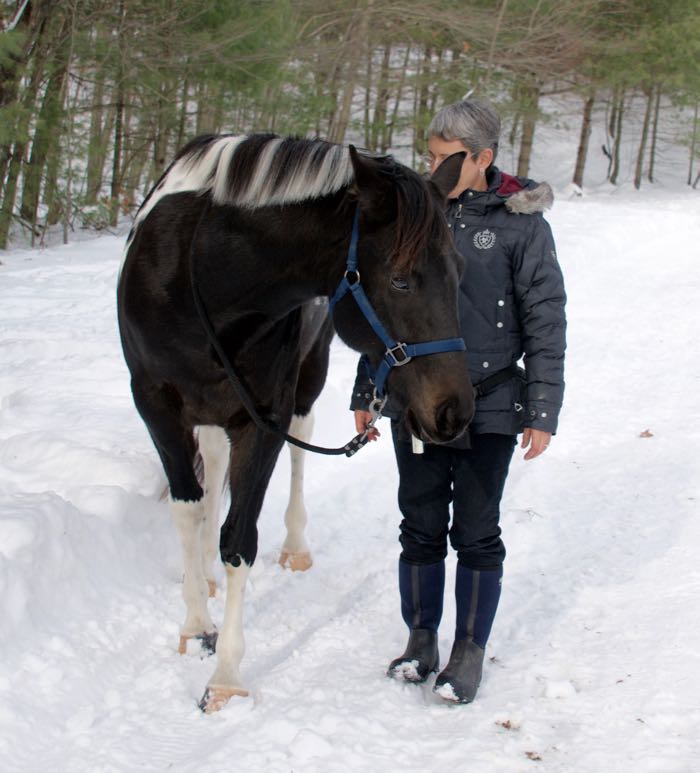 Understanding the roots of this behavior kept me from seeing it as "dominance" or "disrespect," so I didn't have to retaliate (often people are told to use a whip or slap the horse with the lead rope to move them away). Rather, I improved my criteria and timing in a way that let Tonka know that walking straight ahead was the way to get what he wanted.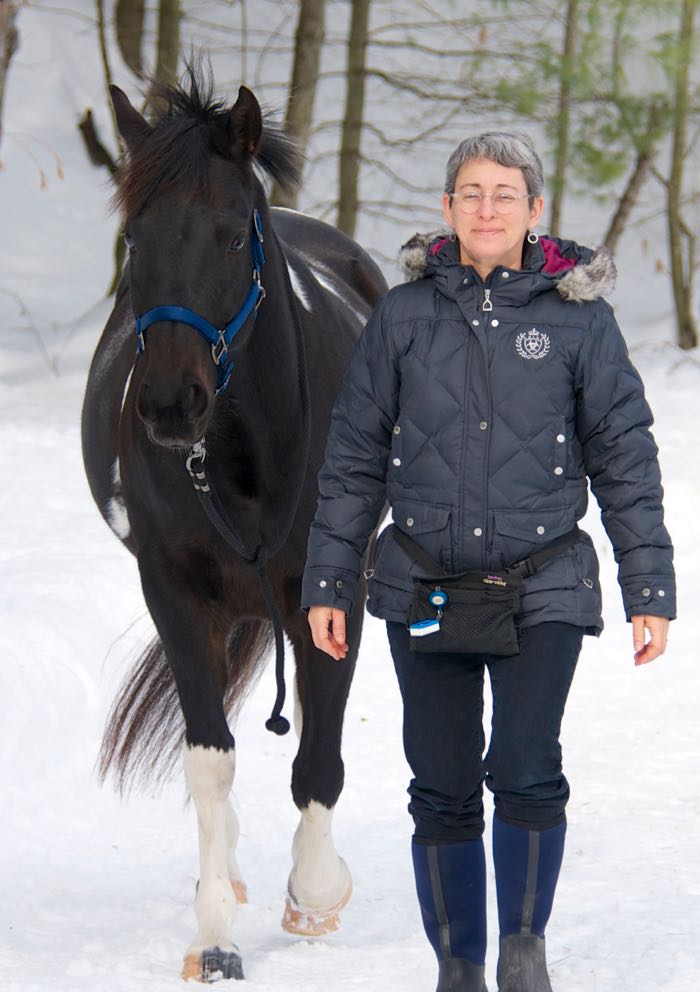 Tonka has another emancipated behavior. In the summer, gnats bother his ears. He shakes his head and they fly off.
Buzzing insects → shake ears → bugs go away.
Now it's become:
Physical annoyance → shake ears.
When I ride Tonka, if I ask him to move in a way that makes him physically uncomfortable, he twitches his ears. Because I know this, I can defuse the situation before it becomes a full-out scene. Because of our dressage training, Tonka has ratcheted up the way he goes. He's moving off with his rear end and his strides have loft. I try to ask for only what he's capable of, but that's changing weekly. Once in awhile, we're out of sync, and the first tell is that his ears twitch. If I ignore that he shakes his entire head. If I ignore that, he bucks. Some trainers would see that as misbehavior and force the horse back into the frame and send them on. I don't escalate, rather I back off from the exercise, and have Tonka go into long stretch strides, or some other comfortable movement, and then ask again, this time in a way that my horse doesn't think is so annoying! We always get back to an improved place and neither of us remain frustrated.
So, behavior might seem out of the blue to you but it always makes sense to the horse. What your horse is doing might be an emancipated behavior, and if you can find the root cause, you might be able to work through it so that everyone gets what they want.
Have you noticed any behaviors that fit this description? Tell me in the comments.