My friend, Michele, is a dog person. She and her husband like to have a house full of them. Not too long ago, her pack was sadly reduced to only two. These two dogs were perfect, and got along with each other and with the cats. They went for daily off-leash walks with their people. They were tidy in the house. They're mellow boys, the sort that send loads of love through soulful eyes. Here is Toby, in his favorite position.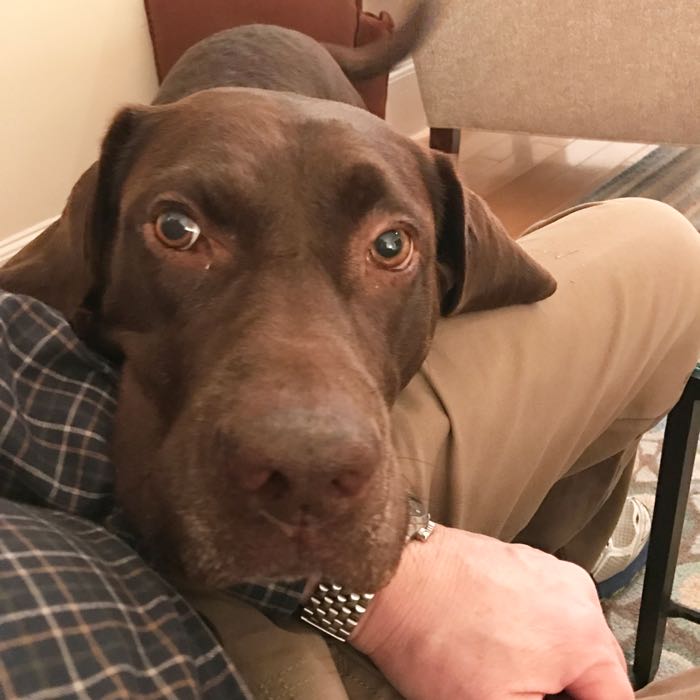 Spencer is right out of central casting as the sort of family dog that everyone had in the 1950s.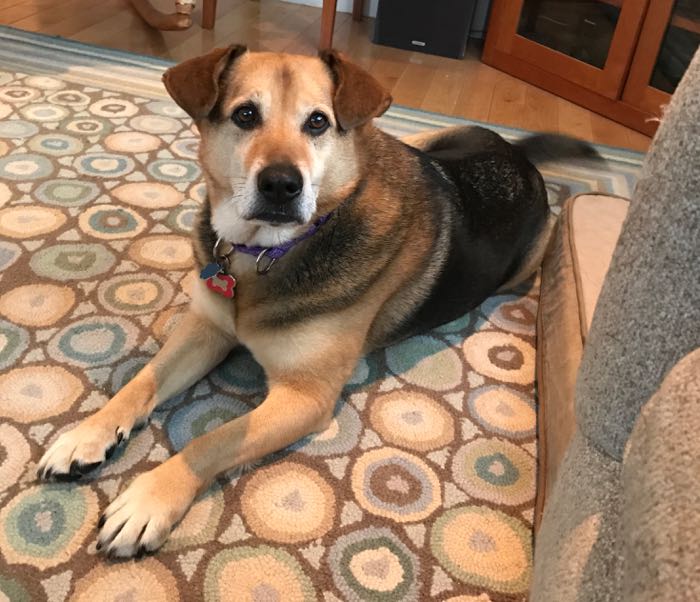 Great dogs, but Michele needed a third to feel like their home was complete.
Michele wanted a dog with joie de vivre. Like she always does, she checked local dog rescues and found an older dog that needed a home. She found Hope listed at a rescue that she's adopted from before.
You never know what you're going to get. The description on-line rarely reflects the dog that comes bounding up your own steps.
And bound in, Hope did.
The little we know of Hope's history tells us that she was mostly feral for her first year and a half. Now just under two years of age, Hope has endless energy. Her joy at having a home with doggie siblings and people is over the moon. But all of that energy radiated out into bedlam. I offered to help.
From what I could tell, this galloping, playful, exuberant dog had no clue that a person's body language or words meant anything. Hope was more focused on Toby and Spencer than on Michele and Brad. So the first thing that we did was to teach her that eye contact with Michele meant that good things came her way (toys and kibble.) Hope is a very smart dog. She caught on quickly. Next, we needed to reduce the chaos that Hope caused with the other dogs. Playtime descended into growls and wrestling matches. I lent my large wire crate, which was installed in their living room. (This is where everyone eats and watches TV. It's the center of the house.) When things got out of hand, Hope was sent to her crate – and given special treats and bones so that it wasn't punishment, but a good thing. It soon became a favored place. Now, when she wants a break from the world that's where she goes to chill. She's learned to tone herself down! Even dogs with boundless energy need their own place to relax.
The crate, though, didn't solve the issues of her bouncing like a pinball around the room. What Hope needed was to know what TO do when excited. I had Michele purchase a bath mat, which would be Hope's good place. That's where she'd go when she wanted something, like a bit of bread off of Michele's plate, or when visitors came so that she could contain her enthusiasm without leaping into people's faces.
Teaching Hope to go to her mat was easy. We started by waiting for her to step on it (at first just a paw.) When she did, kibble dropped down. She soon realized that she needed to be on the mat to get the treats, so we upped the criteria and waited for her to stand full on it, and then rewarded. Next we waited for the sit or the down. When Hope is on her mat, good things come to her.
This perfect behavior earned her a session of tug with me.
Toby has not learned such manners. Perhaps he needs his own mat?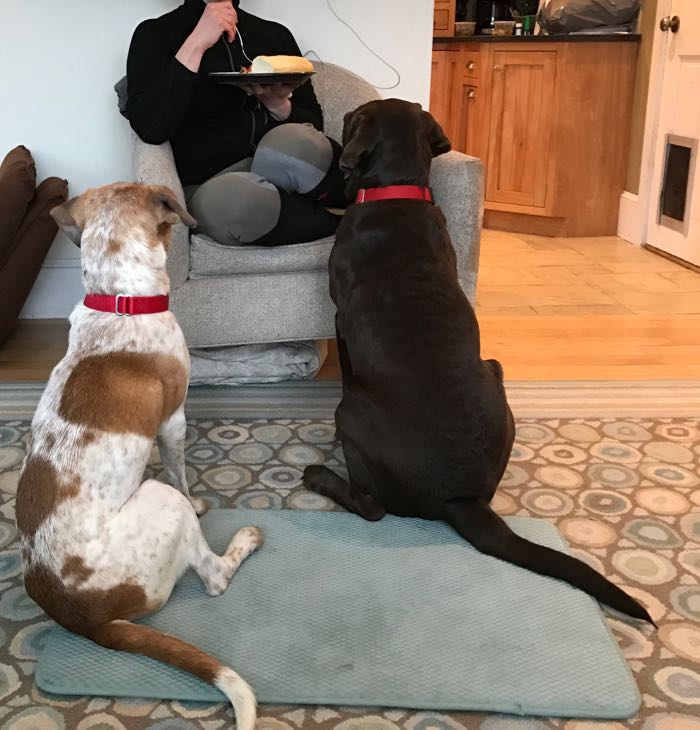 The mat training has had a side benefit. Michele also has cats. They have not been happy about the new dog. The other dogs leave them alone, but this new girl was chasing them.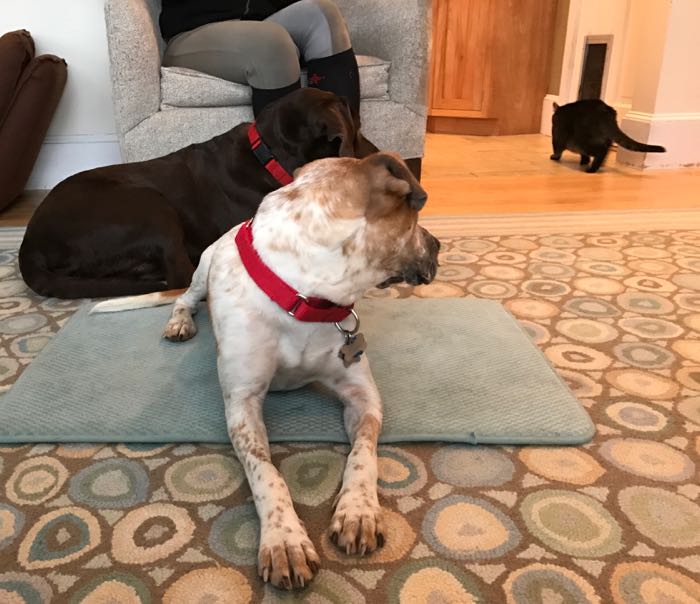 Now Hope has better things to do.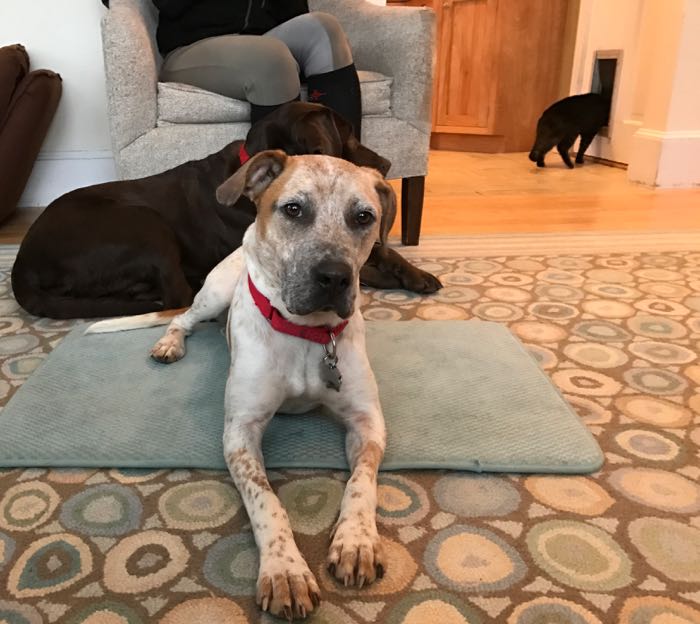 Hope has a lot more to learn, but the mat training has taught her the most important lesson – that self-control will get her what she wants.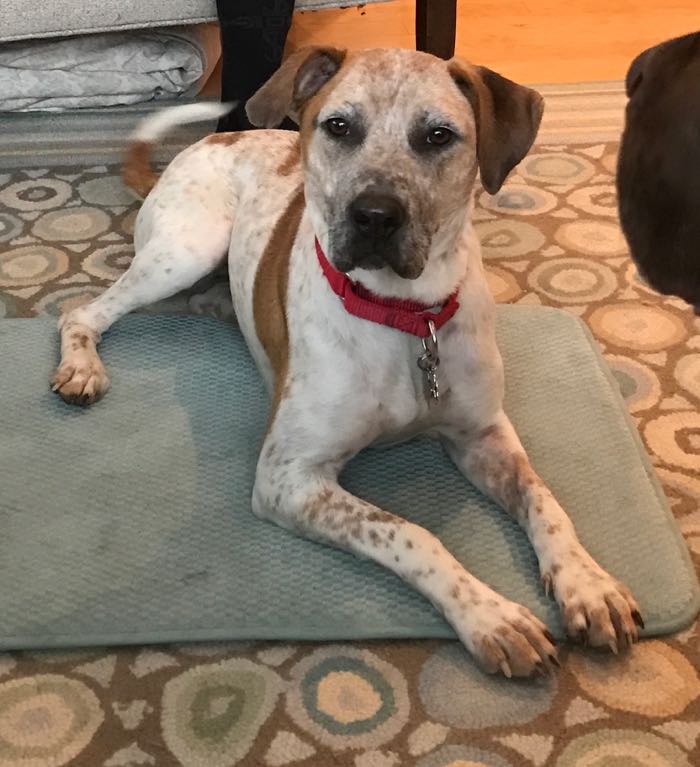 This is the same lesson that Nate, the horse who bites when stressed, has been learning. It doesn't matter what species I work with, the foundation of all training is to enable the animal to relax and then interact in a way that is mutually beneficial for everyone involved. It's not about obedience or manners, although those things flow from the work, rather it's about creating a world that makes sense and that can be navigated with confidence and contentment.