Riding in sync and in balance with one's horse is not easy. Every riding instructor teaches the independent seat, meaning that your bottom stays in the saddle, irregardless of what the horse or the rest of you is doing. But we also need to talk about independence of all of the other parts of your body. Sometimes it's as if your instructor is telling you to go in two directions at once: for example, rise your sternum up and stretch your calves down at the same time! This would be difficult even if we were all professional athletes, but we're not. I'm a middle-aged woman who's given birth to two babies, blown out a shoulder, had back pain for years, have a bum right ankle and have "inelastic fascia." I'm sure most of my readers have a similar litany of physical issues.
We are all asymmetrical, but we often aren't aware of how it affects our riding. We're so used to compensating for our physical issues that it can be hard to feel what we're doing incorrectly. An instructor can point out imbalances. A good instructor does this without making you feel bad about yourself. It also helps to take photos and video.
When I first get on a horse, I sit quietly and try to get balanced. There are four points to the seat – the two pubic bones and the two sitting bones, and I sit so that my weight is evenly distributed on them. I breathe slowly and let my horse do the same. Tonka is built so that his default relaxed state is a low head and flat stride. We settle in, and I only get to work when we both feel looser.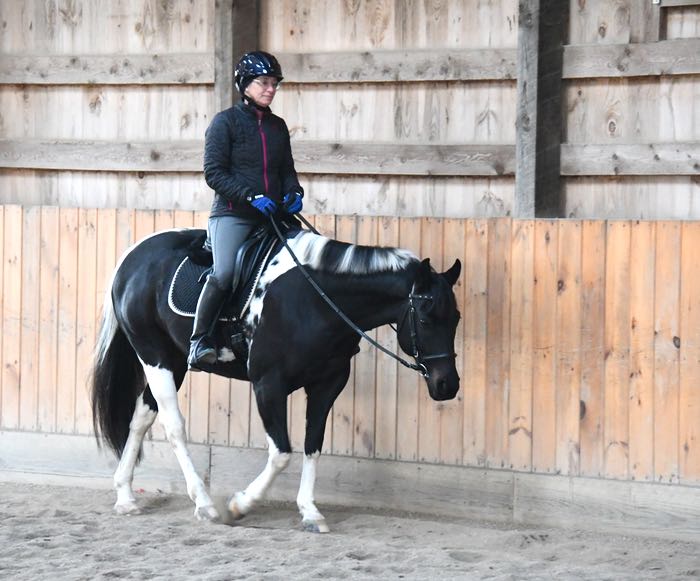 I try to keep the warmup trot loose, too.
Here you can see my asymmetry. My left shoulder tips down, which shortens my left rib cage. I'm stronger in my right leg, which also tips me left. My imbalance makes it more difficult for Tonka to carry himself straight. He has to compensate for my flaws.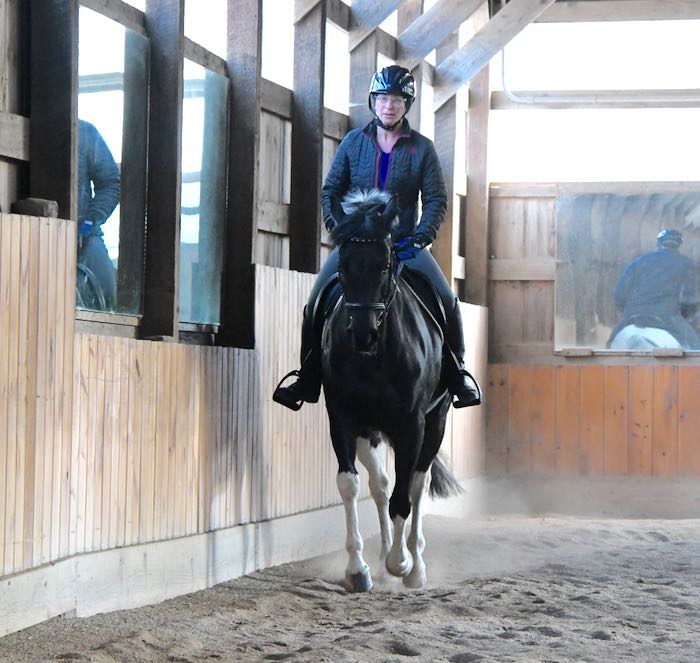 We do a warmup canter. Tonka doesn't have the natural hock engagement of horses designed for dressage, so this canter early in the ride loosens up this hind legs so that he can push off more. Here we're both a tad off kilter. I have excessively tight hamstrings, and if I'm not consciously stretching downward, my heels come up. Tonka tends to lean in on the canter and put too much weight on his leading leg.
It's warmup. I cut us both some slack.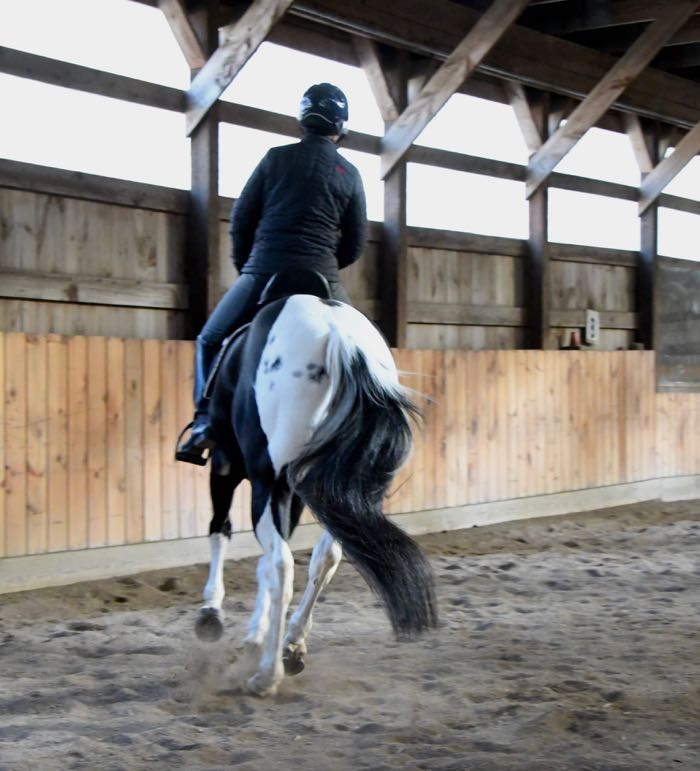 Looking at the photos, I was so frustrated to see my left heel up! This is a case of the body doing something that you aren't aware of. I was relieved that the video showed that my heel up isn't constant. I'm often in the correct position. But this inconsistency interferes with my communication with Tonka, and it compounds my other asymmetries. I know what I have to do to correct this. You'll see at the end of this post.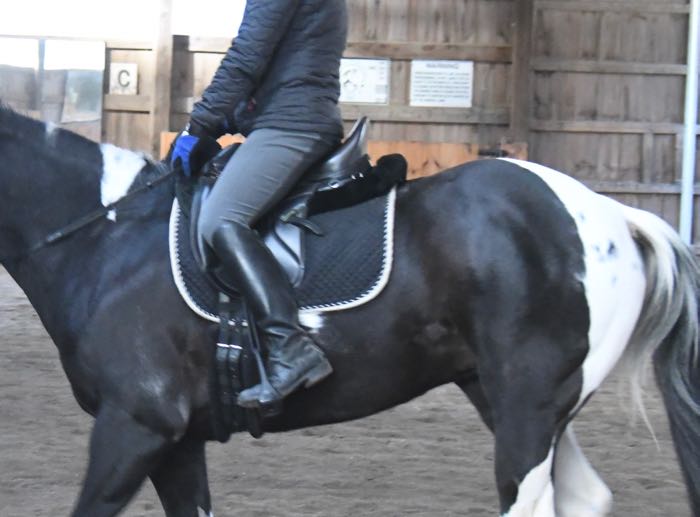 Horses are as asymmetrical as us humans and much of the schooling work that Tonka and I do helps to build his muscles so that he can go balanced both directions.
Here we are later in the session. I'm now tipped down to the right, my hands have rotated in and I could be more up through my chest, but we both look soft and in sync with each other. You can see how Tonka has pulled himself together and carries himself more plumb. I'm pleased with this. Striving for perfection is the journey, but perfection is not the goal! Being aware and appreciative of the small improvements keeps everyone happier, and actually allows for faster progress.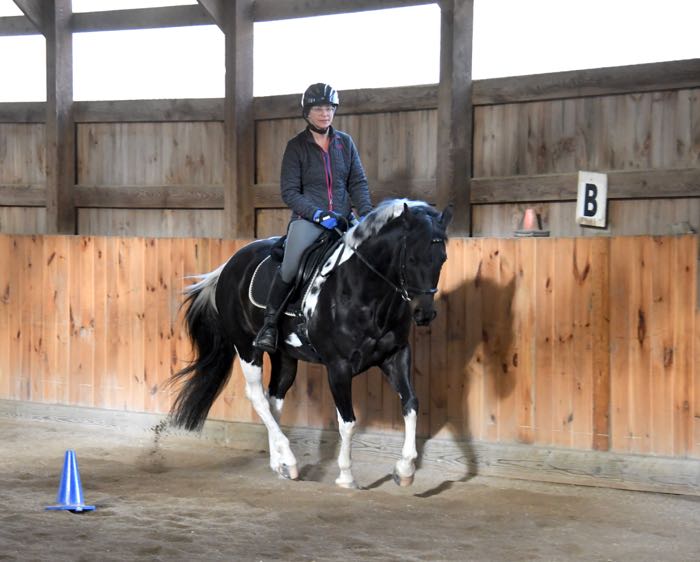 Here we are at the trot. I love his poll up, nose slightly in front of the vertical carriage. He's tracking up and his tail is swinging in relaxation. My leg is long (as long as my tight hamstrings allow) and my shoulders are even! My left elbow lacks bend, which is due to a shoulder issue… I am the poster child for that song "the thigh bone is connected to the hip bone." I've got an independent seat – it's all of the other body parts that I'm working on!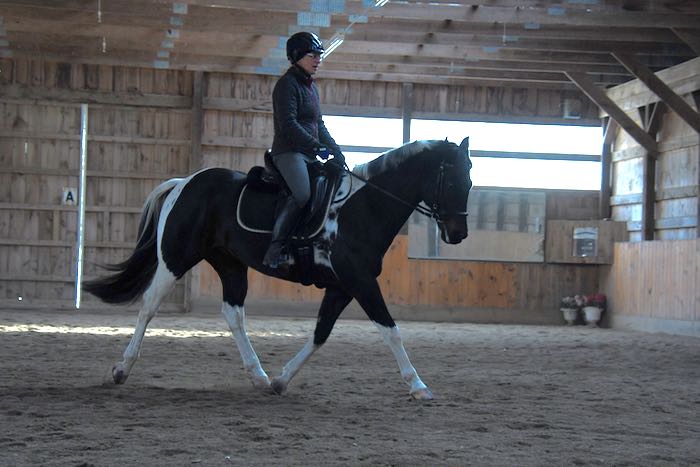 After the hard work in the ring, we go for a walk outside. We're both still a tad crooked, but it doesn't matter. We're good.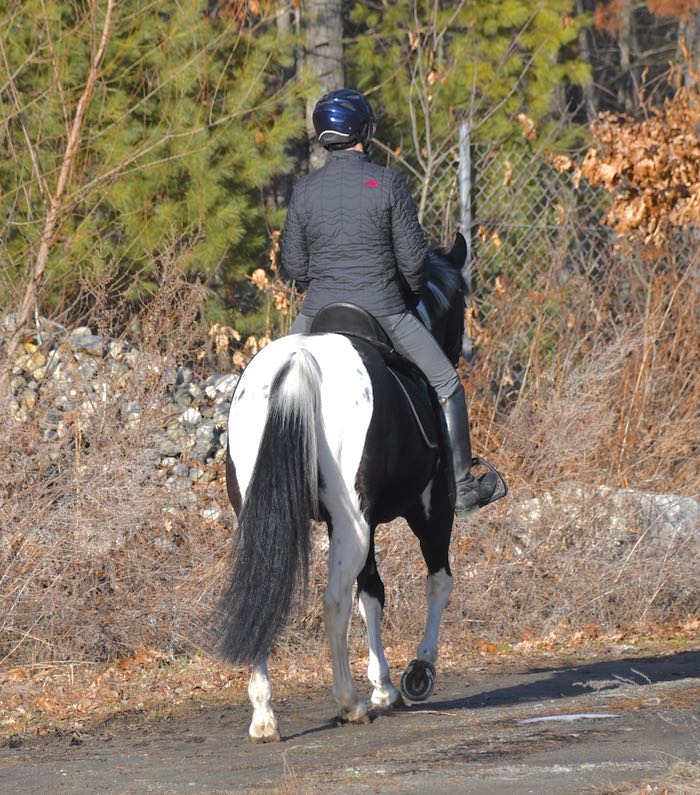 I can't correct everything from the back of my horse, so as much as I loathe stretching and formal exercise, I try to do 20 minutes a day. I've found some videos on YouTube that help my issues. Scooter provides encouragement. He has an "upward dog" for my "downward dog."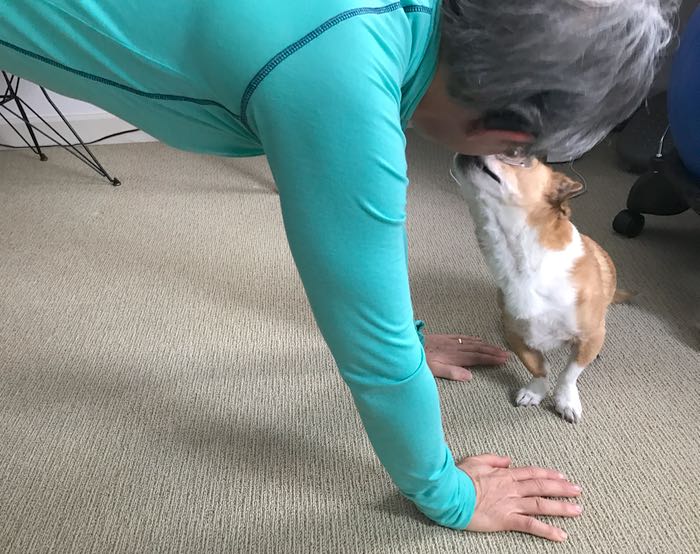 What do you do to get fit for riding?