In 2004 I decided that my family needed a new Thanksgiving tradition. We didn't have relatives nearby to have a big feast with. It wasn't worth cooking for the four of us – no one particularly liked turkey and stuffing, and it was too much work for a meal that wasn't appreciated. I decided that the best part of Thanksgiving was the pie. We had friends who would be traveling back from their families on Sunday, and could stop in for dessert. I decided that on Thanksgiving day we'd go out for Chinese food, and a couple of days after we would have a Pie Party.
This year my sons couldn't come home – employment and education being too far away – but the Pie Party continues. Two dozen people drove to our little house in Maine for pie. Some of the guests have been with us from the first celebration, some were new. Some of the pies were also familiar, but most were new. Almost all of the pies are my takes on recipes that I've collected. Some are entirely my own invention.
Altogether, including the pies shipped to my sons, and the backups in the freezer, I made 20 pies. These required 6 different crusts – all butter, graham cracker, gingersnap, chocolate, cheddar cheese and puff pastry (the only one store-bought). It takes planning and prep, and much of the cooking is done ahead of time, but there are always a couple of pies that have to be constructed and baked off right before the guests arrive.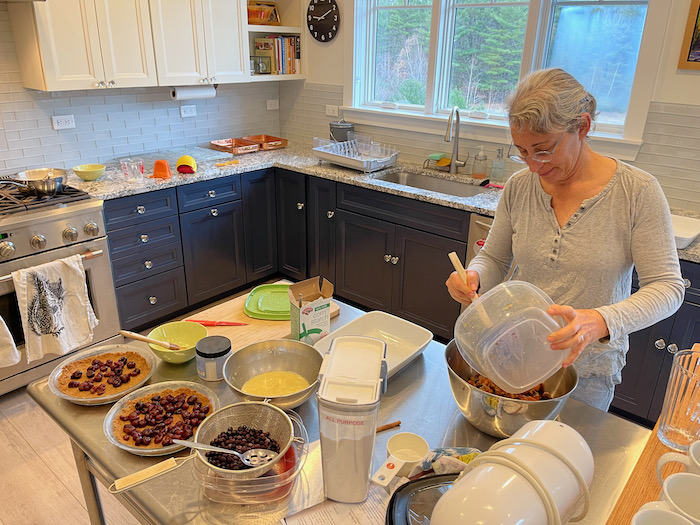 The first few years of the Pie Party, I served only dessert pies, but there was a clamoring for savory, so that was added. This year's offerings were: Carrot Pot Pie, Sausage and Apple Pie, and Brie, Cranberry and Caramelized Onion on Puff Pastry.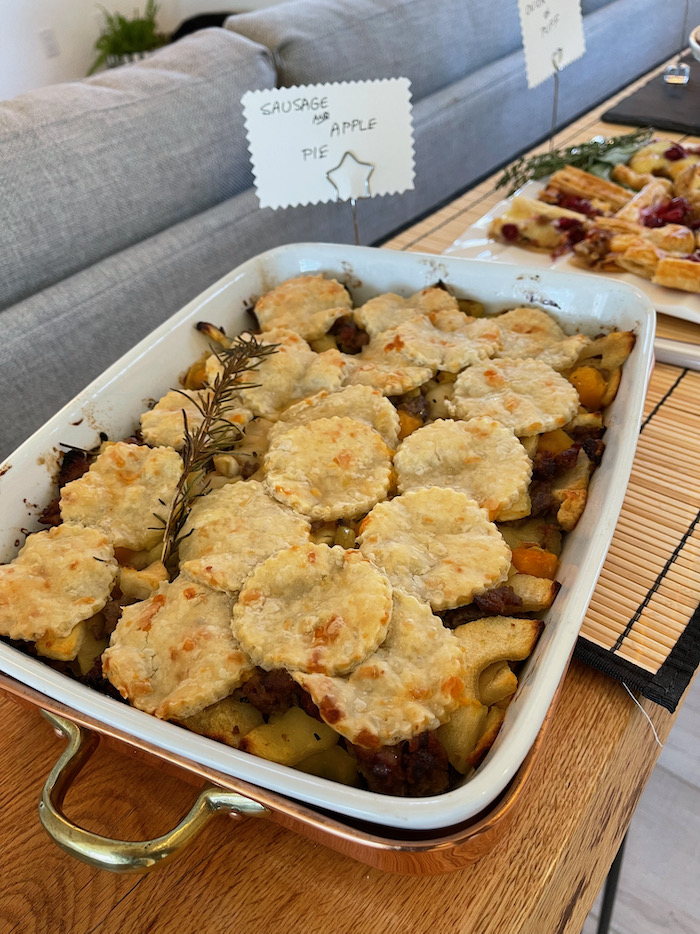 I set out 6 pies at a time and when one was eaten up, another was put out. Here is this year's list of the sweet pies:
Pear Pie, Blueberry Pie, Lemon Tart on a Gingersnap Crust, Cherry Custard Pie on Graham Cracker Crust, Apple Pie in a Cheddar Crust, Chocolate Pecan Pie, and Chocolate Midnight Pie in a Chocolate Crust.
Here is a selection.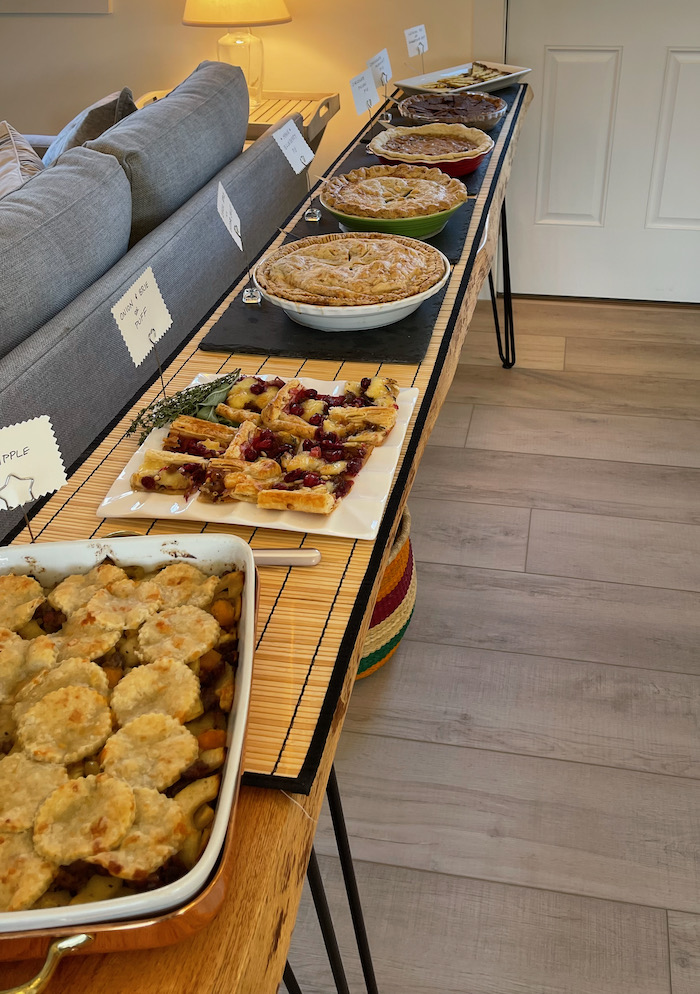 The Blueberry Pie was the favorite. Why? I think because most blueberry pies are terrible – gooey and too sweet. I use Maine blueberries from an organic farm Downeast – Burke Hill Farm. They're expensive, but I don't skimp. I use just enough sugar, including a hint of maple sugar – and I bake it long enough to have the blueberries simmer into a perfect forkful. It's a simple and rustic pie, but a dessert that I prefer over any French pastry.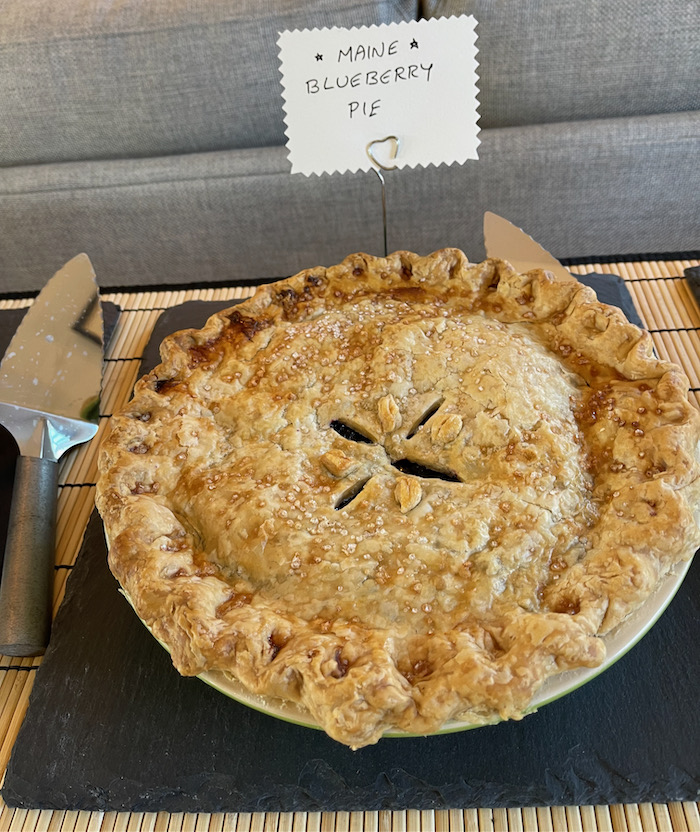 I love a good fruit pie. Sweet but tart, soft but with the fruit intact. Why isn't pear pie more popular?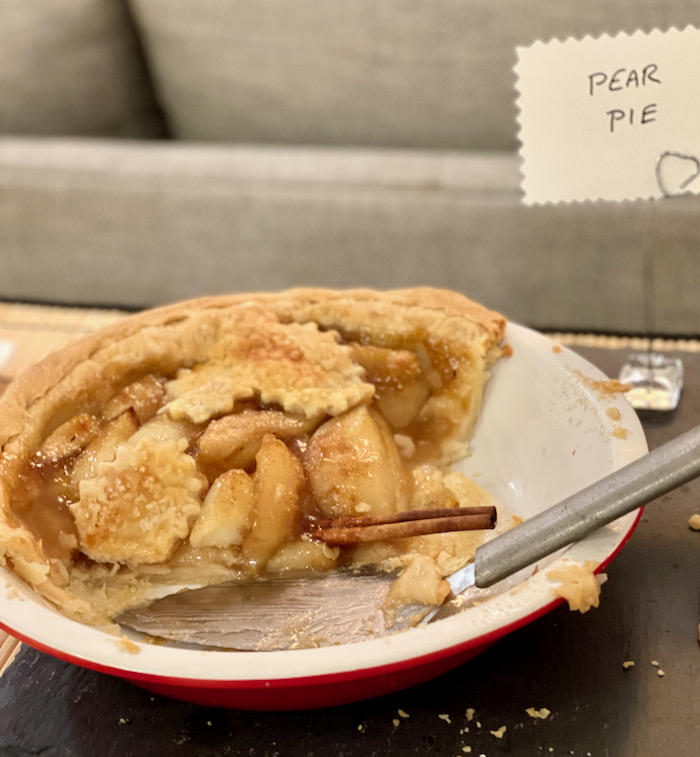 You can never go wrong with nuts and chocolate. I'm not into fussy pies, but the chocolate has to be bittersweet and of very good quality (here I used Callebaut) and the nuts fresh (I store mine in the freezer.)
Note that this crust is a little pale, which can happen in a ceramic plate. However, it was cooked through and still flaky.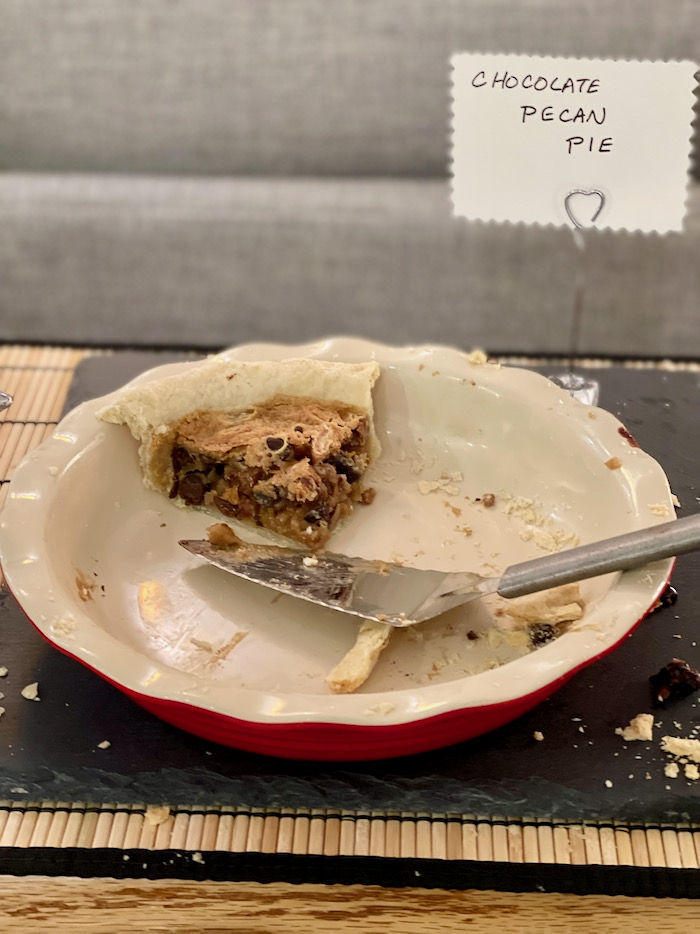 I always make extra pies. Leftovers are appropriate for breakfast and dinner, and anytime in-between!
Do you love pie? What's your favorite? I'm always looking for new ideas.