Not good news.
Back at the end of the summer, Tonka was intermittently lame. Whatever was going on was mild, but it was there, so I went the whole 9 yards. Ultrasounds, x-rays, and finally MRI. The diagnosis wasn't awful – he had inflammation in his coffin joint, a collateral ligament was strained, and he had mild issues in the deep digital flexor tendon. Basically, the complicated components inside of his left hoof were sore and Tonka would need about three months of rest and rehab to set things right. A few weeks into that and we were on the track to soundness. To aid in the healing, Tonka would get IRAP injections. Unfortunately, he is one of those rare individuals that has a reaction to what is essentially his own blood, had a flare, and had to get the joint flushed. That set us back.
It's hard to rest a horse and even harder to immobilize a joint, especially a hoof. Tonka needed to stay quiet, so he was kept in his stall with no turnout in the field. I was told that I could hand-graze him. Horses are designed (both mentally and physically) to move. Tonka is a calm and steady fellow and no one was worried about him straining his left hoof issues if I grazed him near the barn. But, Tonka is a horse and all horses spook. We were peacefully standing on the lawn, in the sun, on a calm day, when an unfamiliar workman suddenly appeared on a rise by the propane tank. Tonka wheeled around to get a better look, slamming into me, and then he bolted sideways. Being Tonka, though, he carefully didn't step on me, got his wits about him, realized that the lead rope was dangling, and hence he should be ground-tied, so he stopped and resumed grazing. Another horse would have galloped off into the next county. But the damage was done. Tonka went seriously lame. (And I was sore for two weeks.)
The security cam captured that moment.
We thought that perhaps he twinged the already weak joint and after a week and some bute that we'd be back to the rehab. But that didn't happen. Tonka continued to be limping lame.
Dr. Chope, an ultrasound specialist, came.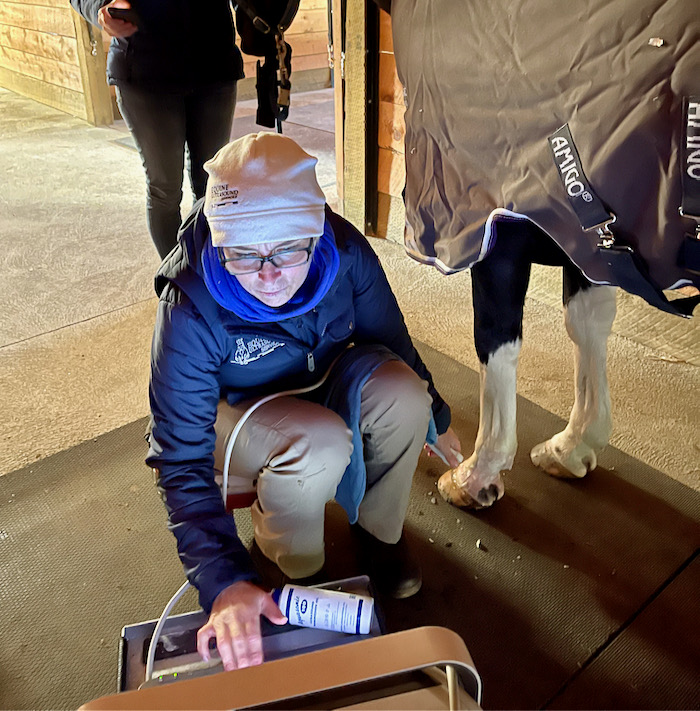 The images show that Tonka has an affusion fracture of the phalanx (also called the coffin bone.) What happened was that the ligament, where it attaches to the phalanx, pulled off a fragment of that bone. It is now stuck on the ligament, poking Tonka at every step. Because of where this is inside of his hoof, surgery isn't an option. There are two collateral ligaments, one on either side of the phalanx, holding it steady. One has that chip, the other is inflamed. These ligaments are what control lateral movement. To heal, Tonka's hoof needs to be still. But he's a horse. You can't bubble wrap them and suspend them from the ceiling. You can shoe the hoof to give him flat support, which we've done. You can limit movement by keeping them in a stall and a tiny paddock. Tonka already is in the ideal living quarters for this scenario. His stall has a Dutch door to a small runout. (I will be keeping that paddock raked and flat, and shoveled and sanded in the winter!)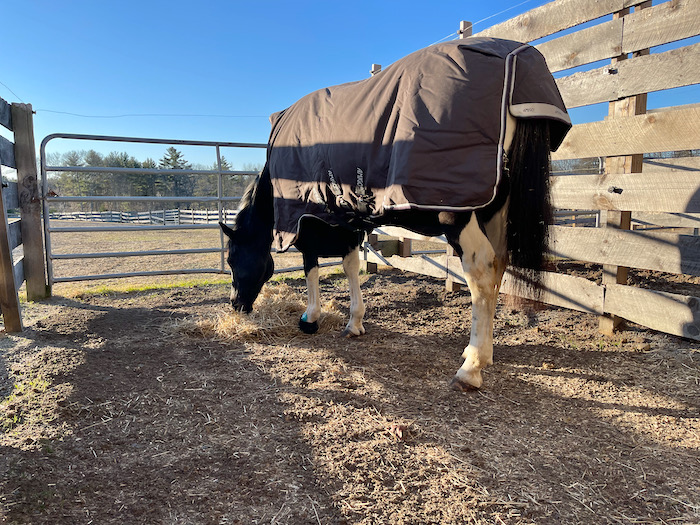 You can give them time to heal. A lot of time. It will be three months before Tonka can resume hand-walking. The optimistic view is that that little piece of bone gets encapsulated by tissue and no longer bothers him, that the ligaments heal, and that in nine months we can get back to our normal activities. But, realistically, recovering from collateral ligament injury is hard enough, add an affusion fracture to that, and the prognosis is murky. Honestly, I would be happy if by next summer Tonka and I are back walking on the trails, and that's all we do. Tonka is already wondering why we aren't getting out and seeing new sights. I'm sure he's as eager as I am for him to feel better. Tonka will tell me what he's able and comfortable to do, and when, and I'll listen.
In the meantime, I've ordered a slow feeder that won't aggravate the arthritis in his neck, he's getting a lot of grooming, and most importantly, calm companionship.