Recently I pushed myself to go out of my comfort zone and go to a fancy show.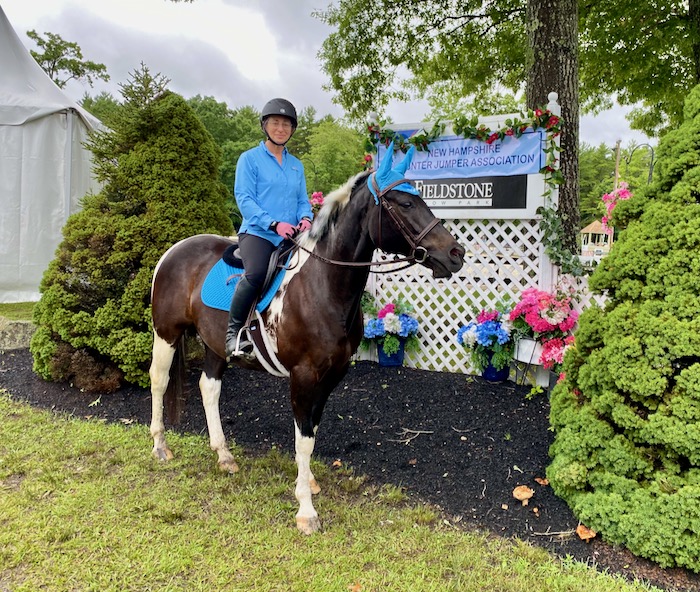 That required a multi-night stay for Tonka at the showgrounds, and me in a hotel. I like small schooling shows. An easy day drive there and back. No braiding. No pressure. Not much of a financial investment. Sleep in my own bed. But most of the riders at Graystone, where I board, were looking forward to this weeklong show. My trainer, Steph, said that it'd be fun. That I should go. My classes would be on the last weekend. I could trailer down late in the week and stay over just two nights. That seemed doable. This show required planning and packing. I, of course, obsessed and made lists. It all became even more complicated when a tropical storm was due to blow in the day that I was supposed to make the 3+ hour drive there. Steve hurriedly changed hotel reservations and we traveled down a day early.
Which meant that I put Tonka to bed in an unfamiliar place with a big storm bearing down on us. The first full day at the show, we hunkered down in the stabling tent while the wind whipped the flaps and the rain came down.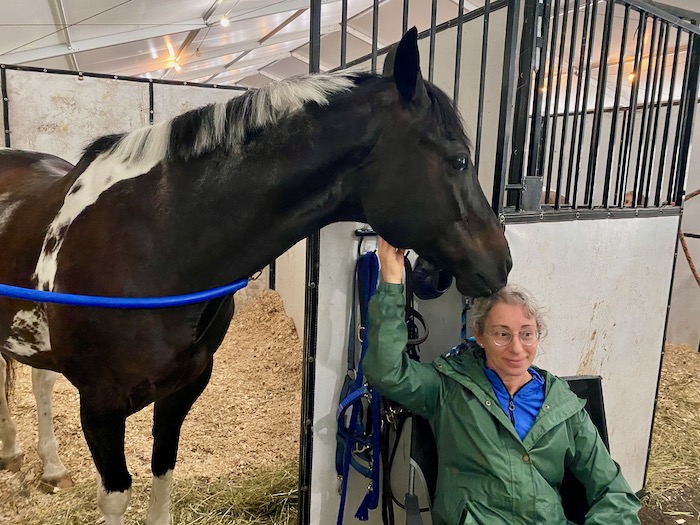 During lulls when it was only drizzling, we got the horses out to stretch their legs.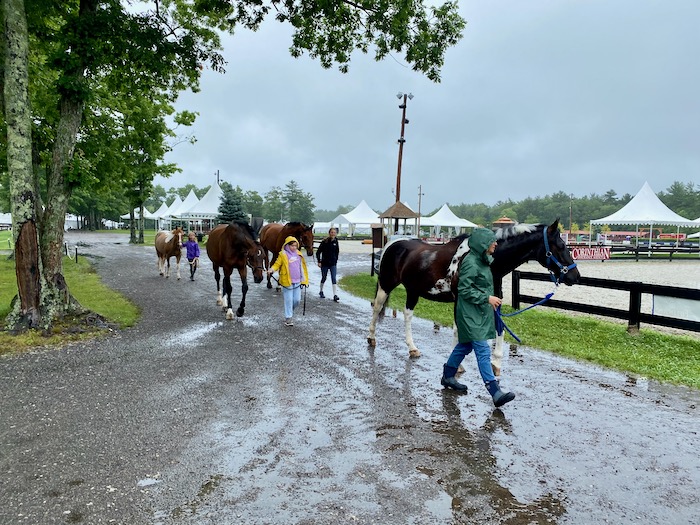 On those walks, Tonka hollered hello. It wasn't nerves, and he wasn't talking to the horses that he knew. He seemed to be announcing his presence from sheer exuberance.
That evening the skies cleared and I got in a schooling session with Steph. Tonka felt great. The next morning I arrived to a horse who had been professionally braided. Fancy! I had planned on going for a ride in the morning. My classes weren't going to start until late afternoon. But Tonka looked tired. Pajama parties are exhausting! I took him out for a walk and a graze.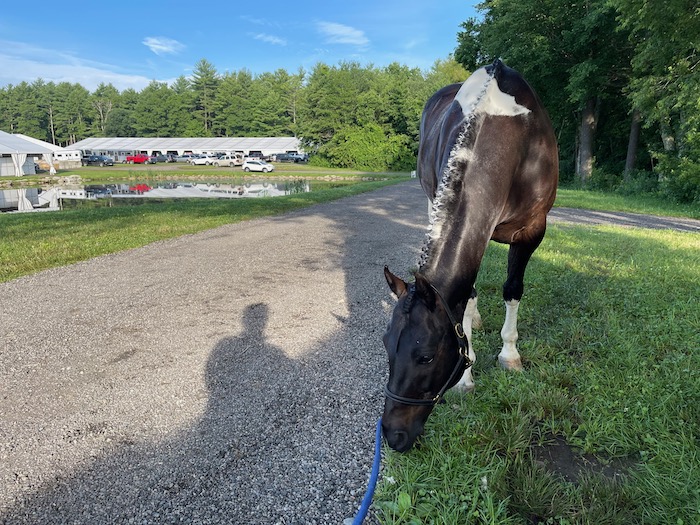 Although Tonka didn't seem to mind the braids, I, on the other hand, struggled with the collar on my show shirt.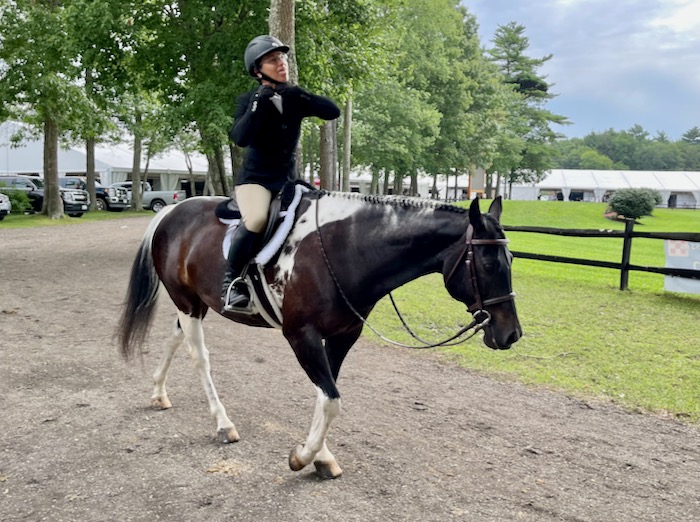 The show was running late, so we only did two rounds on Saturday. Tonka was super! But he doesn't have a flying lead change, which he needs to have at this level of show to be competitive. At schooling shows I could still get a blue ribbon. Here, no chance. Still, I felt really good about how Tonka went. You can see his great attitude in every photo, and I could feel it under me the entire weekend.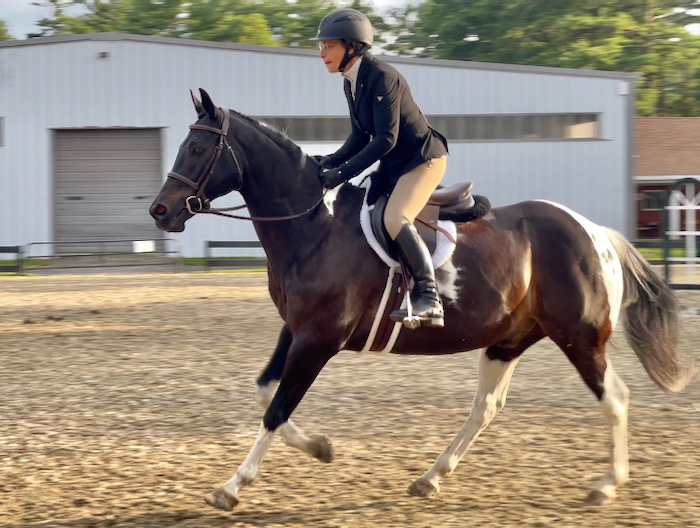 He had good form, too (on his part, my position needs work!)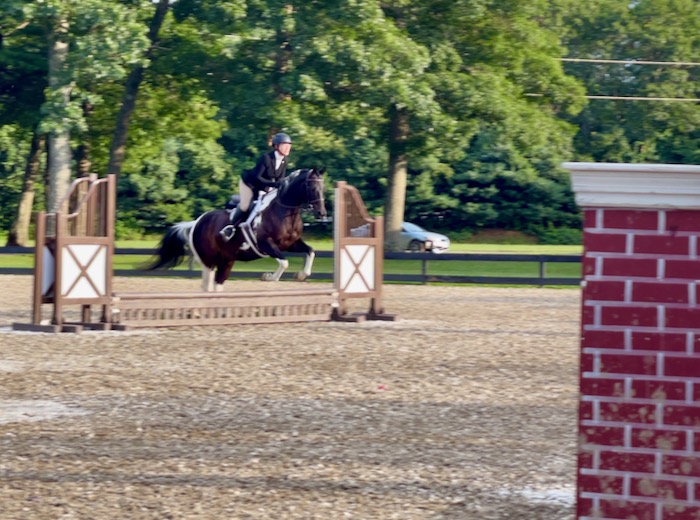 On Sunday, the classes that were put off from the day before were run in the morning. We did three more rounds. This time, even without a flying lead change, we came in 8th out of 15 in one class.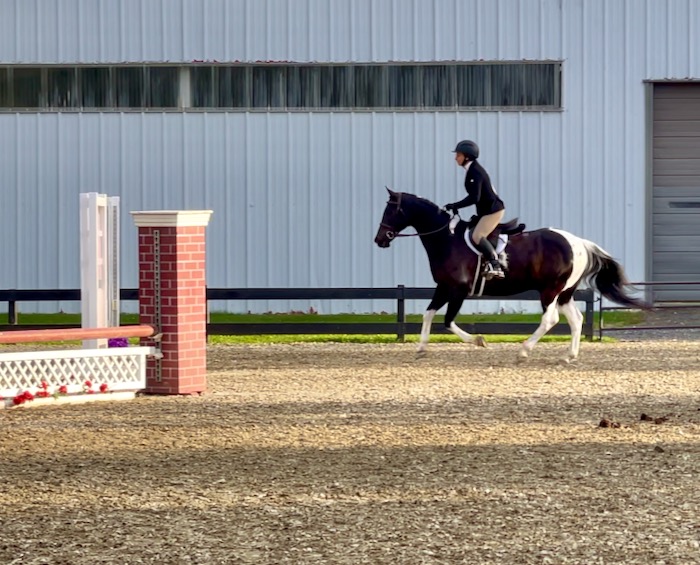 Unfortunately, our remaining 4 classes were running so late that I opted not to stay for them. Tonka and I were both tired from our sleepovers and I needed the energy to safely drive home (in Sunday traffic coming off of Cape Cod!)
We arrived back at Graystone in daylight. I knew exactly what Tonka would want to do.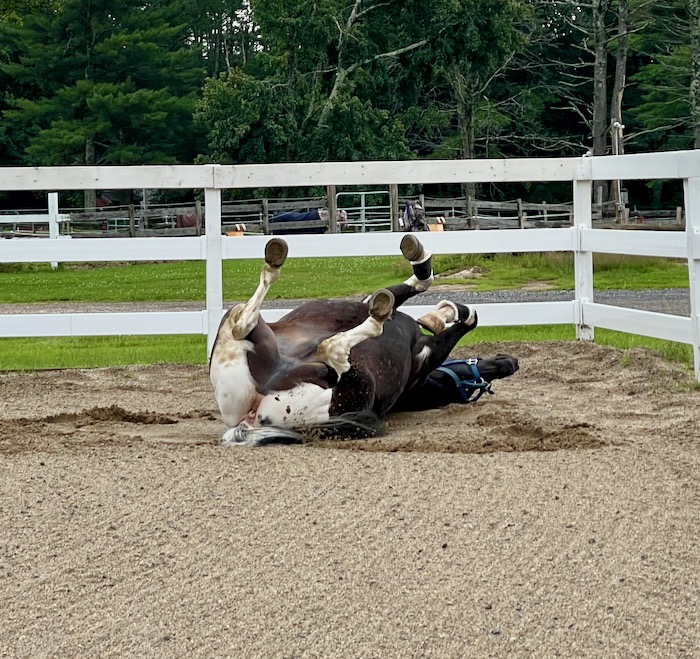 Back to real life!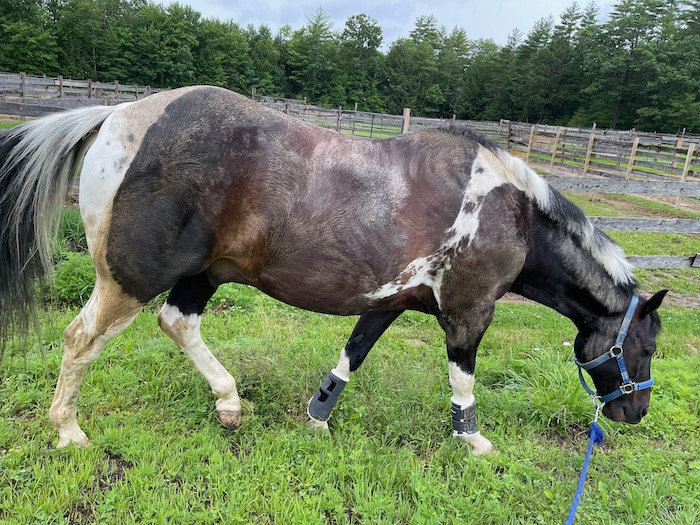 It's good to go out of one's comfort zone, because it's the only way that that zone will expand. I've written before about my mantra: the more you do, the more you do. I'm now confident that both my horse and I can handle the travel and the overnights of a fancy show. Was it worth it? Tonka certainly handled the show environment and stabling with aplomb, but I'm not sure that multi-day shows are my thing. I'm still exhausted! On the other hand, being immersed in the show world, all horses, all the time, was a treat. Also what this experience did do was to give us a chance to jump on perfect footing, over pretty fences, in a bigger arena. That was fun. It also motivated me to push on with our training to get that flying change. I've started getting them in exercises at home. Now to have them happen consistently and in the sort of situation that we'd have in a show. We've got one more multi-day show to go to in October. Maybe our second time out, with my expanded comfort zone, (and no tropical storm?) I'll get hooked on the experience. We'll see!