More than a year ago I entered a contest in Practical Horseman. The prize was a clinic with Margie Engle. Out of hundreds of entries, I won. You can see the entry and video here. Of course, what with the pandemic, Margie's trip to my barn was put on hold. But now we are vaccinated and she is coming! On Saturday!
We have a line-up of 11 horse and rider teams for her to teach. There will be four group lessons. One of them will be for two young girls on their adorable ponies. They will do pole exercises. Yes, Margie Engle, Olympian and hall-of-fame Grand Prix show jumper, will be teaching little girls on ponies. I might be looking forward to that more than my own lesson.
But, speaking of my lesson with Margie…
A year ago I had just begun jumping with Tonka. We started with poles and small cross-rails. Which we are still doing. But now with more style.
Even at this height I have much to learn. How to memorize a course, think and react even when the jumping doesn't go as planned (too big, too tight in, too slow), and get a balanced simple change. It's okay that I'm not doing a 3-foot hunter course. It's not the height of the jumps that interests me, it's what it takes to do it correctly and beautifully. I've always been someone who is into the details, which is one reason why dressage was what I did for most of my riding life. For example, with dressage, a change of weight in one of my sitting bones affects how big a step Tonka takes with one of his legs. I love that connection.
Jumping has it's own nuanced communication. To do it, I've had to change tack (that flat saddle!)  Some of what I did as a dressage rider was applicable to this jumping thing, but much of my position had to be totally reworked. Like where the weight is in my foot as I go over a fence, and how I use my knee and thigh. I needed a new challenge in my riding life, and this one has been fun! I think that Tonka and I have taken to it and have shown some innate ability. Still, this is our jump height.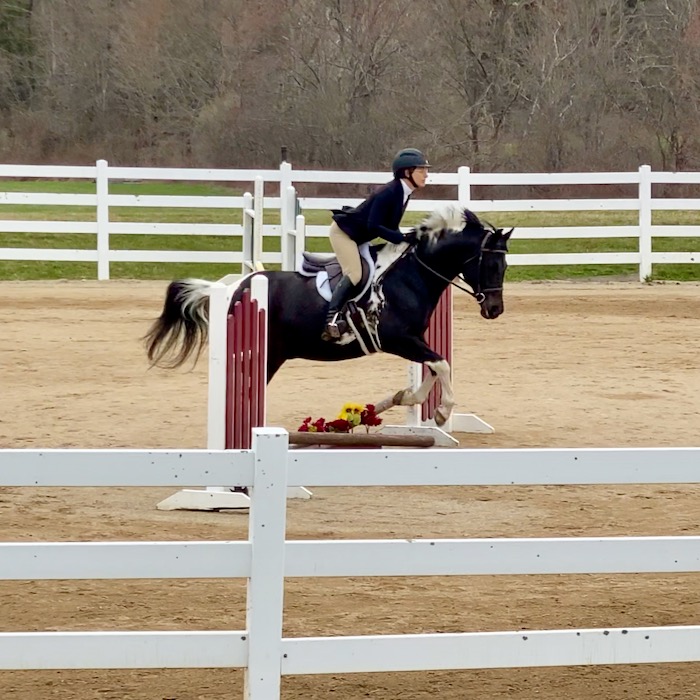 This is Margie's.
Which is okay. Many of the skills she has used to get to the top are the same ones that I'll need to learn to jump a 2-foot course. Even better, those skills tap into my experience as a dressage rider, and what I've taught Tonka.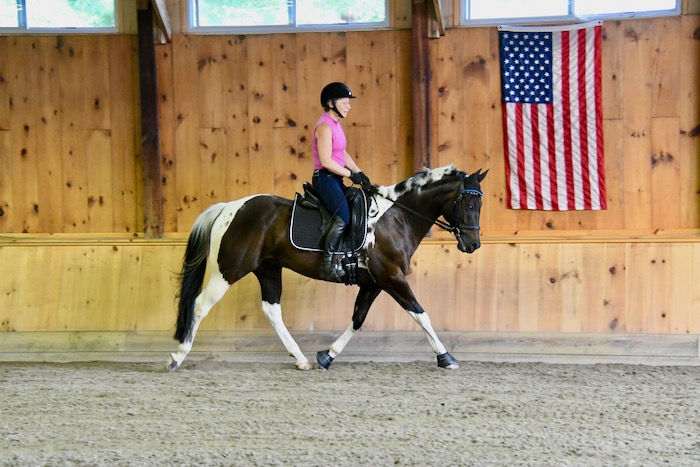 Dressage doesn't look a lot like the sort of thing that Margie does when she flies over jumps, but  it is. Margie has a dressage rider school her horses because they need to be balanced and sharp on the aids to be able to navigate a course at speed. Tonka moves off of my leg, does lateral work, and can condense and expand his stride when asked, which will all be useful when we attempt the gymnastic exercises over fences that I know that Margie will have us do. It'll be interesting to see how Tonka and I handle those, and what we need to learn to do better. Each instructor has their own focus and way of explaining things. My trainer, Steph, has done a super job of introducing me to her sport. I'm sure that Margie will see the same issues that Steph has been having me work on. But sometimes it's eye opening to hear the same thing explained in a new way, or do a exercise in a slightly different way. No doubt, too, Margie, with her Grand Prix show jumping focus (not the hunters, which Steph has me doing) will have something new to say to us. I wonder what it'll be!
Tonka and I are ready to be challenged by Margie Engle. At least I think that we are. I'll let you know next week!
Meanwhile, we're all busy prepping Greystone to have it look wonderful for our guest. This morning I'm off to buy pots of pansies (the only flowers that can handle Maine weather in May,) and tonight the mirrors are being squeegeed clean. At the very least, photos of the clinic will be pretty!