A couple of months ago I was scrolling through social media on my phone. I was in bed. Almost asleep. I know this is something you're not supposed to do. We all do it anyway. A graphic popped up from Practical Horseman Magazine. Win a Day With Margie Engle! In 350 words, tell the editors at Practical Horseman why you and 9 of your friends deserve to have Margie Engle come to your barn to give you lessons. Margie Engle is an Olympian and show jumper based in Wellington, Florida, who competes around the world. She holds the world's high jump record on board a horse at 7 feet 8-3/4 inches. I ride at a hunter/jumper barn in rural Maine. I jump 18 inches. We don't tend to cross paths. I have no aspirations to do what she does, but I also believe in learning from the best. When I was a teenager, I fell in love with dressage at the Talland School of Equitation, where I learned from the Sivewrights. There I also had jumping lessons from a wiry Irishman, who the following year came in 6th in the Montreal Olympics 3-day event. I've had other stellar, international-caliber trainers, including Louise Nathhorst, Jessica Ransehousen, and Barend Heilbron. Learning from these world champions is inspirational, but there's also a practical side. There's always a nugget of wisdom that they've used while competing at the highest levels that I can apply to what I do (which is, in comparison, at the other end of the spectrum!)
I got back into jumping about a half-year ago. The plan was to improve Tonka's dressage by doing some poles. Tonka said that the poles weren't for gymnastics, they were for jumping!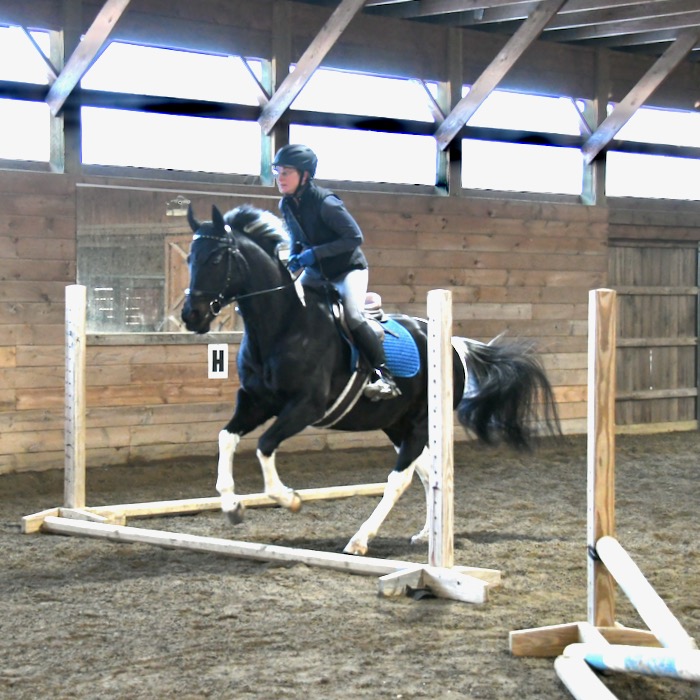 So we started doing what he wanted to do.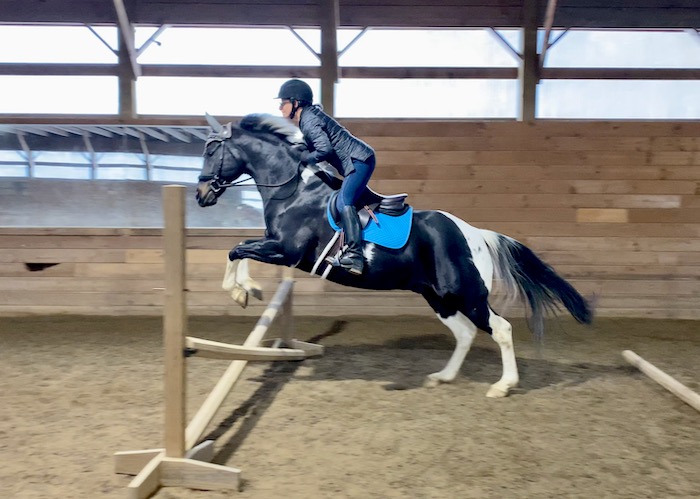 My horse has been enthusiastic about it.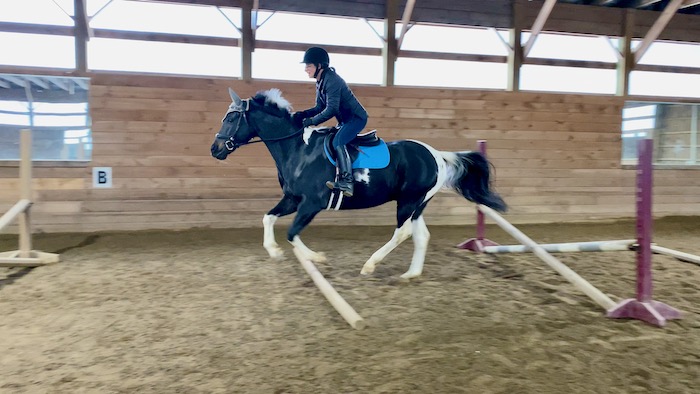 This, though, wasn't on my mind when I saw the Win a Day with Margie! contest. I was thinking about the teenagers at my barn who are so cheerfully committed to jumping their horses and going to horse shows. Wouldn't it be a blast if they could be inspired by Margie, like I was by the instructors at Talland? It's not that the trainers at my barn aren't good. They've very qualified, effective and kind. But there's something about learning from someone outside of your own sphere, who's achieved things well beyond your own aspirations. I wanted to win this as a present for these girls who had been so welcoming and encouraging to me.
I'm a writer. The way that I think things through is to write it out in my head. Edit. Revise. Write more. I saw that graphic about the contest and immediately my brain kicked in and I was wide awake. I thought about what I'd say. Rewrote it in my head. Hashed out phrases. Went to my computer. Wrote it down. Hit enter.
A few weeks later I learned that I was one of ten finalists. To win, I had to create a 5-minute video. Margie would watch the videos and decide who she wanted to teach. I wrote a script. I rewrote it. I enlisted Steve as my cameraman and film editor. Tonka proved to be photogenic and convincing. This is what I entered:
I won!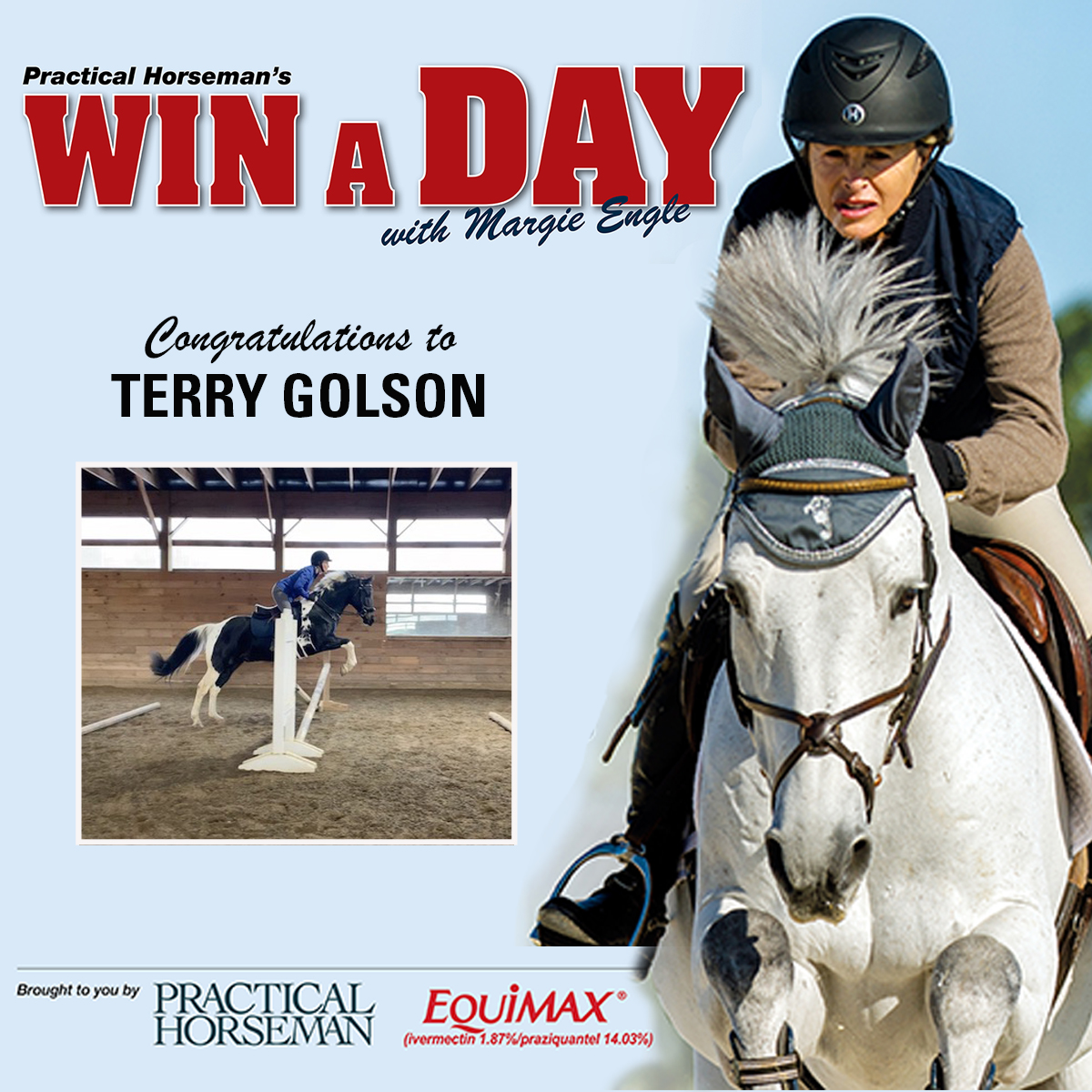 Margie and I have a few things in common. We are both 61-years-old women. Jewish. Had parents who were clueless about horses. Started riding at the same time. Have been riding ever since. Margie, though, stayed focused on the competition. She also has far more guts than I ever had or have now! I never in my wildest dreams thought that a photo of me – going over a fence on my horse – would be on the same page as Margie sailing over a grand prix jump. It's ridiculous. It's thrilling. I can't wait to show my good little horse off to her. I'm also very excited to introduce her to the girls at my barn. The clinic is going to be a very good time!
Once traveling starts up again, we'll be scheduling Margie's visit. I'll let you know when I know.