The only thing predictable about the weather in March in Maine is that it is unpredictable.
Two days ago it was warm enough for Tonka to have his first naked roll of 2021.
A day later it's 10 degrees F with wind gusts of 35 mph and the horses are back in their heavyweight blankets.
Tonka is usually a perfectly behaved horse when led out to his paddock and back in. He walks calmly past machinery and frolicking horses. He can be the first out and the last one back in.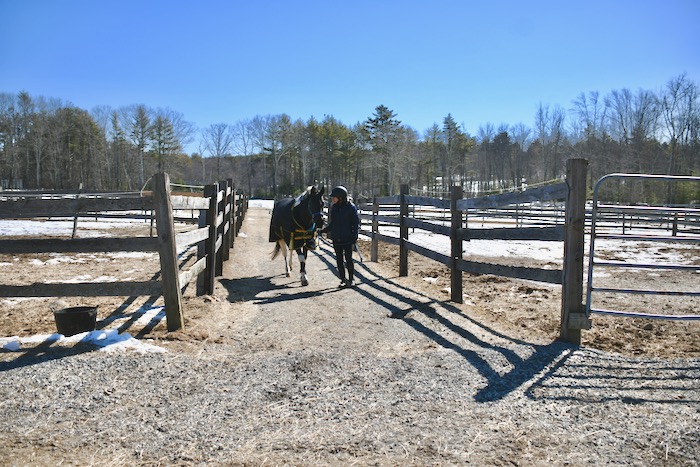 However yesterday there were snow squalls, sun, clouds, and crazy winds coming from every direction. As I brought Tonk in from his paddock (the furthest from the barn because he is such a sane horse and can handle that), one of the oldest horses started to gallop his fence line which surprised Tonka so much that all of a sudden instead of a calm pony on the lead, I was holding onto what seemed like a porpoise surfing waves. Then a mare on the other side came tearing up to us, ears pinned. Tonka wheeled and barrel kicked at her fence boards. A dramatic weather change will do this to even the most tractable horse.
So instead of bringing my snorting dragon into the barn, and having to suppress his mood, or handle him as if he was a bad horse, I walked us past the barn and out to the sand ring, which was still, surprisingly, unfrozen. As we headed there, I slowed my breath and talked reassuringly to Tonka, but I didn't let him leap about. A little pressure on the line kept him in a heeling position. Once at the ring, I carefully let Tonka off the lead. He did what he had to do.
Here's a snippet in slo-mo.
The blanket restricts his front legs but not his enthusiasm.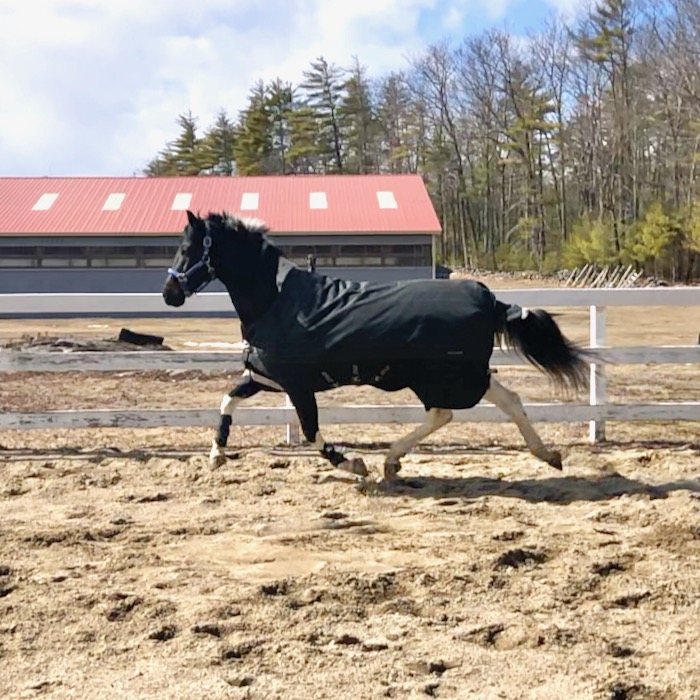 All four off the floor.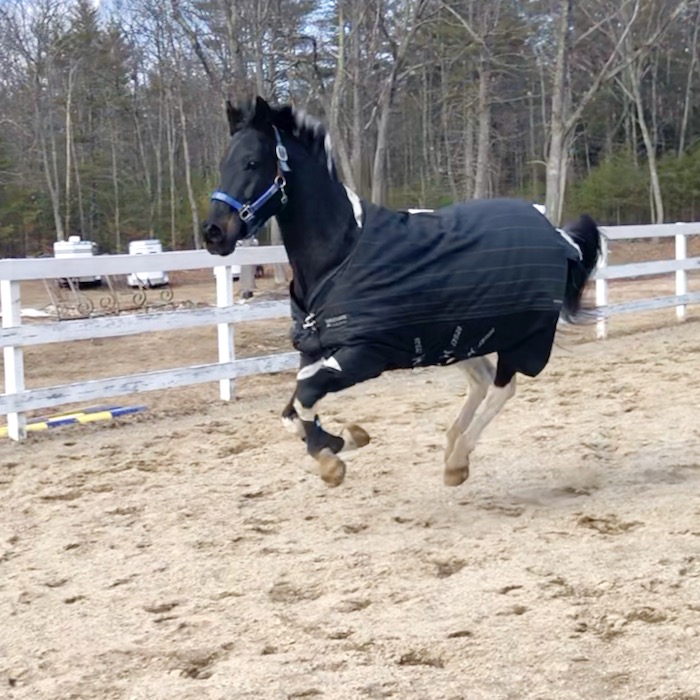 After only five minutes of this undirected playtime (I don't chase or make him keep going) Tonka walked up to me and said that he'd gotten his ya-yas out and that we could get to work. I love it when a horse has the self-knowledge and inner emotional control to know what they need to do to let off steam, and then settle right down with their person when they're done.
I brought Tonka back to the barn and we had safe and willing, walk/trot/canter flat ride in the indoor.
How does your horse react to changes in the weather? Tell me in the comments!