Last week the snow fell light and deep. No crust. No ice. Perfect for riding.
I led Tonka to the outside ring. He was not sure that I was serious about this.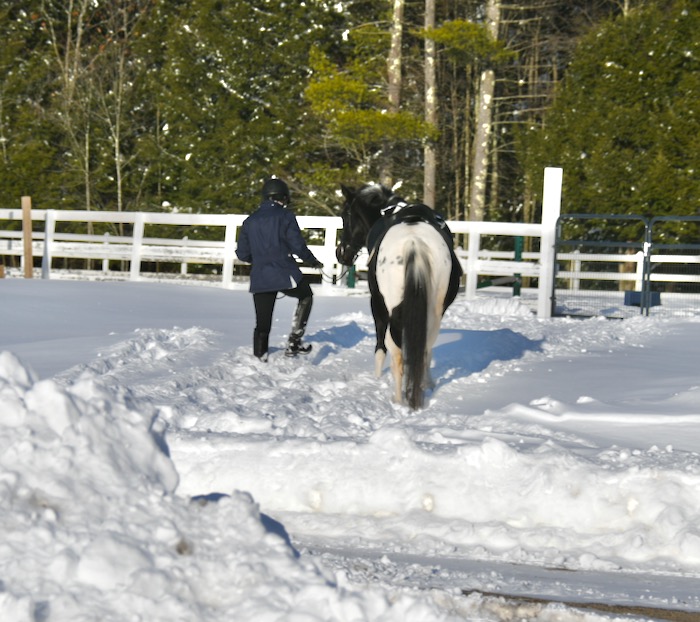 After I got on he said that walking through snow is a lot of work. Look at his annoyed expression!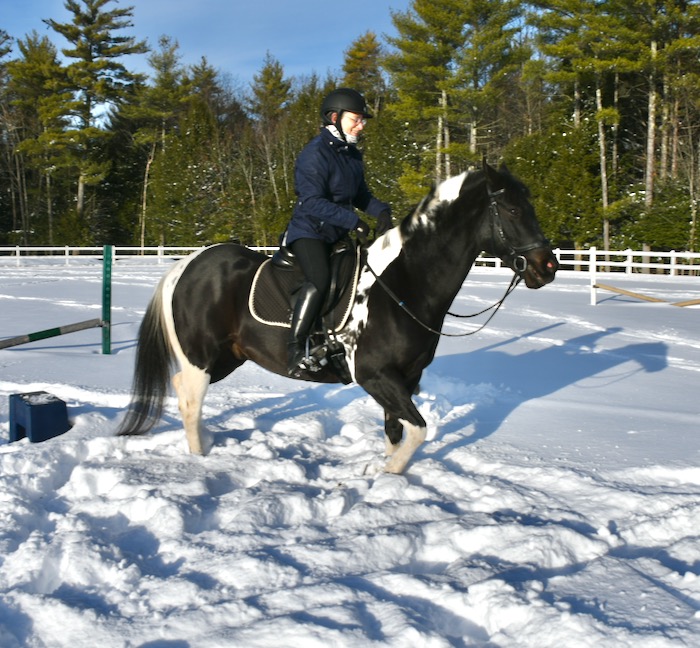 Tonka has on his snow shoes and pads. (More about those shoes here.) He can travel in the snow without ice balls forming dangerous stilts on his hoofs. I told him to get going.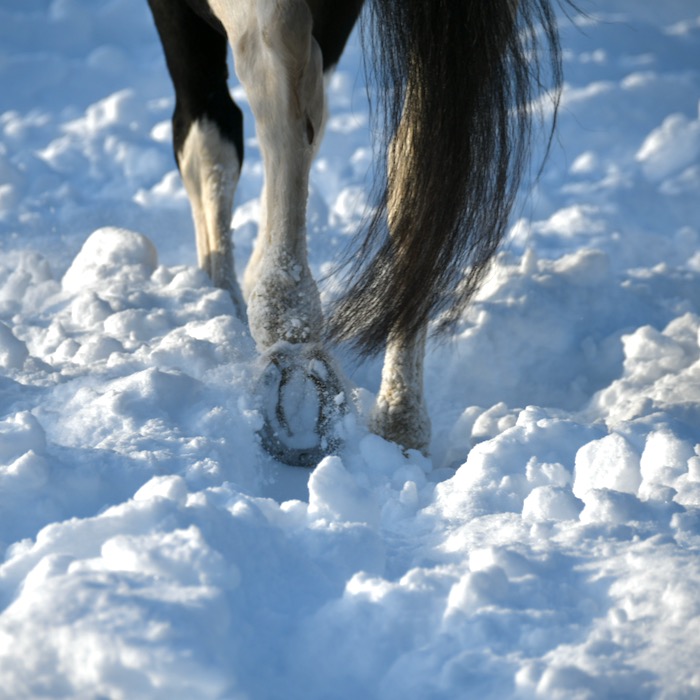 He decided it was okay.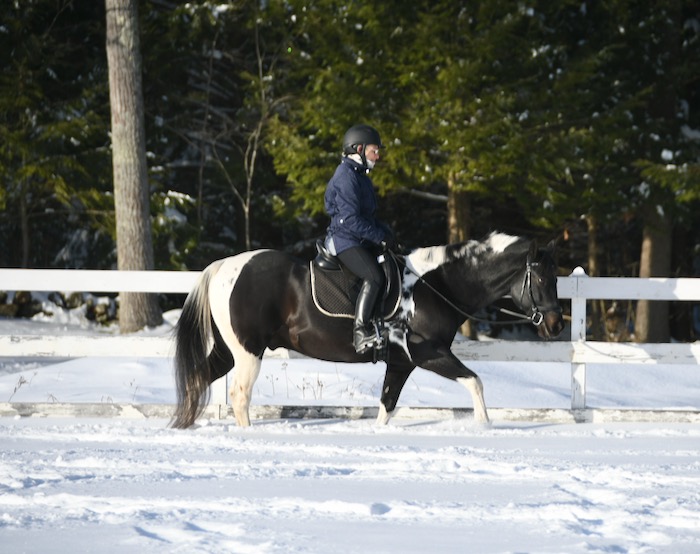 I asked for a trot. Tonka said it required some high knee and joint action.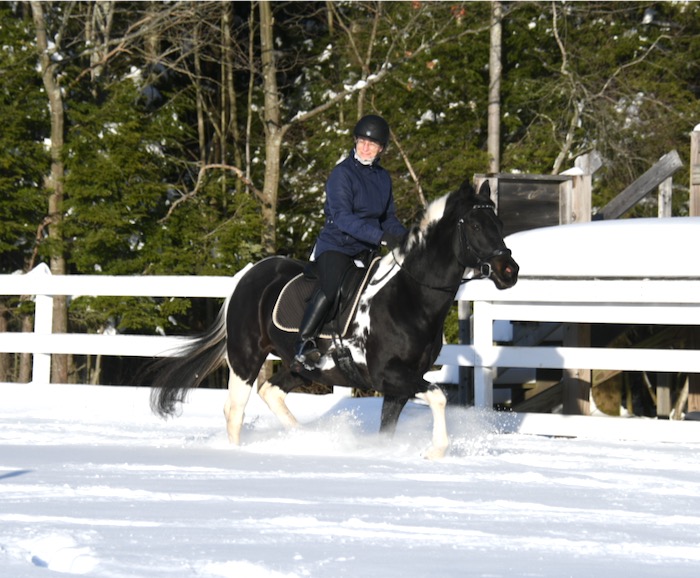 He thought it would be easier to sink his back and brace with his neck. I told him that going like that would make him ache later. I reminded him how to move across his topline. Tonka wasn't happy about it, but raised his back and pushed off.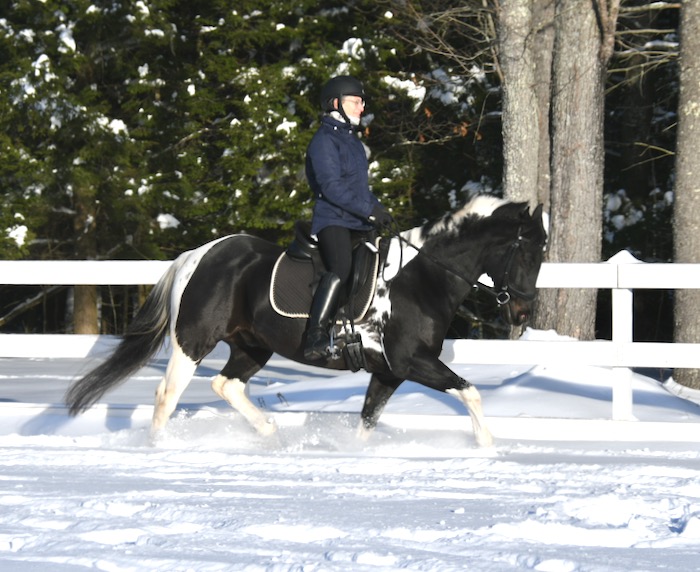 Once using himself correctly, I let him stretch out. Now he's having fun!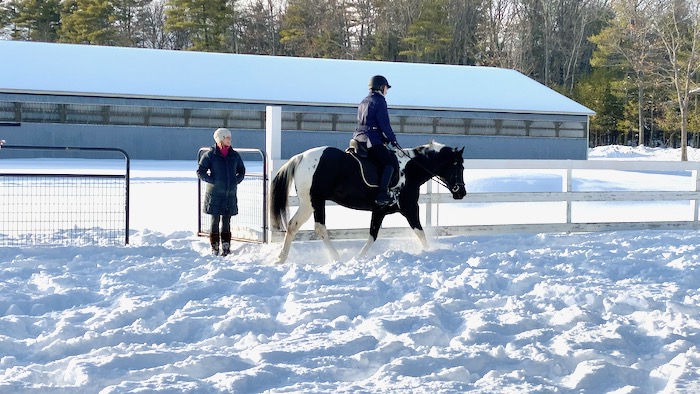 Kate McDaniel's daughters and students came out to enjoy the snow, too.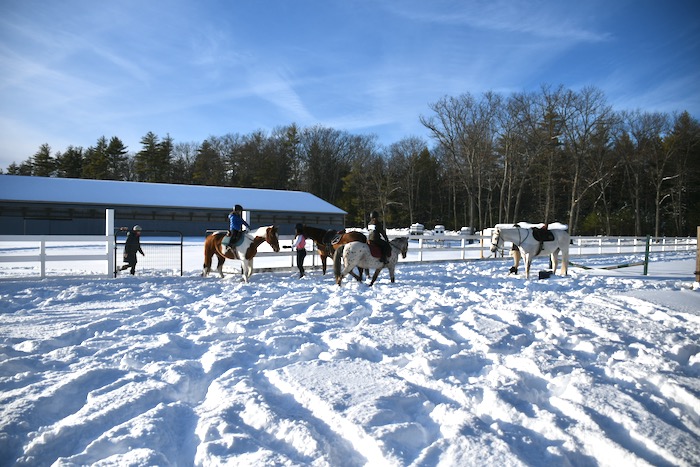 Tonka and I joined the group.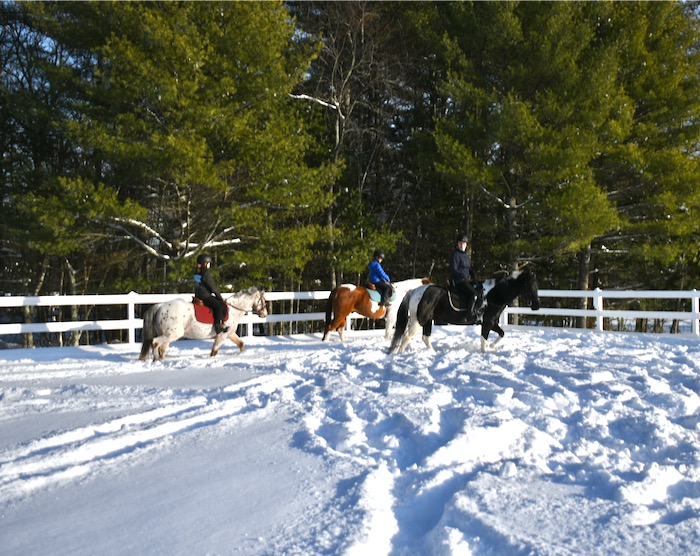 This is Ben. He has taken care of scores of children. Kate has had him for many years. He is an angel.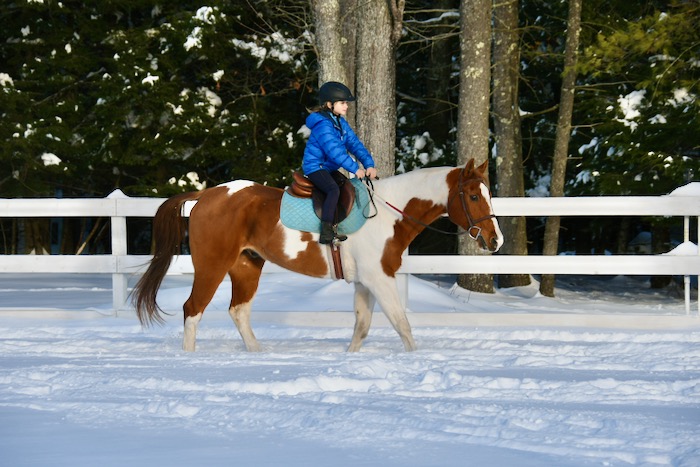 This is Bizzy. He is an older pony and Kate takes very good care of him. Bizzy is perfect.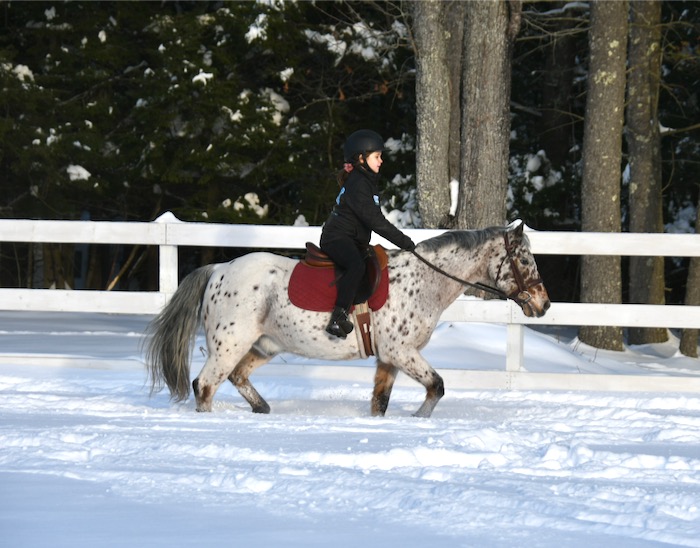 This is Honey. She helps Kate teach riding and has carried Elle to many blue ribbons.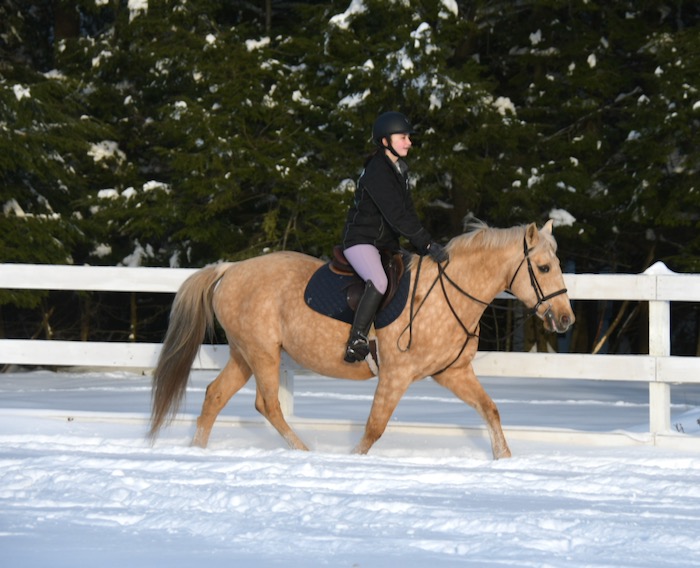 This is Shang. She treats each of her students with kindness.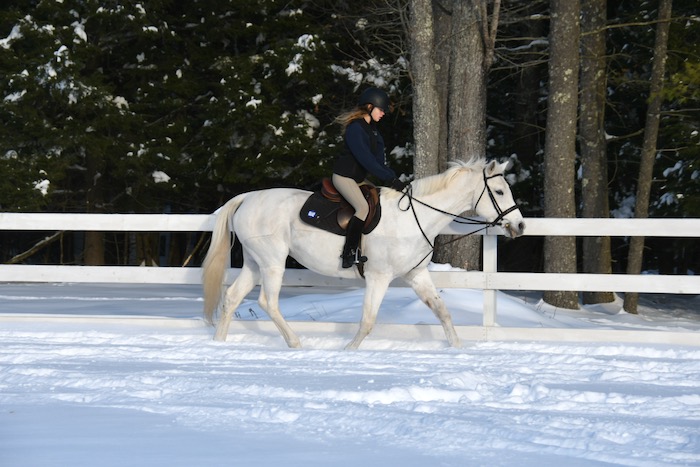 This is Willie and his person, Lilly. Willie can jump. He can be a fancy show pony. He can also surprise his owner with his moves. Willie was a very good boy out in the snow.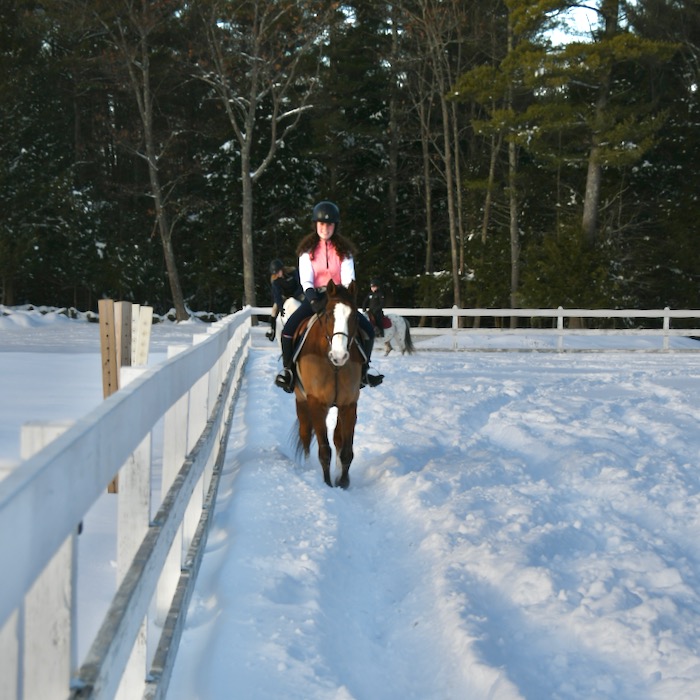 Here is Tonka being a very good boy at the trot and canter.
The girls had more stamina than me for cold toes. After one more look at the fun in the snow, Tonka and I headed back to the barn.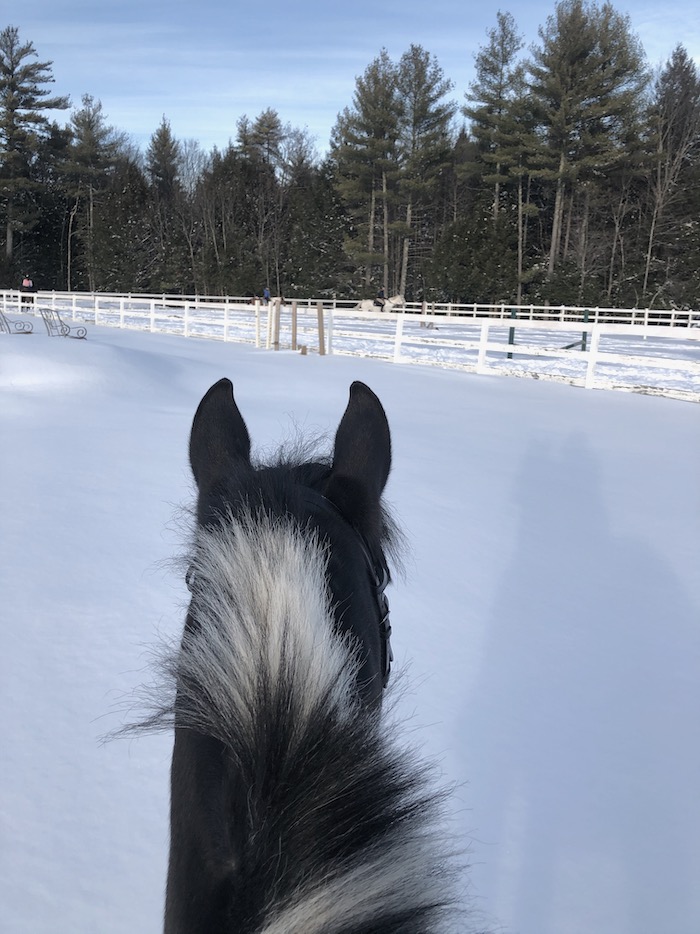 The next day I rode indoors again. I could tell that the riding in the snow had agreed with my horse. Tonka warmed up loose and forward and had a great attitude, even when we did physically demanding walk to canter transitions. It's not easy, in the winter, to find ways to get out of the sameness of schooling in the indoor arena. We're expecting rain later this week, which means the fluffy snow will turn to ice and it'll be awhile before we go dashing in the snow again. I'll have to come up with other ways to change up our riding routine. What have you been doing so far this winter?