I'm incredibly fortunate during this pandemic to be able to continue to ride and take lessons at my boarding barn. I'm even able to enter local schooling shows. I ride six days a week and because I'm competing I have a focus. There's lots that both Tonka and I have to learn and practice in order to do well in front of a judge. Right now Tonka is totally game on about the jumping. To keep it that way I find things to do that have nothing to do with that sport! Even though we're going to our second show this coming Sunday, I'm not drilling him over fences, nor am I doing two days of flat work in a row. My horse is happy and I want to nurture that attitude. The other day Tonka and I took a total break from the rings. I brought him home to Turtle Hill.
I mow paths so that we can loop around the field.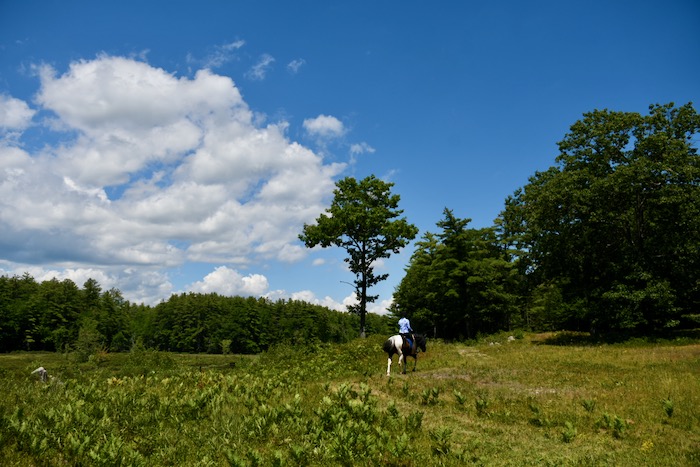 Most of the time I let Tonka walk on a loose rein. The sloping uneven ground makes for a good workout even when we're going along at a relaxed pace.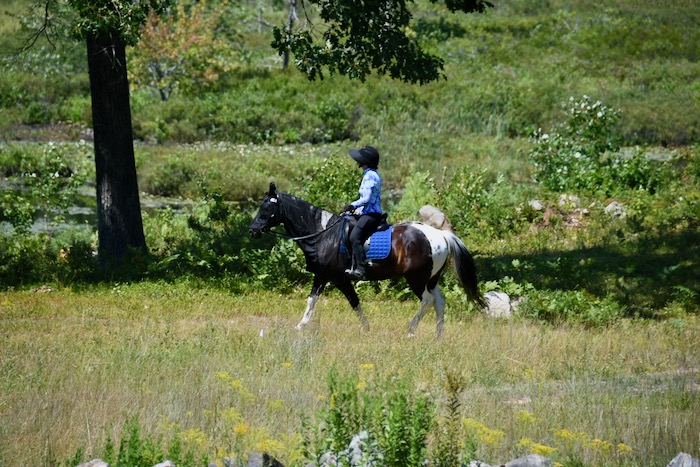 The field gives us a wide-open view of the marsh, but for some reason Tonka prefers to go into the woods. He's always eager when I steer him towards the opening to the trail.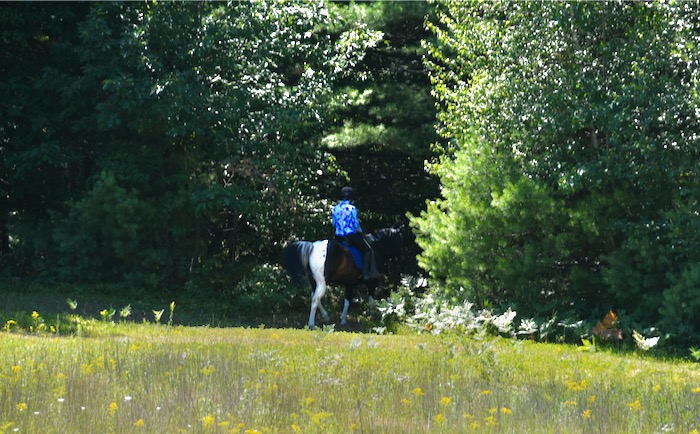 On this excursion we didn't go far from home. The mosquitos and biting flies were almost nonexistent on the paths on the rise above the marsh, but when we tried to head further into the forest we hit clouds of insects and turned around. So we did this path, back and forth, several times. It's interesting from every angle.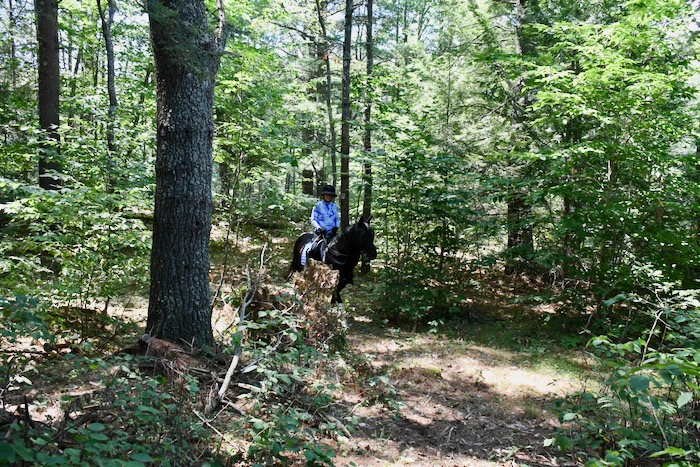 After about an hour in the saddle comes Tonka's favorite activity at Turtle Hill – exploring with Steve. You'd think that a horse would be content to stay in the field, eating grass in the shade.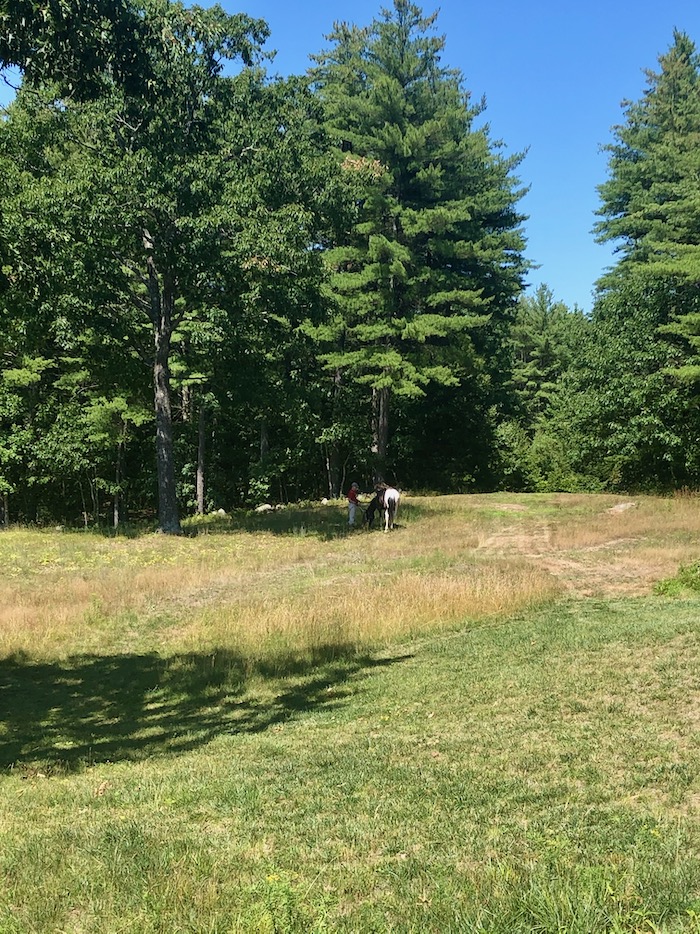 But soon enough, Tonka decided to go to the smaller field. I left Tonka with Steve, and went and got Scooter. We said hello, but not for long because Scooter prefers short jaunts outside and then wants to go back home to bed.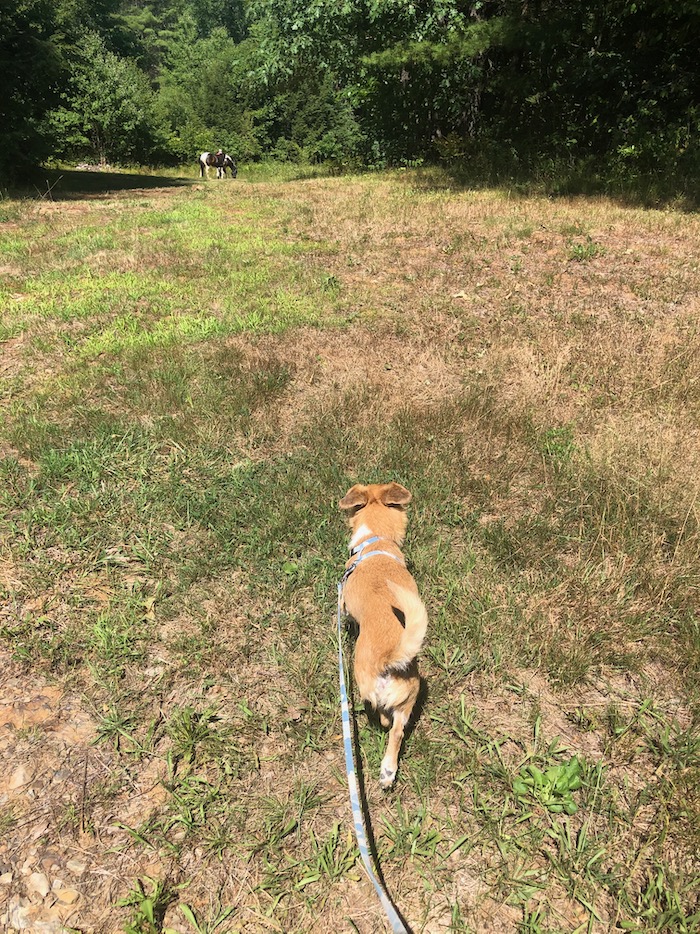 After taking Scooter back to the house, I returned to the little field to see Tonka leading Steve into the woods. Tonka stopped to nibble on some lichen.
Then he continued on. Although we'd already ridden down here several times already, I guess there was still stuff that Tonka wanted to see. Doesn't he look like a horse on a mission? Steve had to jog to catch up!
Maybe it's the view he likes.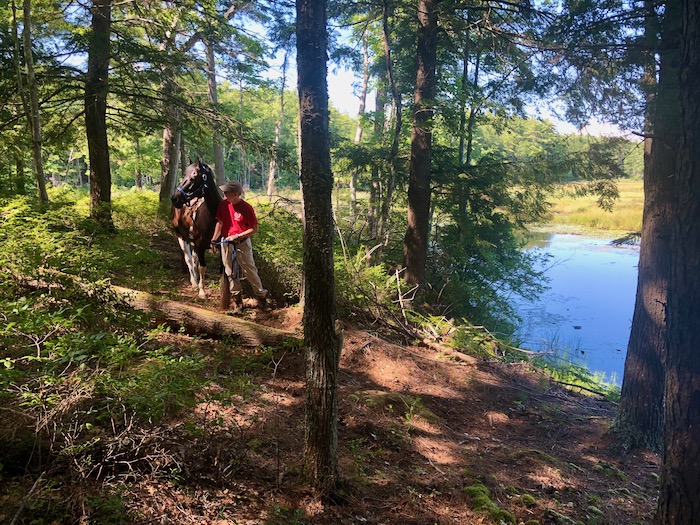 And a buddy to share it with. (Steve is carrying a County Fly Whisk – an essential item for these walks.)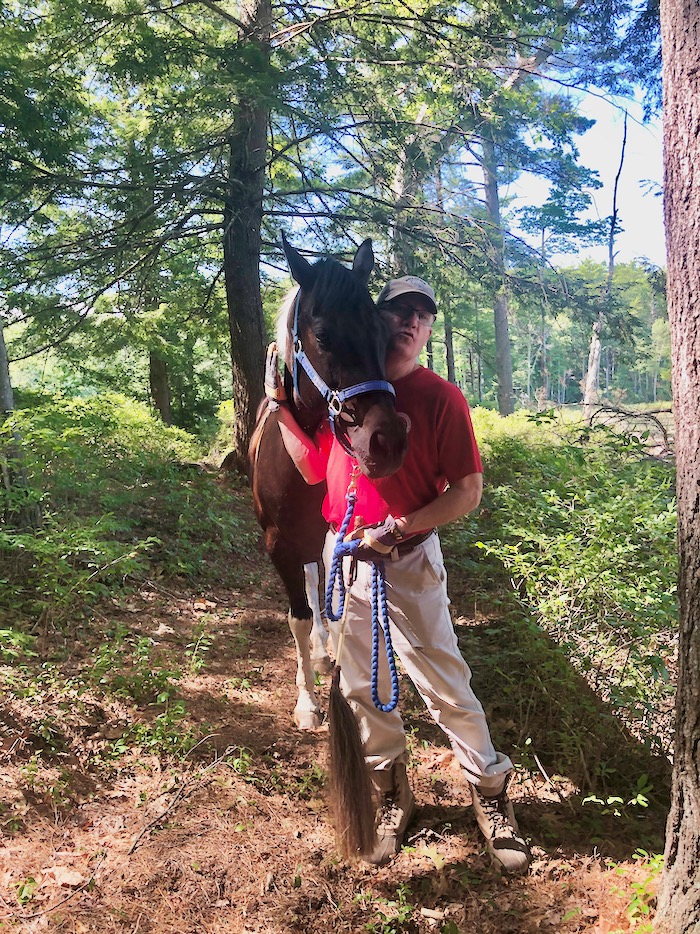 Tonka was clearly enjoying himself.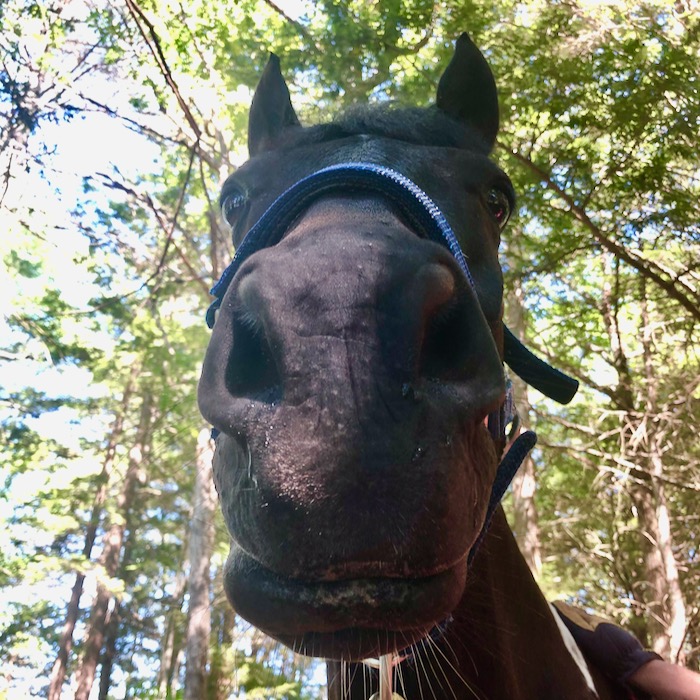 My horse finished taking Steve around the loop in the woods and then went back to the field. I don't know why Tonka led Steve into the woods. Maybe Tonka thought that Steve needed to see the same trail that we had just enjoyed under saddle? I have no idea! But it was a good day all around.