Tonka and I have been busy. This week we've done a broad range of activities, from trail riding to jumping, and my horse has been enthused and game for all of them.
Several of our rides were flat work in the arena. I focused on cadence and an engaged topline. I'm riding in a jumping saddle, but I'm still going to the roots of dressage. I do exercises to get Tonka to move off of my leg, both forward and laterally. We do transitions. We carve patterns into the arena. One day we cantered poles on the ground. I varied the speed from working canter to a hand-gallop, and back again. Tonka's core is getting stronger. As is mine.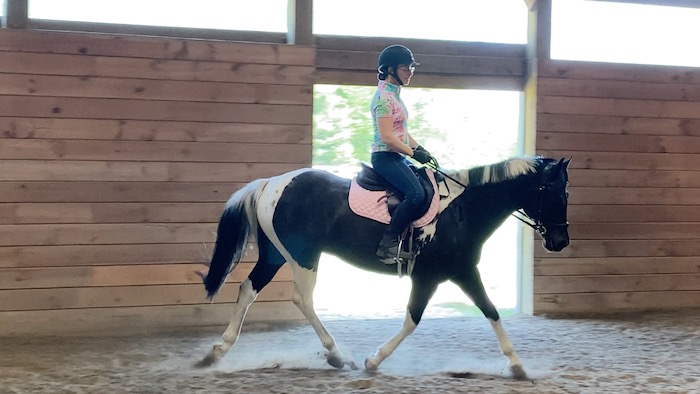 On Wednesday we did five miles on the trails at Turtle Hill.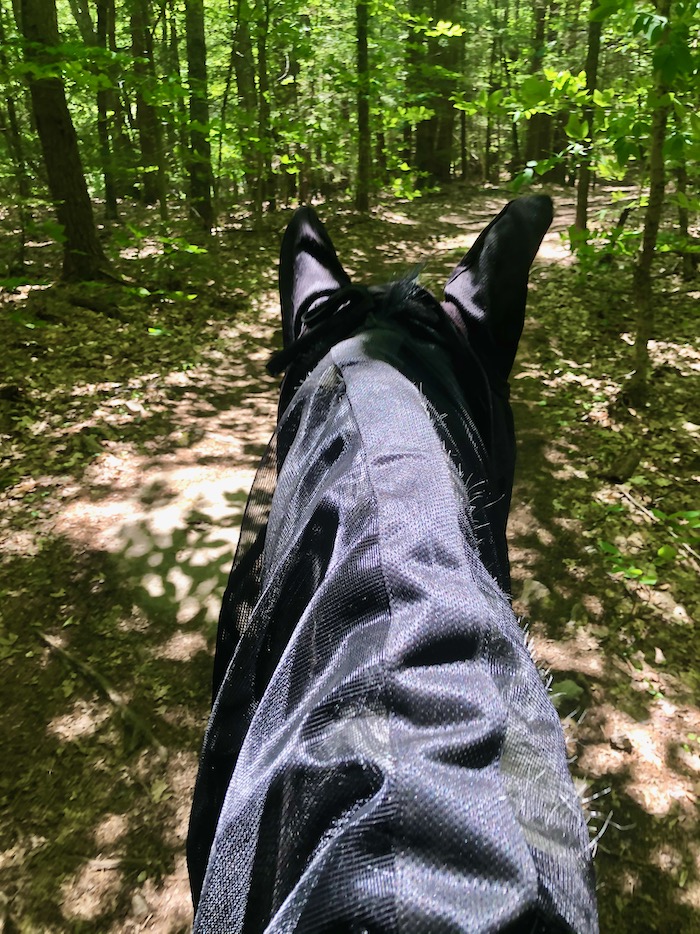 Yesterday we had our once-weekly jumping lesson. The jumps are very low. That's because Tonka and I are new at this and we have things to work on that have nothing to do with height. I need to be able to memorize a course. It's hard to remember where to turn when there's so much going on under me! I'm beginning to be able to think more quickly while moving. Tonka needs to learn how to go straight after the jumps and keep in rhythm. He needs to be able to turn and change leads. The height of the jump is inconsequential. However, Tonka has been jumping the height that he thinks the poles should be!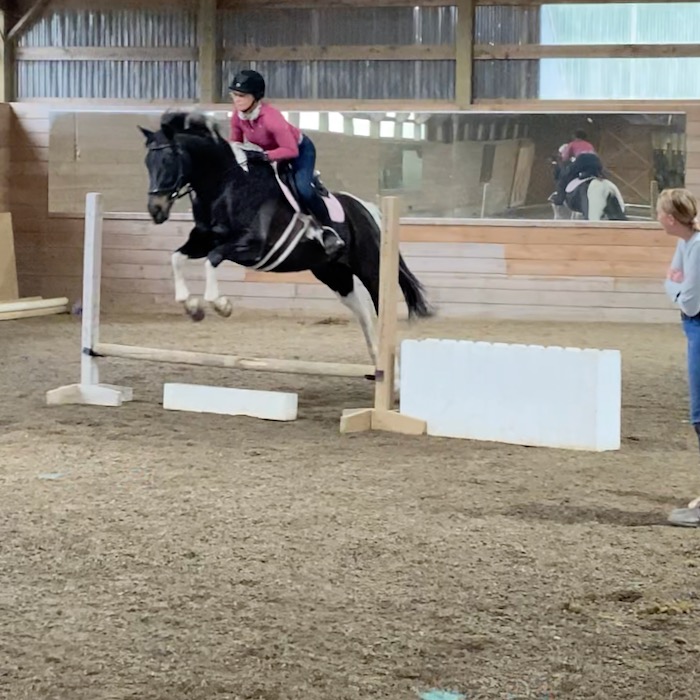 He's always in perfect form over the jumps.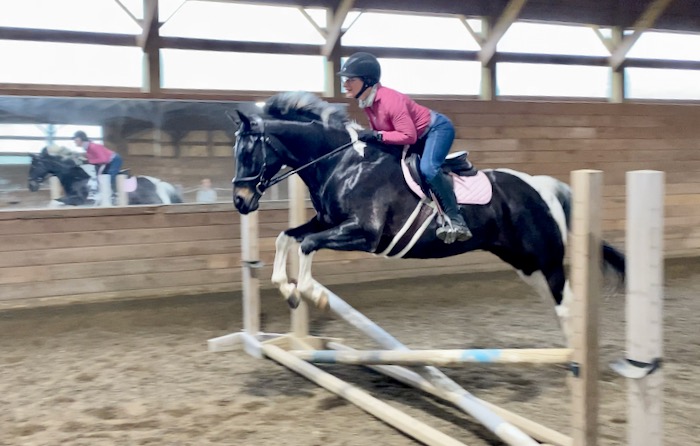 The flat panel doesn't worry him anymore. (We had our first stop at that last week.)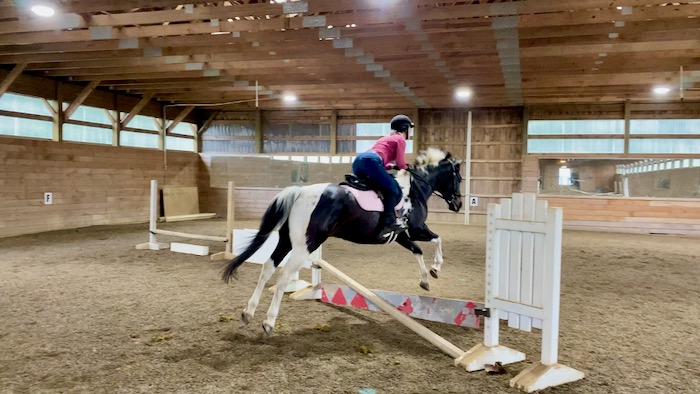 Here's a snippet of how we're doing.
Now if only I could not look down at the last stride and get my shoulders squared!
After each jump set, Tonka looks like this. What a satisfied expression. He knows it's a job well done.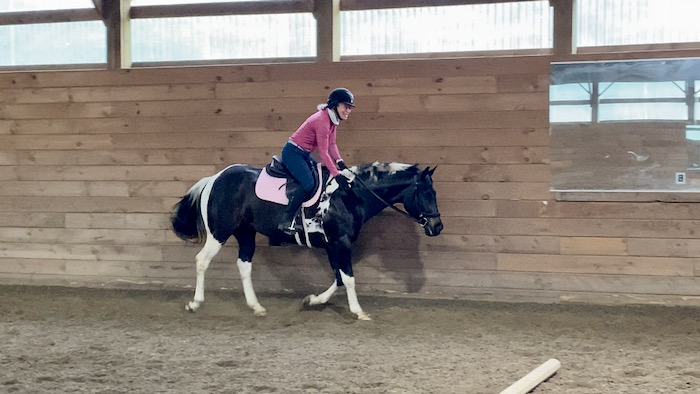 But it's not only the variety of the work, and that he likes what we're doing that is making him so content with life.
It's this.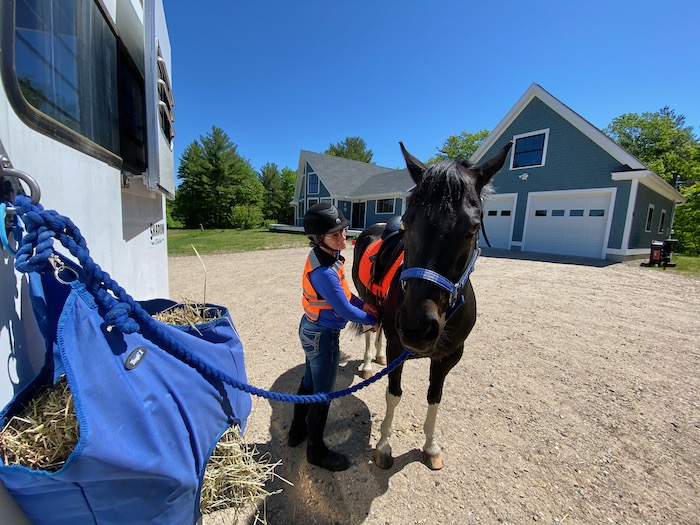 I don't rush before the rides. I take time to check in with Tonka. When grooming I ask how he's feeling. What's sore? What's itchy? I take my time putting the girth on. If Tonka swishes his tail I know to take a few more seconds. Give him a carrot.
After the ride I do the same thing. Check him over. Ask how he feels. Maybe have a few moments to graze. Maybe smell the flowers.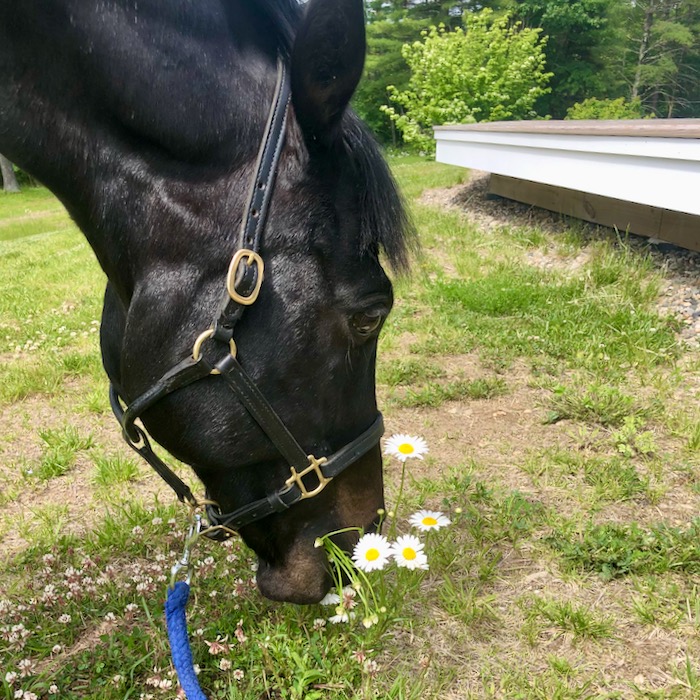 Or eat them!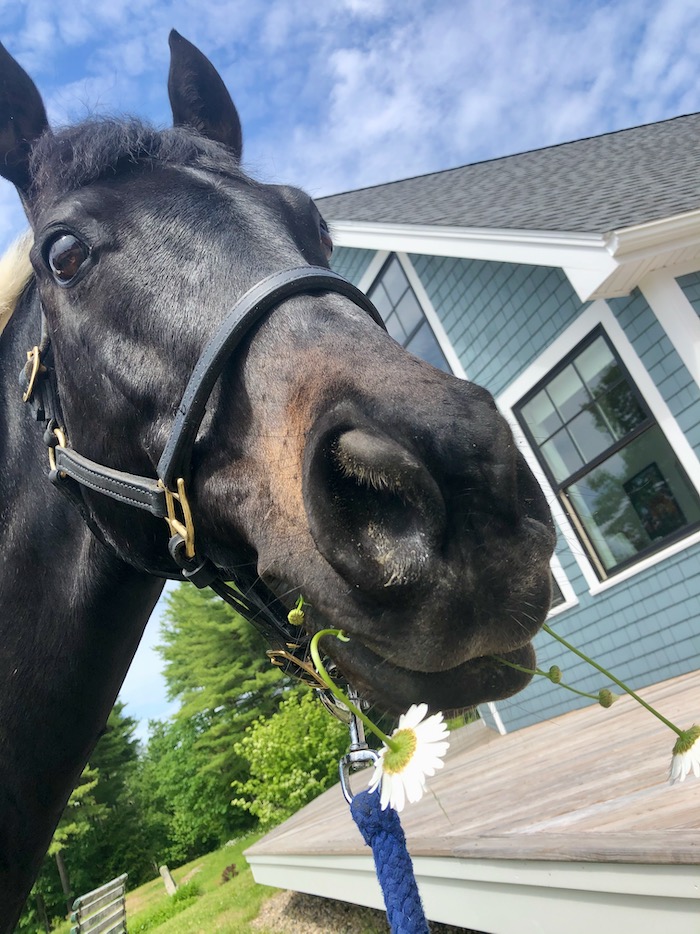 The variety of activities, our physical fitness, and good training all contribute to why Tonka is jumping with gusto. But I'm convinced that there's another component. These conversations with Tonka, through the grooming and grazing, before and after the ride, let Tonka know that I'm listening to him. They're a big part of why Tonka is such a happy and willing horse.