One of the fun – and distracting – things about this new world of meeting people in Zoom is that you can see their bookcases. Most people people shelve books without thinking until they're all jammed together, collecting dust. A college textbook, a children's picture book, a how-to manual and a novel all rest side-by-side. A psychologist would have a field day analyzing our stacks. That used to be the case with me, but last year I moved to a small house in Maine with little shelf space. I jettisoned most of my books, boxed up a several dozen irreplaceable favorites to put into storage (they might need revisiting), and curated a select few to put on shelves in my home office.
Most of these books are about horses. Or other animals. Umwelt. Ethology. Training. Yes, you can find most anything on the internet, but there's a lot to be said for hearing an author's voice and going deep into their world. Only a book can give you that.
Here, without Zoom, is a look at my shelves. I'll comment on a few of the titles.
Charlotte's Web is a perfect piece of writing. From the perspective of craft, word choice and structure, it awes me. It's also a great story. The book about porcupines is THE book about porcupines. Written by a scientist who has devoted his life to this underestimated animal, the book was intended to be an academic tome but it was a surprisingly enjoyable read because the author's obsession with porcupines was infectious. Spineless is about jellyfish and What a Plant Knows is about how plants sense and interact with the world – things as underestimated as porcupines. Also worth a thorough read and ponder.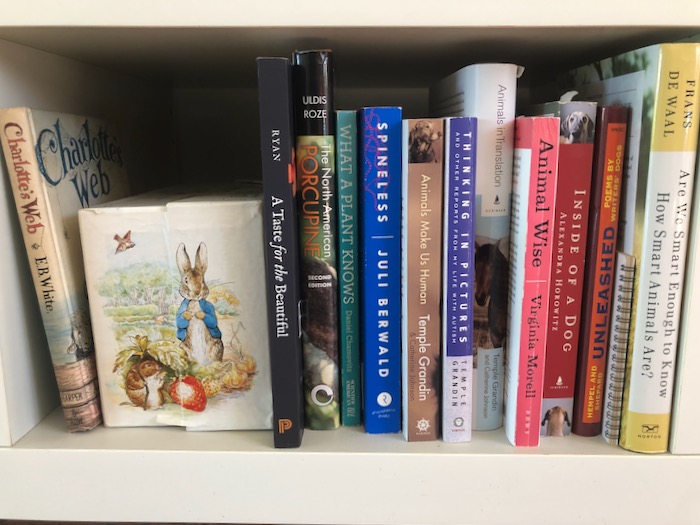 This shelf has more practical books. The three equine behavior books all have snippets of information that have helped me to understand horses better but these books also have suggestions that I don't entirely agree with. The more you read, the more you can hone your own critical thinking.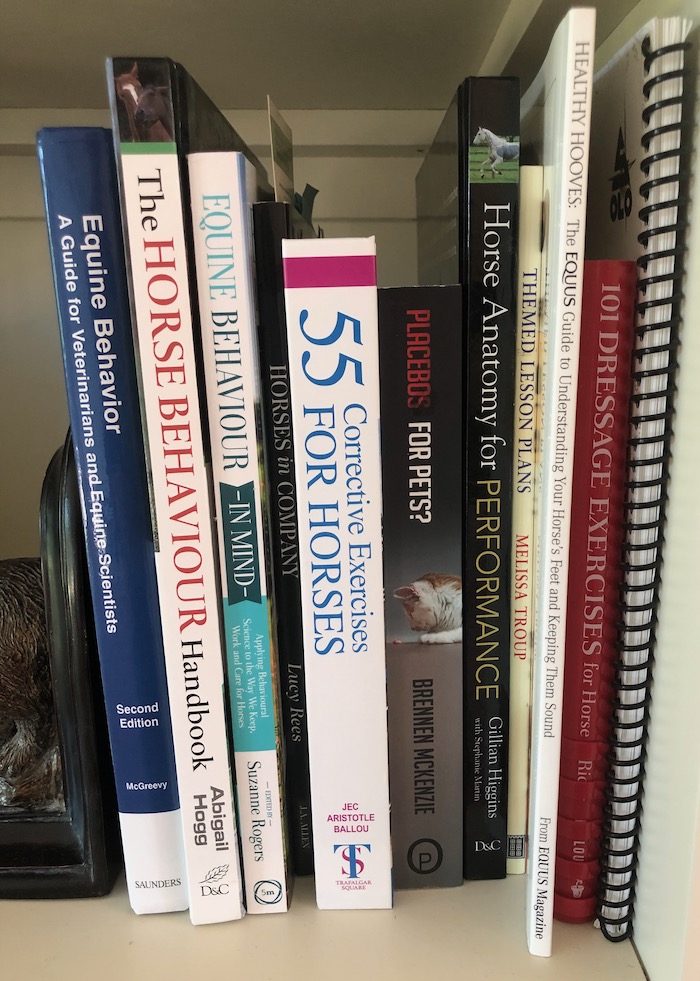 Some of these books, like the old version of the Pony Club blue book, are touchstones for me. Some are good reads.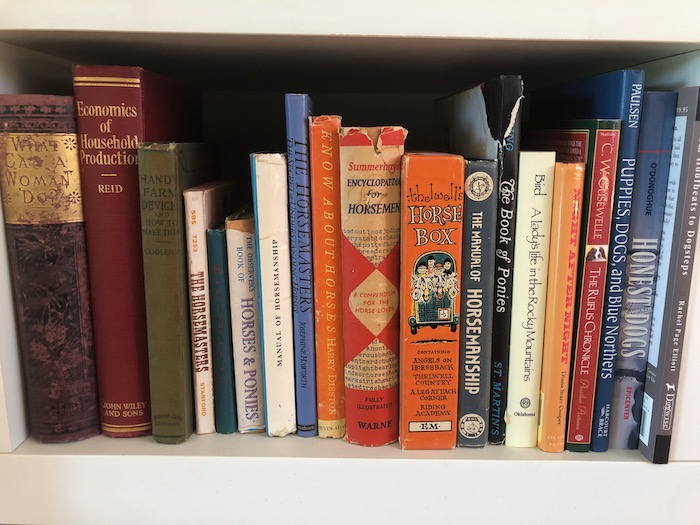 This Breyer's model was made for me by a friend back in 1976. She painted the exact spots of my first horse, a leopard appaloosa name Raindrop Kid. The book, Kingdom of the Horse, was also purchased at that time. It had a description of dressage training that resonated with me. It was the first that I heard that slow, systematic exercises could strengthen a riding horse and make them more beautiful.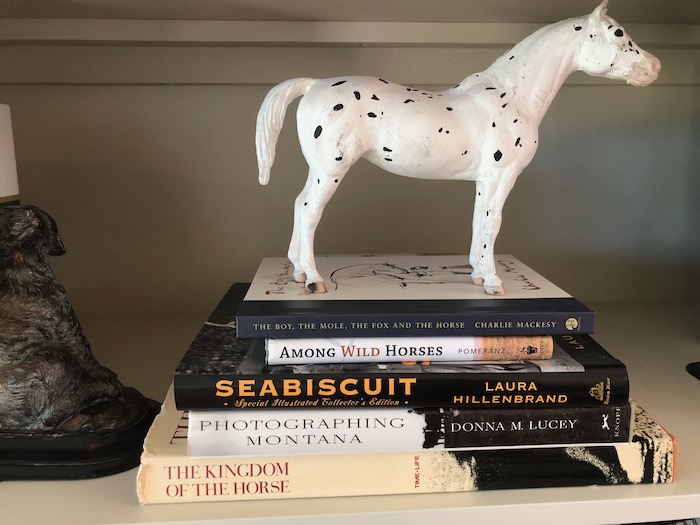 Lastly, I have a shelf just for Karen Pryor's writing. Don't Shoot the Dog changed my life. It will change yours. Read it. It was first published in 1984. It remains in print because it is still the most cogent, accessible and clear-thinking book about what is now called positive reinforcement training. It's a perspective of looking for the good, and of how to have kind and effective interactions with everyone around you. Her other works are also worth reading. Her voice is clear, intelligent and witty. For a list of all of Karen's writings, go to this page at her website.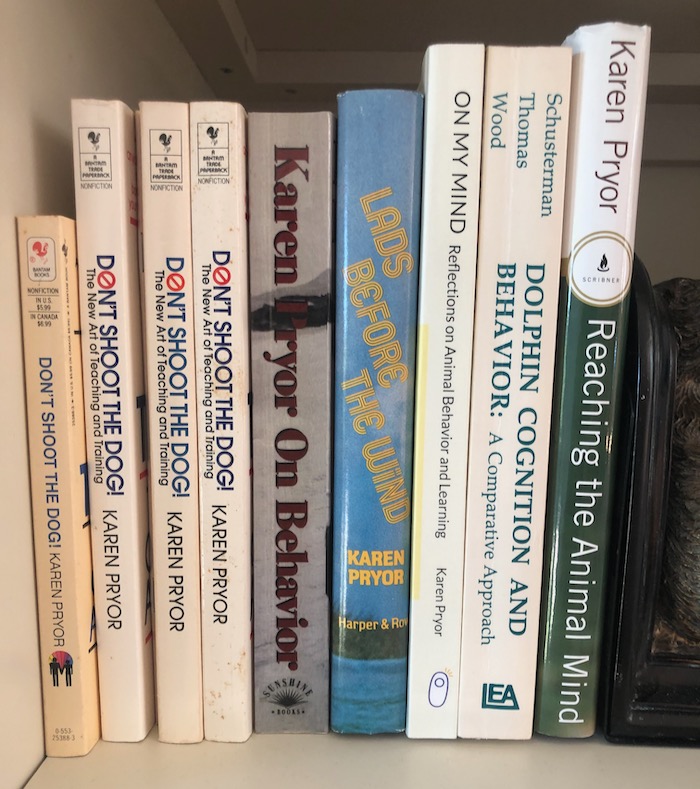 For more about books on my shelves, and some still in boxes, take a look at my website's resources page. I've got an annotated bibliography there.
Some of you who are reading this blog have been with me since my days as a food writer and author. When I moved I gave away most of my cookbook collection. You probably want a peek at those that I kept. It's not a surprise that I brought the pie cookbooks!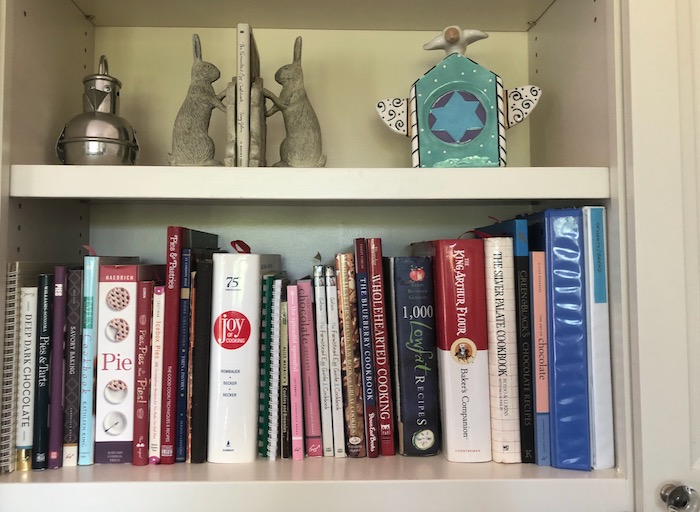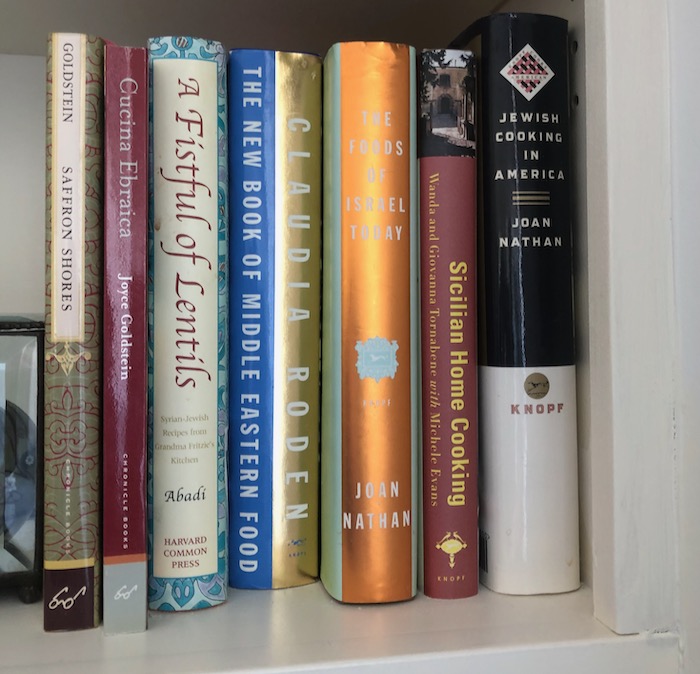 Want to know more about a book on my shelves that I did't mention? Ask me in the comments.
What's on your bookshelf?