UPDATE: I wrote this ten days ago, and back then it made sense. But, even in my rural corner of Maine, the threat of societal catastrophe from this virus is real and here. Where I board my horse is now closed to all but staff for the next two weeks. It's the law. It's prudent. There's a professional on staff who can walk/ride/groom/ and otherwise care for the horses beyond the basics. I've asked her to pick out Tonka's feet and look him over daily. If the weather is abysmal and the barn is closed up, she'll hand-walk Tonka in the indoor arena. My horse will be fine. I will do my best not to go bonkers without my barn time. Fortunately, I live in a gorgeous place with hiking out my front door. Keep an eye on my Instagram page for photos from the Maine woods.
Where our horse lives is as much our home as our houses. When I started this sentence I wrote "second home", but really, the stable is more than that, isn't it? So when we're told to stay put, it's natural to think that being with our horse at their boarding barn is complying with recommendations. Mostly, it should be. Except for when I'm in the tack room, I'm near my horse, not people. Mostly, I'm in open air and big spaces. It's easy enough to not go any closer than six feet to anyone. Still, I'm out and not sequestered in my house with dog and husband. If I'm going to do that, I'm going to think it through.
One of my readers asked me for "practical guidance" while we're trying to flatten that pandemic curve. Maybe you've been going to the barn as this story unfolded, seeing the same people, not so worried. At what point do you decide you'd better not go? If you've been exposed, if you've possibly been in contact with others who have been exposed, stay home – home being your own house, not your horse's. The big picture matters, but also the small. At the very least, you don't want to run the risk of getting the people who care for your horse sick. Most places don't have a depth of workers to call on. There's no one else to do the job.
Other sensible guidelines that are out there, like cleaning surfaces, isn't so easy at a barn. Horse blankets, latches, halters, wheelbarrow handles, are all pitted, porous, and/or dirty.
It's no use running a sanitizing wipe over any of the things that you see in this photo!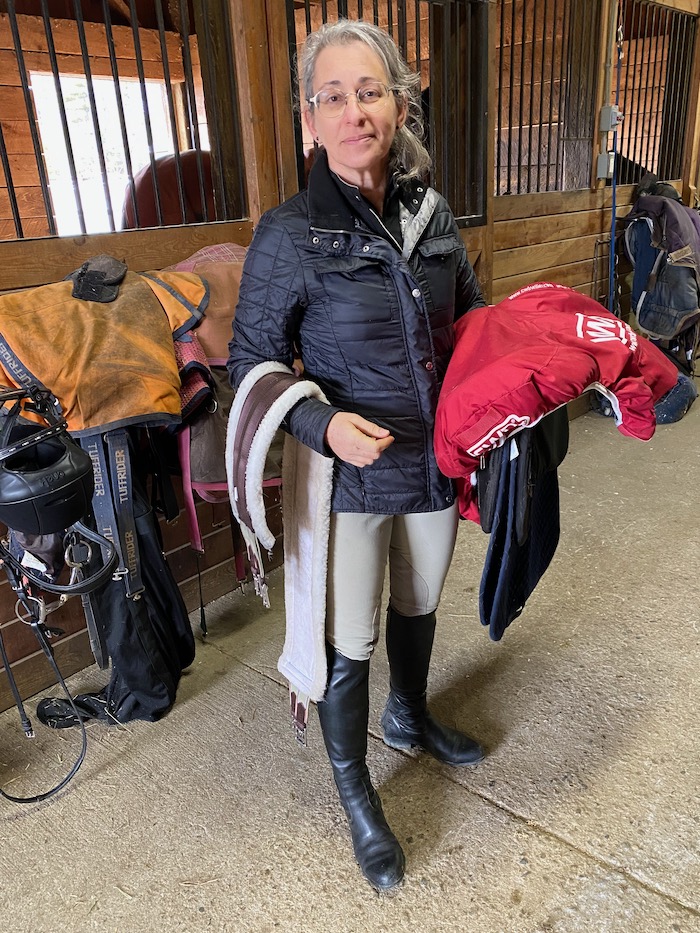 Barn culture is such that we laugh about the dirt encrusted under our fingernails. Hand washing is not a regular occurrence. It wouldn't be a bad thing if that changed. At my barn, we have indoor bathrooms with soap and paper towels provided. We should use it more! At least we equestrians all have gloves. I suggest wearing yours (and not wiping them across your runny nose), and bringing them home daily to be washed.
The owners of the barn where I keep Tonka  have instituted some sensible protocols for the next few weeks. We're asked not to bring friends to the barn. We're asked to try and not all ride at the same time. We're asked not to congregate and socialize in the tack room. Lessons will continue, but for now, new students will not be brought on. (But hopefully, that will change soon!) All of these precautions are fine with me. I already practice social distancing by hanging out in the field with my horse.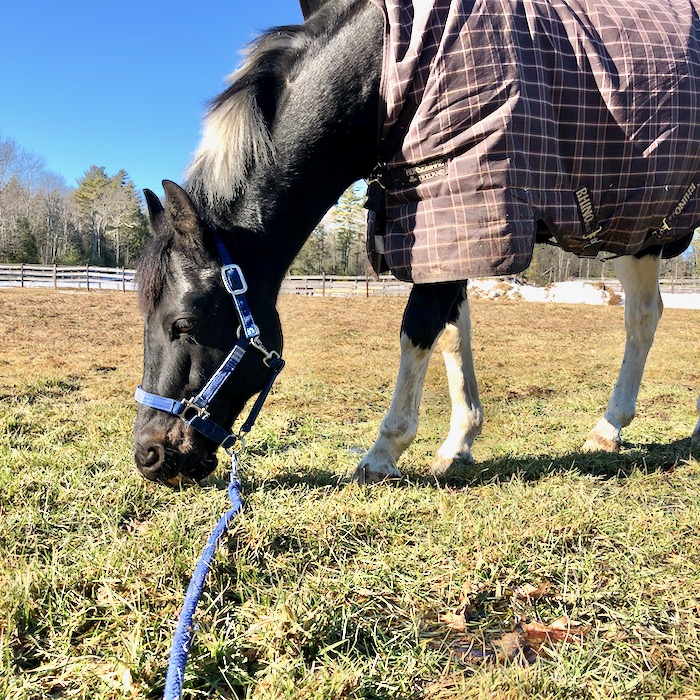 If, in the days to come, any of the workers or boarders test positive, or are connected to someone who has, the barn will be closed until the danger passes. The owners have thought ahead, too, and have gotten in an extra two weeks of hay supply. You never know if the Canadian hay won't be able to reach us, or if the truckers will fall ill and won't be able to deliver. This is a financial hit for the barn owners. It's great that they're doing this.
It's all depressing and worrisome. But thinking it through and taking appropriate precautions is the right thing to do. I think about that old adage about "closing the barn door after the horse has gotten out." It seems a bit like that. But, think about it, once the horse is out, you bring them back, fix that latch, and are more careful about that door in the future.