Yesterday afternoon I hiked more than four miles. I was scouting out trails to take Tonka on. I was familiar with the trails where I used to live, about 70 miles southwest of here. They were mostly on public conservation land, and were marked. If I did get lost it didn't matter much, at some point I'd circle around or find a known road. There's a lot more public land here in Maine, but finding horse-accessible trails has been a challenge. There are trails, but no parking for my trailer. Or the trails are too boggy, or the ones that go through conservation land aren't open to horses. There's forest all around me, but the nearest equestrian trails are almost an hour away.
This winter, a new logging road was constructed nearby to give firefighters access to a large section of forest. This had riding potential! I like to know what I'm getting Tonka and I into before I head out. I have criteria to keep us both safe. So, I went off on foot to see where it led to.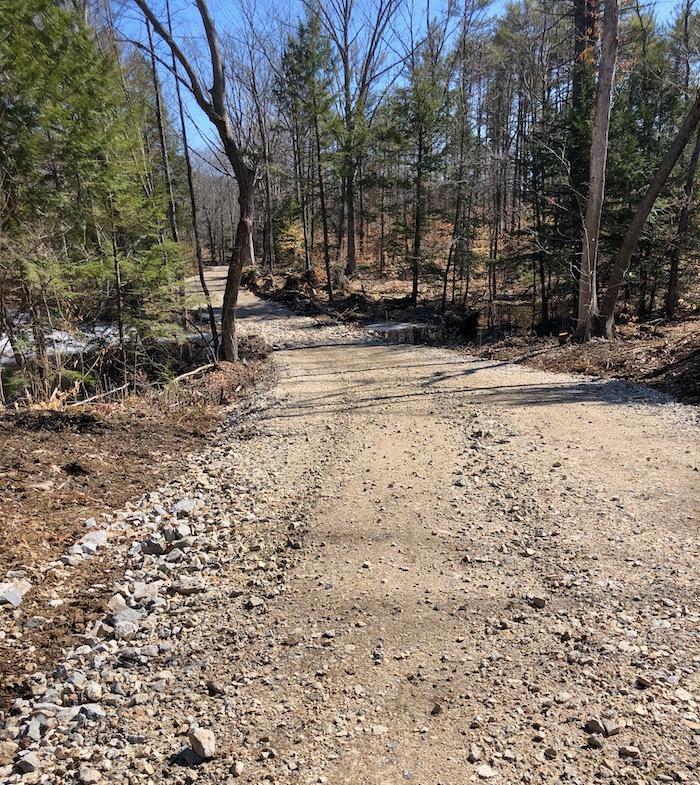 There are two water crossings. Because it's a new road, these rocks aren't packed down yet. Tonka could do this if I ride where the tires have gone and the rocks don't wiggle so much. Tonka wears shoes on all four, with protective pads (he has thin soles) on the fronts. We sometimes go out with a friend whose horse goes barefoot. Because I scouted this out, I'll be able to let her know that she'll need to put boots on her horse.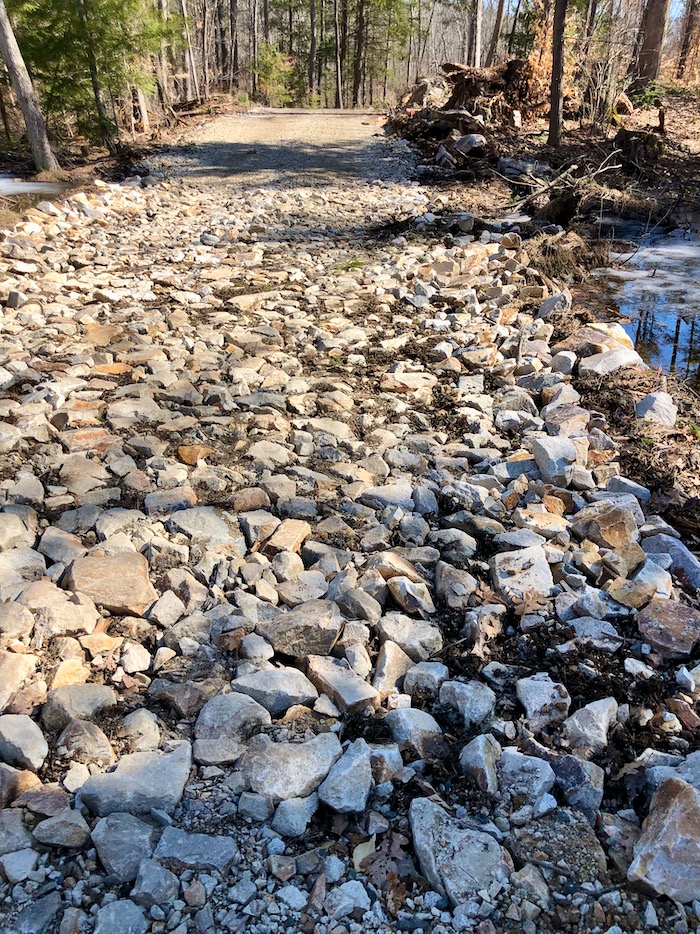 Further up the road, the footing was perfect.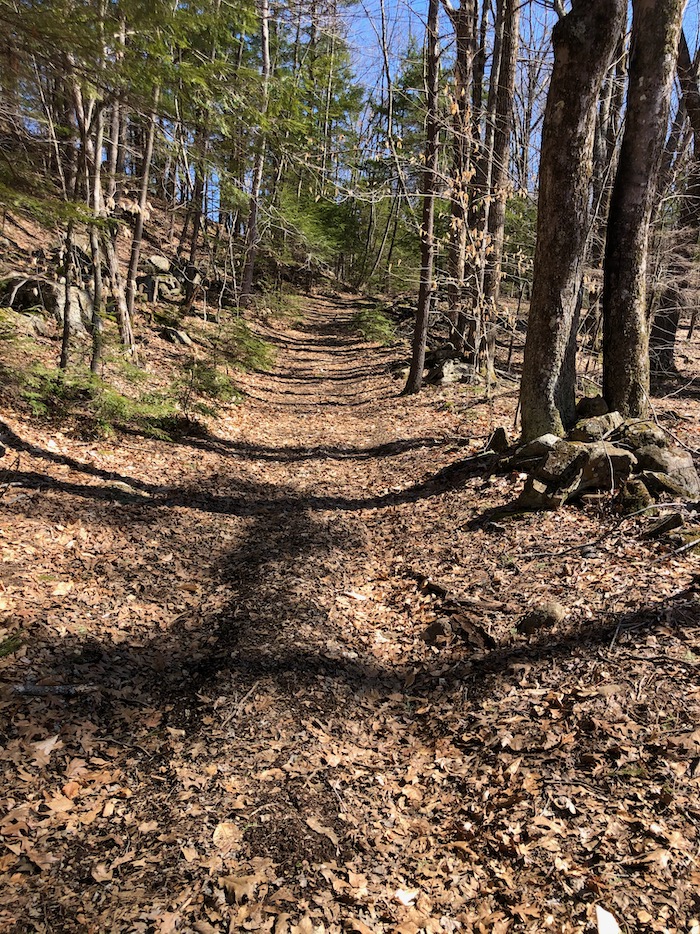 This is the sweet spot between seasons to get into the woods. It's still cold enough to have ice on some of the wetlands. Which means the misery-making mosquitos and biting flies aren't out yet.
I did, though, come across some water crossings. I was wearing my rubber boots, so was able to check out the footing. It was nice and solid! Tonka would have no difficulty walking through this.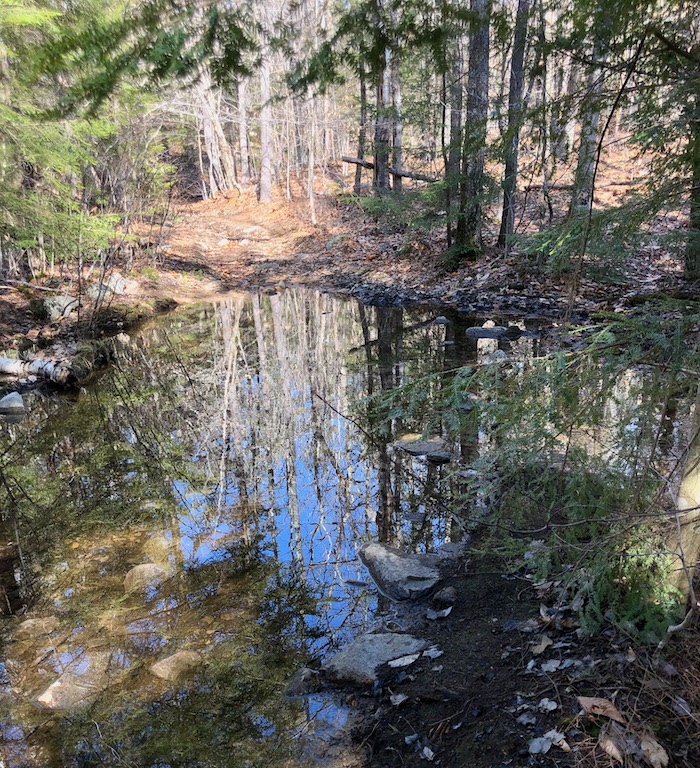 I came across some steep areas with large rocks. But this is also doable for my good trail horse.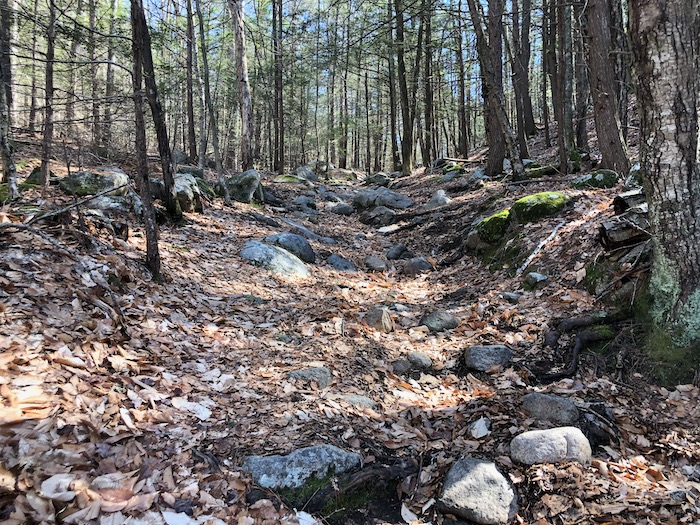 None of these trails are marked. They also don't loop around. They head into 4,000 acres of forest. I did enough on foot to conclude that I could explore them from the saddle – which is what I'd far prefer to do. I ride with GPS tracking. I had to use it yesterday to find my way back. I'll make sure to be charged up before I go further into these woods.
The trails are only rideable if I can safely park my trailer. Fortunately, I have a place to do that and access these trails. So, I know where we're going for our first trail ride of 2020!
The other day, Tonka watched a horse get loaded into a trailer. His ears perked up. He's ready for an adventure. This is his attitude when he knows he's going someplace.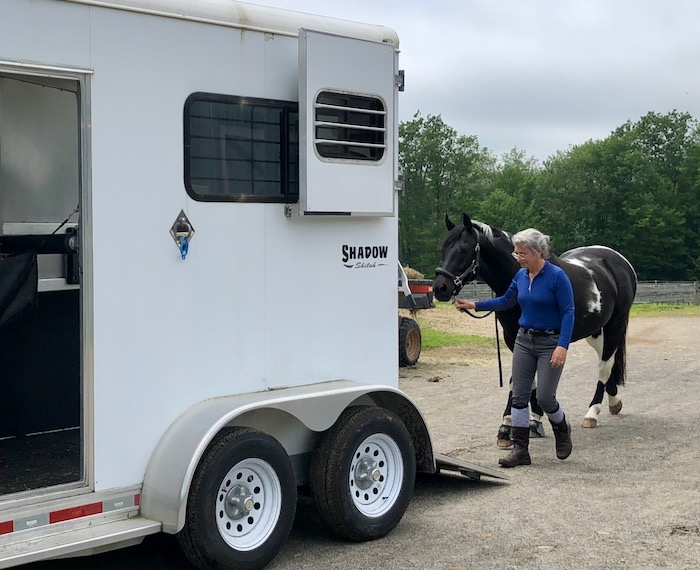 I'm having my trailer serviced this week. There's nothing wrong with it, but it's been sitting all winter. I'm having it gone over thoroughly – brakes, electric, flooring, etc. Do you do a yearly safety check?
You know how I feel about my truck and trailer. If you don't, read my blog about horsewomen and their trucks.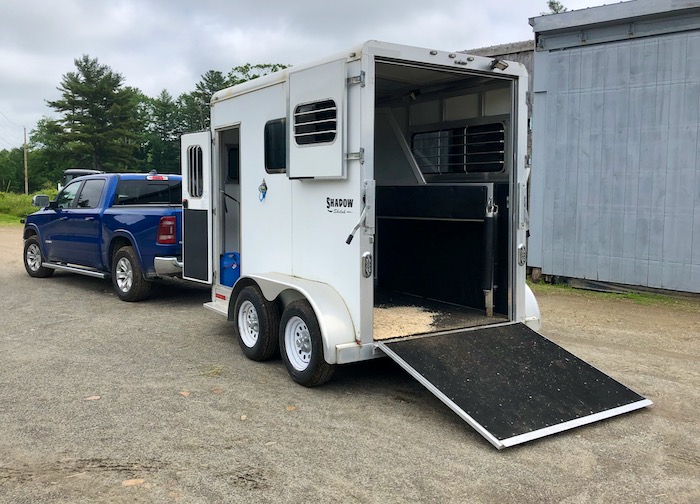 Have you scouted out a new place to ride this year? Tell me about it in the comments!