This is Tonka's happy face when he heads to a jump.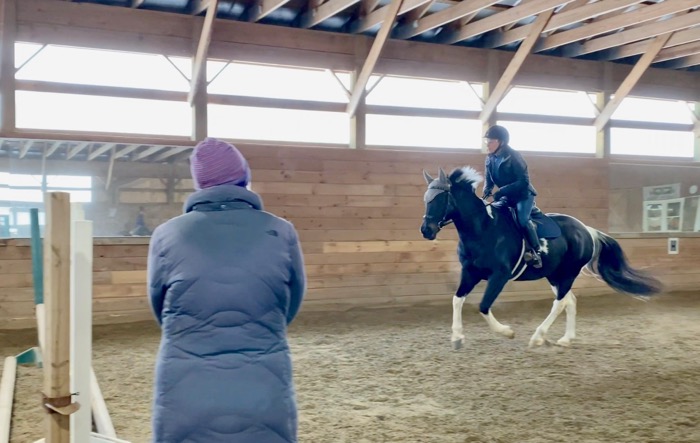 Up until now, Tonka and I have done dressage and trails. We've tried to keep all four hooves safely on the ground. That said, we've been doing ground pole exercises to strengthen his stifles, and he was so cheerful about it that I decided to give jumping a try. My horse has no jumping experience. I do, but that was forty years ago when I did some eventing. Back then I took lessons from some exacting trainers who taught position. I've gone over grids with no stirrups and no reins. I've jumped 3-foot courses. But I was never brave at it. Dressage became my thing. It would have stayed that way, except riding is a partnership and my partner has made it absolutely clear that he wants to jump.
The question now is, how high?
Tonka has some ideas about that.
We're beginners. We do cross-rails. The first one might be awkward and look like this.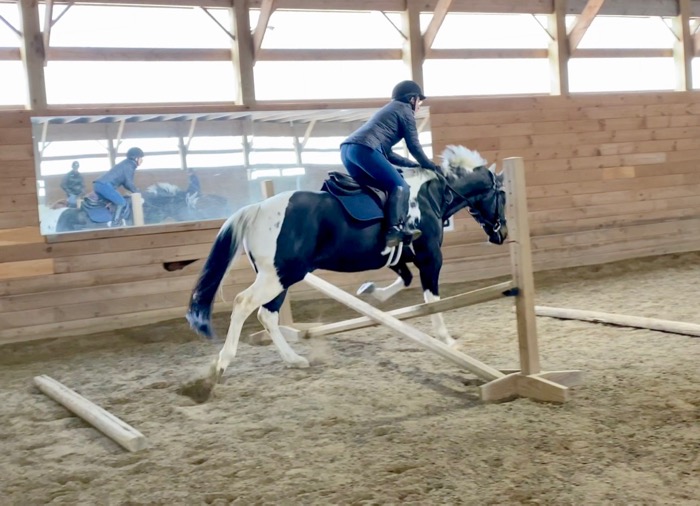 I simply leave him alone and ride through it. Tonka is a smart horse and he wants to get this right. He needs to learn what energy and tempo will set him up for success. He needs to learn where to take off. He'll figure it out. My trainer, Steph, sets up the exercises to help that process. I steer and leave Tonka alone. You can almost see his brain working.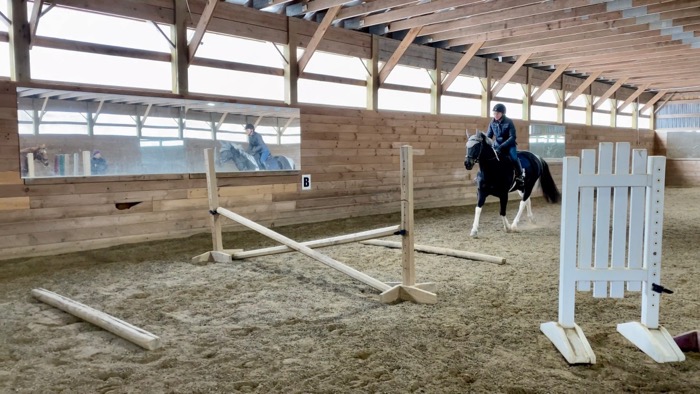 Tonka has naturally perfect form. He's careful in front,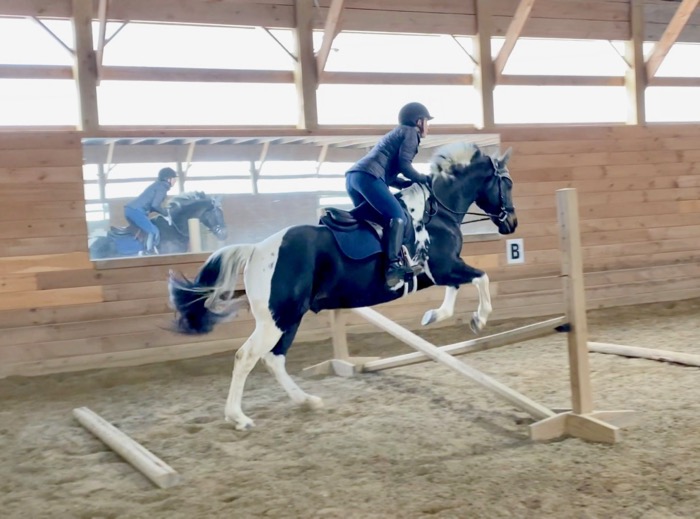 and behind.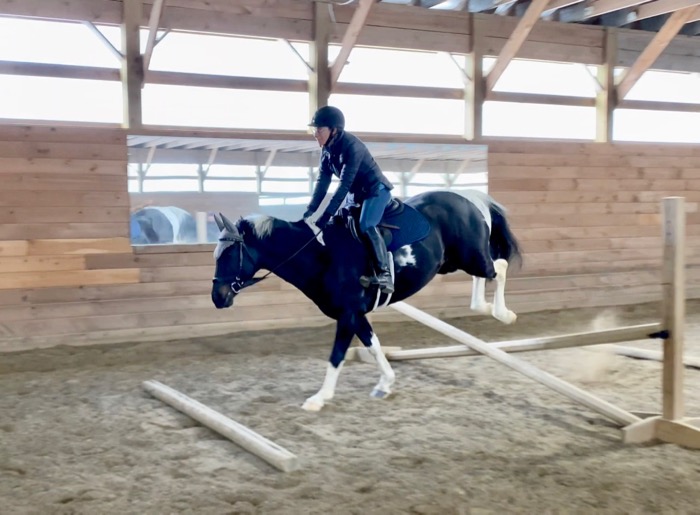 The poles are set on the ground to help Tonka gauge his striding. Steph decided that he was ready to try some jumps without them – at the canter.
Now Tonka was able to tell us what he thinks.
He thinks that the jumps should be higher.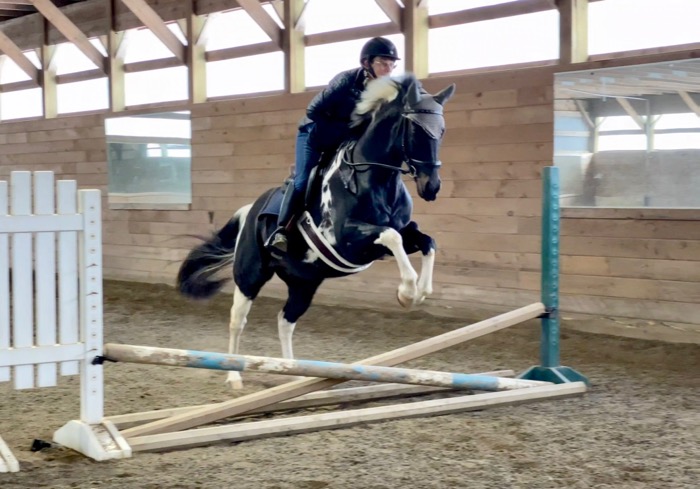 Tonka had been coming into the jumps at a rather measured pace, but he was warmed up and eager, and when I said it was okay to canter up this this cross-rail I could feel him say Let's go!

Tonka is still inexperienced. He took off a stride too early. Which he decided was FUN.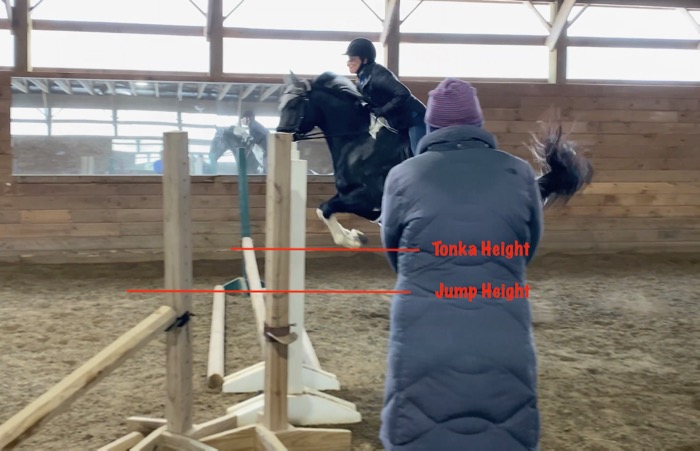 I didn't have time to grab mane, but I did manage to let the reins slip to that I could leave his head and neck alone. (I have a lot of position work to do. My shoulder joints need to become unstuck so that my arms can be independent of my body.) Here's a video.
Tonka's enthusiasm for the jumping didn't wane. However, by the end of this half-hour lesson, he had worked out how to clear the jumps to his liking without quite so much effort. Still, he's in perfect form and there's not a lackadaisical bone in his body.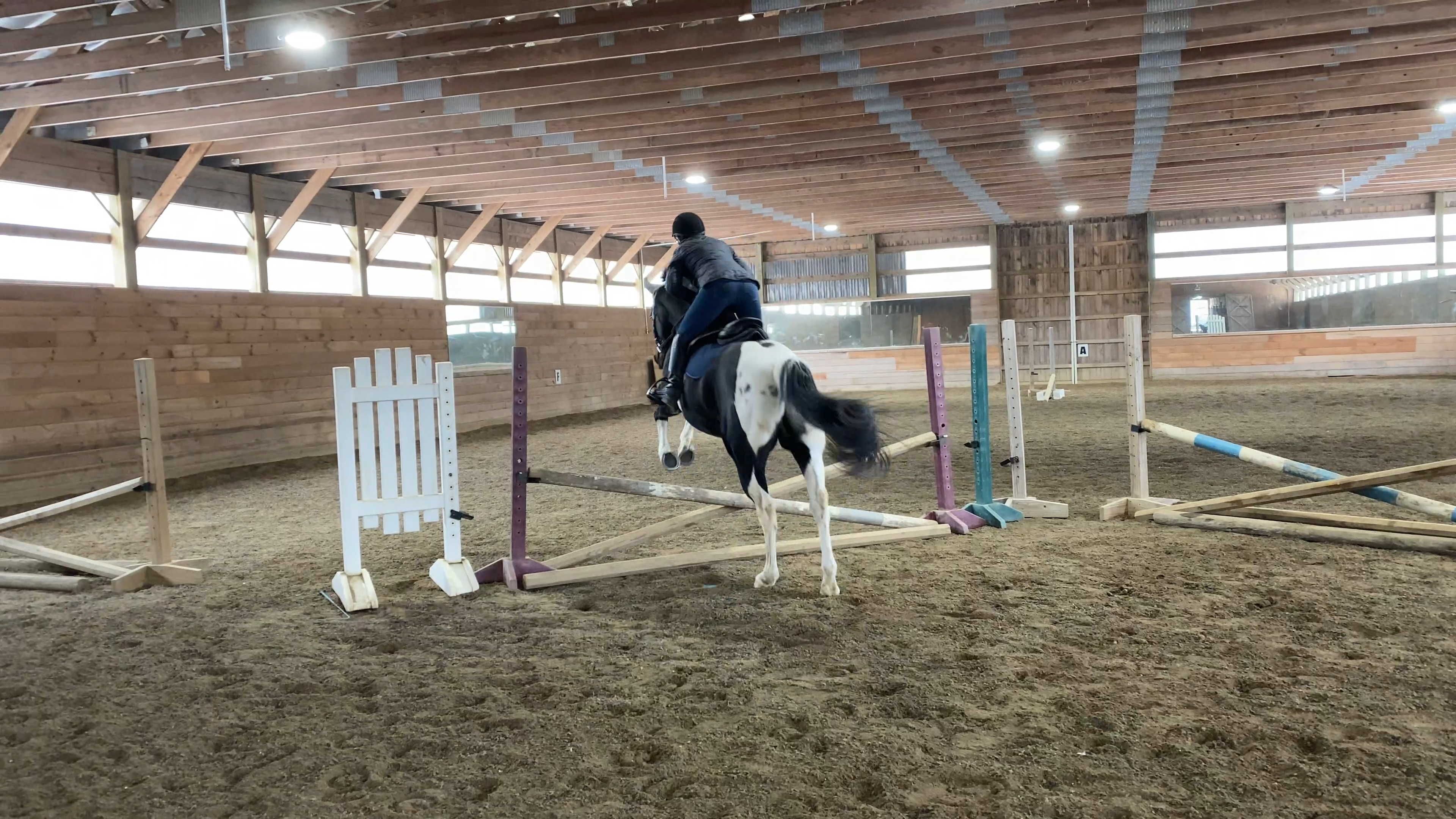 Tonka gets cookies during the lesson. He likes them.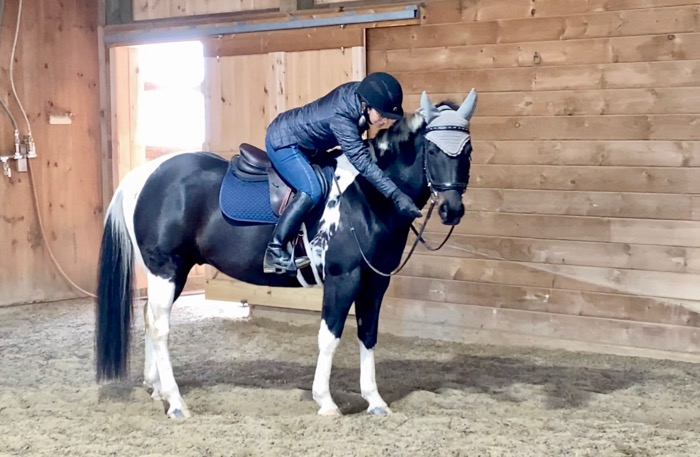 But I think that the biggest reward for this is the sensation of flying, and for that one has to leap high. Just how high remains to be seen. I'll try to stay centered in the tack and leave my horse to figure it out.