When Steve and I met, I was leasing a horse, so he knew that horses were part of the story of who I am. Your significant other might get that you're "into horses" but at the beginning they never really know how that affects the relationship. In our case, it took years before it finally dawned on Steve what it meant to marry a horse girl. There were pregnancies, children, finances and health issues that kept me from horse ownership. But about seven years ago, the stars aligned. It was possible for me to start riding a friend's horse on a daily basis. Steve saw how happy it made me. He said, Why don't you buy a horse? It was very sweet. He had no clue.
But, he's been the perfect horse husband. He likes taking photos of Tonka and me. He comes to our lessons and horse shows. He holds Tonka while I go to the loo, pack the trailer, etc. etc.
Tonka loves Steve. He's the guy who hands the peppermint over after I come out of the dressage ring. When Steve takes hold of the lead rope it means relaxing grazing time.
But in the six years that I've had Tonka, that's all that Steve has done. Chill with Tonka after I hand him the lead line. Next week I'm going to Dallas for the ASAT conference. I'll be gone three days. If the weather is anything like it is right now, it'll be bitter cold and icy. There's a chance that the horses will be stuck indoors. Even when it's a deep freeze and I can't ride, I still go to the barn to hand walk Tonka. I thought that this is something that Steve could do while I'm away. But he would need training.
Yesterday I gave Steve a lesson. In all of this time, he's never put Tonka's halter on! That was easy. Tonka stands stock still for it. I've trained him to do that and my horse knows that good things happen after he's haltered. Like a nice moment with his friend.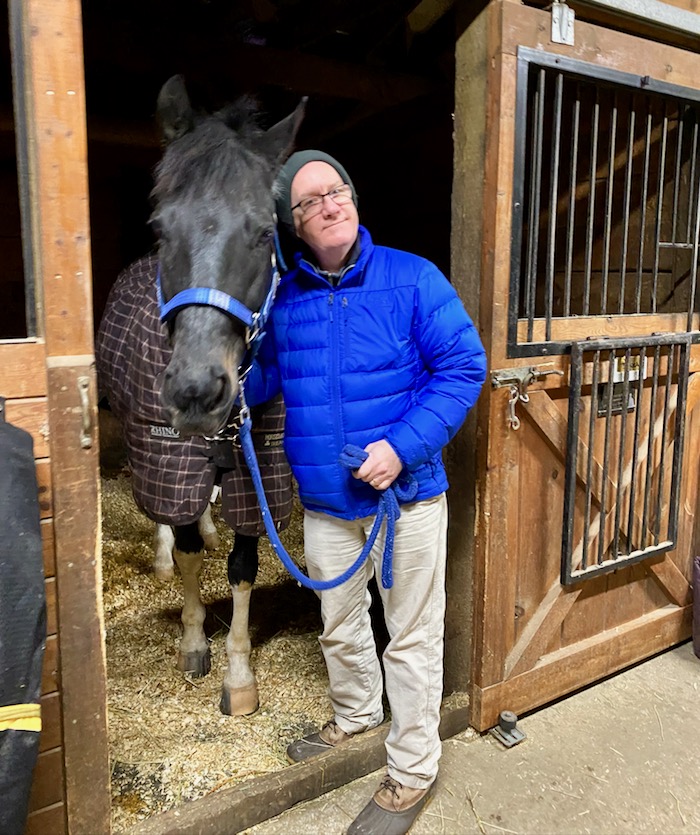 The next step is to walk Tonka out of his stall. Horse people have (or should have!) a special dangerous obstacle radar. This is something that Steve needs to develop. One must leave the stall straight, so that the horse doesn't get jabbed by the latch. I pointed out the tub of grain waiting for Finn to return to his stall. If you don't notice it, your horse will, and instead of walking up the aisle, you'll be yanking your horse's head out of someone else's bucket. Scan the aisle. Is there a blanket on the ground? Walk carefully past it.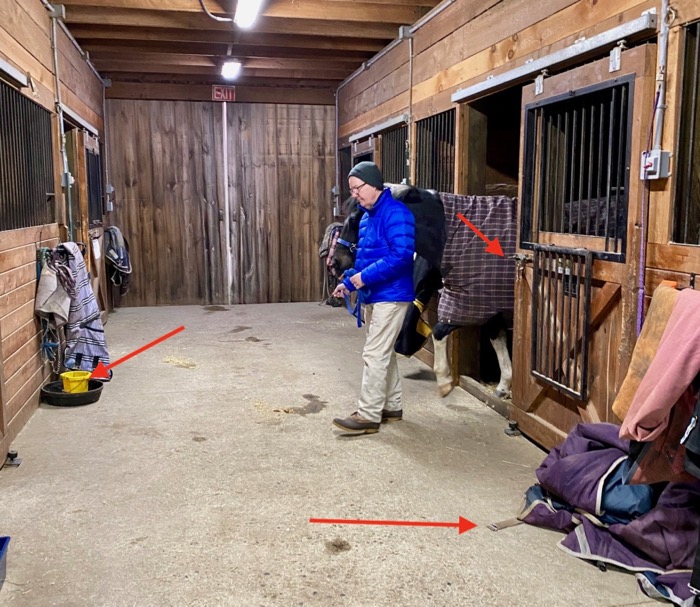 Once in the aisle, I showed Steve how Tonka knows that the word ho means to stop and stand still.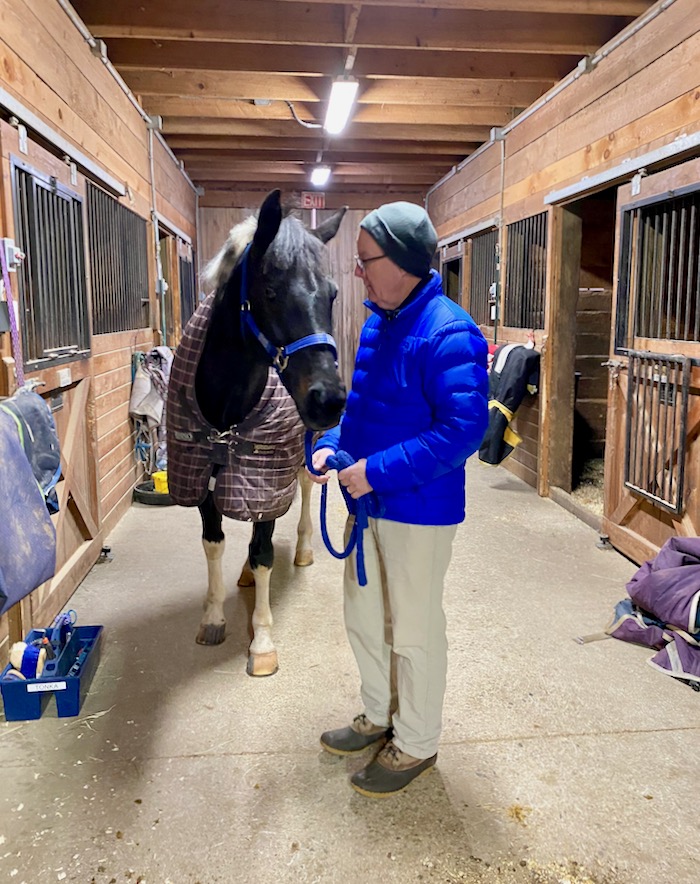 Then I drop the lead rope so that Tonka ground ties. At this point, he can have a carrot.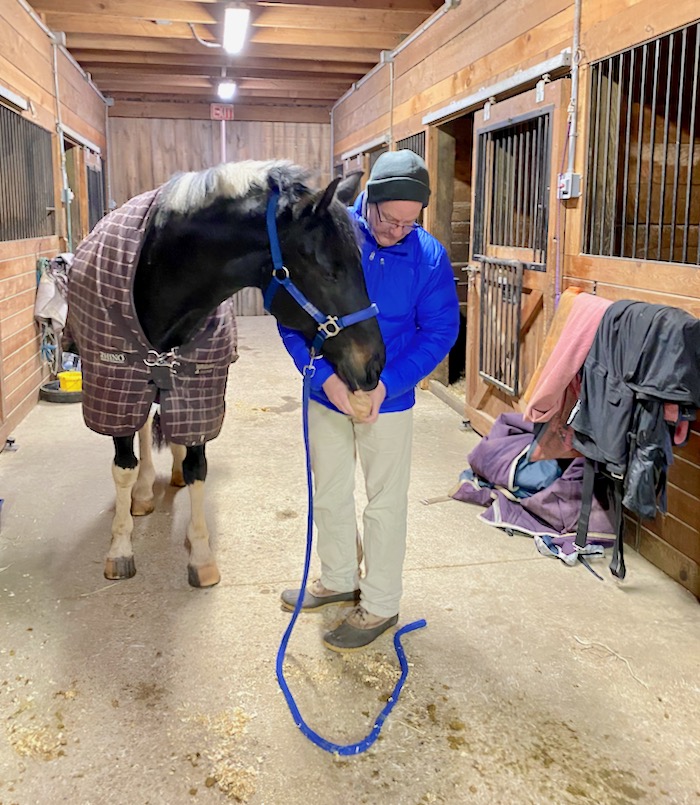 The one bit of the grooming routine that I want Steve to be able to do is to pick out hooves. Tonka supervised.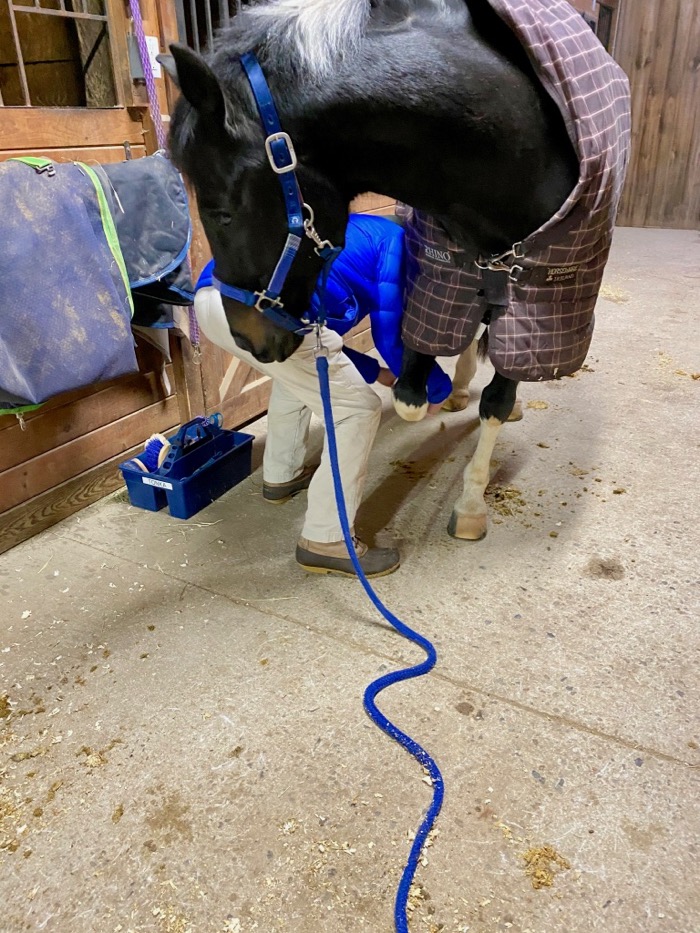 Steve aced picking out the hind hooves!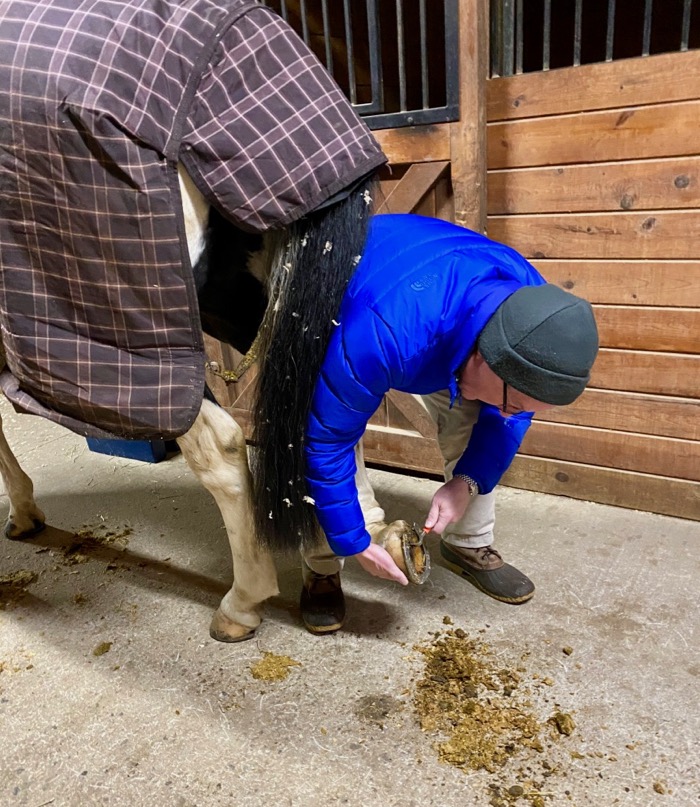 Then it was into the arena for a walk. Especially on a bitter cold winter day, the indoor is a social and relaxing place. Others have the same idea. Steve won't be cuddling Tonka from his back (like Katie on her pony), but there's no need. Tonka enjoys stretching his legs and seeing his friends.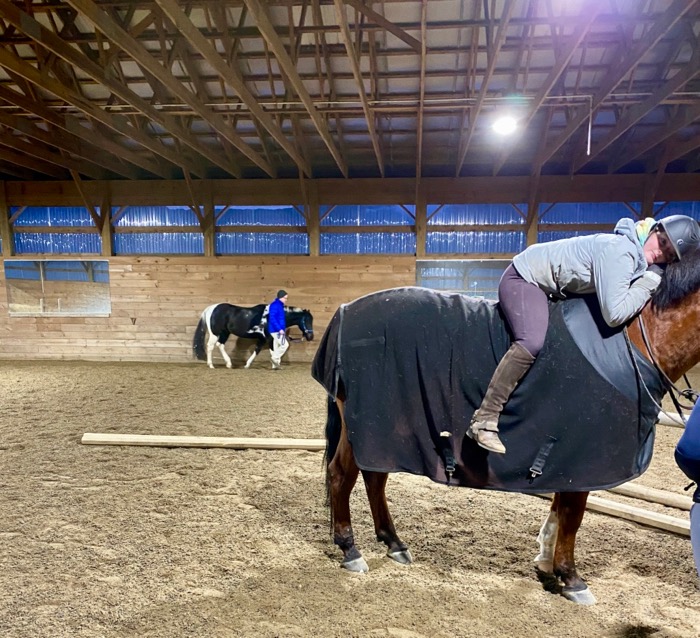 Still, when I'm around, Tonka knows exactly where I am at all times. Those perky ears are pointed at me.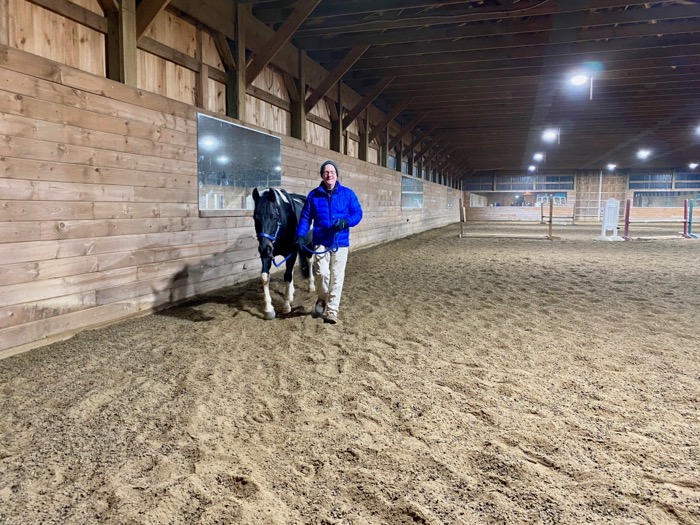 But I'm sure that these two will be happy for each other's company while I'm away.
Do you have a horse husband or significant other who loves that you love your barn time? Do they help or are they amused from a distance? It's Valentine's Day. Did you get your non-horsey partner a horsey gift? Steve got a dish towel that says "I have to go. My horse is calling me."