It started snowing yesterday. As predicted, 8-inches fell. The horses were kept in. I have a 4-wheel drive truck with superior ABS and other safety features. I drove to the barn. Rode Tonka for an hour in the indoor. We had a big loose trot and canter. Did some fun work over raised poles. Stretched and felt good. Then I gave him a thorough currying. It gets itchy under that winter blanket! Snow is part of life here in the Northeast. It was a good day.
More snow was predicted for today. It gets tiresome after 24-hours of precipitation. The weather report was, unfortunately, accurate. This is what it looked like at 7 am.
No matter, I thought. I'd drive my truck to the stable again.
But. Today's snow was different. I backed out of the garage and slid sideways. The snow under the tires was slick as ice. I was stuck.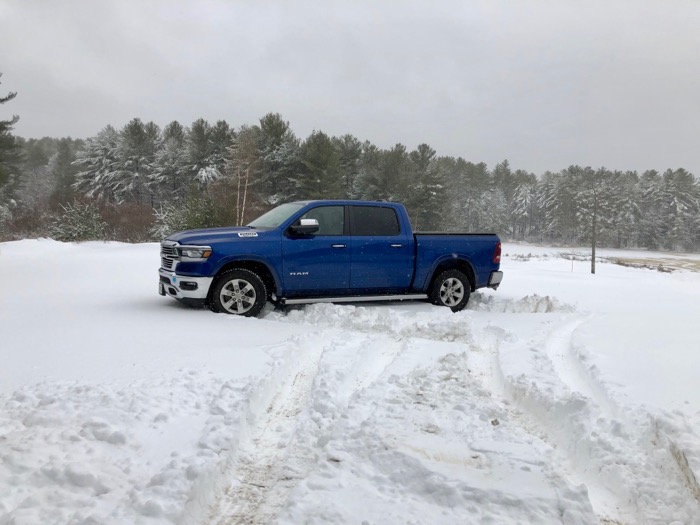 Serendipitously, the guy who plows our driveway appeared when needed. He plowed. I shoveled around the tires. We put down sand and the truck was ready to go. But, he said that the roads were slippery and getting more treacherous as the temperature dropped. I decided that Tonka could spend a day in his stall eating hay and being bored. The smart thing was to stay home.
That didn't mean I had to stay inside. I strapped on snowshoes and headed down to the marsh.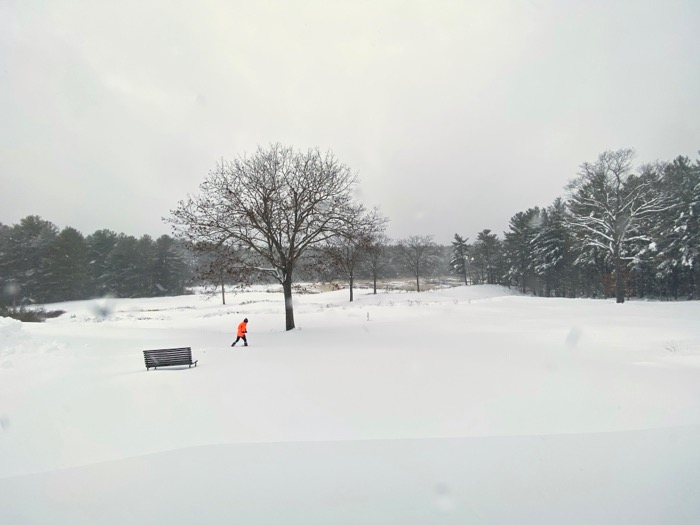 It was quiet except for the sound of snowshoes in snow.
I wouldn't have gotten very far without those snowshoes, but even with them, there were places were I sank up to my knees!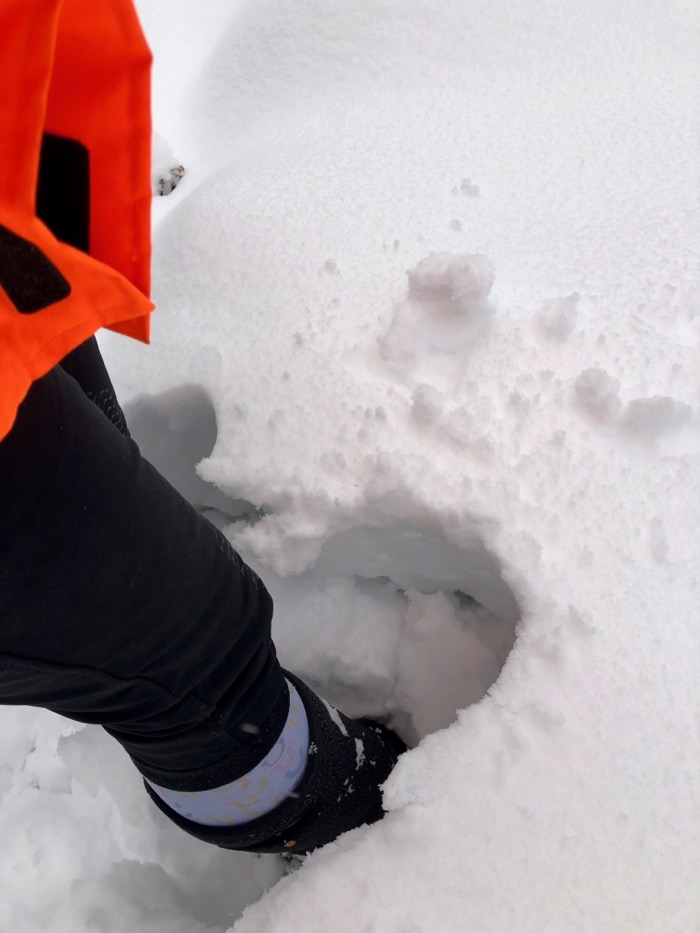 The body of water in front of the house is a beaver pond. The water is deep in some areas, shallow and murky in others. In places it freezes clear and shiny, in others a slushy brown. Beautiful.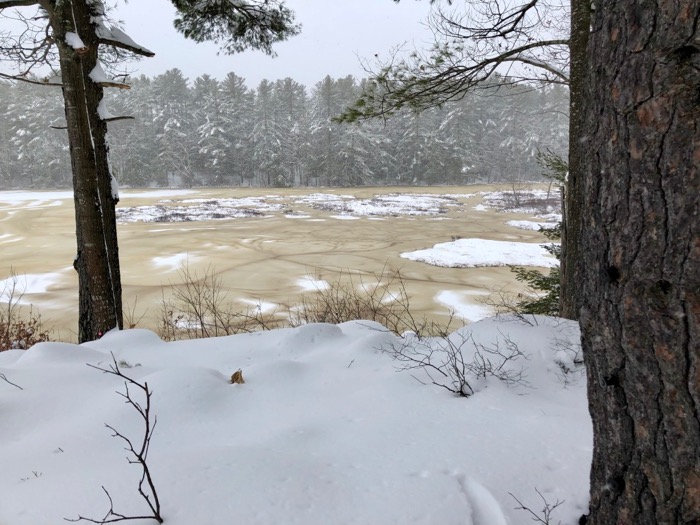 There's water in the woods, too. This is a vernal pond. There are plenty of wild things sleeping the winter off in its muddy bottom.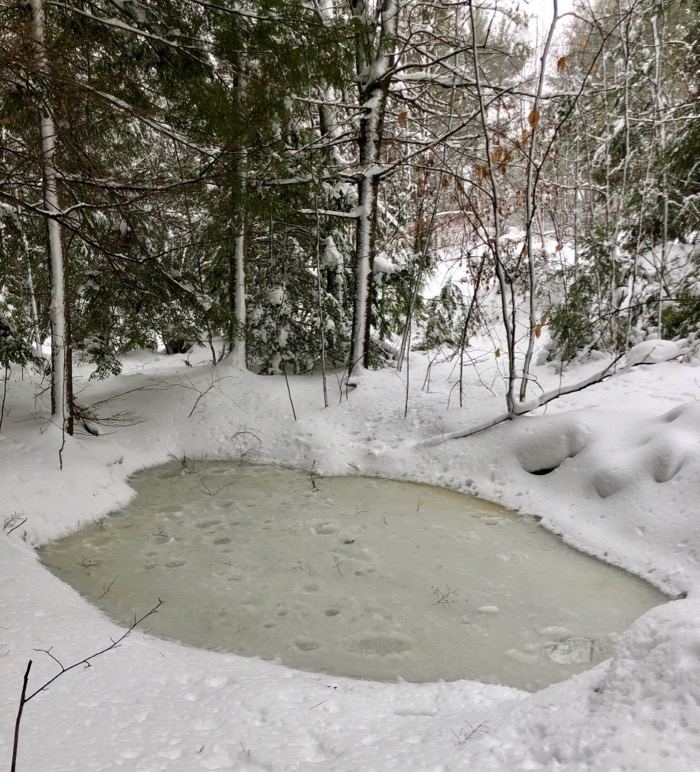 We've had an exceptionally wet autumn. Today it's snowing, but it's not bitter cold, so water is still coursing down to the bog.
Except for two juncos, I was the only one out. There weren't any tracks to be seen, except for these made earlier by a coyote.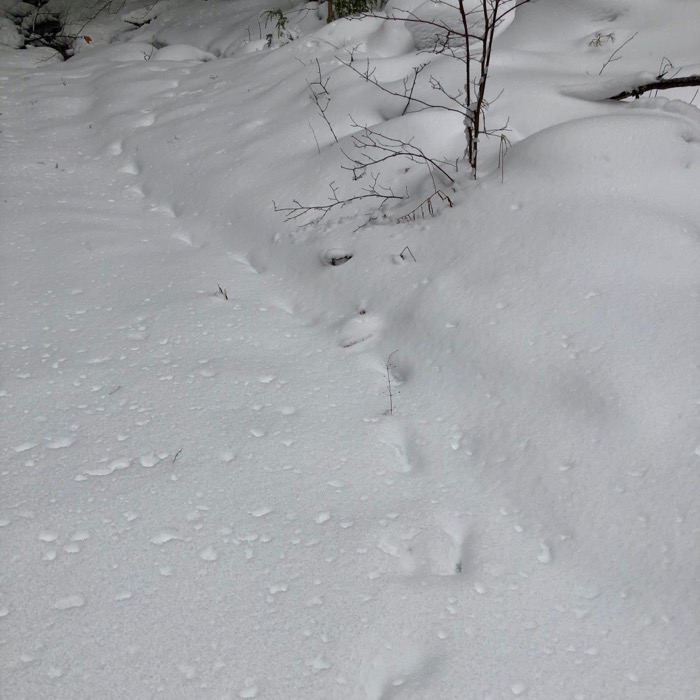 A snow day quiets everything and everybody. The woods was stunning during this peaceful interlude, both as a landscape,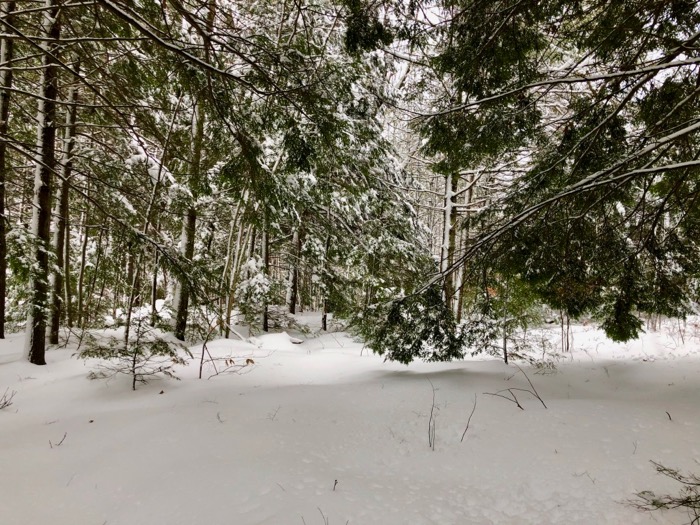 and in the closeup details.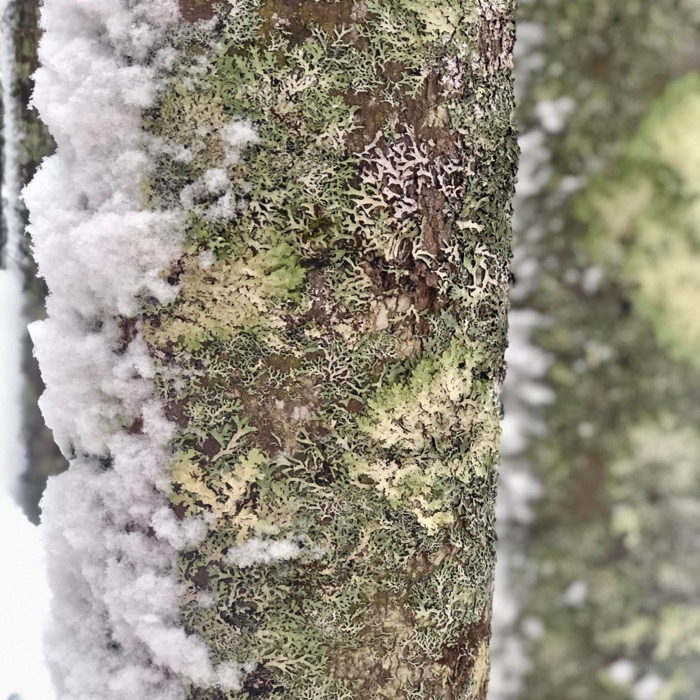 I've got a pot of black bean soup simmering, which will be a good dinner at the end of a classic Maine snow day. It's been nice. But I'll be in my truck, first thing in the morning, to get to the barn.