I spent this past weekend in the White Mountains of New Hampshire. It was a holiday weekend, the peak time for leaf peepers to visit the region to see the fall foliage. But I wasn't there for that.
I was here.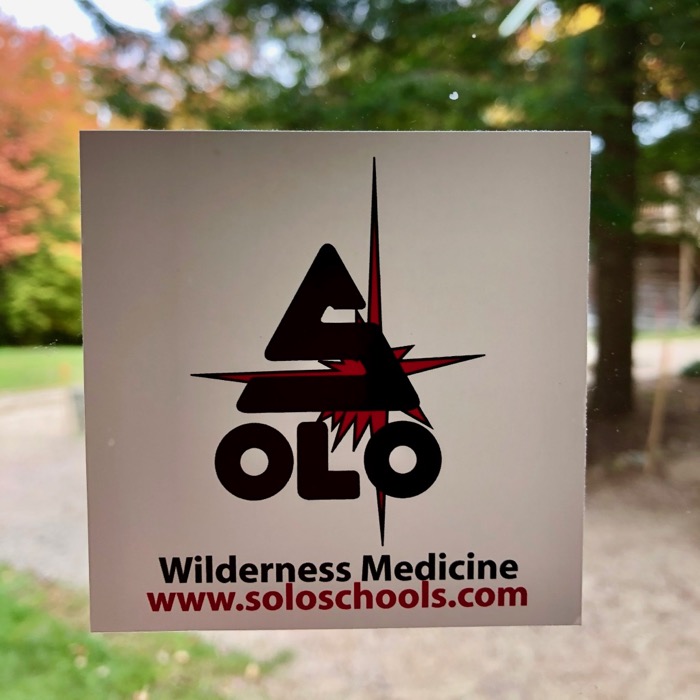 I was at SOLO for a weekend wilderness first aid course. Of the 18 people taking the class, half were there to get certified so that they could do their jobs or their volunteer work out in the wilderness with adults and children. The others were avid hikers who wanted to be better prepared.
I don't hike in the mountains. But I do this.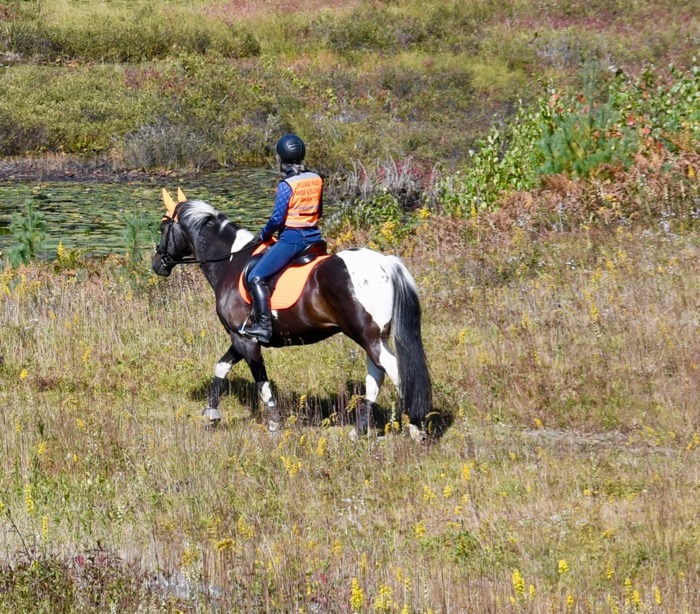 I also go to barns and farms where the chance of injuries is rather high. It's something that all of us who are around horses keep shoved in the backs of our minds, but we don't do anything proactive so that we can react effectively when that awful scenario actually happens.
Last year, a friend died in a fall off of a horse. I decided that it was time to do more. I looked into how horse people, and stables, could be better prepared for a medical emergency. I looked into how we can help the first responders do their job. I wrote about that here.
But there was more to do. I've seen enough to know that it's just pure luck that I haven't had to handle a medical emergency myself. I've been on the trail with a friend when their horse was attacked by wasps. She got off just in time before her panicked mare bolted through into woods. I've seen people tumble off, I've seen people kicked. I've had my foot broken. I've been with a group of trail riders when lightning struck nearby, and one person came off and broke her arm.
I decided that when I see a client at their stable, and when I'm teaching a lesson, I have a responsibility to be able handle anything that happens. I looked around for a first aid course that would address the sorts of medical emergencies that occur on a farm around large animals. The wilderness first aid course was the closest that I could find.
I wasn't looking forward to the weekend. I don't faint at the sight of blood, but I am a bit squeamish about seeing injuries. I also have a list of what if scenarios in my head, and real ones that I've seen. I didn't want to revisit them. I knew that the weekend would be draining mentally, and it was.
But it also gave me a clear and doable course of action if something does go wrong. Wilderness first aid is all about knowing your priorities, being able to problem solve, and act in a way that helps the patient, but that also keeps everyone else as safe as possible.
We learned how to identify spinal injuries and how to move such a victim.
We had real-life scenarios to practice. What if someone impales their hand with a stick? (They have a sense of humor at SOLO. This is me, with stage makeup and paste.)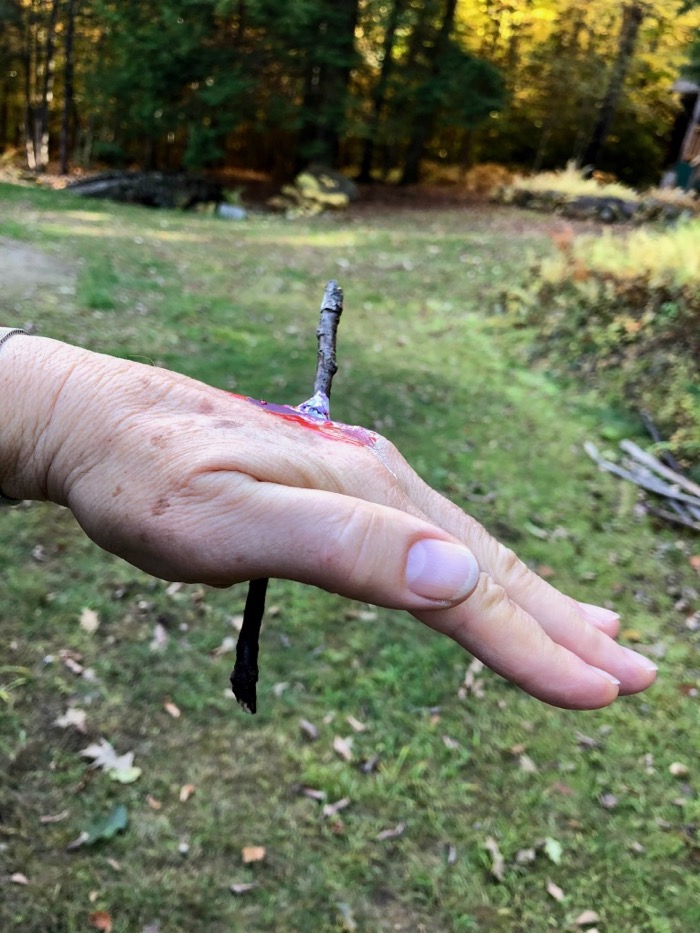 What if someone breaks their arm? This is certainly something that I've seen happen around horses.
I now can splint it with a backpack and clothes.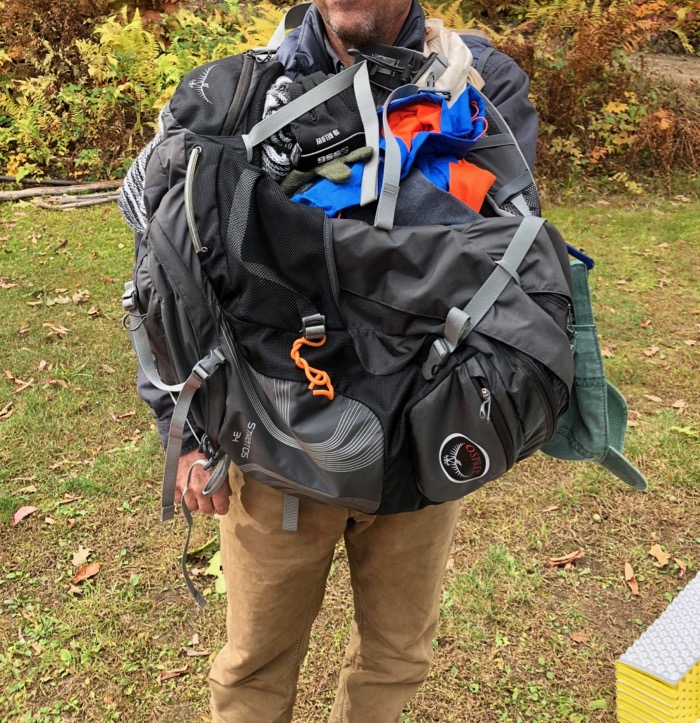 Of course, I don't ride with a backpack, and wouldn't have these items on hand. But it got me thinking. I do have a saddle pad, galloping boots and stirrup leathers. I could make a splint out of those things!
I came away with a wilderness first aid certification.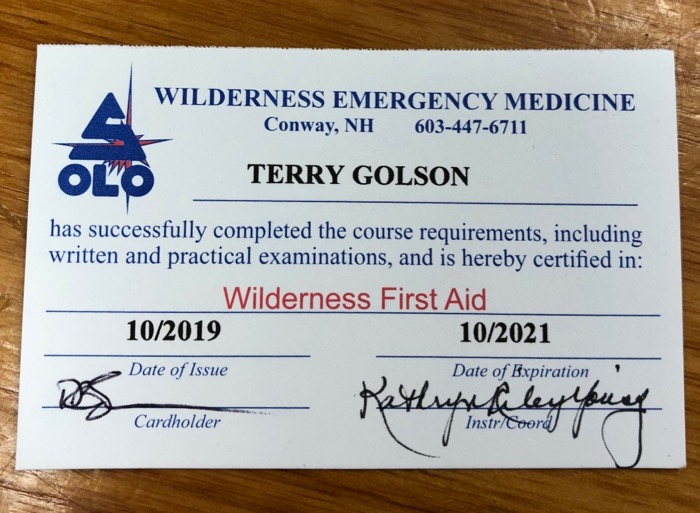 I still wouldn't claim that I should be the first person that you turn to in a medical emergency. A weekend showed me what I need to know, but it didn't make me competent. However, if something happens, and I'm the only one there, I'll be able to handle it. I'll also be able to help, and not hinder, the experienced medical providers who, hopefully, will be soon on the scene.
It was two stressful days away from home, but it was well worth it. I hope that other horse people will consider taking wilderness first aid courses.
I'll be bringing this information to my talk on How To Handle Medical Emergencies at Equine Affaire. This presentation will be Saturday, November 9, at 2 pm.