The weather was perfect. It was a good day to go for a ride at Kim's. Tonka didn't know where we were going, but when I led him out of the barn and he saw the trailer with the ramp down, he practically led me on. It's an easy twenty minute drive to Kim's place. When we arrived, Tonka happily ate hay while I got my gear out. It wasn't long before we were off! The deer flies and mosquitos are finally on the wane, and we were able to go into the woods.
Denver and Tonka get along fine and they're well-matched (they both like to go at an easy, we're in no rush, sort of pace.)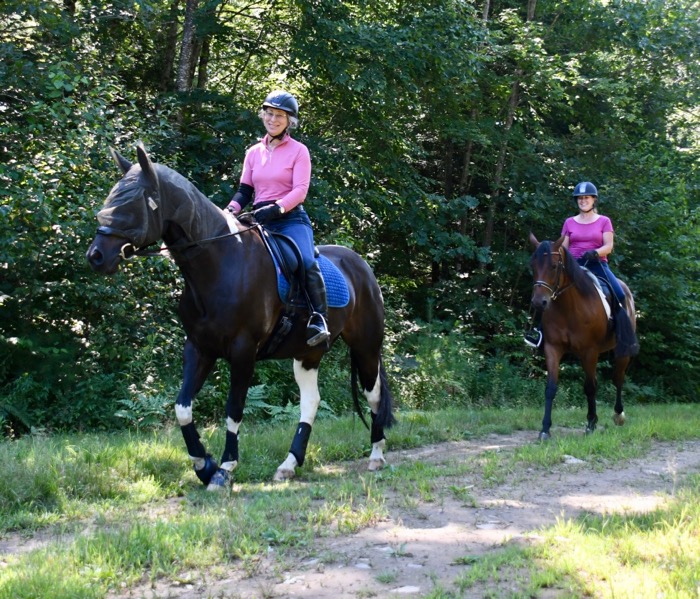 After a loop through the forest, we came back to the field (so pretty, this time of year it's all  Queen Anne's Lace), for some trotting and cantering.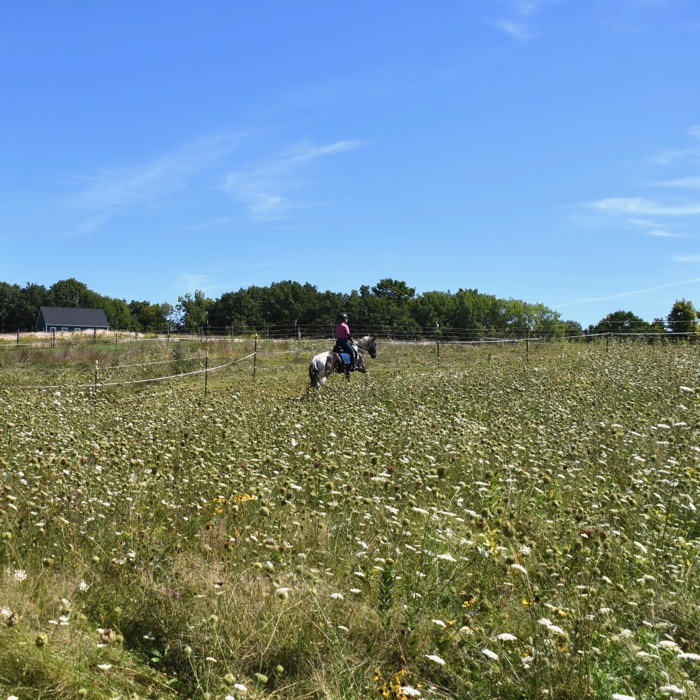 Then, it was back to the barn. On the way, Tonka said hello to the goats. Pip didn't think Tonka interesting enough to interrupt his sunbath.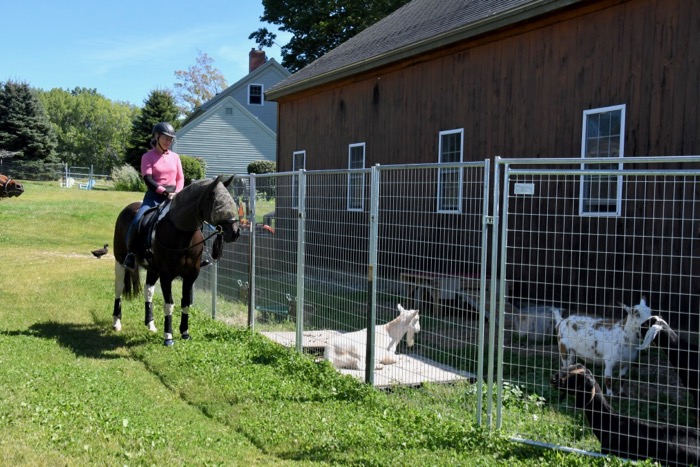 While I stowed my gear back in the truck, Tonka had a graze with that nice man who feeds him peppermints.
When I said that it was time to go, once again Tonka eagerly got on the trailer.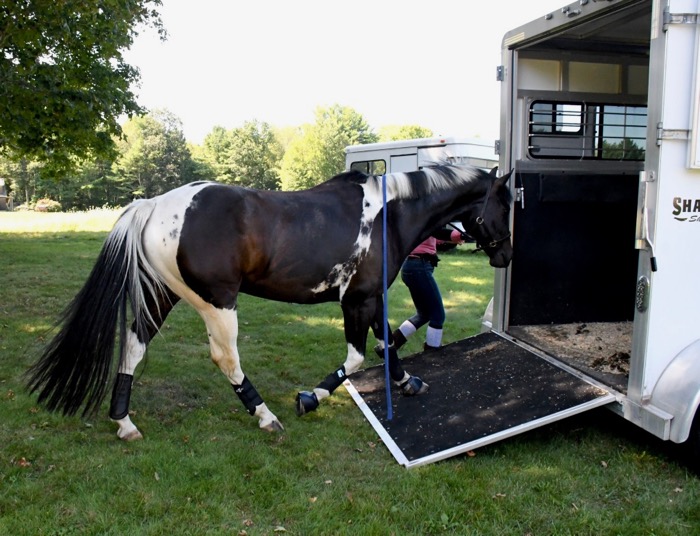 Back home, he dove into the hay manger while I opened up the trailer's doors. Tonka doesn't eat hay while the trailer is on the road. He prefers to sightsee out the windows.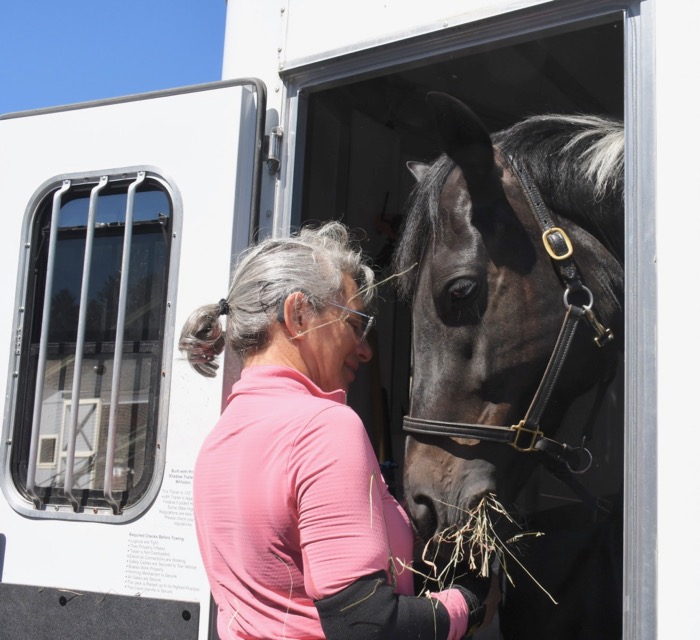 When I gave him the cues to leave the trailer – a tug on the tail and a verbal back – Tonka didn't budge. There were excellent leafy bits of hay on the bottom of his manger. Why leave?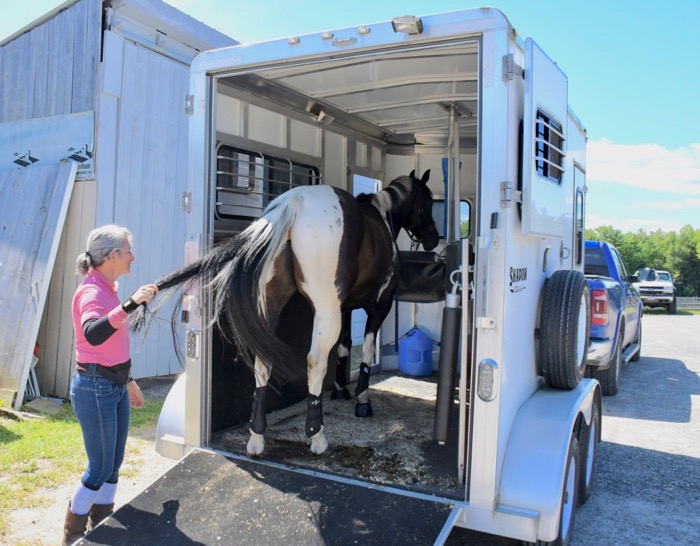 I went to his head and used a little halter pressure to ask him to back up. Which he did, so I walked to the ramp, ready to get his lead rope as he came out. But he took that opportunity to return to the manger. Some horses bolt backwards out of the trailer. In fact, when I first got Tonka, that's what he did. Not now!
I finally convinced Tonka to leave this happy place.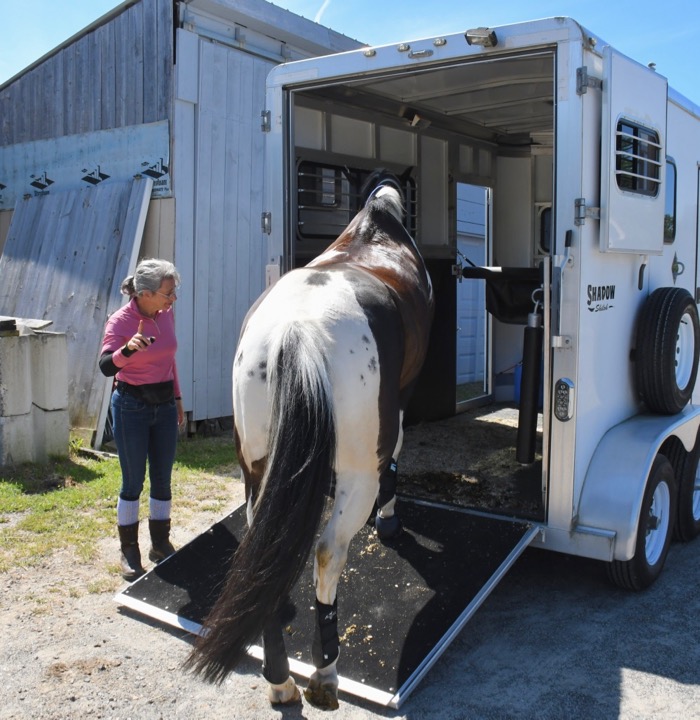 I swear I could hear Tonka say, Just joking! I'm glad we're home. Is it dinnertime?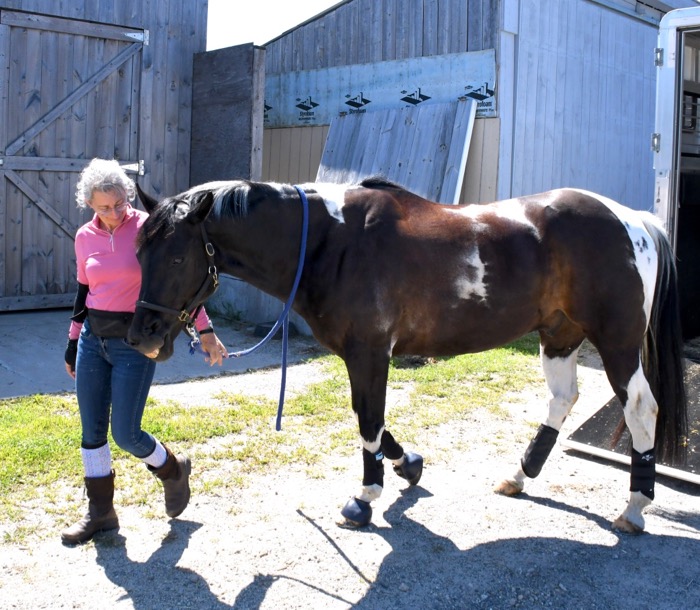 I've written about how I work with horses who have issues loading here.
This blog details how I keep Tonka optimistic about trailering.
Do you trailer your horse?