Tonka has never had big issues with trailering, but I don't take it for granted! When I purchased him, he loaded fine, but scrambled too fast backwards when stepping out, so I trained him to wait patiently in the trailer and back slowly when asked.  Over the years, there have been times when I've noticed him hesitate to get on, or nervous while standing in it. The key is that I notice and then proactively make the trailering positive for him before his worry escalates into loading issues.
It doesn't take much to change a horse that happily trailers into one that balks at the sight of the rig. Just one or two stressful trips can create an association in your horse's mind that bad things happen when they get on. I've been thinking about this in preparation for our move to Maine.
The last trip that Tonka took in the trailer was to a medical clinic.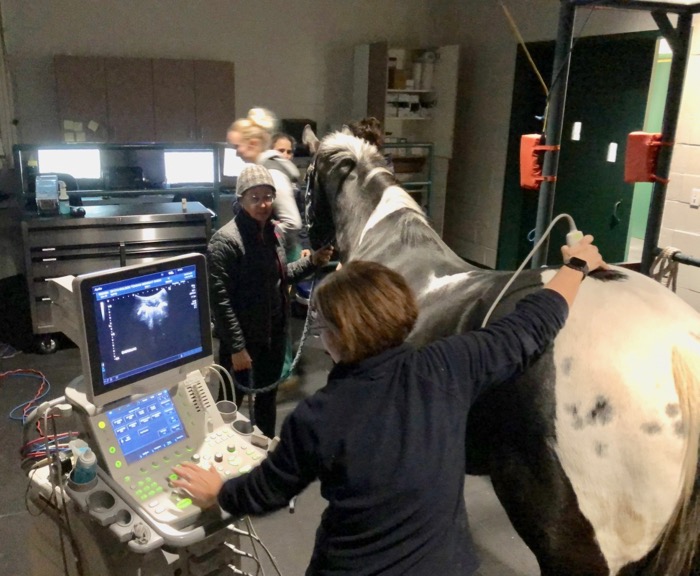 Would this experience make Tonka worried about getting on the trailer? Would it make the ride more stressful for him? I came up with a plan that would have Tonka once again associate the trailer with enjoyable outings.
The first step was to load him, but not go anywhere. Inside, waiting for Tonka were bananas. I didn't close the back door. In. Eat. Out. (The fly mask is on because the springtime gnats have emerged. The mask keeps him comfortable – one less stress.)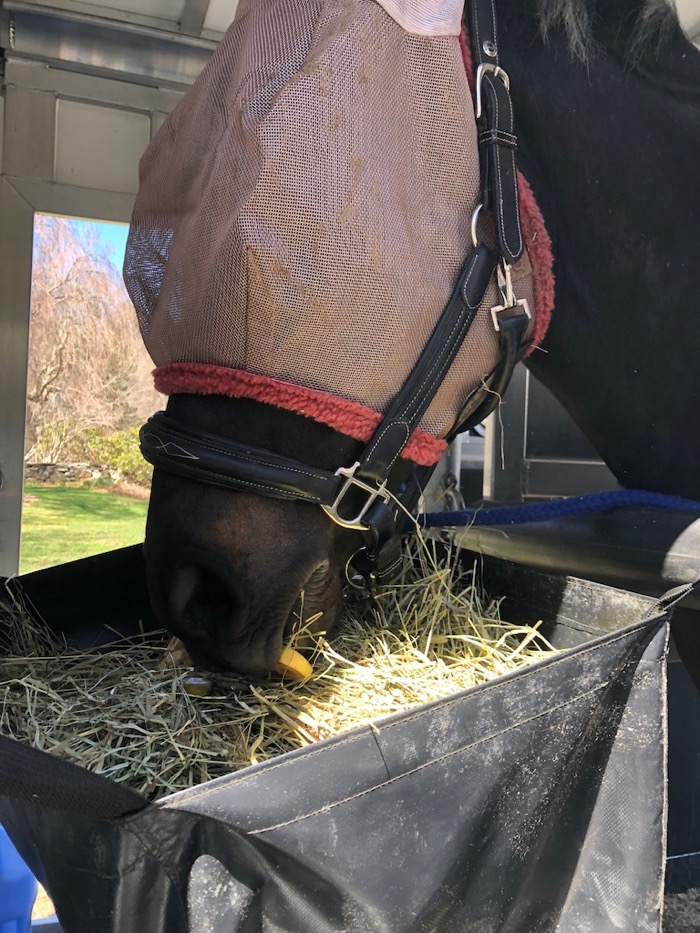 About a week later, I loaded him up again. This time it was cold and windy, and the trailer was not in the usual parking spot on the driveway. Notice that he's eating, but with many stops to the chewing. Tonka is uneasy.
After about five minutes in the trailer, I asked him to back out, and then had him graze nearby creating a positive association with the rig. It took a bit for Tonka to relax, but he did.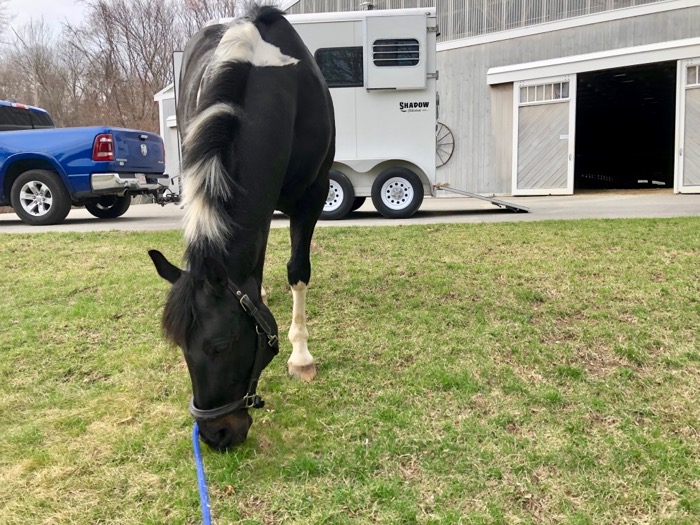 For the next experience with the trailer, I loaded Tonka up and we went to a friend's farm about 15 minutes up the road. I unloaded Tonka and we walked right into the field for a graze.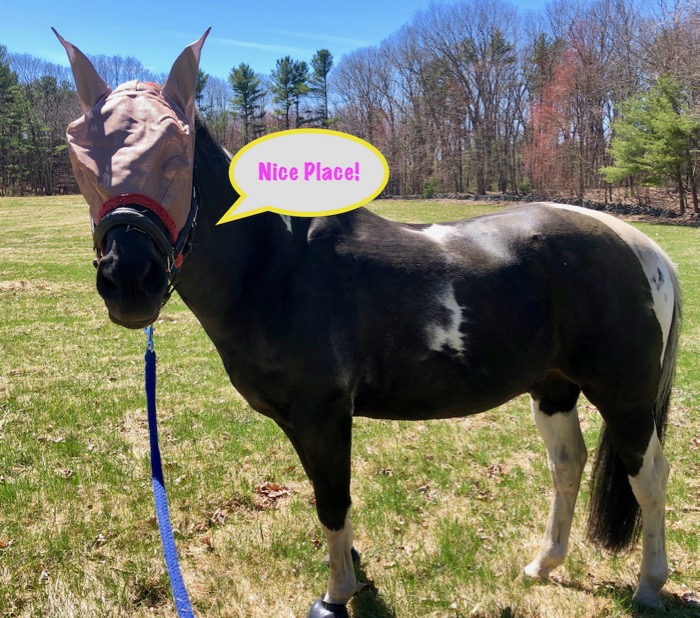 The following week, I parked the trailer in the driveway. Tonka "self-loads." That means that I can put his lead rope over his neck, and he walks on himself, while I stay back by the ramp. Self-loading is a good test of what a horse thinks about trailering. There's nothing keeping him from turning around and going back to the barn, or heading for the grass. (For a video of him loading go here.) When I led Tonka out of the barn, he saw the trailer with its ramp down, and marched right towards it. I quickly got the lead rope out of his way, and on he went. Tonka was clearly eager to see where he was going to go this time. Honestly, it's been rather boring at his home barn. This trailer was sure to convey him somewhere interesting!
Once again I trailered to my friend's farm, but this time, I met up with her and her mare. We went for a hack in the woods. (It's greening up!)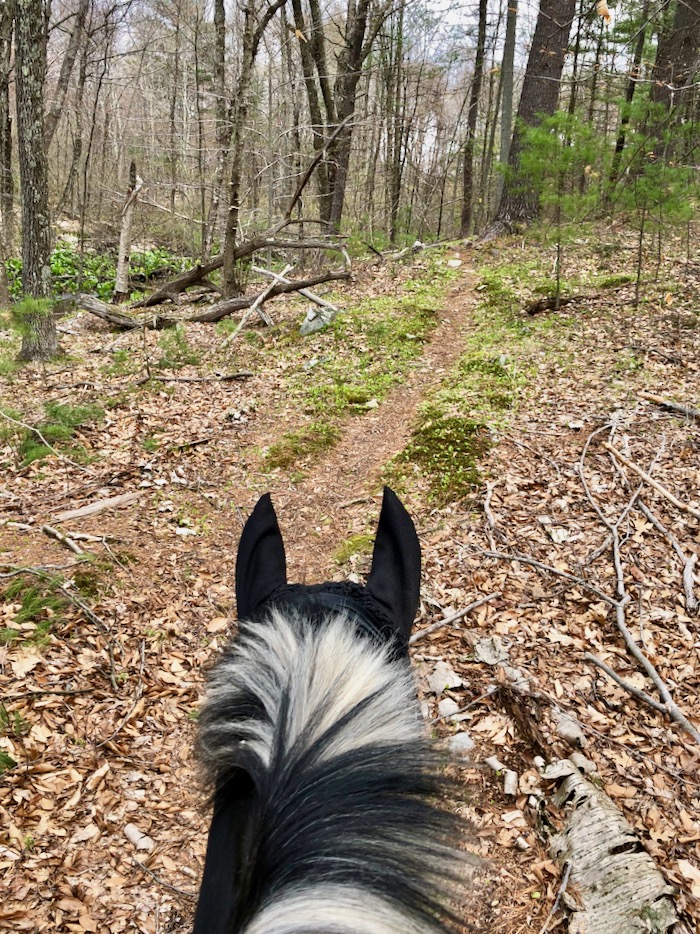 After a very pleasant three mile walk on the trails, we untacked the horses and spent twenty minutes letting them graze in the now very lush fields.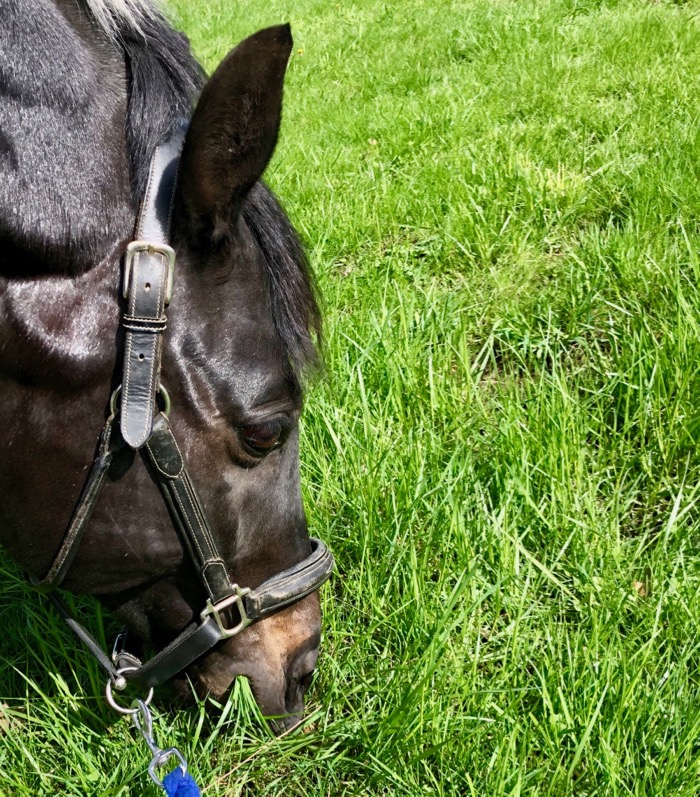 At the end of May, I'll load Tonka into the trailer to go to Maine, and with these satisfying experiences behind us, I think he'll be relaxed on the drive, and optimistic that he's going somewhere good.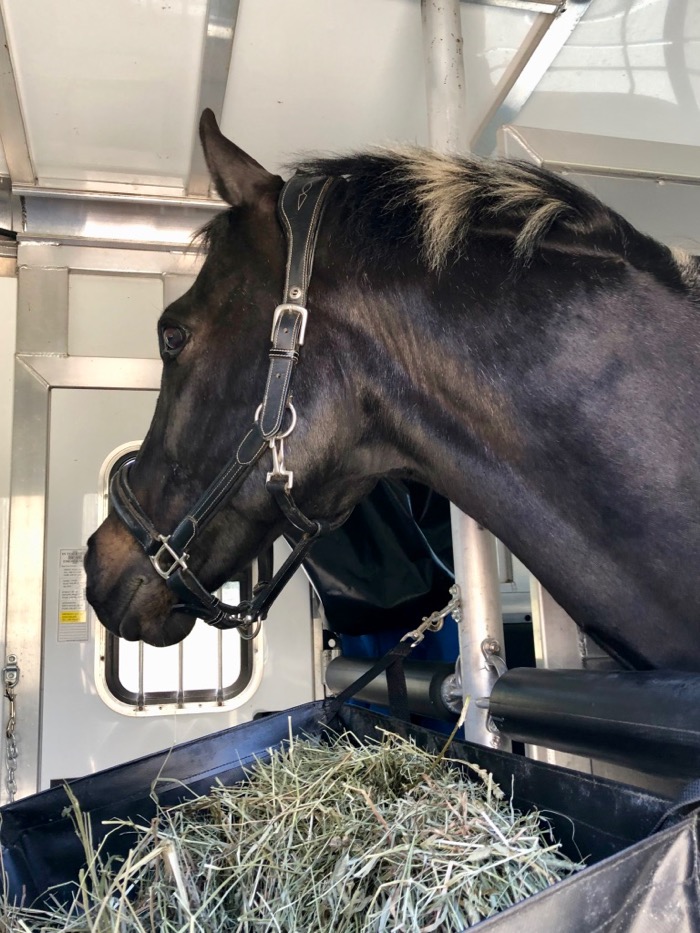 Side note: For me to feel confident driving the trailer, I need to make sure I've taken care of every safety detail. For that I have a Horse Trailering Checklist. Use mine as a jumping-off point for your own.