Almost two weeks ago, Tonka left The Ark for his new home in Maine.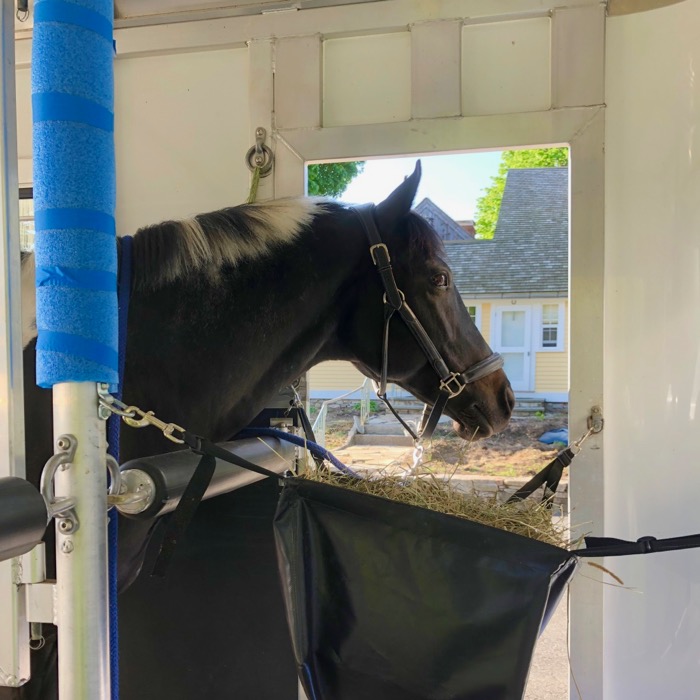 The Ark was the perfect boarding barn and it was a challenge to find a place where my horse would be as content. I realistically accepted that there'd be compromises, but I also know Tonka well enough to know what critieria are essential for his mental and physical well-being.
I found a stable a half-hour from my new house in Maine. I prepared Tonka for this big move by doing a few things. I consulted with my veterinarian and decided on a course of UlcerGard (omeprazole) Oral Paste Syringe (6.15 gm) (horses under stress are prone to ulcers and this wards them off.) I also wanted to reduce the stress itself. I hadn't trailered much this past year, and two of those times were to a veterinary hospital. So in the last month I took Tonka on a few short trips. Once just to a hay field to eat grass. Once to visit a favorite horse friend of his. Once to trail ride. So, when he got on the trailer the morning that we left the Ark, Tonka was expecting something good when he arrived at our destination.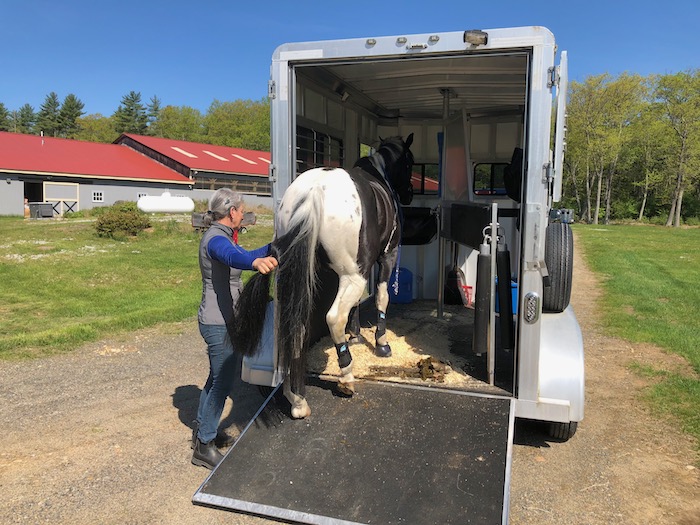 We lucked out. It's been an exceptionally rainy spring, but we moved barns on a sunny day. As soon as I backed Tonka off of the trailer, I  led him around so that he could get a lay of the land. For Tonka to feel secure, he needs to get a sense of a place.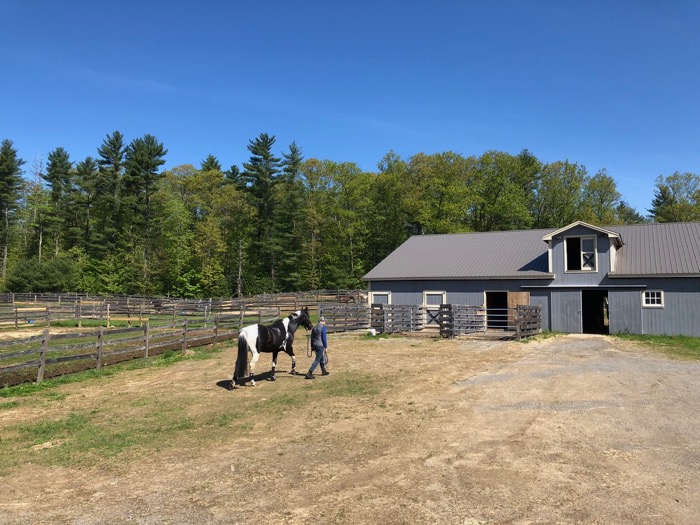 Taking a few minutes to graze also helps Tonka to relax and feel confident in a new environment.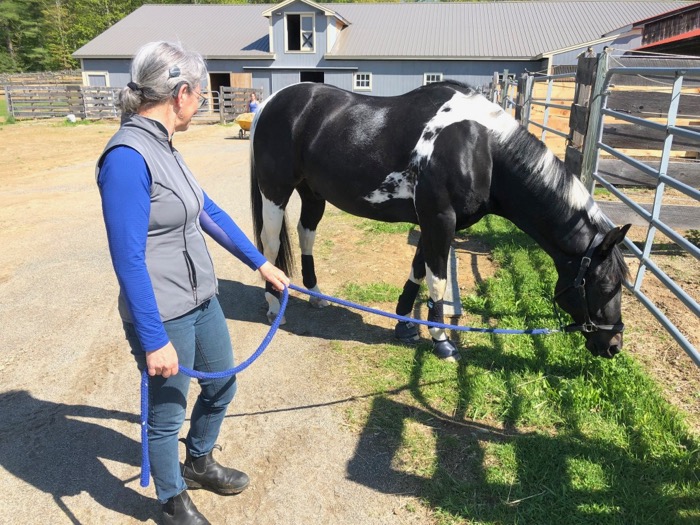 One reason that I selected this boarding barn was because of this stall.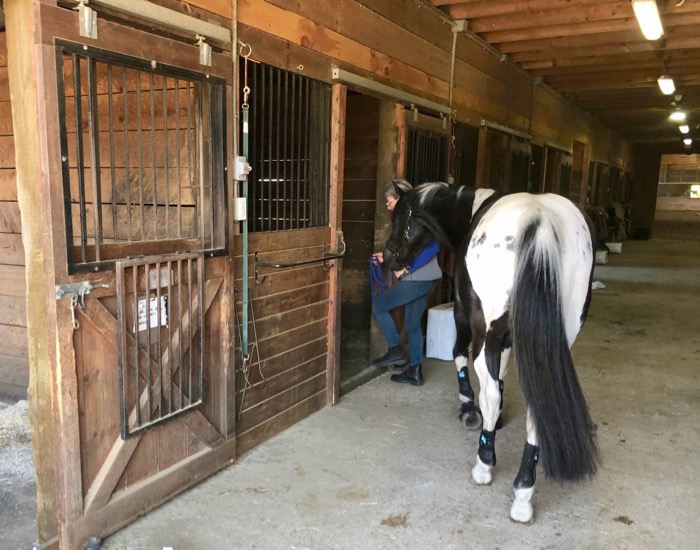 Tonka can put his head out and look down the aisle. Tonka has lived at barns where this isn't an option, and he's not as happy when confined by four walls.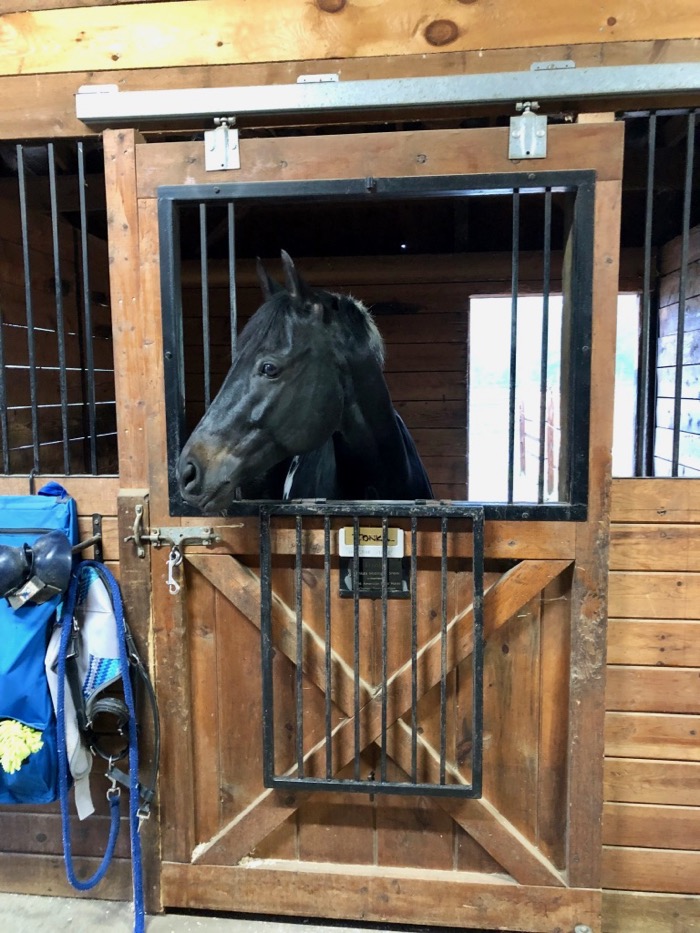 The stall also has a small paddock attached so that he can come in and out at will.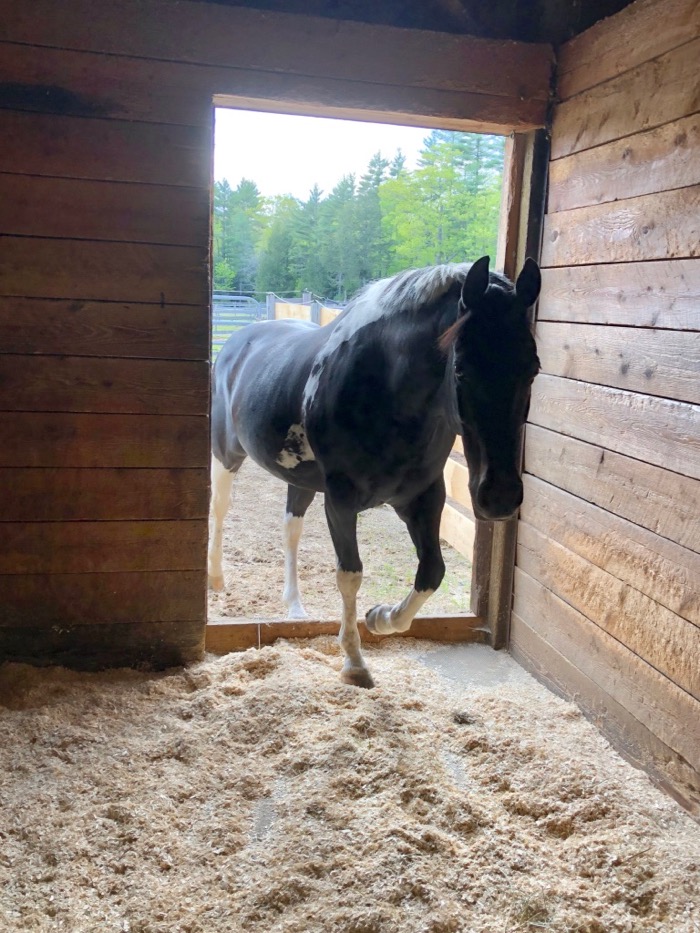 In his in/out paddock, Tonka can interact with the horses on either side of him. They're both mellow and everyone immediately got along. Not a single squeal or kick at the boards. It helps that this barn feeds hay four to five times a day so that the horses don't feel compelled to resource guard.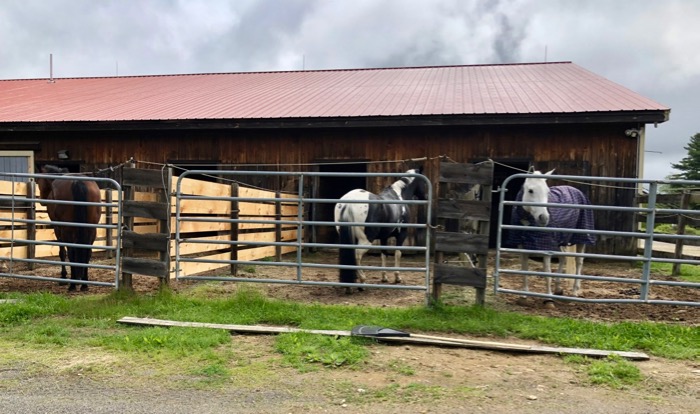 When it's not raining and when the ground isn't water-logged (did I mention that it's been an extremely wet spring?) Tonka spends the day in this paddock. Grass and space makes for a happy horse.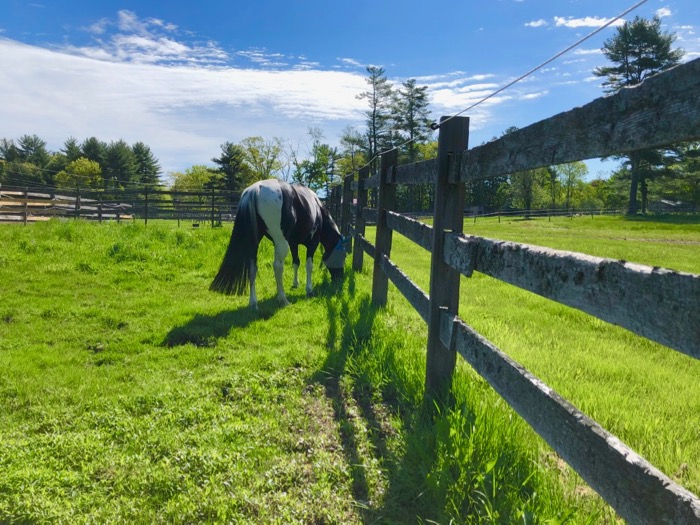 As does a patch of dirt to roll in.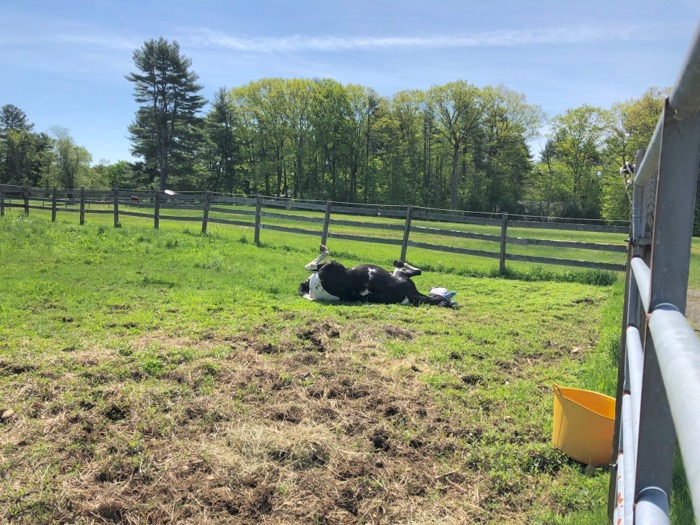 Did I mention how wet this spring is? It's created a bumper crop of mosquitos. It's kept us riding indoors. Which has been interesting. This is a hunter/jumper barn. The ring has stuff in it. So we've been going over it! Actually, pole work is just what Tonka needs for his SI rehab. I've scheduled a lesson with the resident jumper trainer to do cavaletti exercises. Should be fun!
One very windy day, which made it hard for the mosquitos to fly and land on us, we ventured into the woods and found this trail. I'm eager to go back. When the weather cooperates.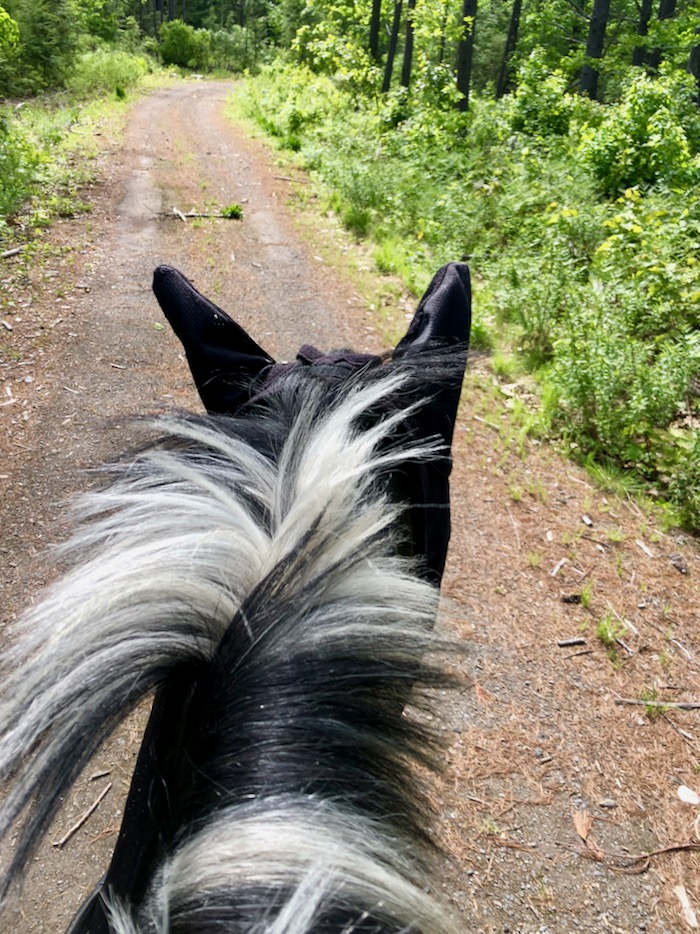 Tonka has already made new friends. There's an appaloosa pony across the aisle that he chats with. (I'm making new friends too. Good people here.)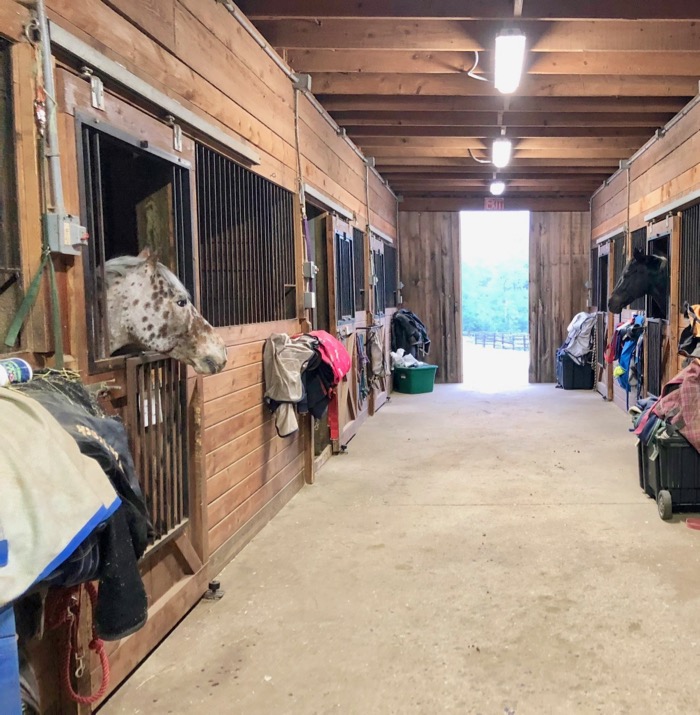 The hay is of excellent quality. The water is clear. When the weather prevents turnout in the grass paddocks, I'm there to hand-graze him.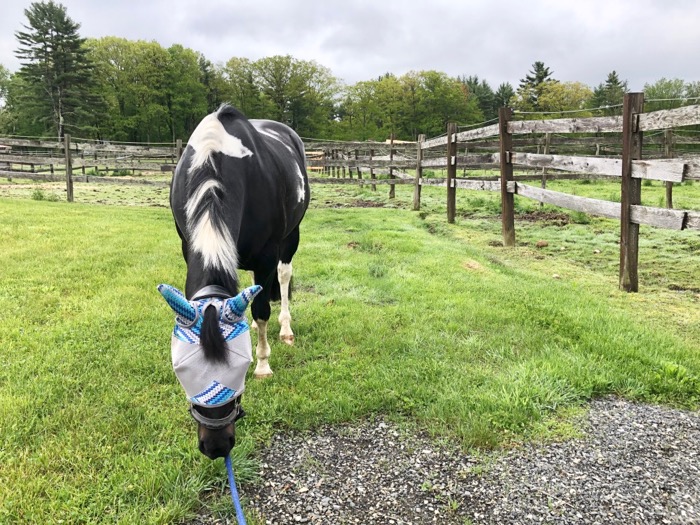 Tonka seems content, which makes me feel the same way.
Not worrying about Tonka helps to take the stress out of my own move. Which hasn't been easy. We bought a new house, but in doing some cosmetic work we discovered some structural issues. Where I live currently looks like this. Scooter copes by making sure that he knows where I am at all times.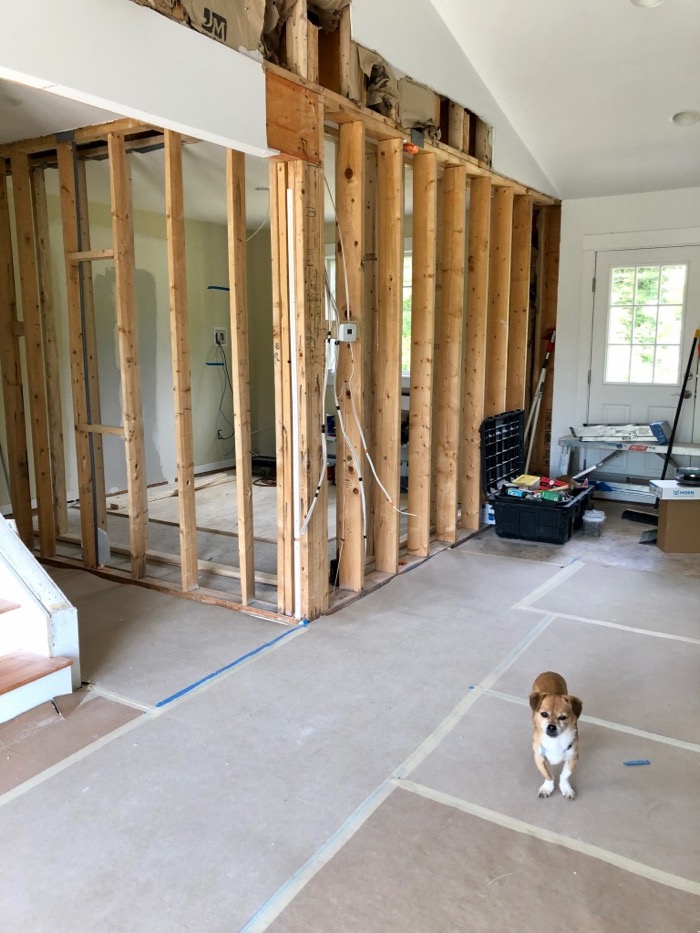 But it's not all worry. Scooter already knows where to hang out on hot and sunny days. If only there were more of them!
Have you made a big move with your horse? What did you do to minimize the stress for you and your horse? Let me know in the comments!