This might look like a disobedient buck, but it's not. When I watched the video frame-by-frame I could see that Tonka hopped behind for a stride. Like he had a glitch that needed adjustment.
This also might look like disobedience.  Dressage riders don't like open mouths. It's how the horse evades the bit. Often, a noseband is cranked tightly around the jaw or over the nostrils to keep the mouth shut. I don't use that tack because Tonka's open mouth is communication to me. When Tonka is unhappy, he juts out his under neck, sinks his back, and opens his mouth. I'm not always sure what initiates this behavior. It might be that I'm not riding as tactfully as I should, perhaps my hands are unsteady or braced in a way that causes discomfort. Or, maybe, he's got a twinge in his body and he hurts. I make adjustments and figure it out.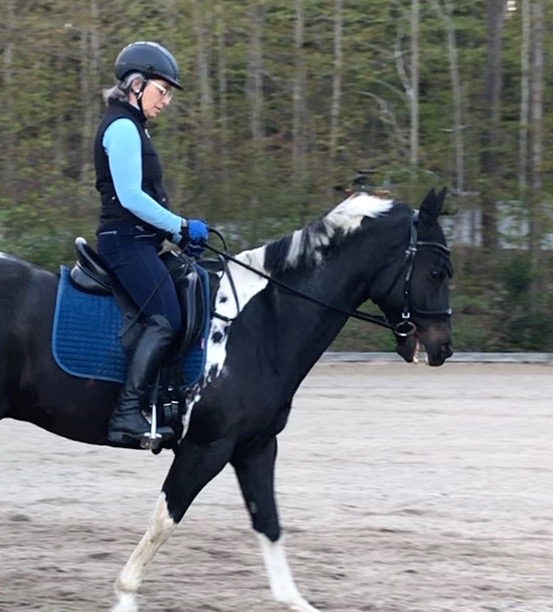 Tonka has spent half a year moving in a certain way to avoid his aching sacroiliac joint (and maybe the arthritis in his left hock, too.) He's built muscles in the wrong places, and he's gotten into patterns of going that I need to rework in order to get him traveling comfortably and soundly. It's the equivalent of physical therapy. If you've ever been to PT, you know that it's not easy. I have to insist that Tonka move in ways outside of his comfort zone. But I also have to listen. Pushing my horse through pain isn't going to accomplish anything. The trick is to find the good strides, and expand on them. Tonka enjoys them as much as I do, and he'll do more and more of them as he gets stronger.
Here we're back in balance.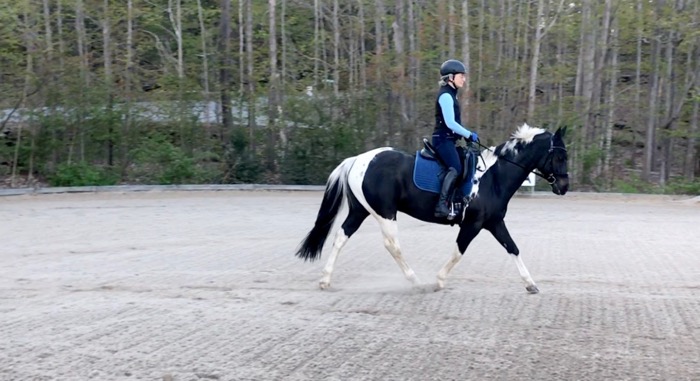 We'd been putting in the work, but Tonka wasn't making the progress that my veterinarian had expected. I asked to have some blood work done. Was Tonka low in vitamin E? Although it's rare to see clinical diseases caused by a vitamin E deficiency, you sometimes see a lack of recovery from exercise and general discomfort. The lab report showed that Tonka's vitamin E level was low.  Horses can't make their own vitamin E, they have to ingest it. It naturally occurs in green grass, which is seasonal, and which Tonka doesn't get a lot of. Although his pelleted grain has vitamin E in it, the test made it clear that Tonka needed more. I immediately put him on a Kentucky Performance Prod 044097 Elevate Maintenance Powder Supplement for Horses, 2 lb.
In less than two weeks, I noticed a marked change. Tonka seemed generally more cheerful. He was enjoying his grooming sessions more, and he seemed more eager under saddle.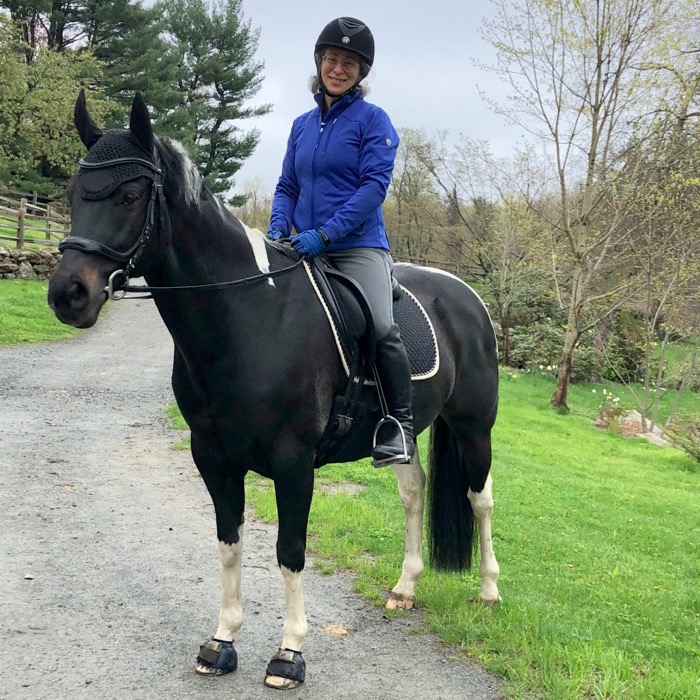 We've been having some super rides in the ring, too. There's still the hard work of strengthening Tonka's back muscles, reducing his under neck, and building his topline. But, it's happening. Tonka is enthusiastic about upward transitions. He's ready to go.
Not all horses are as sensitive to low levels of vitamin E. This one, though, will be on supplements for life.