Yesterday, Tonka and I competed at another USDF dressage show. My ride time was 8:07 a.m., which meant that I had to be at the barn by 5:30 a.m. to feed Tonka. Once we're hauling down the highway, he doesn't eat. Some horses do, his friend Maggie will eat as much as is in front of her while traveling, but Tonka doesn't. Horses need to have food padding their gut so as not to get ulcers, and so I give Tonka time to have breakfast before getting on the road.
The test itself, from salute to salute, takes less than six minutes. You could ride two tests per show, but I only enter one because I get stressed out if I have to remember two tests! So, all of the prep, and the travel, leads up to a very brief moment in front of the judge.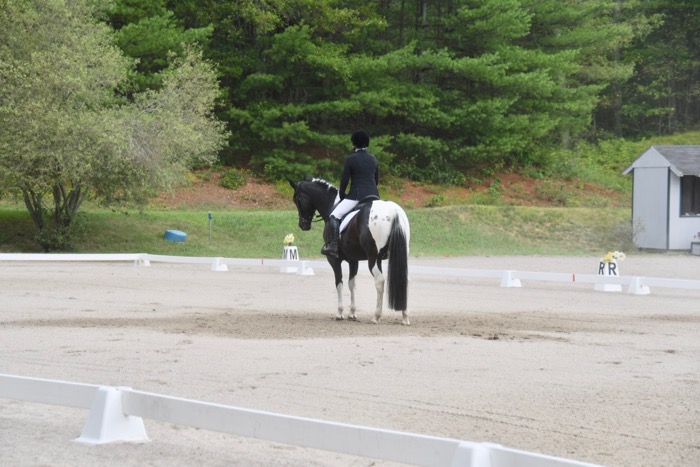 On the hour-long drive to the show grounds, sipping coffee, I ask myself what the heck am I doing, and why?
The answer is complicated.
I do like having external validation for all of our hard work. You get the judge's scorecard, with comments. I usually get a ribbon, too.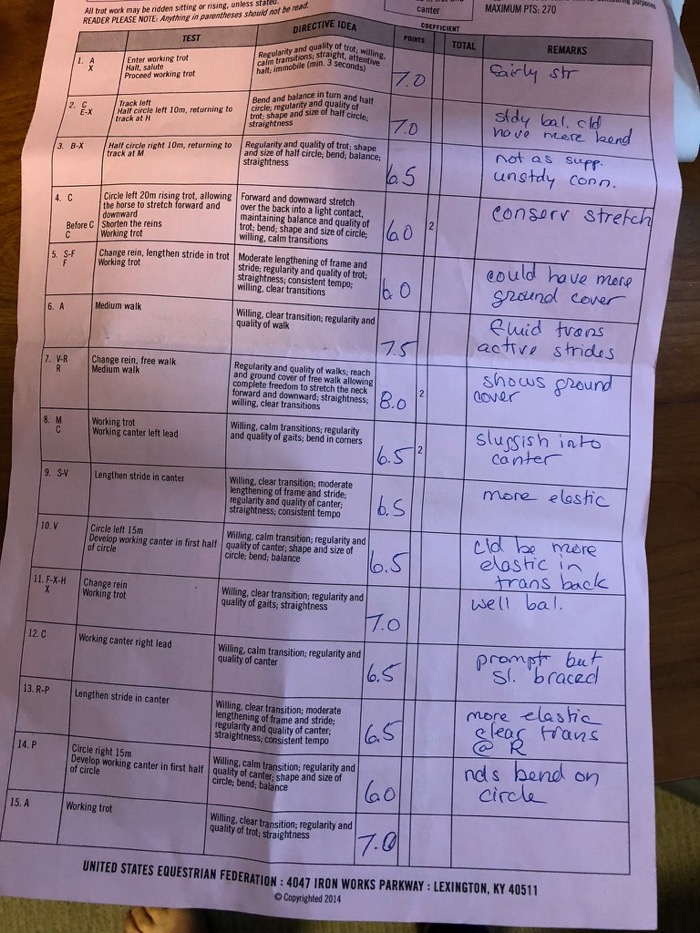 But it's not all about the riding. It's a chance for Tonka and I to get out of our daily routine. Barn life is highly regimented and our interactions are done in a comfort zone. It's good to have a bit of frisson in our life.
After the ride, there's always a wait until all of the horses in our class have their turn and the scores are announced. Yesterday, that took over an hour, so I let Tonka take me on a walk. He led us away from the horses and down this path. I have no idea what interested him, but he was eager to go.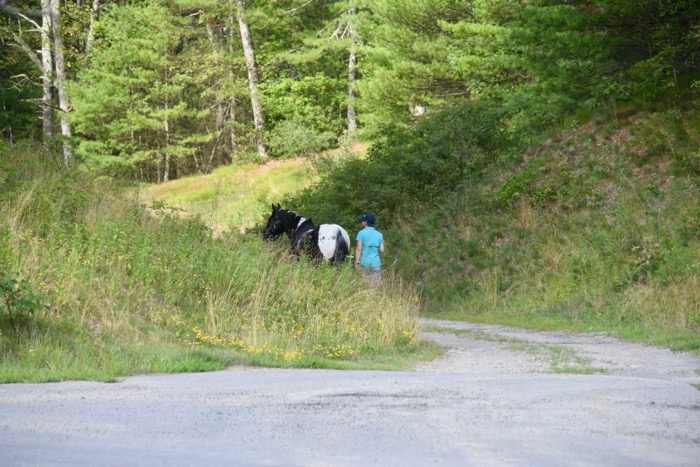 We turned around only after the deer flies attacked. Tonka stopped and asked me to brush them off. I did.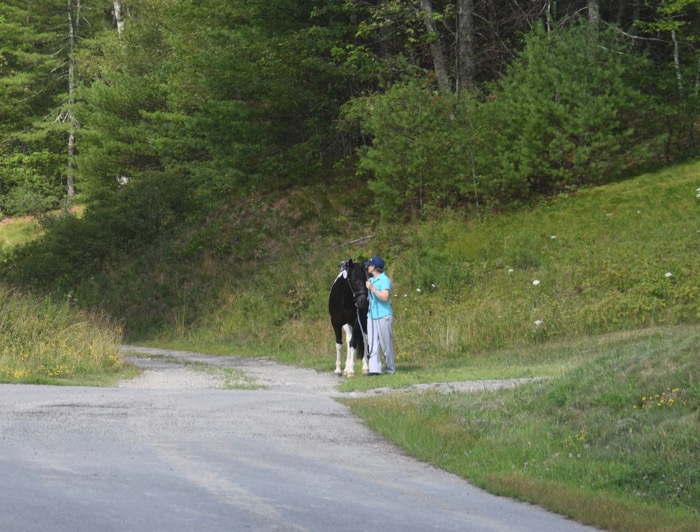 Then Tonka showed me where the best clover was.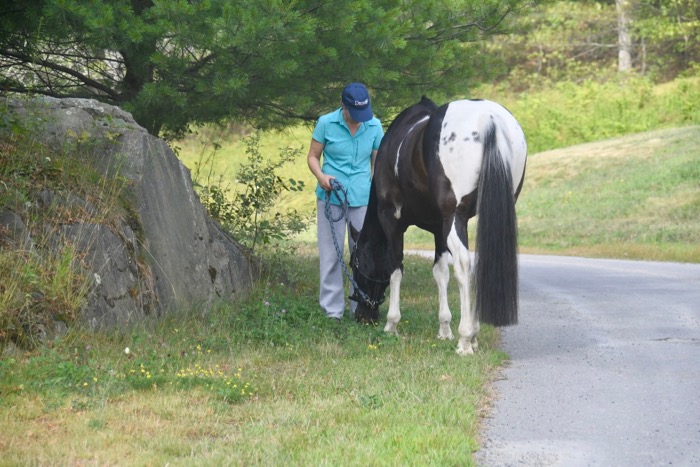 After that snack, it was back to the trailer, where there was plenty of good hay to eat, and interesting things going on around us.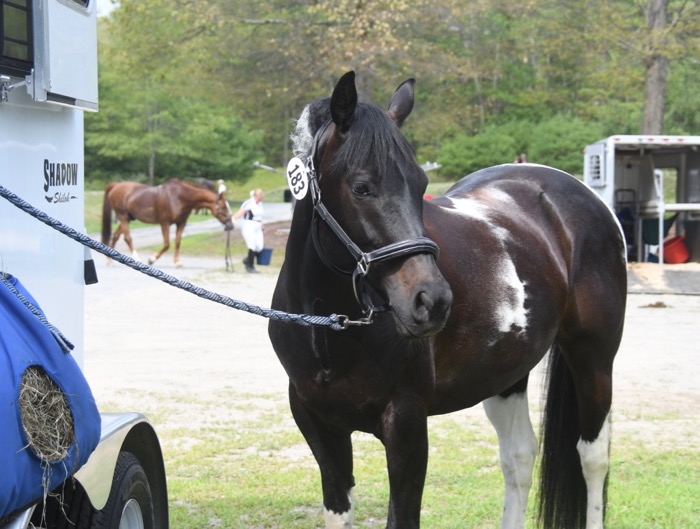 A dressage show is a time to pamper my horse. Tonka loves it when I damp sponge his face. Here he's whuffling in my ear in thanks.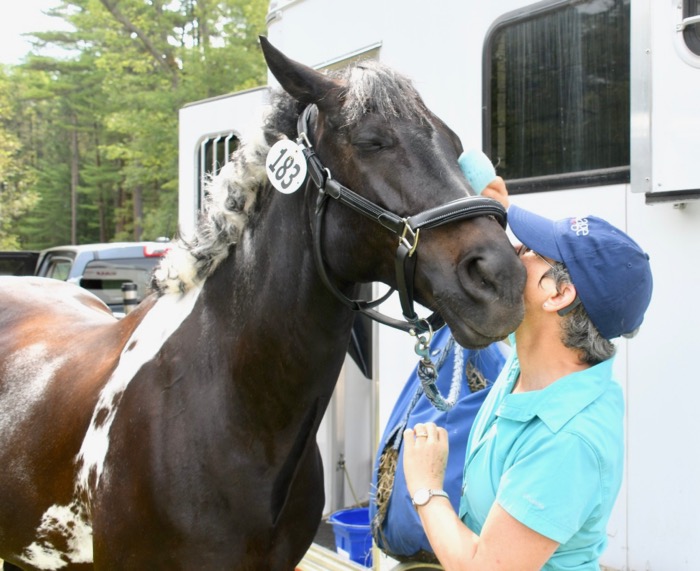 Horses talk to their friends with their lips. I was a bit surprised by this, but you can see he's doing it with affection.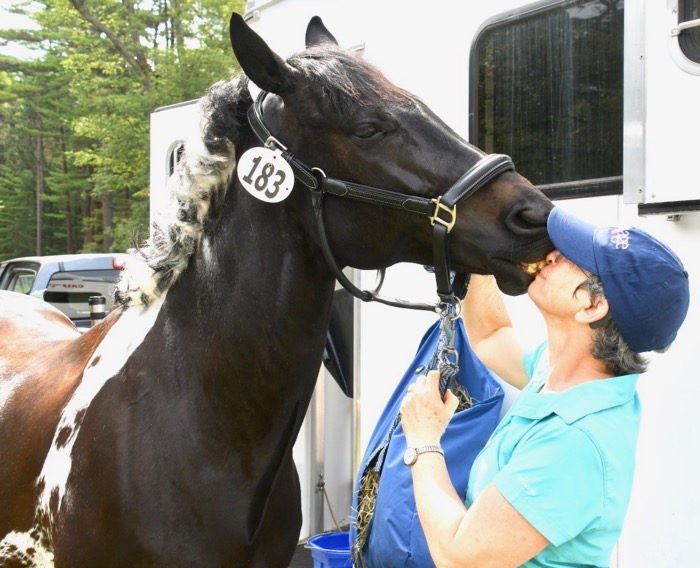 After the sponging came a toweling off. Tonka likes having his nose wiped.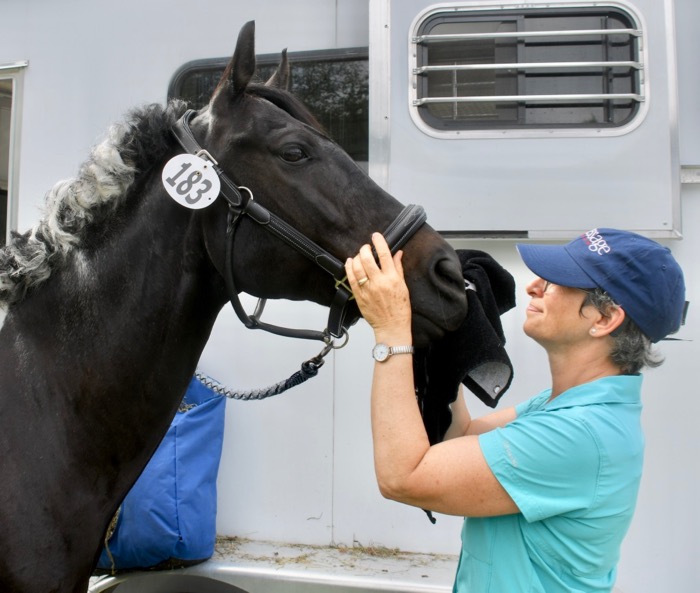 As far as the dressage test itself – it wasn't our best outing. Tonka felt tight, and I didn't ride the right warmup for the horse that I had under me, nor did I think that I rode him in the ring as tactfully and responsively as he needed. But, we still did okay! We scored a respectable 64.44 and placed 4th out of 10 rides.
In honesty, I was bummed with my warmup strategy, and bashed myself for not scoring higher. But then I looked at it from Tonka's perspective.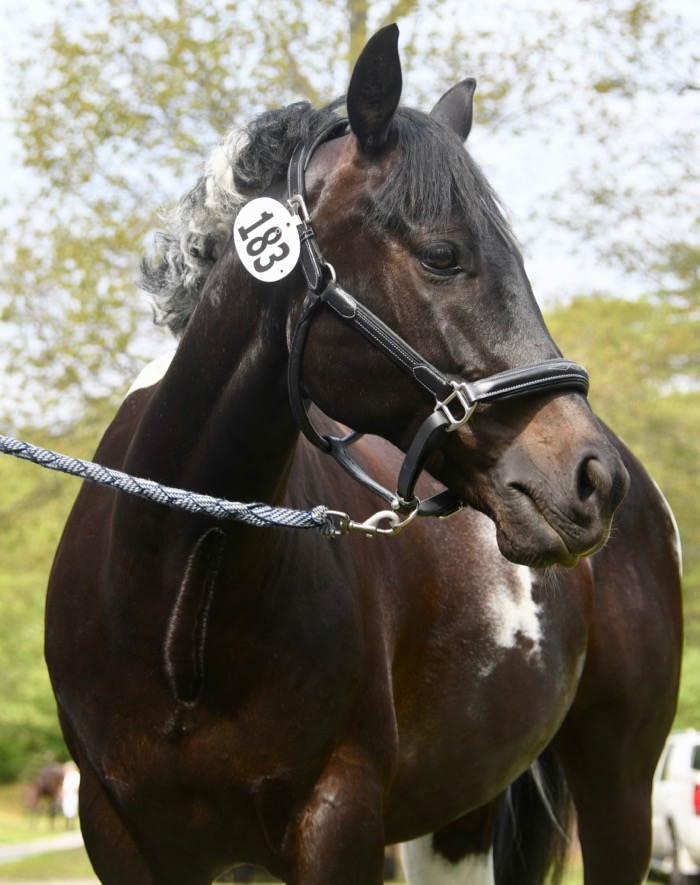 It was a good morning, spent doing interesting things with your best friend. I think he'd say that it was even worth the silly curly mane.