I use checklists. I've already shared my hitching up checklist for you. I once thought I had that down and didn't need to take pen to paper to X off the steps – and my trailer didn't budge. I'd forgotten to remove the chocks from the wheels! Fortunately Tonka wasn't yet loaded.
I also have a list of all of the stuff that I need for horse shows. That keeps me from forgetting an essential detail, like my tall boots. But even the short trips that I do, for example to take a riding lesson at my trainer's barn, or to drive up the road to the trail head, requires an array of gear, and one missing element can ruin everything. The other day I trailered twenty minutes to a Town Forest, and halfway there realized I'd forgotten my helmet. Luckily, I always keep a spare helmet in the truck (there are times, working with client's horses, that I wear it when doing groundwork.) I have other items that permanently reside in my truck and trailer. Here's a list:
water bucket
wash bucket
muck tub
broom
pitchfork
shovel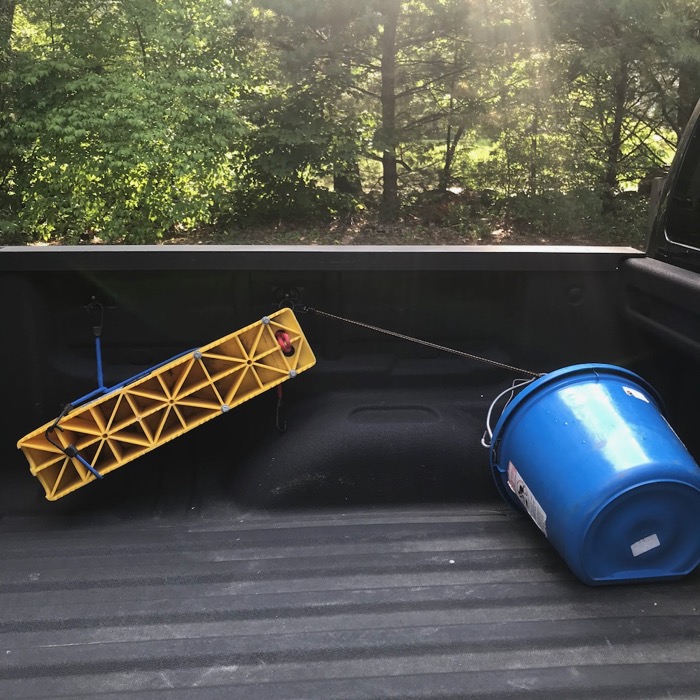 I don't always have to sponge off Tonka, but there's always manure to clean up! It doesn't matter where I am – I always tidy up after my horse.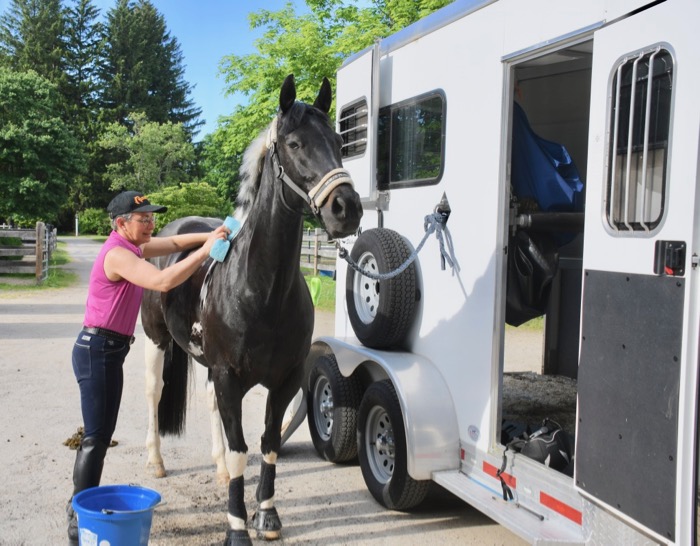 There are work gloves and hitch lubricant in the door of my truck: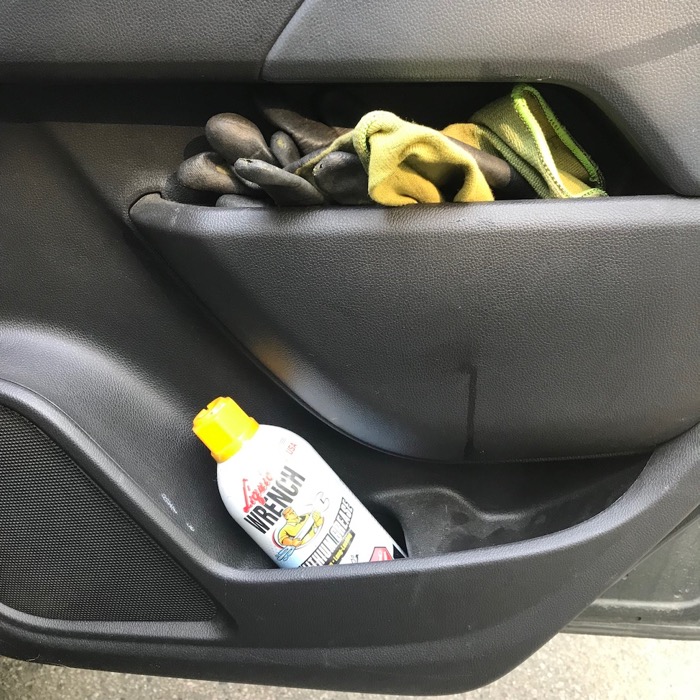 I keep this kit in the crew cab: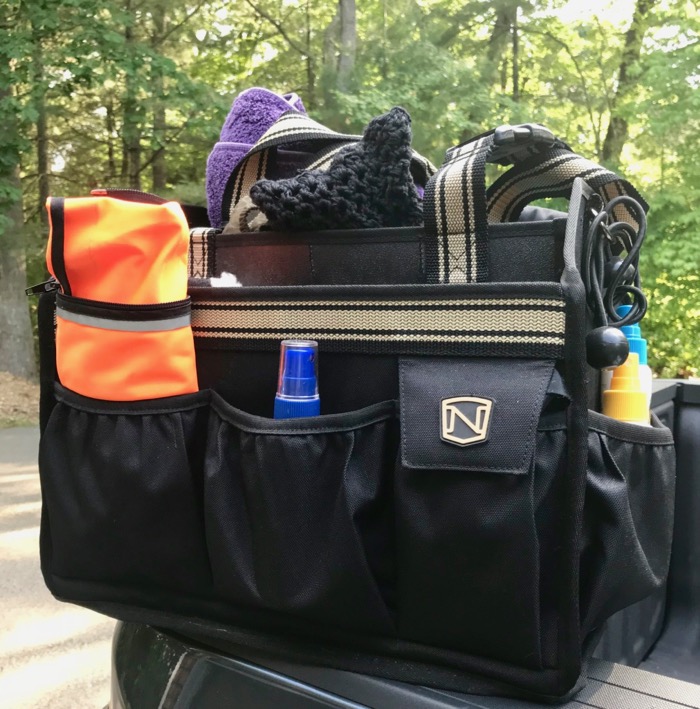 sponge
grooming tools
hoof pick
towel
spare socks
spare riding gloves

Auto Amazon Links: No products found.

fly spray
ear net
spare halter
spare lead rope
bungy cords
during show season there are also extra rubber bands and horse dry shampoo
Also in the crew cab are a selection of treats for Tonka, and chocolate for me.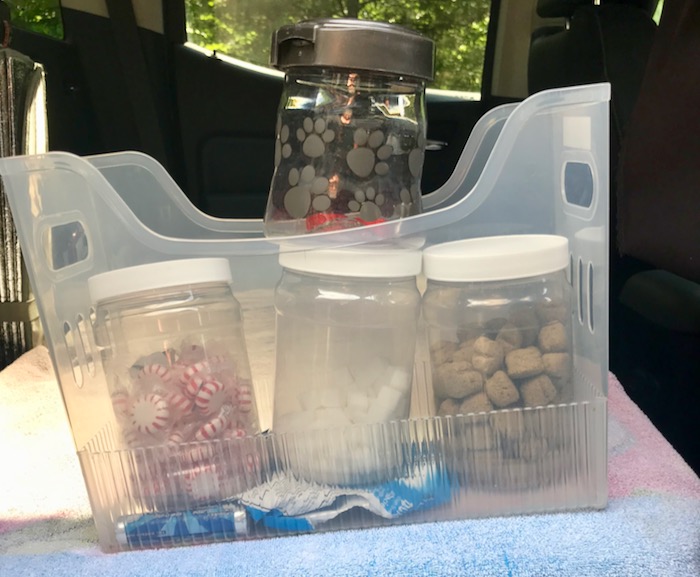 I have a zippered pouch that keeps toiletries in one place. Facial wipes, deodorant, hair brush, lip balm, sunscreen, etc.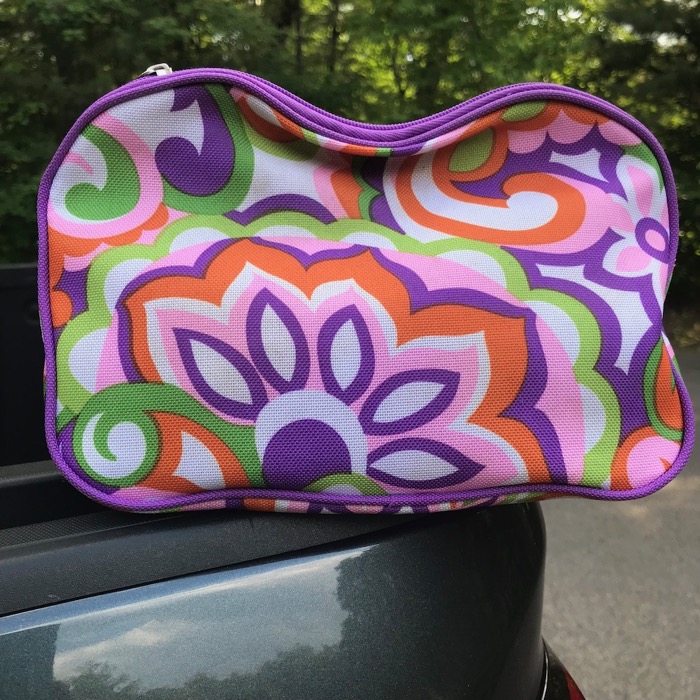 I wouldn't go anywhere without my emergency vet kit. This one is compact and has the necessary basics.  So far, I've used the thermometer, and helped a friend with a horse that needed a wound cleaned out.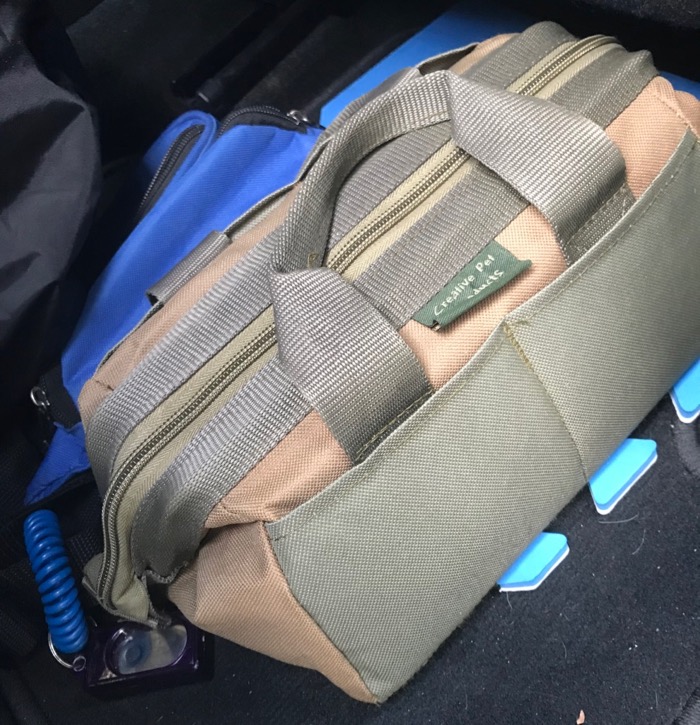 What I've itemized above are all things that I keep on hand, but I've needed a checklist for what I bring from the barn. Riding requires a lot of gear!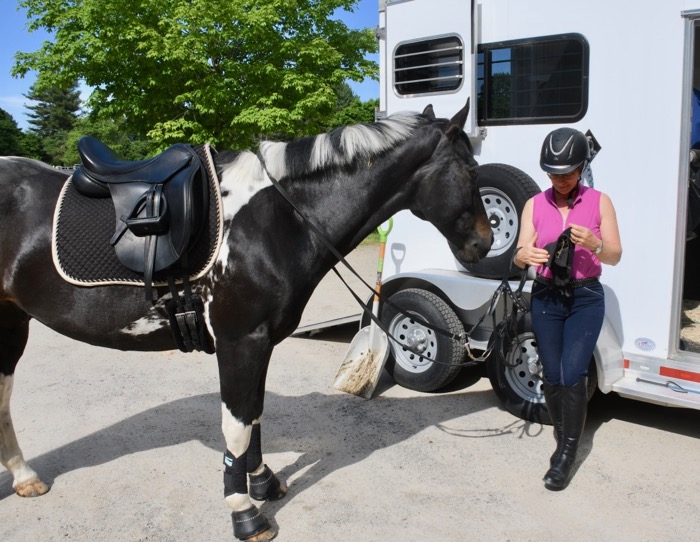 Here is my list:
saddle (with stirrups – I once forgot to put them back on after cleaning tack and trail rode stirrup-less!)
saddle pad
girth
bridle
fly net as needed (I have a net for trails, and a different one for lessons)
helmet
gloves
tall boots (I don't like to drive in them, and always change my footwear)
carrots and/or apple pieces (Tonka gets these in his hay manger in the trailer every time he loads)
water for me (driving home hot and thirsty is a bad idea)
That's it. A short list. But forget one item, and you might have made the drive for nothing, and you wouldn't want to miss out on this: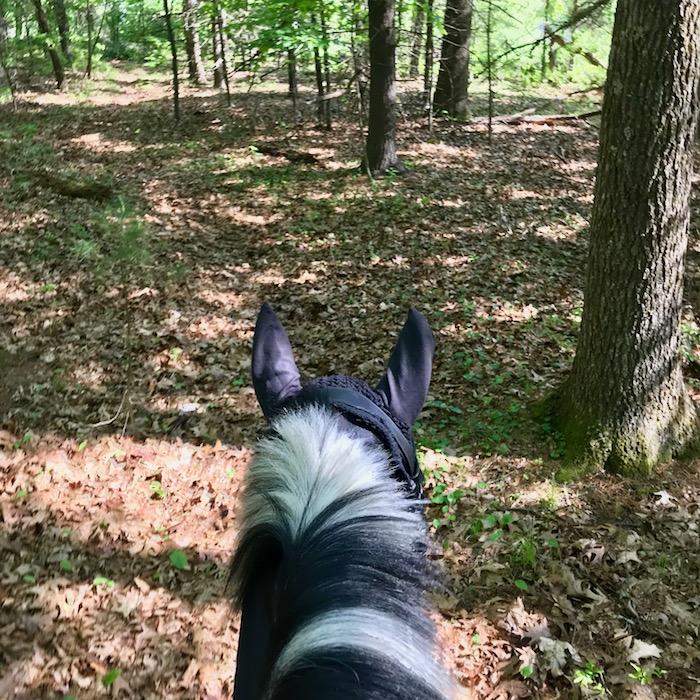 What do you keep in your truck and trailer? Have I not included something that you find essential? Do you have a story about forgetting something? Tell me in the comments!