UPDATE: Although Tonka wore a Soresto collar all last summer with no issues, this year, it rubbed, caused irritation and hair loss, and slight swelling. I don't know if the collar has been reformulated, or if Tonka developed a sensitivity. Obviously, he won't be wearing it. I know horses that are wearing dog tick collars without any negative reactions, so I still believe that this is an option for some. Let me know if you've had success – or failure – with this or any other method. 
Although snow is predicted for later this week (yes, it's April, someone please tell Mother Nature!), it's tick season here in New England. With the ticks come diseases. Really, really terrible ailments. The one we all are aware of is Lyme disease. That's named for the town of Lyme, Connecticut, which is the epicenter of this scourge. (By the way, it's a lovely town, and I feel sorry that it's now linked to this disease.) Lyme is only 100 miles away from my home.
I've known horses permanently lamed from Lyme. Or that have aches that come and go. Or they have neurological damage. There's no vaccine. There's only prevention. To prevent Lyme, you have to keep the ticks from attaching to your horse. The problem is that these ticks are as tiny as pin heads, and your horse is large and covered with fur. They can be there and you don't know it.
During tick season I am especially vigilant in my grooming, and run my hands over all of Tonka's body. He's one of those horses that immediately reacts to a tick's bite. He gets a tell-tale lump. Look closely and you'll see the raised circle in the center of that bare spot. Sometimes you can see the tick, but sometimes it's like this – there's a tick under the skin.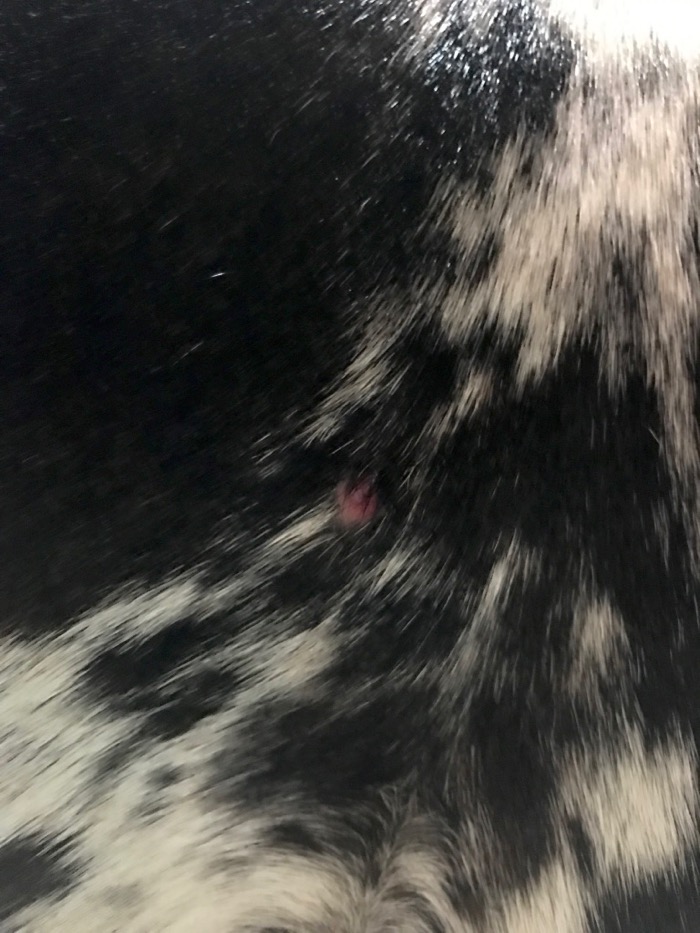 It's totally gross, but if I scratch it with my fingernail, the tick is exposed, and I use special TickCheck Premium Tick Remover Kit - Stainless Steel Tick Remover + Tweezers, Leather Case, and Free Pocket Tick Identification Card (1 Set) to pull it out. But by the time you see this lump, the tick could have already sickened your horse. It's best to prevent them from attaching in the first place.
I know people who stay in rings, and turn their horses out on dirt, just to avoid ticks. Not only does that not entirely work, but it's no life for a horse.
On the other hand, as happy as Tonka is in this field, letting him hang out there probably isn't the smartest thing to do, as high grass is a tick's favorite place.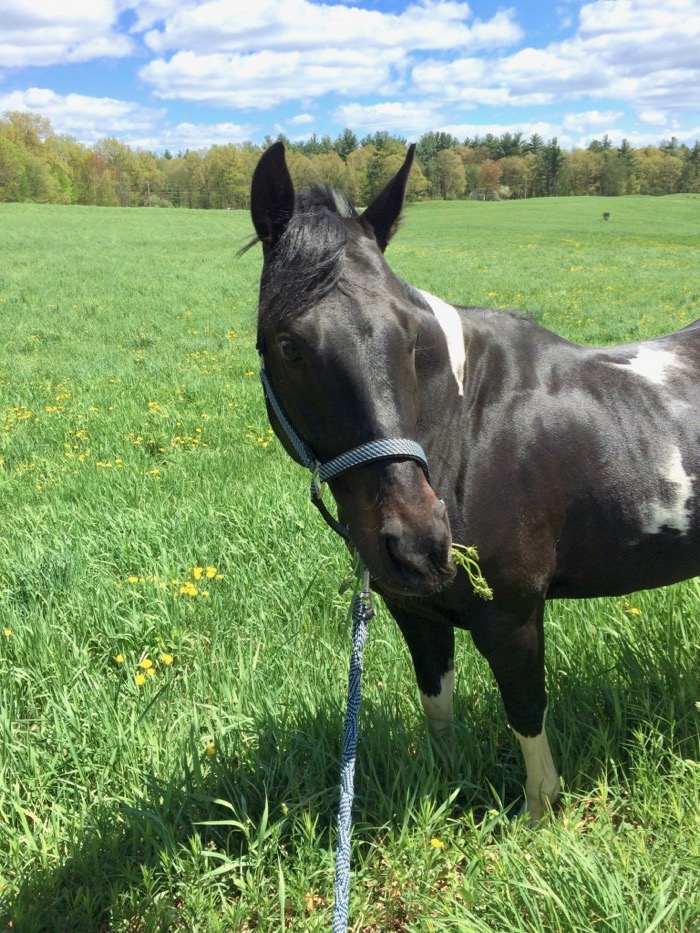 Tonka has white legs, which makes the ticks visible, and after a little graze like this (he got five minutes before loading into a trailer), I check him obsessively and brush him down.

Last year, I upped my attempt at protection. Before we go out on the trails, I spray

Auto Amazon Links: No products found.

 with a pyrethrin-based repellent. The ticks can't traverse the boots to get up to his body.
When riding, I try to stay on the trail and out of the tall grass. But, since that's not always possible, I also Farnam Endure Sweat-Resistant Horse Fly Spray, Kills, Repels, Protects, 32 Ounces, Quart Spray the rest of him.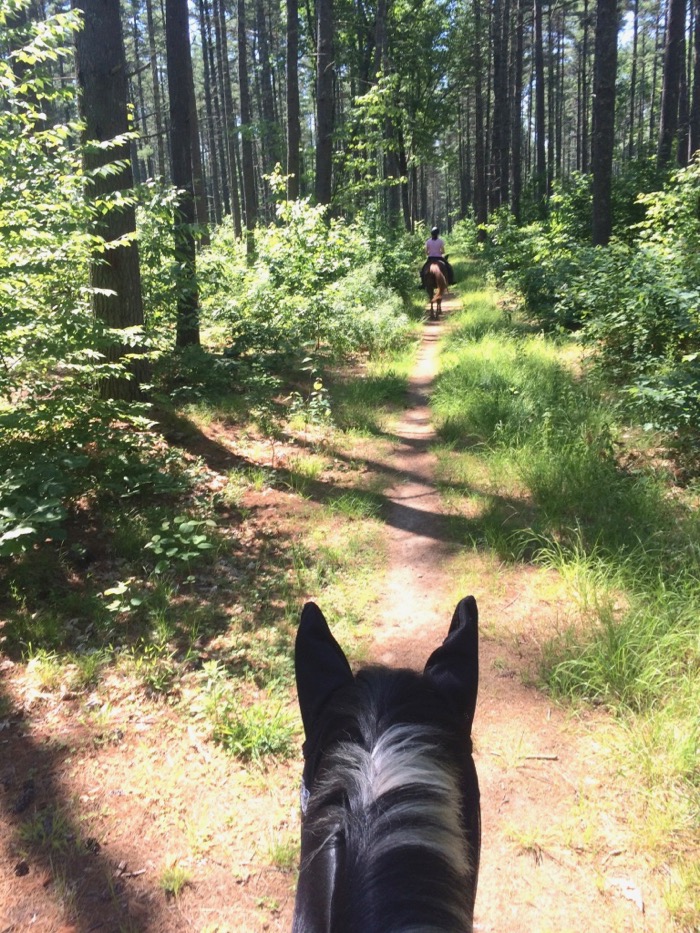 Some people use a Farnam Equi-Spot, Horse Fly Control, Long-lasting Protection, 6 Applications, 12-Week Supply for One Horse to protect their horses. This can be a good option. However, these pesticides need to penetrate the skin, and to do that, they have an additive that many horses – Tonka included – finds painful. Last year, with the approval of a vet (albeit off the record), Tonka wore a dog's Seresto Large Dog Vet-Recommended Flea & Tick Treatment & Prevention Collar for Dogs Over 18 lbs. | 8 Months Protection. The tick repellent in this product works topically. It attaches to the oils in the skin, and travels across the animal's body.
Now that the snow is (almost) gone, and there are warm days, I put a collar on Tonka.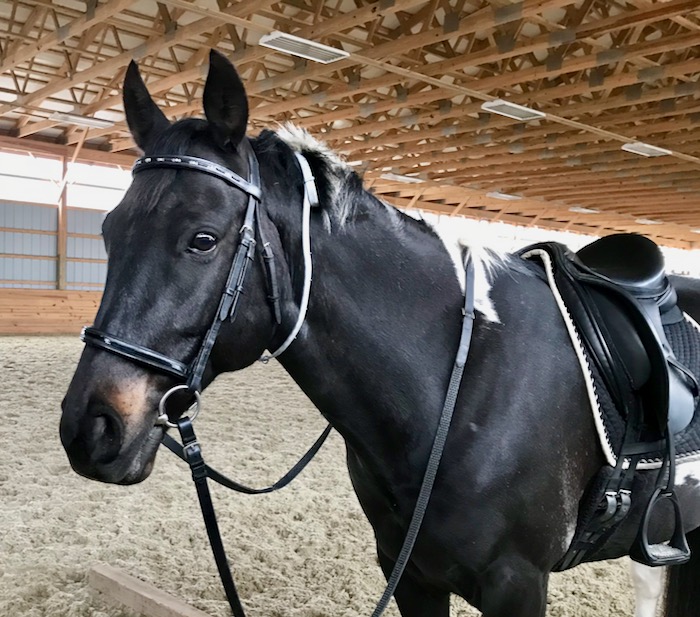 Actually, Tonka wears two collars. After all, his neck is much larger than even a large dog's!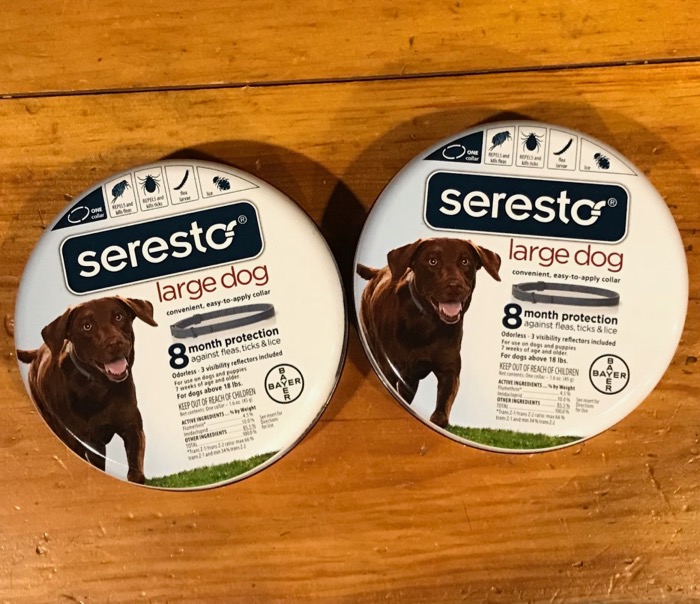 Tonka has no reaction to the collar, and it does seem to work. Last year, I found only two ticks attached to him all summer, and one was on the tail – which is quite far away from the collar on his neck.
The collar does fall off if tugged on, which is a safety feature, but you might find yourself looking for it after your horse rolls in the field! Some people braid the mane into the collar to keep it in place, and to keep it from sliding forward when the horse puts their head down to eat. I tried that.
But Tonka's stiff, bristly mane won't stay put. It's okay. He's fine with it moving around.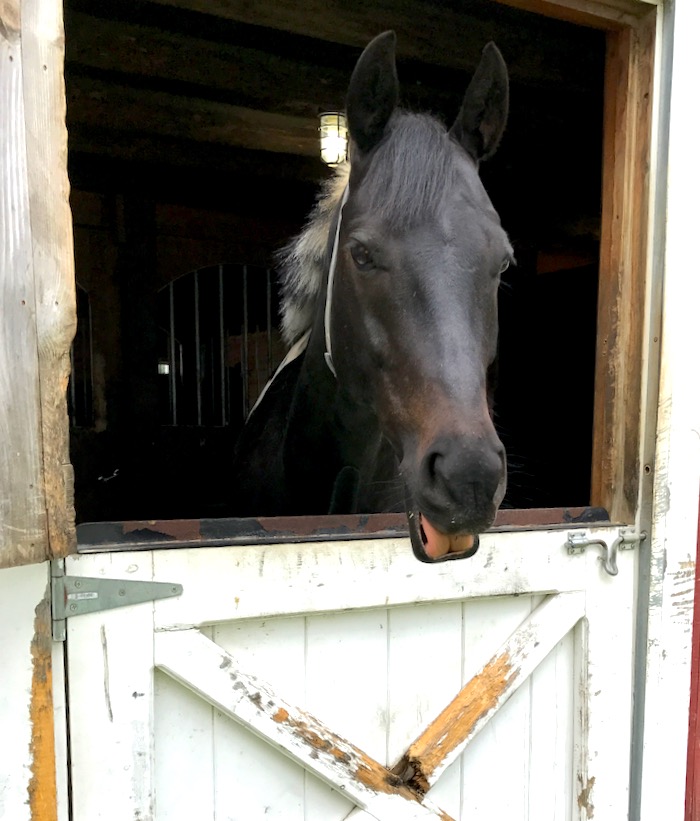 I'm hoping that the collar on my horse will work as well as the collar on my dog. Last year, Lily didn't have a single tick on her, and she daily wanders through tall grass.
What are you doing for tick control for you horse?