Lately, Tonka has been making faces when I groom him. He's clearly telling me that he doesn't want to be brushed.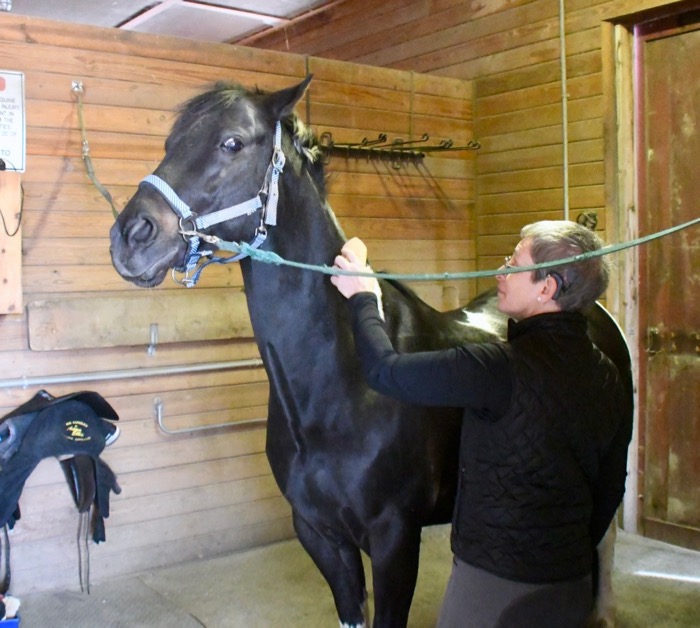 I ask him questions. What about being touched? He says he'd rather I don't touch him if I'm moving my hand the same way that I do when I brush him.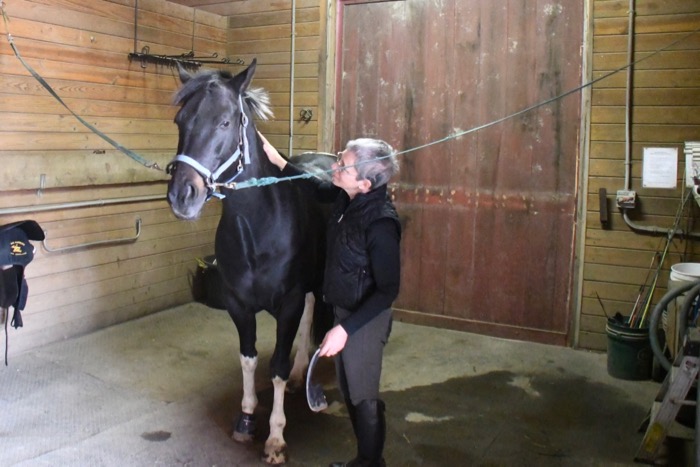 I'm not sure why he's like this. He usually loves our grooming sessions. I worry that he might be super-sensitive because of a medical issue. (I'm in Lyme disease country, and this is a symptom.)
I groom Tonka outside where he has total freedom to move away from me.
He stays for the stiff brushing off of his shedding coat.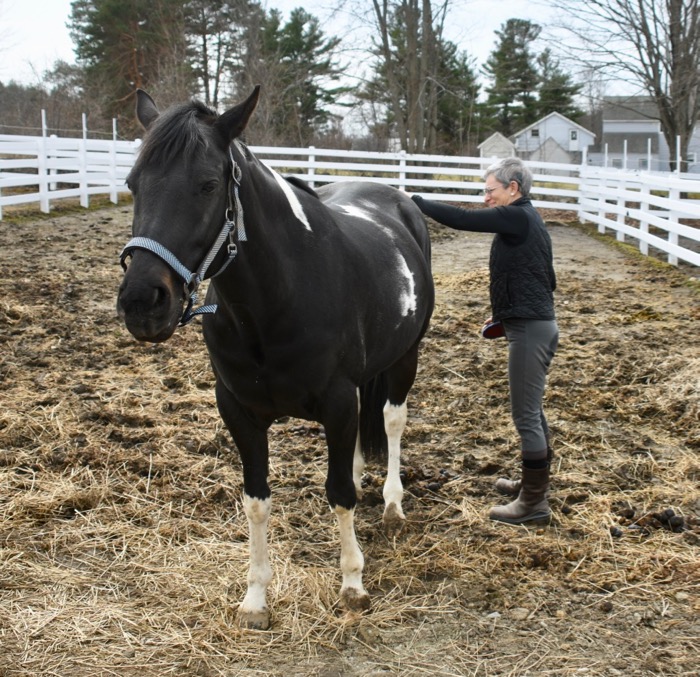 He walks away to poop.
But then Tonka comes back for more, and even leans into the brush. I'm relieved that he's telling me that grooming and physical handling is okay.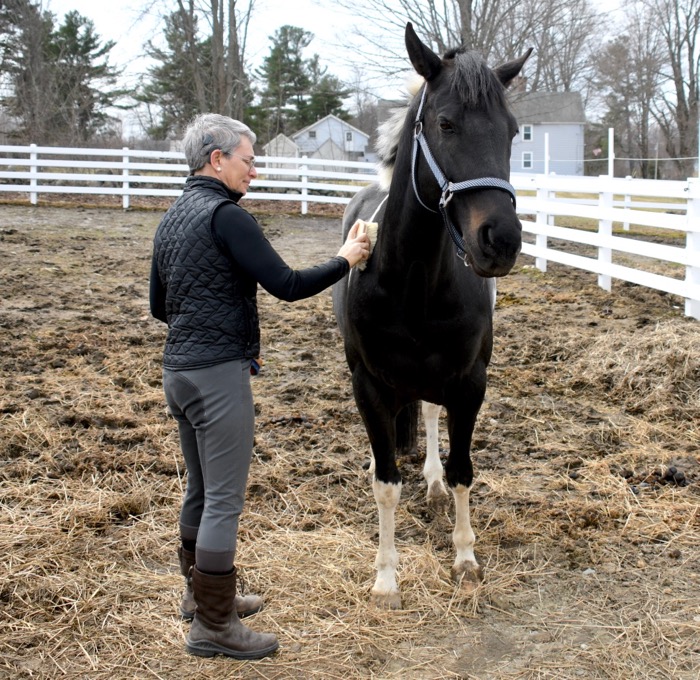 I don't know why Tonka is looking so grumpy when I groom him indoors. As the session outside shows, it's not the touching that upsets him. I have a theory that this cold, dry winter caused a lot of static electricity and he was sparked (unbeknownst to me) one too many times when I brushed him in the cross-ties.  Or it could be something else.
What I do know is that I have to build up his trust again, in that place.
I've noticed that he prefers certain brushes over others. I show him each brush before I use them. Horses have blurry vision up close, so I let him touch it with his nose, too. If he looks this ticked off about it, I switch to another.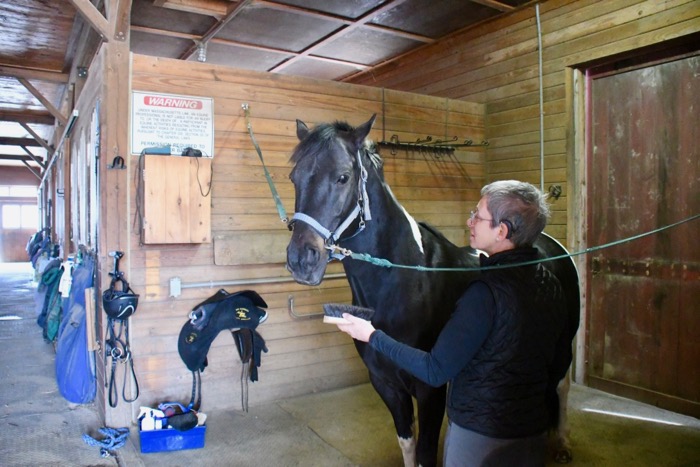 The mitt, he says, is okay.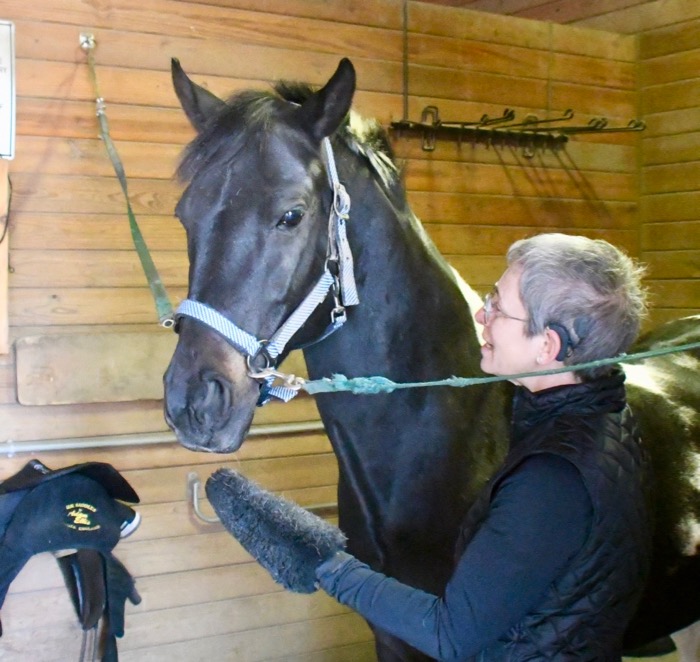 Although he's wary about me stroking him with it.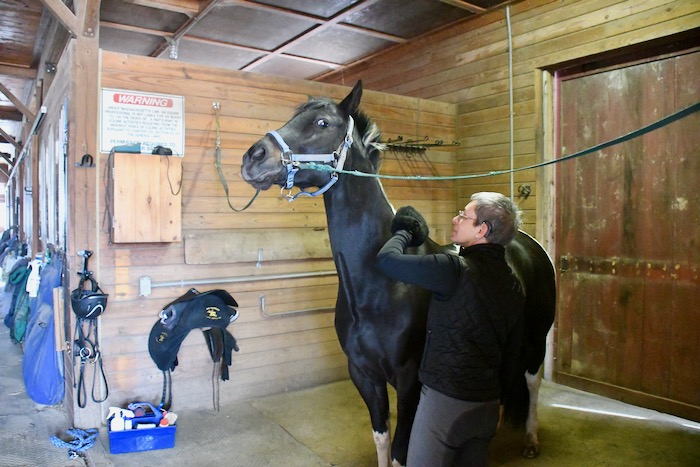 This expression is so unusual for Tonka! I remove my hand and wait for him to relax. Then I touch his shoulder. That's okay with Tonka, so I stroke what had been his favorite place, right behind his ears.
Tonka remembers that in fact, it feels good!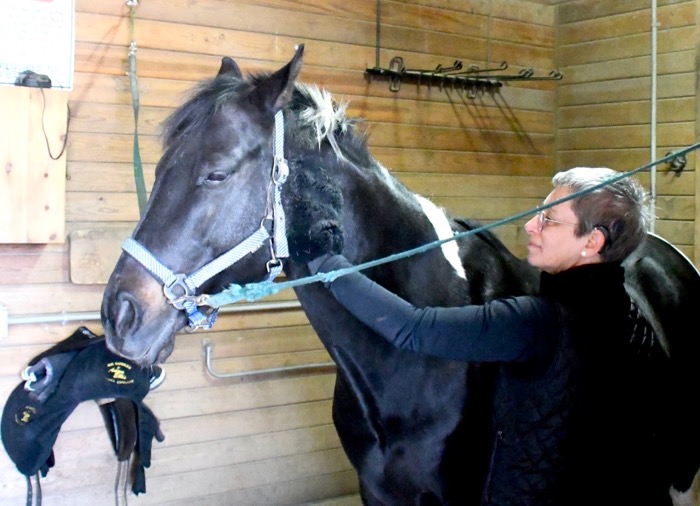 I finish grooming and put on Tonka's saddle.  Before bridling, Tonka asks for a thorough face scratching. I stay mostly still, and he tells me exactly where to scratch. Obviously, some touching is very, very welcome.
That's grooming bliss.
I'll keep asking Tonka questions, and giving him the contact that he does want. Hopefully, we'll get back to that grooming bliss with the brushes, too.