While my saddle is being adjusted for Tonka's more athletic physique, I have been riding bareback (with a pad, which, honestly, doesn't do much!) Riding bareback has kept Tonka and I at a walk. There's a lot that can be accomplished at this gait. Dressage is all about fine-tuning communication and developing athleticism with an eye towards flow and balance. For the last two weeks, Tonka and I have focused on some simple, but transforming, work.
For starters, it's always good to get a forward walk at the beginning of a training session. This doesn't simply happen. Here I'm asking Tonka to move on. (I ask with body language. It's a matter of how I sit, a squeeze of my legs, even where my elbows are.) Notice that Tonka's tail is swinging in a relaxed way. He's also got his ears forward and a soft look on his face. Those ears will change as I ask for more physical and mental exertion. As I increase the criteria, his ears will come back as he focuses on me. Back is okay. Pinned flat, which is an indication of anger or frustration, are not. I keep an eye on his attitude.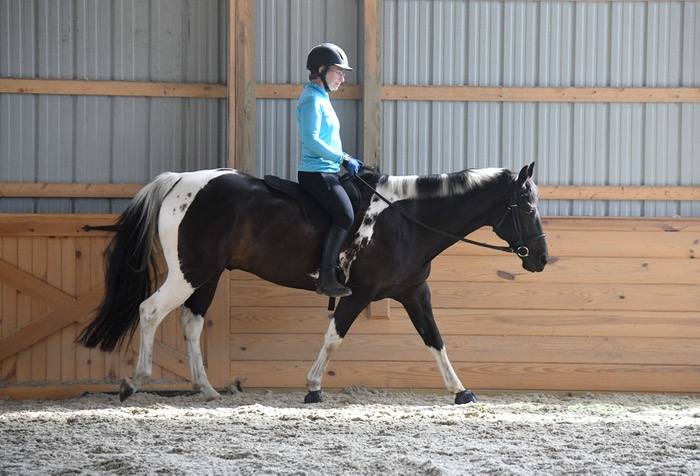 The above photo is pleasant, but notice that he's carrying most of his weight on his forehand. Moreover, when I ask Tonka to increase his stride in length, his inclination is to pull forward with his front legs, not power from behind. This hollows his back and puts even more stress on his forehand. If Tonka continues to go like this, he's prone to injury.
The next photo is ugly. Honestly, it makes me cringe to share it, but it's important to see – to show what we are trying to improve on.
Have you ever worked out with a personal trainer? Who insists that you use a weak muscle group, and how it takes a bit to find those muscles and get them firing? Here I've asked Tonka to step under himself. He says that instead, he can go the speed that I'm asking for by hollowing his back. He'd rather not use those weaker muscles. His ears are pinned back.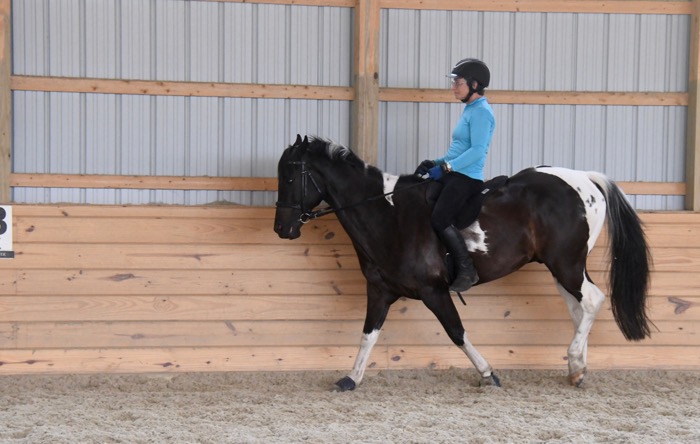 After a few strides of this, Tonka goes into an attractive frame. I thought that eventually those few ugly strides would cease to happen. They haven't, and this walk work made me realize that I have to fix that moment of transition.
So I asked in a way that allowed him to get into gear without having to so dramatically evade the work. I reinforced these moments of transition (sometimes with cookies, or praise, or a relaxed walk break.) Now we were getting willing transitions, done in a consistent, correct frame, that flowed into a balanced walk. We were both happier. Notice the ears.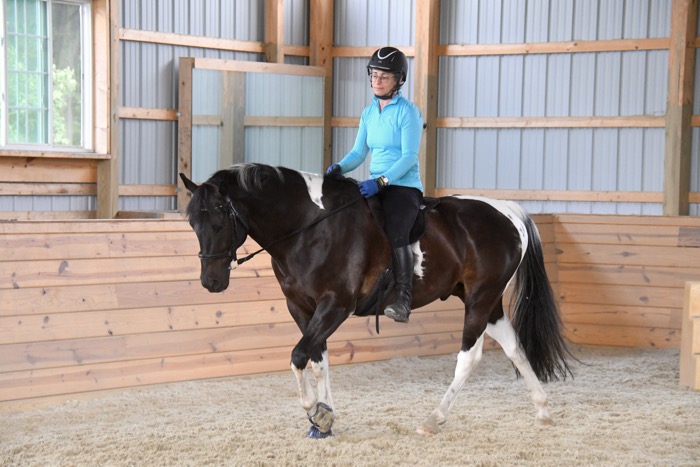 Here's another ugly picture. Tonka is what is termed behind the bit. His nose is tucked behind the vertical. In this way, he can avoid both the feel of the bit and let his hind legs lag. He's telling me that my hands are giving him mixed messages, and that he's still not in balance.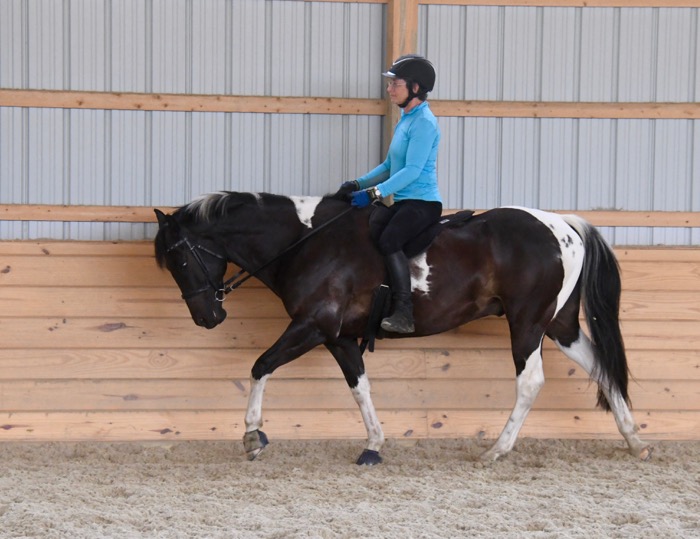 So we do transitions from working walk to stretch walk and back again.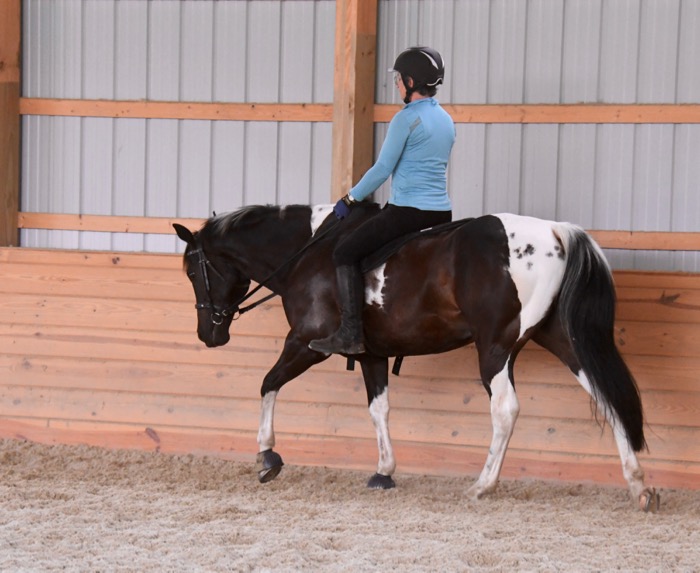 Another way to get Tonka to engage his hind end is to walk over poles on the ground. The outside ring has some set up, and we've been going through those daily. At first Tonka hit the poles with his toes. Now he doesn't.
Just like humans are right or left-handed, so are horses more capable on one side over another. Tonka is stiffer to the right. So, we've been doing circles and serpentines at the stretch, working, and medium walks (each have a different engagement and head set.) The goal is that instead of bracing against my body to the right, he softens and bends. His ears show concentration but not frustration. Notice how Tonka's hock is articulated, he's stepping under himself, and his poll is the highest point of the neck.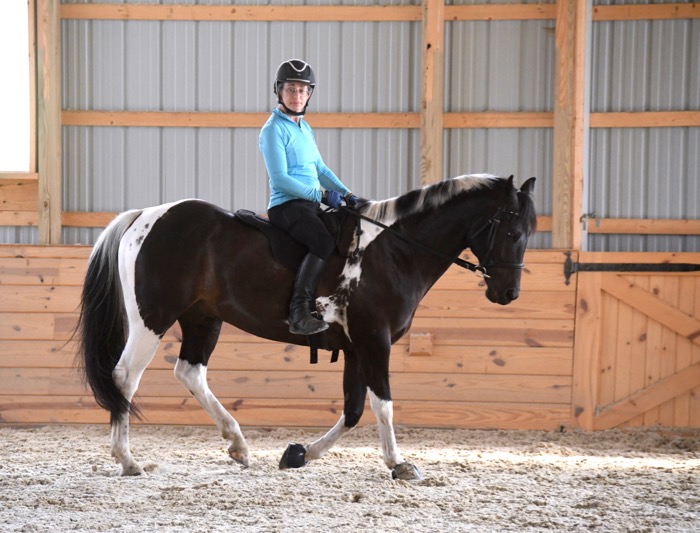 A dressage horse needs to move off the leg. Depending on how I apply my leg, either he goes forward, or sideways. At First Level (which we are showing at this year) there are leg yields. We go to the left.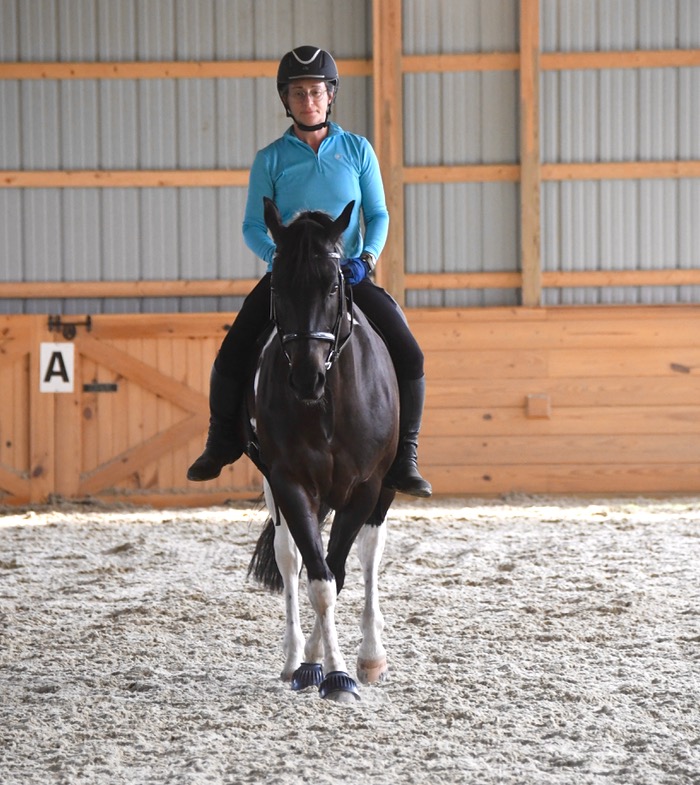 We go to the right.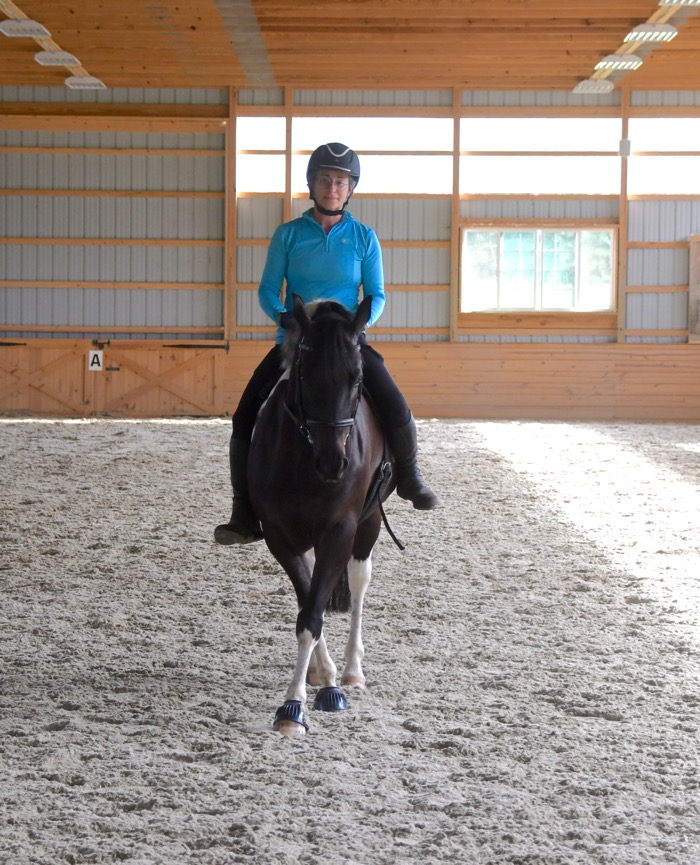 Along with getting him responsive to my leg, these exercises get Tonka to engage those hocks and free his shoulder.
Transitions are also a great exercise to get the horse to listen and respond quickly. We've been doing walk-halt-walk, and we've been making sure that those halts are square. (Almost!)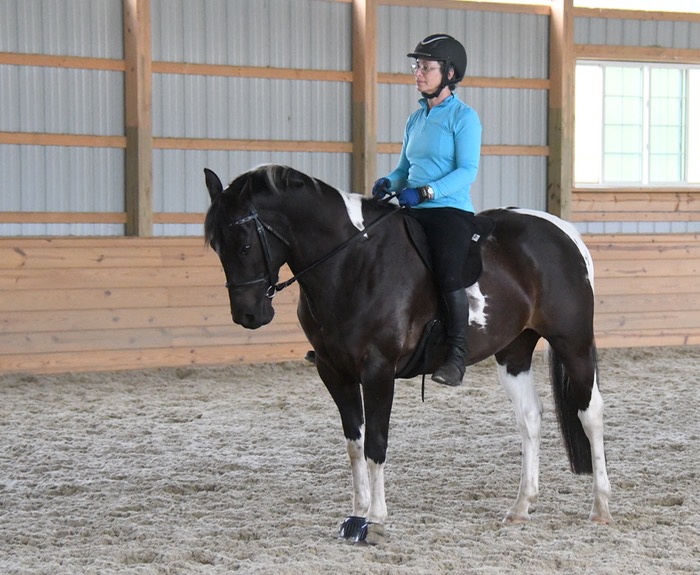 When we are in sync I tell him he's right with a verbal marker (I say Dee!) and we halt and I give him a cookie. Tonka also finds verbal praise, wither scratches, and breaks in the work, reinforcing. I'm always looking for that good stride, and he is too.
I'm picking up my saddle today. I think that all of this work at the walk is going to translate to the trot and canter. I'll let you know!