While Tonka's saddle is off getting widened, (he's put on muscles like the Incredible Hulk, and the saddle was pinching his shoulders) I am borrowing a friend's bareback pad. Tonka is not thrilled about this. The pad does not have the fleece-covered girth that he is used to. Tonka is very, very fussy about the girth that I use. He only likes this

Auto Amazon Links: No products found.

. Which is okay with me, as it is inexpensive! I've tried the supposedly ergonomic girth, which costs several hundred dollars, and Tonka refused to let me on when wearing it. Tonka's saddle has other features that he likes. There's the (expensive) comfy thick sheepskin pad which cushions him from my bouncing, and the saddle itself has a tree and panels that float and conform to his movement. If you're a horse person you know what I'm talking about, if not, don't worry about it. Suffice it to say that Tonka is not thrilled about me riding bareback, even with a pad that provides a tad of protection from my sitting bones on his back.

Thankfully, the stable has a tall mounting block, and Tonka lets me on.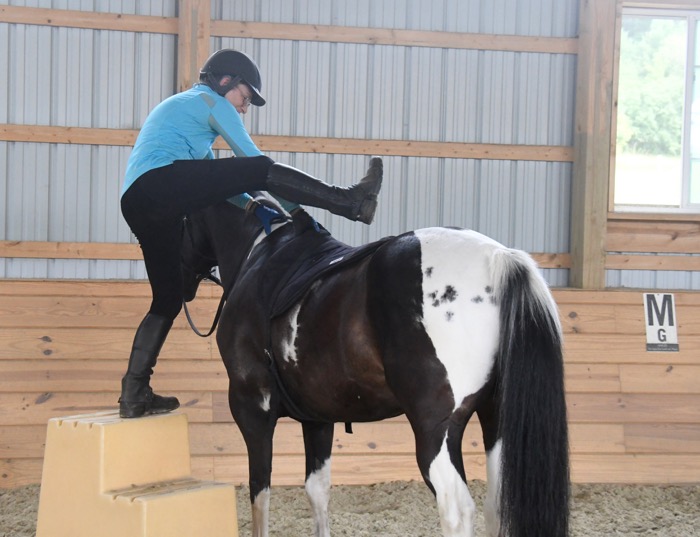 It's not elegant.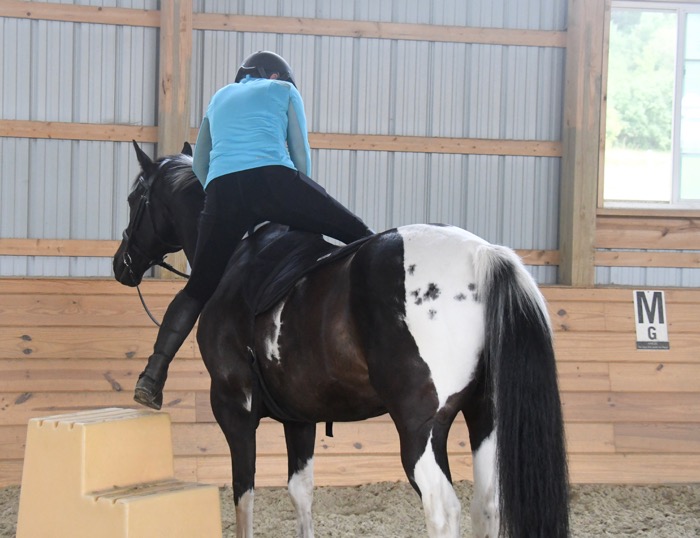 But I manage to settle in.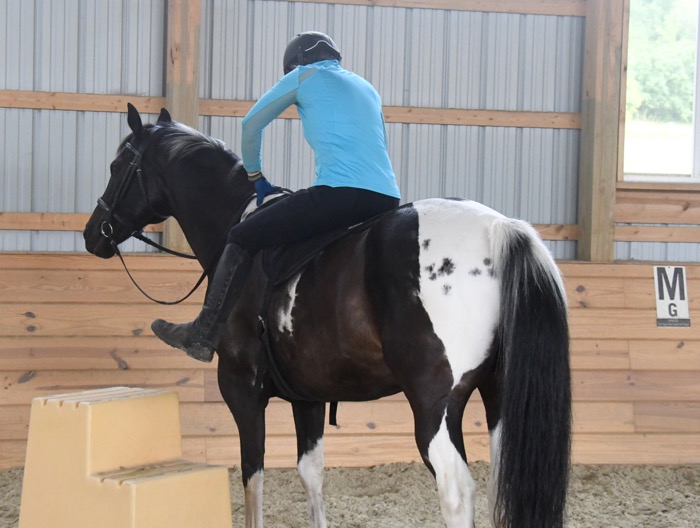 Tonka definitely deserves a cookie for his tolerance.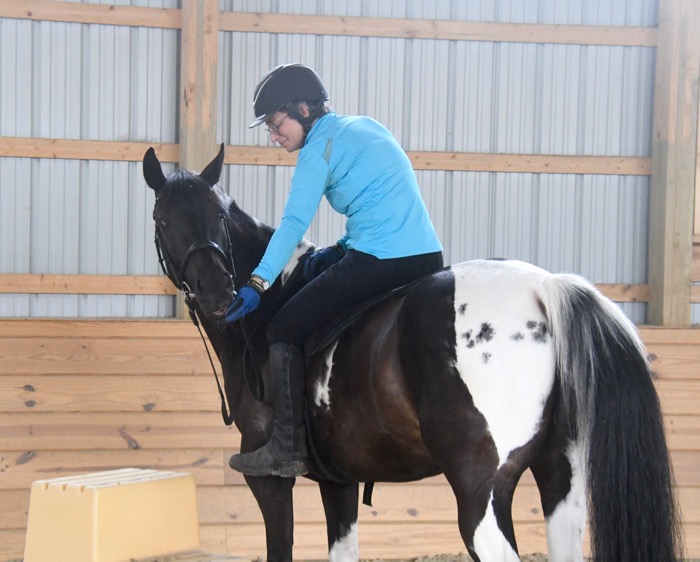 I don't want to do more than walk up there – it's kinder for both of us! So we go out into the field. The weather is beautiful.
But the deer flies find Tonka,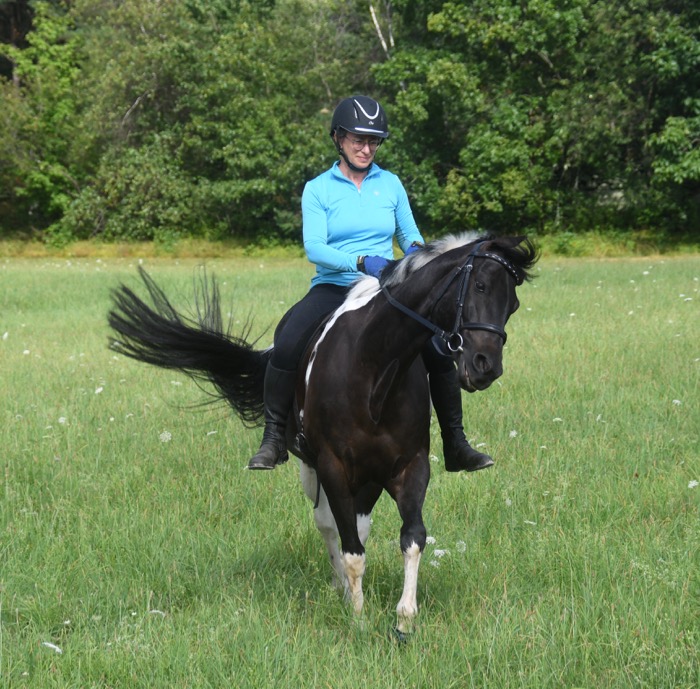 and then they find me.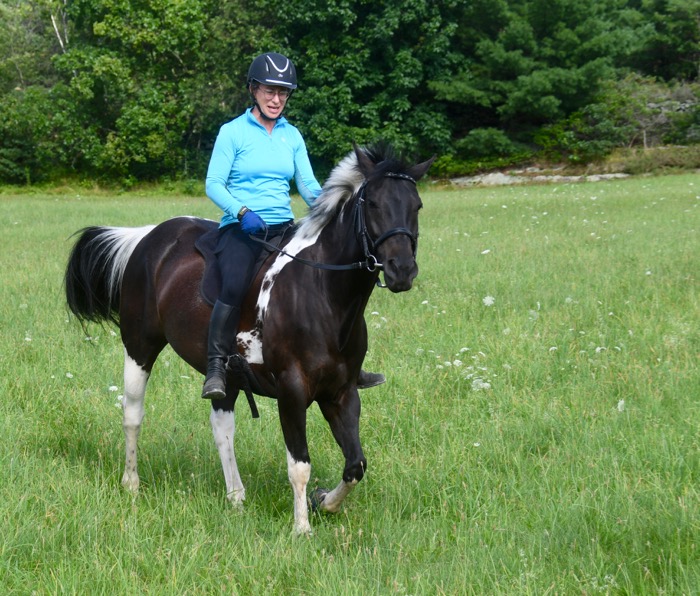 We go back to the indoor. He looks happy about that.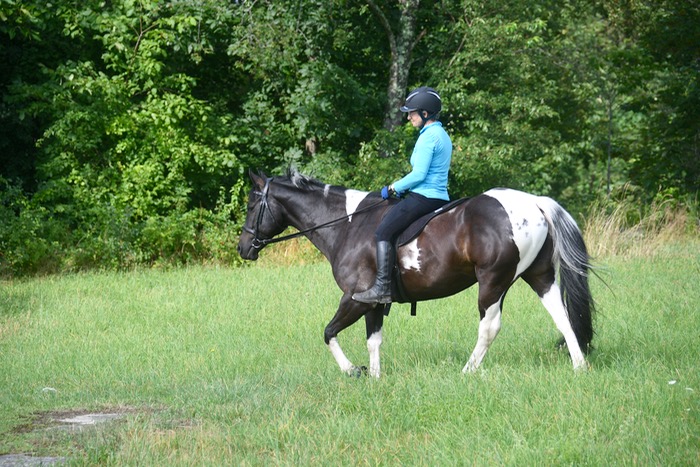 So, instead of enjoying the summer sunshine, we do a half-hour of exercises at the walk in the arena. I keep it interesting and rewarding for him. I'll share what those are in my next blogpost.