The first evening at the new barn, Tonka did not eat all of his grain. The owners and staff were concerned. I took Tonka's temperature. It was a healthy 99º F. Other than ignoring his meal, he looked okay. By morning, the grain was gone, his manure piles were normal, and he was eating. No worries.
But all week I felt that Tonka was a tad subdued. At the previous farm, when Tonka saw me by the barn, he'd nicker and trot down the paddock's hill to greet me. Here he kept chewing his hay.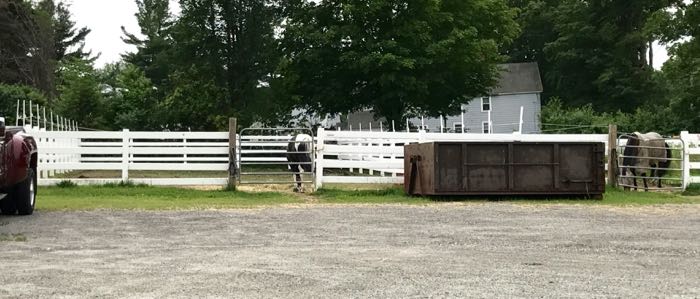 Depending on my own state of mind I could have interpreted that in any number of ways. One one hand, I could have said that he was depressed and missing his friends. On the other, I could have said that he was so relaxed that he'd rather eat his hay than come to the gate. I did think that Tonka looked tired, and I noticed that he hadn't been sleeping lying down – I knew because there were no shavings in his tail. (Horses only get their deep, REM sleep when lying down.) Most likely, he'd stayed up at night, looking out his door. I wonder what critters he became acquainted with after dark.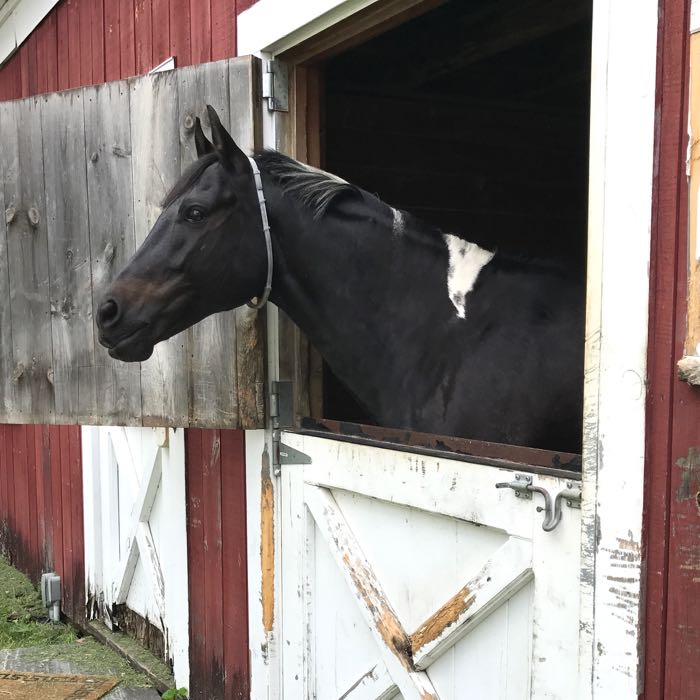 Moving to a new home is stressful for horses who are social animals and need to know how they fit into the herd. I made a point of doing what I could to make Tonka feel secure. Grooming is a way that horses feel accepted, so I made a point of not rushing the brushing. Because the horses are kept in individual paddocks, I grazed Tonka within view of the other horses. That way he'd get to know all of the boarders, even those not within sight of his stall or paddock. Everyone was quiet and calm, and Tonka felt safe enough to relax while eating.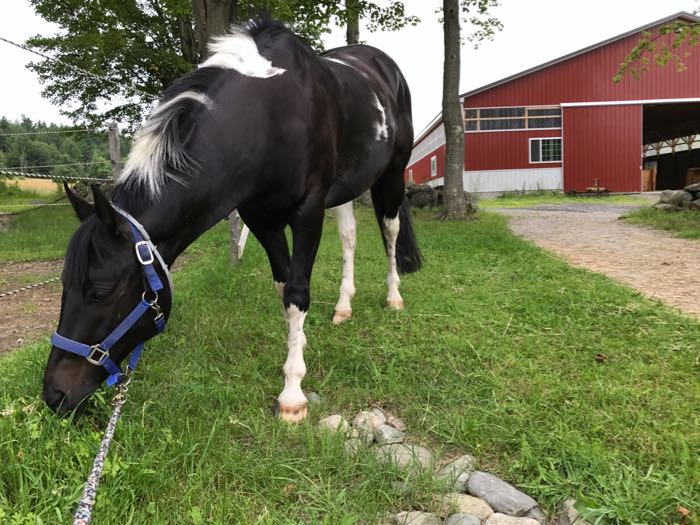 Although Tonka wasn't overtly anxious, all week his personality seemed a bit constrained. I know I've felt like that when thrust into a new social situation!
Yesterday Tonka was back to normal. He still doesn't finish his supper right away. In fact, it takes him all night! At the previous barn, the horses could see each other, and Tonka's neighbor threatened and kicked their shared stall wall. Here, he can eat in peace.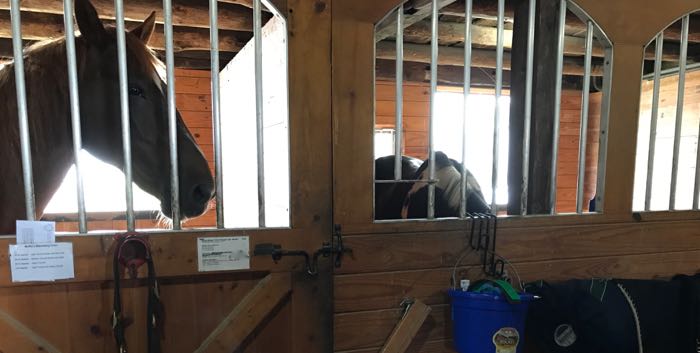 Tonka can take his time. He likes to take a mouthful of hay and chew a bit. Then take a nibble of his grain. Then go look out the door.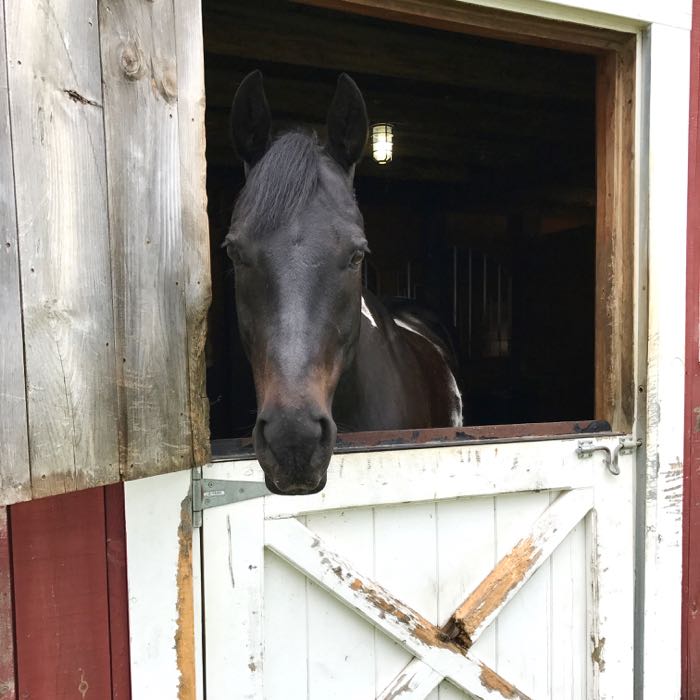 Then go back to his grain. He can make the silly faces that he likes to make while eating.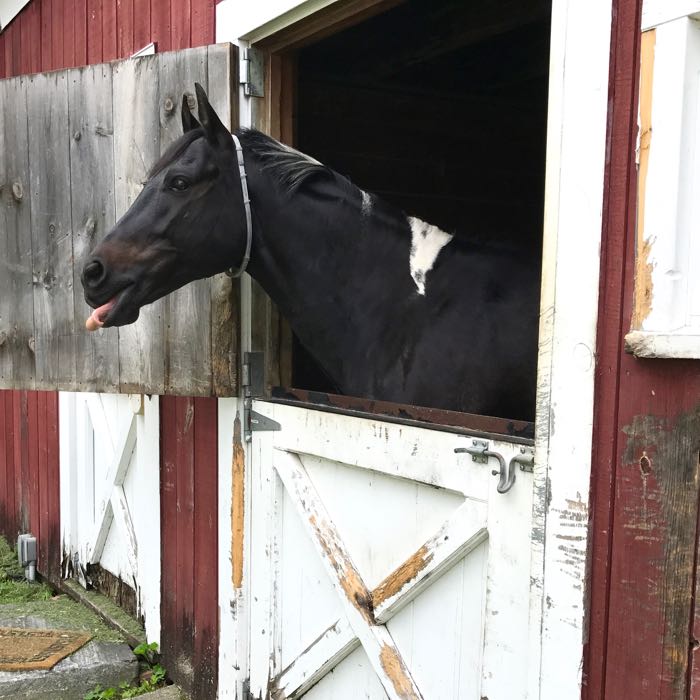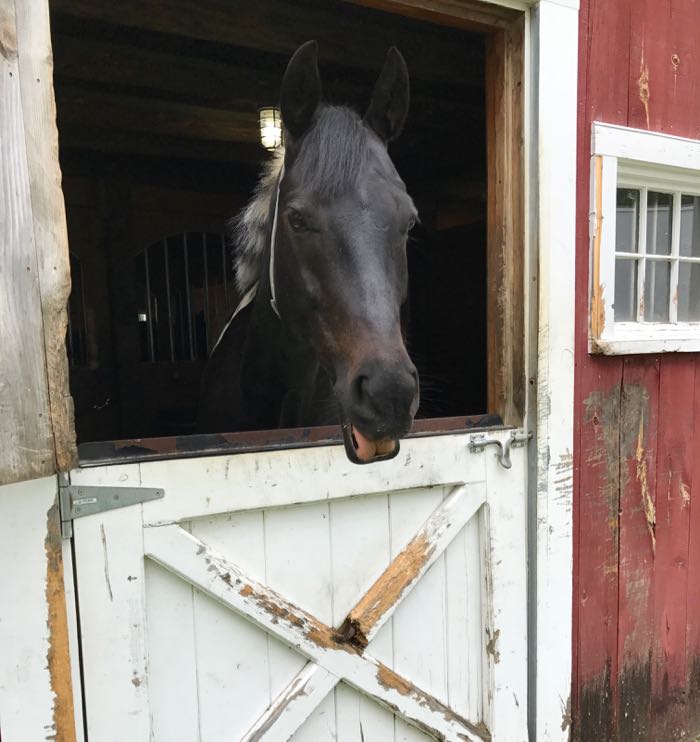 Tonka does look rather happy, doesn't he? It's beginning to feel like home.